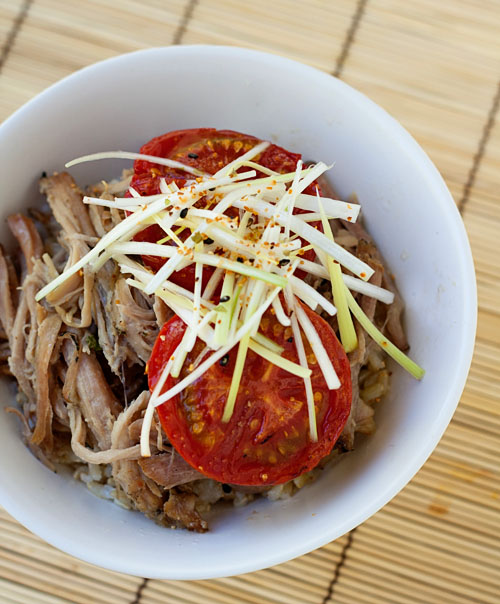 Moist and tender pulled pork with roasted tomatoes served over a bowl of hot rice, and topped with sliced leeks.  Sound good? I hope so, because it is!  My recipe for pulled pork and roasted tomato donburi (rice bowl) is my attempt to recreate a dish that I ate in Tokyo this past July.  On our last day in Japan, we made a visit to Ivan Ramen, a ramen shop owned by Chef Ivan Orkin in Setagaya-ku, Tokyo.  The restaurant sits on the corner of small alley, about a two minute walk from Rokakoen Station on the Keio subway line.
Although this station is only about a 15-minute subway trip away from Shinjuku Station, one of the busiest stations in Tokyo, Rokakoen is small, and the neighborhood surrounding it is quiet, without any of the chaotic hustle and bustle of Shinjuku.  To find yourself in this neighborhood, you either have to be visiting someone who lives there or heading to Ivan Ramen to eat.
What makes Ivan Ramen unusual, is that it's owned by a foreigner.  In a country where tradition reigns supreme, a foreigner opening a ramen restaurant is a hard sell, being so far from what the Japanese would expect from an "authentic" ramen restaurant.  But it appears that Orkin has made the sale, as Ivan Ramen has been in business since mid-2007, and Orkin recently opened a second restaurant, Ivan Ramen Plus, in 2010.  Orkin's motto is slow food fast, serving his customers food made from scratch in his restaurants, including his noodles, with the best quality ingredients he can get.  Orkin uses a broth made from whole chickens and dashi for his ramen, a lighter alternative to the pork broth that many ramen restaurants use.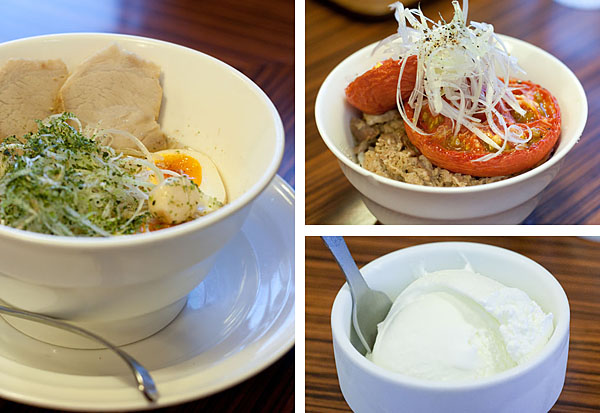 I had a bowl of ramen with a special roasted garlic broth and cha-shu (Japanese simmered pork) and Mr. Fuji and I shared an order of Pulled Pork and Roasted Tomato Donburi (豚ローストトマト飯 — Buta Rosuto Tomato Meshi).  The ramen was rich, the broth thick and silky from the roasted garlic, accented by several whole roasted garlic cloves, and the cha-shu melted in my mouth.  The donburi was a magical combination of hot steamed rice topped with succulent pulled pork and roasted tomato halves, inducing me to eat more than I should have because I couldn't stop myself from taking "just one more bite."  We finished the meal with a scoop of their homemade lemon ice cream, which was seasoned with a hint of salt, a surprising detail that transformed the ice cream into something extraordinary.  We got to the restaurant early, and so there were only a couple of other customers.  This was lucky, as very often the restaurant has a line of customers patiently waiting for their turn to occupy one of the 10 seats inside the small restaurant.  Orkin wasn't there, but one of the chef's present, a younger Japanese guy, was friendly and engaging, patiently answering all of my questions, and making the experience even more enjoyable. It was a wonderful way to end our culinary adventures in Japan.  Take a peak:
Since returning home, I've been slowly working on recreating some of the flavors we enjoyed at Ivan Ramen.  Today I'm sharing my recipe for Pulled Pork and Roasted Tomato Donburi with you.  It takes some advance preparation, since the pork needs to be slowly cooked in a slow cooker, but it's worth it!  None of the elements take very much work, just patience while you wait for them to be finished.  So until you are able to make a trip to Ivan Ramen, do yourself a favor and cook up some pulled pork and roasted tomato donburi.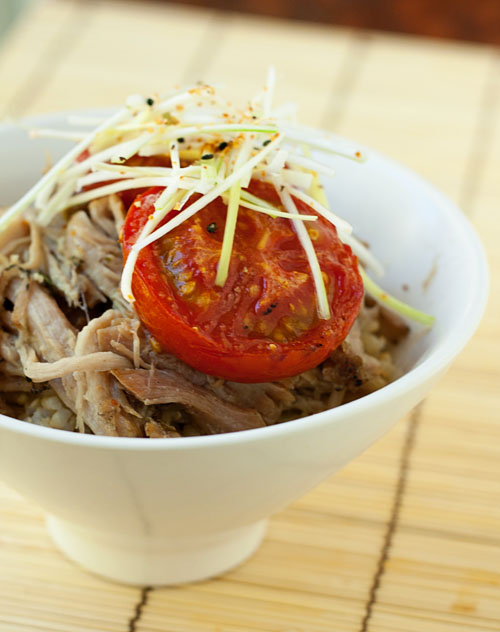 Print This Recipe
Pulled Pork & Roasted Tomato Donburi
Makes about 4 servings
Recipe Notes: This recipe makes more pulled pork than you will likely want for four servings, but I've found that if I use a smaller piece of meat it sometimes ends up a bit drier than I like.  The size of roast indicated will give you perfectly moist meat, and then you have leftovers which are perfect leftovers to include on a sandwich or in tacos.
For the Pulled Pork:
2.5 pounds pork shoulder roast
2 teaspoons coarse sea salt
2 teaspoons liquid smoke flavoring
For the Roasted Tomatoes:
4 tomatoes, halved horizontally
1/4 teaspoon salt
1/4 teaspoon freshly ground black pepper
4 teaspoons extra virgin olive oil
4 cups freshly steamed Japanese rice
1 leek, cut into thin matchsticks
Shichimi togarashi (Japanese seven spice), to garnish
1. Make the Pulled Pork: Pierce the pork roast all over with the tip of a sharp knife. Place the roast in a large slow cooker and rub the salt all over the meat. Drizzle the liquid smoke over the meat. Cover the slow cooker and cook on high heat for 6 hours, turning the roast over once half-way through the cooking time. When the meat easily shreds with a fork it is ready. Remove the meat from the slow cooker and shred with two forks, adding drippings from the slow cooker as needed to moisten the meat.
2. Make the Roasted Tomatoes: Preheat the oven to 425 degrees Fahrenheit. Place the tomatoes, cut-side up on a baking sheet, then sprinkle them with the salt and pepper. Drizzle the olive oil over the tomatoes and then put them in the oven to bake until the tomatoes are tender, about 15 minutes.
3. Assemble the Rice Bowl: Divide the rice into 4 bowls. For each bowl, top the rice with some of the pulled pork, two of the roasted tomato halves, and some of the leek matchsticks. Then sprinkle with a bit of shichimi togarashi and serve.