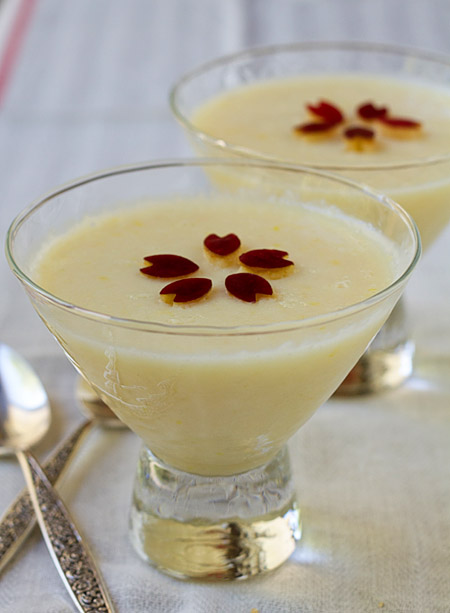 Although we have moved completely into autumn, according to the calendar, I haven't been able to fully commit, due to the fact that our temperatures keep bouncing back up into the 90 degree Fahrenheit regions.  Mother Nature keeps teasing us here in Southern California with a rainy day here, and a chilly day there, and then sticks out her tongue and blows raspberries as she hands throws a summery day at us.  Today's recipe is a reflection of that—a light pudding that takes advantage of autumn apples, but still has a foot firmly planted in summer with the addition of lemon zest, giving your tastebuds a bit of sunshine.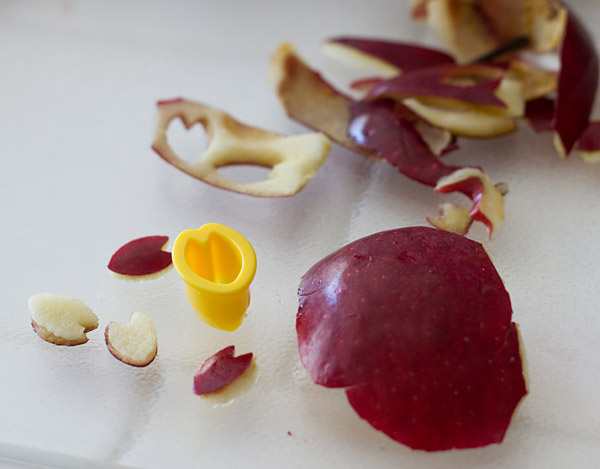 My soup was inspired by an invitation from Paula of Bell'alimento to participate in a Virtual Dinner & Dessert Party.  Bertolli recently introduced a new line of Bertolli Meal Soups, which can be found in the frozen food section and are available in four varieties.  The soups take 10 minutes to make and one cup of water.  Add some bread and voila! Dinner is served.  Bertolli challenged the party attendees to dream up a simple dessert to accompany one of their new soups.  Be sure to head over to Bell'alimento to see the other desserts.  I chose the Tuscan-Style Beef & Vegetables soup, a soup which seemed appropriate for this time of year with it's hearty chunks of beef and vegetables in a rich broth.  Since the soups contain two servings, I designed my dessert to follow suit, though you can easily double or triple the measurements to make more if desired.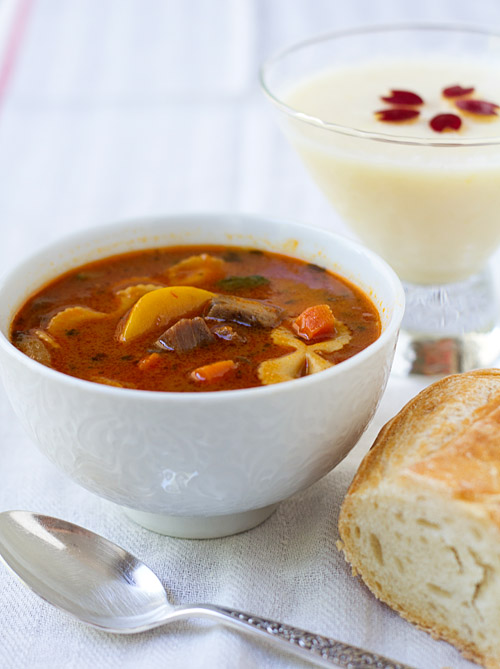 This pudding is super simple to make. It only takes a few minutes to prepare and then spends an hour or so in the refrigerator setting up.  You can also make it ahead of time, even the day before if needed.  You wouldn't want to miss out on dessert, right?  It's light and fruity with a nice bright citrusy tang from the addition of some freshly grated lemon zest. The perfect accompaniment to a meal of rich soup and bread on a nice cool autumn day.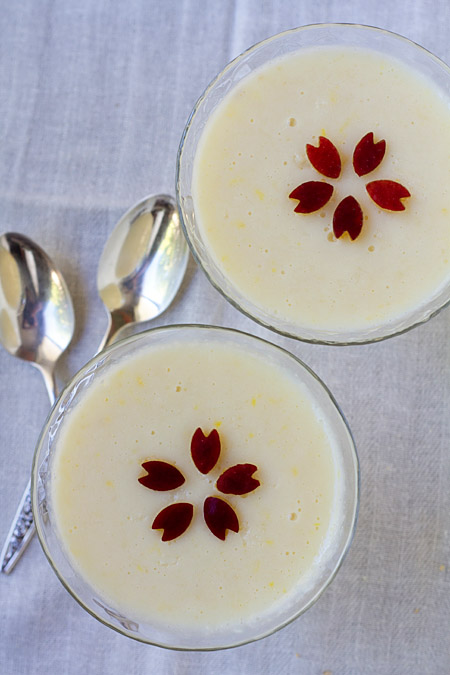 Print This Recipe
Tart Apple Yogurt Pudding
Makes 2 servings
1 1/2 tablespoons warm water
1 1/2 teaspoons gelatin
1/2 medium Red Delicious apple (about 3.5 ounces)
1/3 cup plain yogurt
1/2 cup granulated sugar
2 teaspoons finely grated lemon zest
1/2 cup cream
1. Put the water in a small bowl and sprinkle the gelatin on top of the water, then set aside.
2. Remove the core from the apple, then peel the skin off (reserving some of the peel for garnish, if desired), then cut into bite size pieces. Puree the apple pieces, yogurt, lemon zest, and sugar in a food processor until smooth, then add the cream and puree until well incorporated.
3. Heat the gelatin mixture in the microwave for 10 seconds, then pour into the apple mixture, and stir until mixed completely. Pour the pudding into two serving glasses and then place in the refrigerator to set for 1 to 2 hours. Cut the reserved apple skin into shapes to garnish (if desired), then serve.
Disclosure: I was compensated for my photos and for my time spent developing this original recipe.