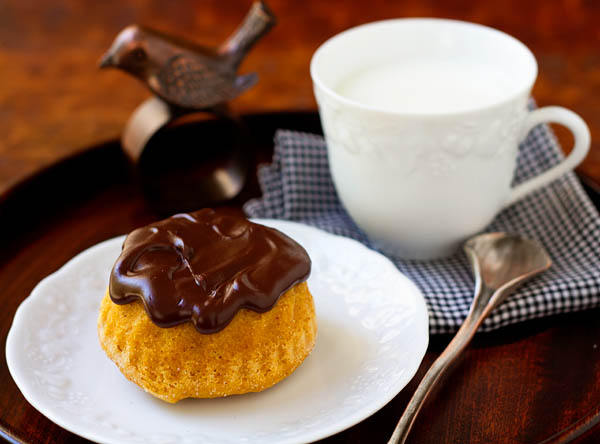 One of my favorite fairy tales is Little Red Riding Hood.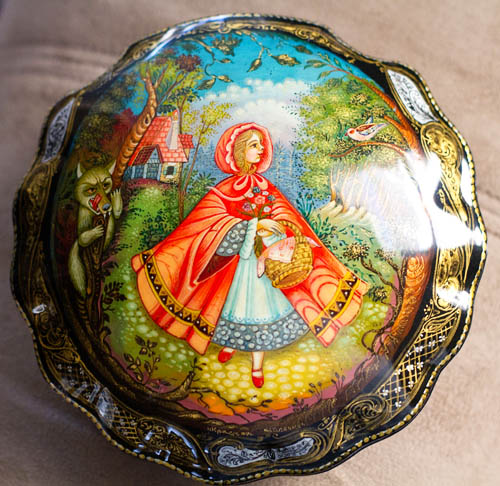 As a child I loved playing with a Little Red Riding Hood doll when I visited my grandma's house.  Half of the doll was Little Red Riding Hood, her dress hiding the rest of the doll.  But when you turned her upside down she became Grandmother on one side and the wolf on the other.  My grandma recently sent me the doll and now my girls can share my love for the story as we use the doll to act it out.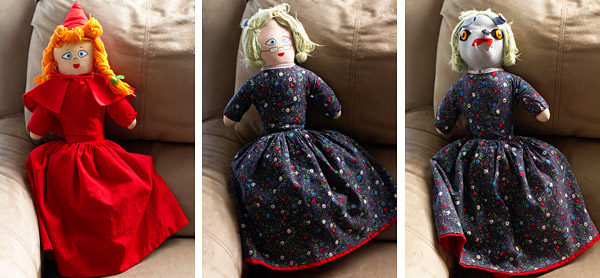 So imagine my delight in getting to combine my favorite fairy tale with my love for furoshiki (Japanese wrapping cloths), with a wrap called "Red Wolf."  Lulu Wraps, a small cottage business run by two sisters in Portland, Oregon, sell gorgeous specialty handmade furoshiki and just happen to have a design named Red Wolf.  Pure awesome.  Deb (one of the awesome sisters behind Lulu Wraps) told me that the name was actually inspired when NBC filmed part of a pilot for the new TV series Grimm (inspired by the classic Grimm's Fairy Tales) right next door to her.  Here's a Red Wolf wrap from her kitchen that overlooks the Grimm house and then again outside.  See the trailor in the background?  It's featured prominently in the show—too fun!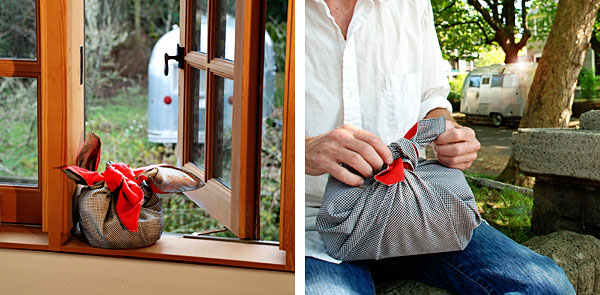 So we decided that it would be really fun to celebrate the upcoming Grimm premiere (October 28th) with some fairy tale goodies and a giveaway!  In the story, Little Red Riding Hood filled a basket with goodies to take to her grandmother, so I decided to imagine what the goodies might have been.  The result are these little pumpkin spice cakelettes with a rich chocolate glaze ("cakelette" just sounded so much more fairy tale-ish than "mini cake" or "cupcake").  I made my cakelettes in mini bundt cake pans, but you could use any shape you like, even a cupcake pan!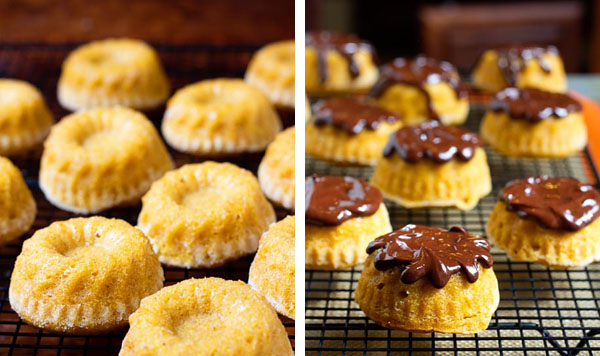 These moist rich cakelettes feature pumpkin and spices that are perfect for this time of year, and perfect for any Little Red Riding Hood to take to her grandmother's house.  But these cakelettes have an extra surprise—a touch of cayenne pepper that sneaks up on you and adds pleasant warmth (not spicy!).  The hidden "bite" of the cayenne pepper is my little shoutout to the wolf.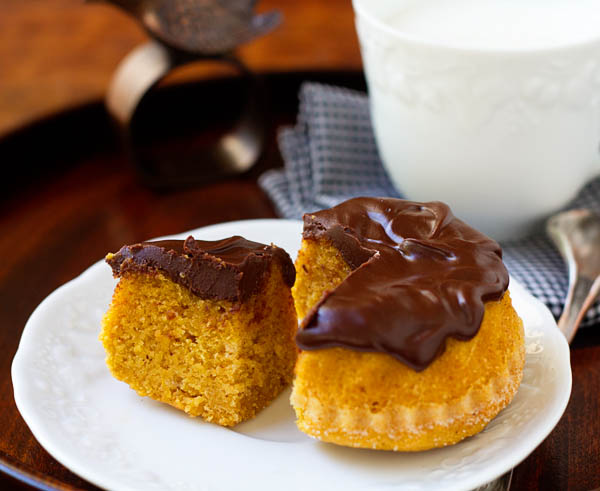 We put one of the cakelettes in a small bento box, then wrapped it in the Red Wolf so that the wrap became Little Red's basket.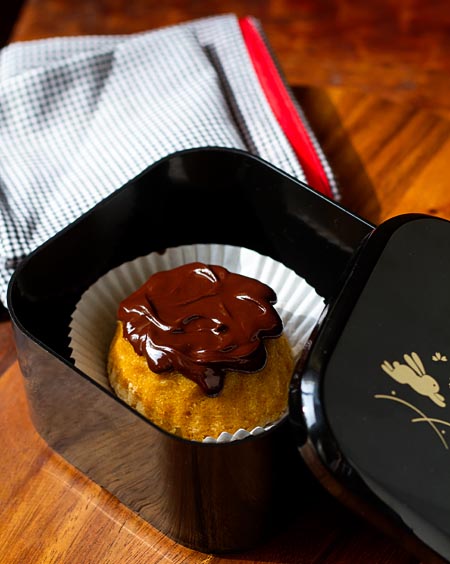 We have the lunch wrap size, intended specifically for toting food. It's 26″ square, lined with water-resistant nylon, and comes with a matching cloth napkin.  Perfect for carrying a treat somewhere to share with someone special.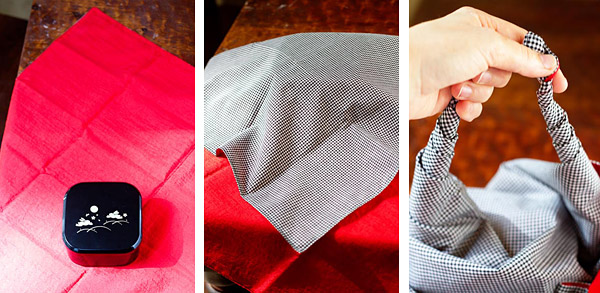 Bug was all ready to make a trip to Grandma's house.  Too bad she lives so far away!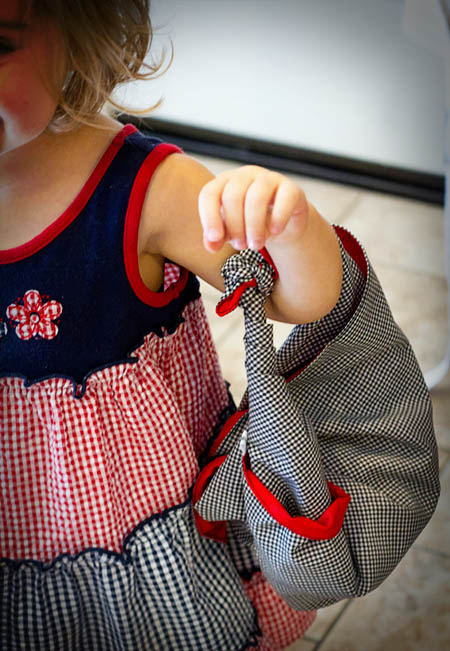 So we had to settle with wishing she lived closer and eating a cakelette (or two) to ease the disappointment.  Whether or not you make these for a Grimm viewing party, or just as an addition to your autumn festivities, we're sure you will enjoy them!  Oh, and if you want your own Red Wolf to wrap some treats in, Lulu Wraps is giving some away to two lucky LFM readers (giveaway details after the recipe)!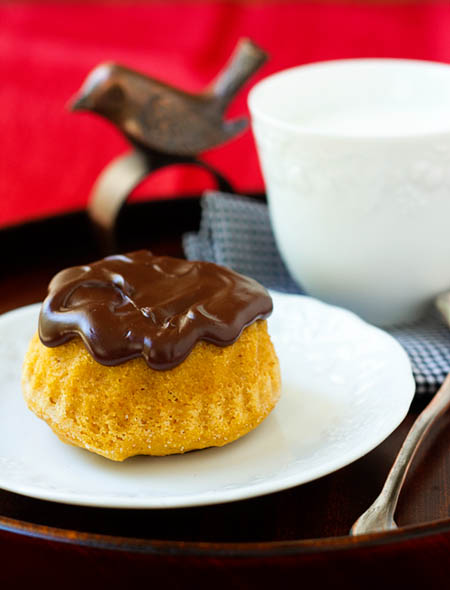 Print This Recipe
Spicy Pumpkin Cakelettes with Chocolate Glaze
Makes 24 cakelettes
For the Cakelettes:
2 cups all-purpose flour
1 teaspoon baking powder
1 teaspoon ground cinnamon
1/2 teaspoon ground nutmeg
1/2 teaspoon cayenne pepper
1/2 teaspoon salt
2 cups granulated sugar, plus more for sprinkling in cups
4 large eggs
6 ounces (12 tablespoons or 1 1/2 sticks) butter, softened
1 tablespoon pure vanilla extract
1 3/4 cups solid-pack pumpkin (one 15-ounce can)
For the Chocolate Glaze:
6 ounces semisweet chocolate (1 cup chocolate chip), chopped
4 tablespoons butter
1. Make the Cakelettes: Preheat the oven to 350 degrees Fahrenheit. Lightly butter 24 muffin or cakelette cups then lightly coat with granulated sugar.
2. Whisk together the flour, baking powder, cinnamon, nutmeg, cayenne pepper, and salt in a large bowl; set aside.
3. Beat together the sugar, eggs, butter, and vanilla with an electric mixer until fluffy and well combined, about 2 minutes. Beat in the flour mixture until just combined. Stir in the pumpkin until well mixed.
4. Fill each greased tin with 1/4 cup of batter and lightly smooth out the batter with a spatula. Bake until a toothpick inserted into the center of a cakelette comes out clean, about 18 minutes. Let the cakelettes cool in the cups set on a wire rack.
5. Make the Chocolate Glaze: Put the chocolate and butter in a small heavy saucepan and heat on low, stirring constantly, until melted. Spread a spoonful of glaze over the top of each cooled cakelette. The cakelettes will keep at room temperature in an airtight container for 2 to 3 days.
========================================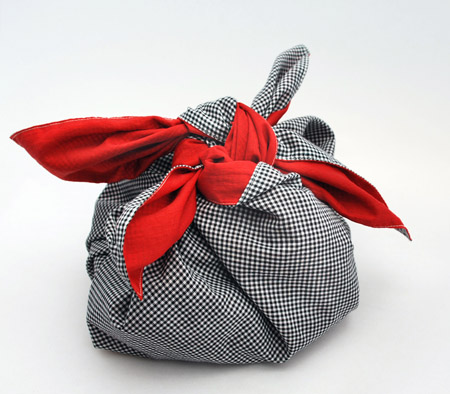 Lulu Wraps Red Wolf Giveaway
Lulu Wraps will be sending out two prizes!  One winner will win one of their Red Wolf Lunch Wraps, and a second winner will win a Forty-inch Red Wolf Wrap (shopping bag size) plus a bundle of little souvenirs from the show!  This giveaway is open to all LFM readers (as long as you reside on planet Earth) until Thursday, October 27th, 2011 at 10pm PST.  The winners will be chosen using Random.org.
To Enter:
1. Leave a comment below! (Required)
Bonus Entry:
2. Follow @fujimama on Twitter and tweet about this giveaway, then come back and leave a separate comment on this post telling us you tweeted.  To make it easy, you can just copy and paste this tweet if you'd like: Once upon a time there was a Red Wolf #Giveaway from @fujimama and Lulu Wraps: http://su.pr/1nCkAT
=======================================
* Make sure you check out the other beautiful furoshiki that Lulu Wraps make.  With the holidays nipping at our heels, these wraps make wonderful reusable gift wrap!  In fact, both sisters behind Lulu Wraps have graduate degrees in other areas, but love to sew and started making furoshiki when the Christmas paper waste became too much for them to bear!
* Disclosure: Lulu Wraps provided me with a Red Wolf Lunch Wrap to try out.  I was under no obligation to write about them.  They're awesome, which is why I'm sharing them with you!