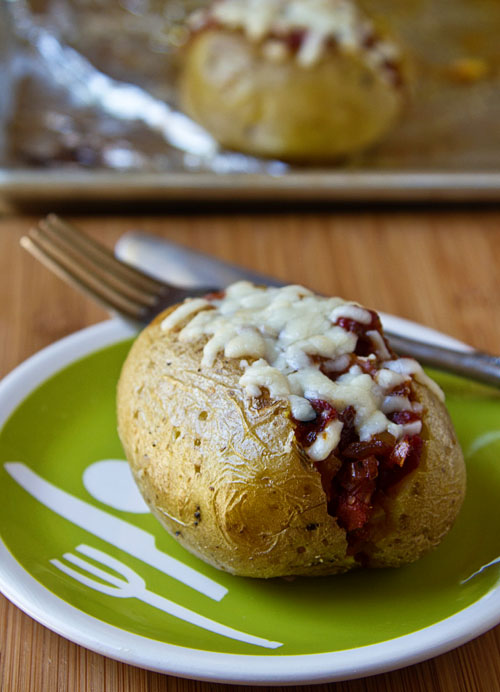 Did you know that February is National Potato Lovers' Month?  Maybe that explains my cravings for all things potato.  Whatever the cause, I'm  not complaining!  My girls must be feeling it too, because they've been raiding my collection of food toys.
We love baked potatoes, and my new favorite potato to bake is my new favorite potato in general—Klondike Goldust potatoes.  They remind me of the potatoes that you can buy in Japan from vendors at the matsuri (festivals)—creamy and slightly sweet, with a thin skin.  They're good enough to eat plain, and I always make sure to bake extra potatoes because I know my girls will be begging to snack on them.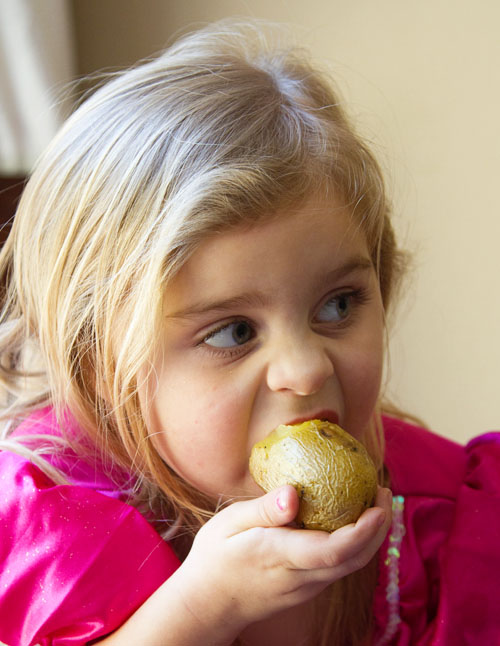 This time I decided to stuff our baked potatoes with some of the Tomato Bacon Chutney I made recently and top them with some shredded smoked goat milk cheddar cheese that I adore, from Redwood Hill Farm.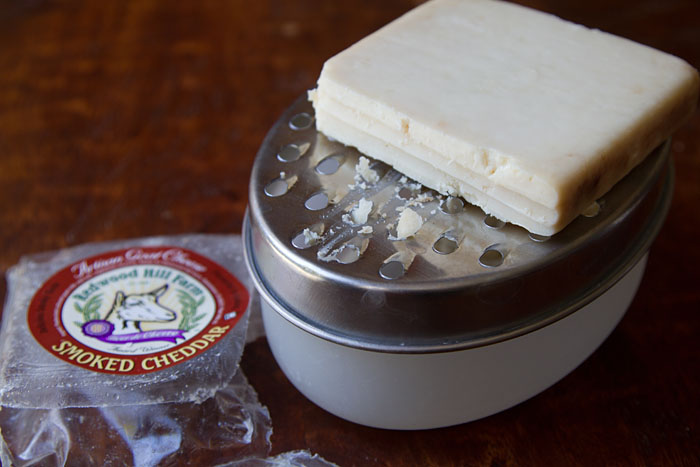 I love finding a new use for something, like the chutney.  It makes it all the more worth it to make it!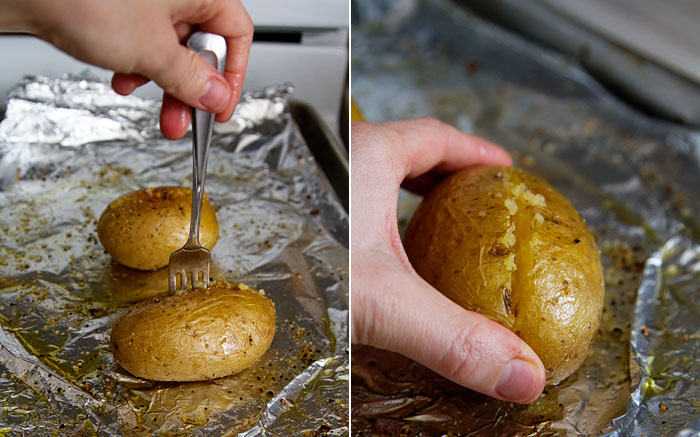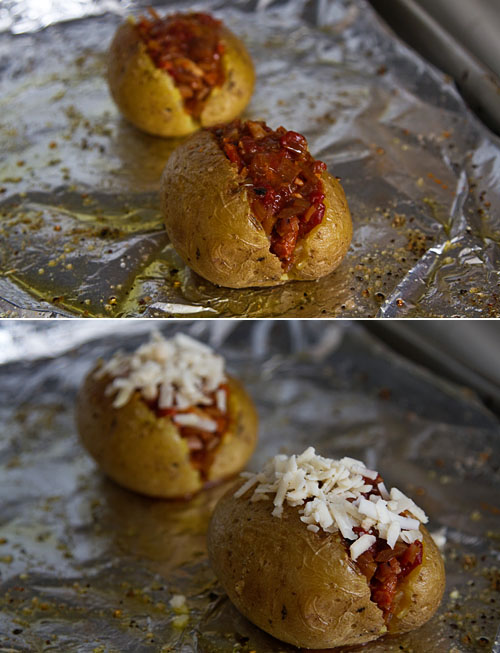 The potatoes were fabulous, with crispy skins and creamy centers, the chutney adding a nice meaty smokiness, and the goat cheese adding a nutty tang.  A simple dish elevated by amazing ingredients.  Total comfort food!

Print This Recipe
Goat Cheese & Tomato Bacon Chutney Stuffed Potatoes
Makes 8 servings
8 medium Klondike Goldust potatoes (or other yellow-fleshed potatoes), scrubbed but not peeled
1/4 cup olive oil
Salt
Pepper
1 cup Tomato Bacon Chutney
1/2 cup shredded smoked goat milk cheddar cheese (or cheese of your choice)
Bake the Potatoes:
1. Preheat the oven to 425 degrees Fahrenheit. Line a baking sheet with aluminum foil.
2. Prick the potatoes 8 to 12 times all over with the tines of a fork, and then rub the potatoes all over with the olive oil. Place the potatoes on the lined baking sheet and season them generously with salt and pepper.
3. Put the potatoes into the preheated oven and let them cook for 50 to 60 minutes. After 25 minutes of cooking time, flip the potatoes over and return to the oven. After 50 minutes of cooking time, check them for doneness by piercing them with a bamboo skewer. If the skewer easily pierces the potato to the middle, then the potatoes are done. Cook for additional time as needed. Remove the potatoes from the oven.
Stuff & Bake the Potatoes:
1. Use a fork to pierce a dotted line down the center, lengthwise, of each potato, then carefully crack each potato open by squeezing the ends towards one another, being careful to watch out for escaping hot steam.
2. Carefully spoon 2 tablespoons of Tomato Bacon Chutney into the center of each potato, then top with 1 tablespoon of shredded Smoked Goat Cheddar Cheese. Return the potatoes to the oven for 5 to 10 minutes, and remove when the cheese is melted and starting to brown. Remove the potatoes from the oven and serve!