Get it? Goat Milk? Got Milk? I'm sorry, I couldn't help myself, it was just too irresistible! But seriously, why goat?    Well if you live in the United States, you might be surprised to learn that goat is the most widely consumed meat on the planet.  In fact, about 70 percent of the red meat eaten in the world is goat meat.  For some reason Americans seemed to have become squeamish about goat meat, which puzzles me.  Not only is goat delicious, but it is healthy (lower in calories, fat, saturated fat, and cholesterol than beef, chicken, lamb, or pork) and sustainable.
In the July 2011 issue of Bon Appetit magazine, the subject of goat is brought up in a question sent in by a reader and the answer includes a mention of a book just published in April, called Goat: Meat, Milk, Cheese by Bruce Weinstein and Mark Scarbrough and says that "If in five years we're all eating goat burgers and goat chili, it'll be because of this book."  I happen to have a copy of this particular book, and I couldn't agree more.  The book is described as " a no-holds-barred goatapedia, laugh-out-loud cooking class, cheesemaking workshop, and dairy-milking expedition all in one. With recipes such as Pan-Roasted Chops with Blackberries and Sage, Meatballs with Artichokes and Fennel, and Chocolate-Dipped Goat Cheese Balls, this book is sure to become the resource for this new frontier."  Not only is the book spilling over with an incredible amount of information, but it's written in a way that makes you want to jump in the car and go out to buy goat meat because you have to try so many of the recipes.  If anything can motivate someone to expand their horizons and dabble in goat, it's this book.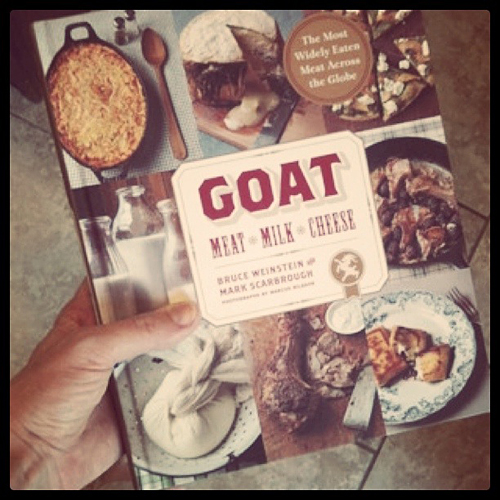 Coincidentally, a bunch of us started talking goat on Twitter last week, and so my friend Barb and I decided it would be fun to expand our own knowledge of all things goat and have some fun in the process.  So we are launching a "goatfest" that starts now and will end at the beginning of August, and we want you!  We're calling the festivities "Goaterie"—a name dreamed up by a group of goat enthusiasts on Twitter that is a play on the word "coterie."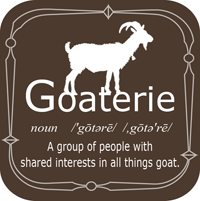 We are challenging anyone willing to get out there and try out goat for themselves, whether it's trying goat meat for the first time or cooking with it, or incorporating goat milk or cheese into a dish.  We can't wait to see what you come up with!  In addition, we'll be hosting two Twitter Chats where we'll be discussing and learning from each other and some knowledgeable panelists, including Mark Scarbrough, one of the authors of Goat!
The first chat will be on Wednesday, July 13th, 2011 at 9pm EST.  We'll be learning about various aspects of the goat farming industry, tips and tricks for cooking with goat products, helping inspire you to think of ways to cook with goat, etc!
The second chat will be on Monday, August 1st, 2011 at 9pm EST.  We'll be sharing our experiences, talking about the things we've learned, etc.
In addition, there are prizes!! We already have some fabulous prizes lined up, including some copies of Goat, some incredible goat cheese from Cypress Grove Chevre, and a pan from ManPans.  So come on now! What are you waiting for? Goat to it!
To participate, you need to do a couple of things:
We would LOVE it if you would include the 'Goaterie' badge on your site with a link to this post in hopes that we can get more folks involved. Love it but not required!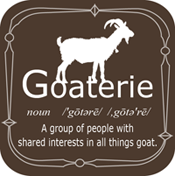 Publish your post(s) throughout the month of July; all posts using goat qualify; meat, cheese and milk. Multiple posts equate to multiple entries for prizes.
After you post each dish, add your link to the InLinkz Tool at the end of this post; include the name of the dish and in the field for a URL; be sure to include the permalink address to your post, not just a link to the home page of your blog. You only need to include it on one of our blogs, it will display on both this one and Barb's.
It's most important that you remember to include your post in the InLinkz Tool. Not only does that give everyone a chance to see what others are making, but it will let us know who has participated in the challenge (we need that to award prizes).
The contest links close midnight Eastern time, 8/1/11. We'll select prize winners on 8/2/11 using random.org.
And make sure you follow the hashtag #goaterie to benefit from the ongoing goat discussion!