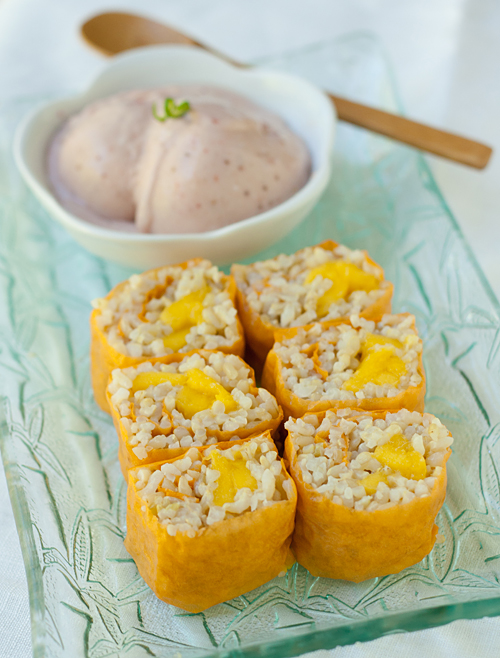 It's not uncommon for me to have food themes at my house.  This happens for a variety of reasons.  Sometimes it happens because I do a project with a company that launches me on a brainstorming spree where I have a bunch of ideas I want to try, which translates into a series of posts using a theme ingredient, like Fig Week.  Sometimes it happens just because I feel like it, like Cupcake Week or Pumpkin Palooza.  Sometimes it happens because of a food holiday, like Pancake Week. Then other times it happens because something is in season and I want to make as many things as I can with it while I can, like Grape Week.  Sometimes these food themes don't show up here on my site, at least not in full.  You may only get a taste of the madness.  Today is one such case.  The theme that has most recently taken my kitchen by storm is mangoes.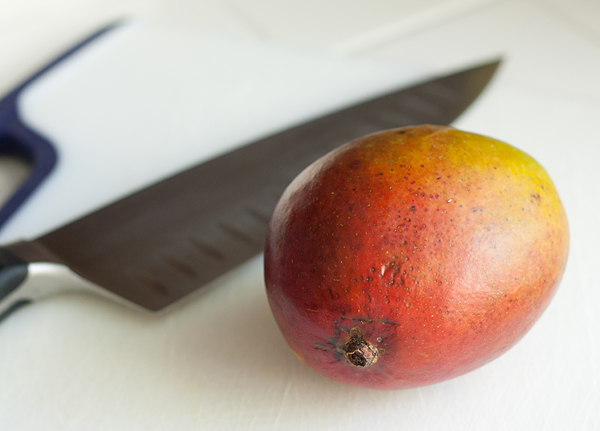 During a trip to the supermarket last week I picked up a big bag of mangoes that was super cheap because the mangoes were all ripe and needed to be used ASAP, otherwise they would go bad.  I couldn't resist, and really, why should I have?  They're good for you!  My family loves mangoes, and I love this time of year when they tend to be a bit cheaper in our markets.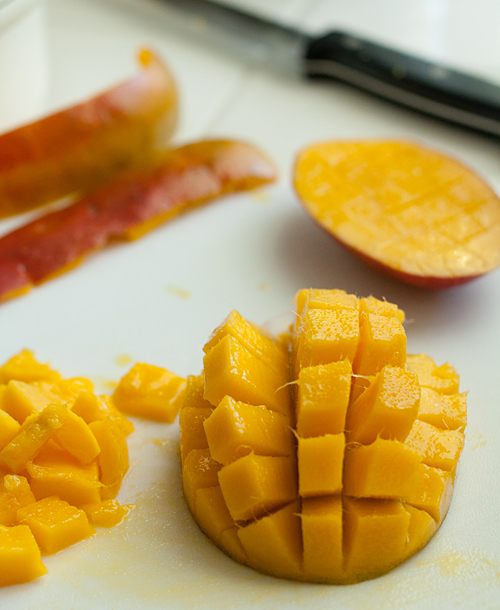 So grab that bag I did, and the result was a day of extreme "mango madness" as I whipped up that bag of mangoes into 3 different dishes.  I started by slicing a few of them and throwing the slices into my dehydrator, making the slices into chewy mango snacks for my girls.  With a couple of the others I made dinner, adding them to buccatini pasta with shrimp and basil.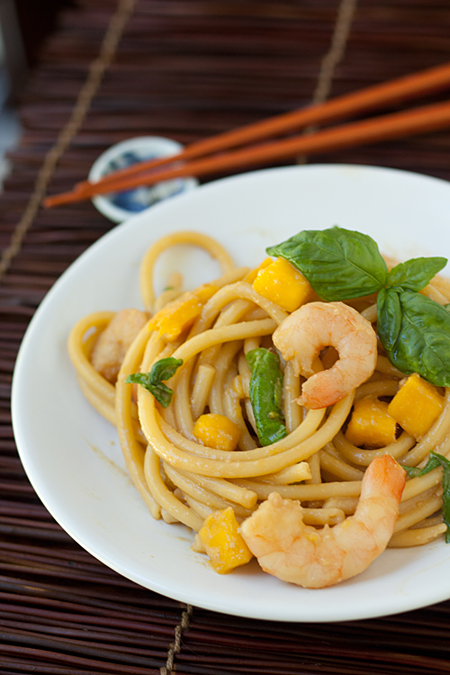 Then with the last two I made mango sushi rolls.  This one was my favorite, which is why I decided I had to share it with you!  These rolls are a bit sweeter than traditional sushi, but not so sweet that they fully land in the dessert category.  I served ours with some strawberry coconut ice cream for a light summer dessert, but they could just as easily be served on their own as a refreshing afternoon snack.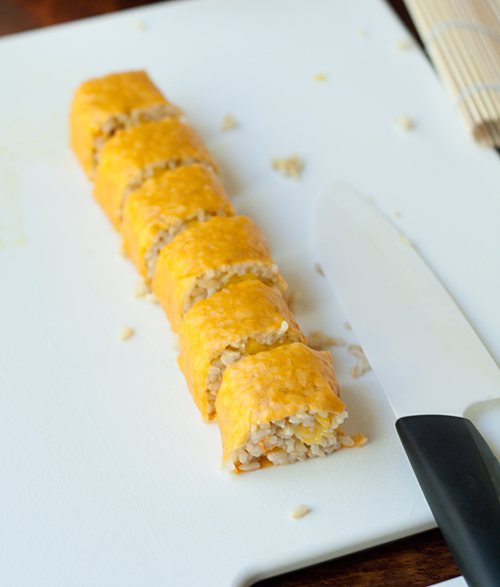 For my rolls I used soy wrappers instead of nori (seaweed) to add some color and to shake things up a bit.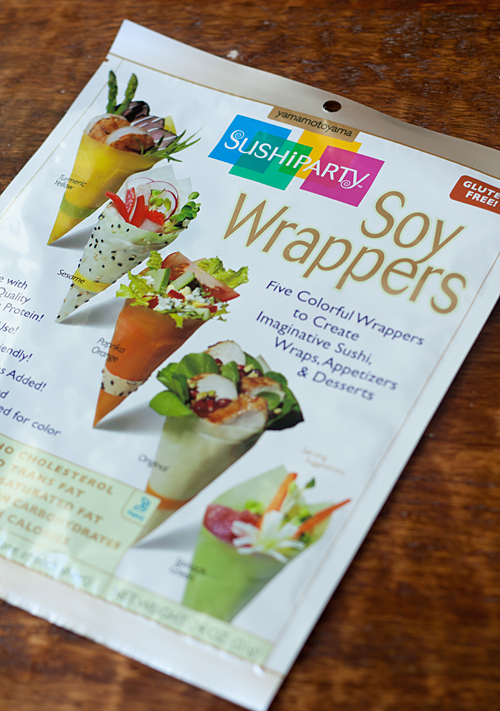 I used brown rice, which is harder to work with when making sushi (it doesn't stick together as well), but I've been trying to use more brown rice instead of white rice in my cooking for health reasons.  I lightly seasoned the brown rice with a bit of coconut milk, sugar, and freshly squeezed lime juice.  I then spread the rice over a soy wrapper, added a strip of mango slices, and then carefully rolled everything into a roll.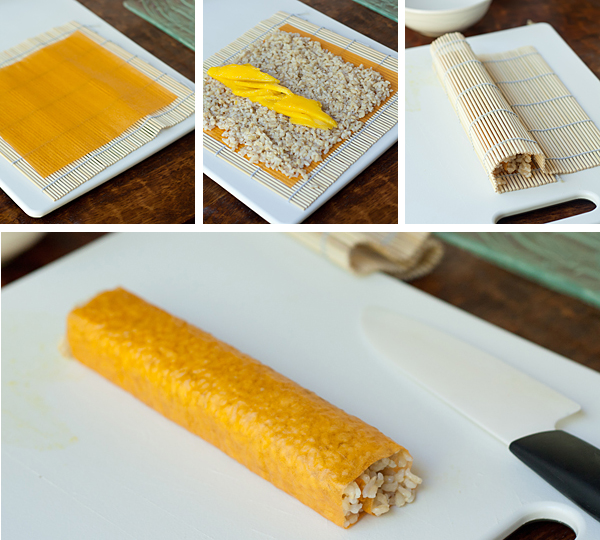 I knew my girls would love the sushi, but I was surprised when they ate their sushi first before eating their ice cream!  The great thing about this recipe is that it is endlessly customizable.  You could use white rice instead of brown, and nori instead of the soy wrappers.  You could make thinner rolls, cutting your wrappers in half.  Don't like lime? Use lemon or some other citrus juice to flavor your rice!  Have other fruit on hand?  Cut it up and use it alongside your mango in the filling!  Here's to summer fruit—what I like to call "Nature's Candy"!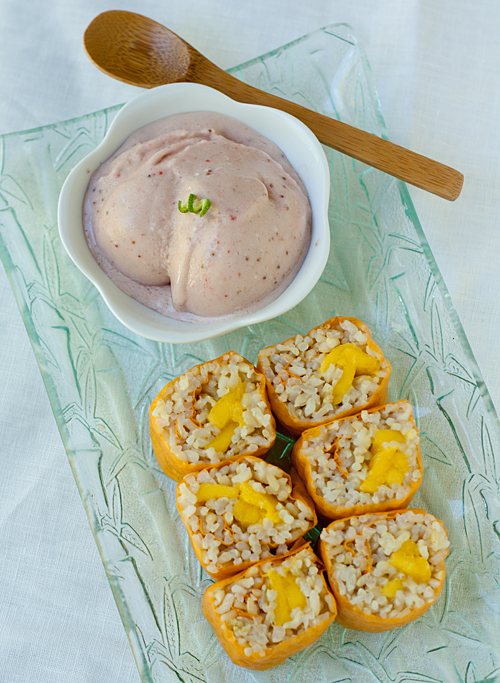 Print This Recipe
Mango Sushi Roll
Makes 1 roll
2 cups freshly steamed Japanese rice (white or brown)
3 tablespoons coconut milk
1 teaspoon granulated sugar
1/2 teaspoon freshly squeeze lime juice
pinch of salt
1 mango, sliced
1 soy wrapper sheet (or 1 sheet of nori)
1. Place the hot rice in a large bowl or dish. In a separate bowl, combine the coconut milk, sugar, lime juice, and salt and stir until the sugar dissolves. Fill a small bowl with water and a splash of rice vinegar and set aside.
2. Sprinkle half of the coconut milk mixture evenly over the rice, then toss the rice by gently cutting into it vertically with a rice paddle (or spatula), and then lifting the rice and turning it over, working from the outside of the bowl into the center. As you do this, fan the rice with a hand fan or piece of cardboard (or get someone to help you). Sprinkle the remaining coconut milk mixture over the rice and continue the cutting, folding, and fanning process. Fanning the rice facilitates quick cooling, which gelatinizes the surface of the rice and gives a glossy finish to the rice. Fan the rice so it cools to room temperature, about 5 minutes.
3. Place the soy wrapper sheet, shiny side down, on a bamboo sushi mat. Dip both hands in the bowl of water, shaking off the excess (this helps prevent the rice from sticking to your hands), then spread the cooled rice evenly over the soy wrapper, leaving about a 1-inch strip of space at the edge furthest away from you. Put the strips of mango horizontally across the middle of the rice.
4. Place your thumbs on the back of the bamboo mat of the edge nearest you and begin rolling forward tightly. Press gently and continue rolling forward to complete the roll.
5. Shape the roll by applying light, but even pressure with your hands. Remove the bamboo mat and set the roll on a cutting board, with seam on bottom, for a few minutes to let the edges of the soy wrapper fully adhere and set.
6. Wipe a sharp knife with a damp cloth and cut the roll in half. Cut each half into 3 pieces, wiping the knife after each cut, and arrange on a plate and serve.