*LFM NEWS:
Peko Peko: A Charity Cookbook for Japan
is now on sale!!  To say that I'm ecstatic would be an understatement.  You'll be hearing more about the book coming up, but I couldn't delay getting the word out!  The book is a collection of nearly 60 family friendly Japanese and Japanese-inspired recipes published by Blurb, 100% of the profits of which will be donated to charity relief in Japan.  This has been a project 3-months in the making and the product is GORGEOUS!  You can read more about the book on the
Peko Peko Cookbook website
and you can
purchase your own copy now on Blurb
!
====================================================================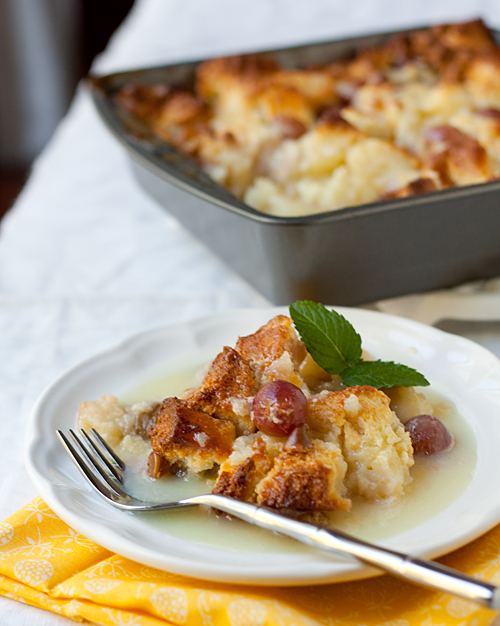 It's been a fabulous Grape Week—I hope you've enjoyed it and are excited about using and eating all the wonderful fresh California grapes that are in season right now!  We started the week out with Grape and Rosemary Focaccia, then moved on to a refreshing Grape and Feta Salad.  Next we moved on to the main course, a recipe for Grape and Chicken Noodle Salad with Peanut Sauce and cooled off with a Green Grape Spritzer.  But no theme week is complete without dessert, right? It's taken all of my self-restraint to save dessert for last, so thank goodness I don't have to wait any longer!  I am a sucker for a good bread pudding and happened to be craving bread pudding when I was in the recipe development stage of planning out Grape Week.  I thought the good berry bread puddings I've had in the past and decided that a grape bread pudding just might work, but this bread pudding had to be moist.  I am not a fan of dry bread pudding.  You can keep dry bread pudding to yourself, thank you very much.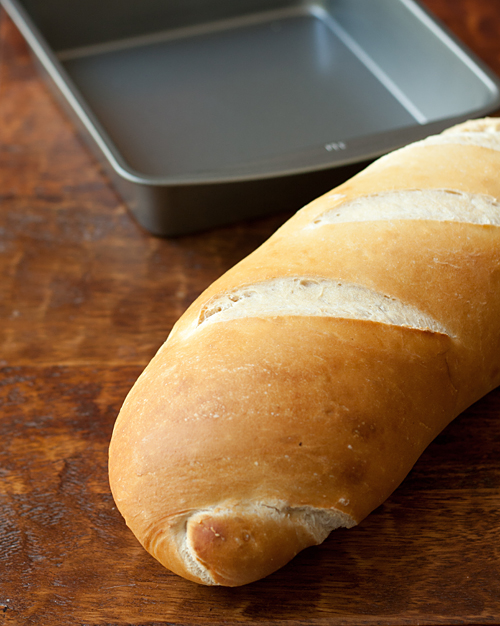 I started with a good loaf of French bread and cut half of it into small cubes, then mixed in the rest of the ingredients.  I also included a handful of white chocolate chips to bump up the richness of the pudding.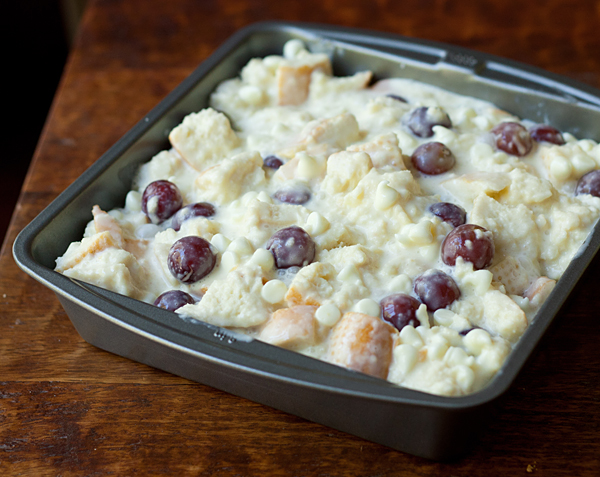 After everything had some good bonding time and the bread was nice and moist, I popped it into the oven for an hour until the top was golden brown.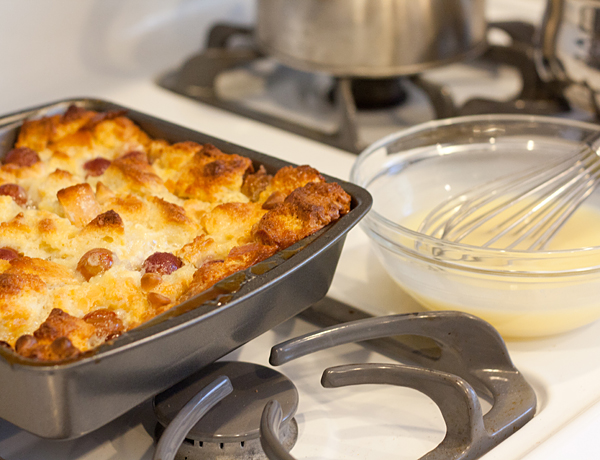 While I waited for the pudding to cool and finish setting, I made a simple white chocolate sauce with more white chocolate chips and some heavy whipping cream.  I then drizzled the white chocolate sauce over individual servings of the bread pudding.  All I can say is that this recipe is already in the recipe box I keep on my kitchen counter where I keep the recipes I make over and over again.  This bread pudding is rich and incredibly moist.  The grapes add color and wonderful juicy burst of flavor.  The white chocolate sauce goes perfectly with the rich bread pudding and the flavor of the grapes.  Definitely a dangerous creation.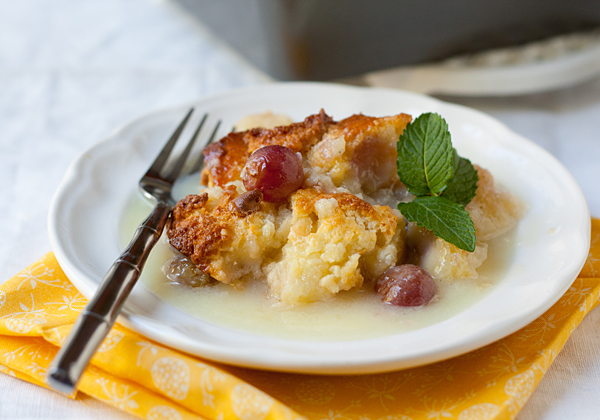 Print This Recipe
Grape Bread Pudding with White Chocolate Sauce
Makes 6 servings
2 large eggs
2 cups heavy whipping cream
1 cup granulated sugar
2 teaspoons almond extract
1/2 loaf (8 ounces) French bread, cut into 1-inch cubes
1 1/2 cups fresh red grapes
1 cup (6 ounces) white chocolate chips
For the white chocolate sauce:
2/3 cup white chocolate chips
1/3 cup heavy whipping cream
1. Preheat the oven to 350 degrees Fahrenheit. Lightly grease an 8×8-inch baking pan.
2. Combine the eggs, cream, sugar, and almond extract in a large bowl. Stir in the grapes and white chocolate chips. Stir in the bread cubes and let the mixture stand for 15 minutes, or until the bread is softened.
3. Transfer the mixture into the prepared baking pan and bake, uncovered, for 60 to 70 minutes, or until a knife comes out clean. Let the bread pudding stand for 10 minutes before serving.
4. While the bread pudding is sitting, prepare the white chocolate sauce. Put the white chocolate chips in a small bowl. In a small saucepan, bring the cream just to a boil, then pour it over the chocolate and whisk them together until smooth. Serve with the bread pudding.