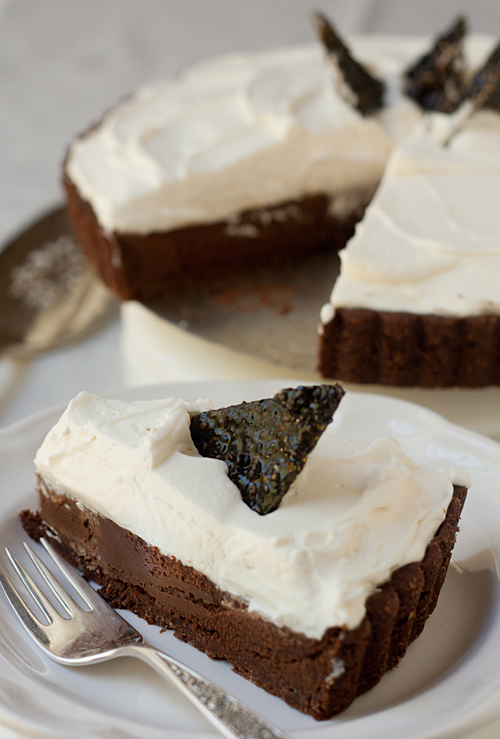 If I had lived during the time of quilting bees, I think I might have been a quilter.  There's something about gathering together with a group of people with similar interests to work with your hands and enjoy each others company that is so appealing to me.  When we lived in Memphis, I joined a weekly "Sit & Knit" at a local yarn shop, where a group of people brought treats and whatever project they were currently working on, and we would talk and laugh (and knit, of course!) while we sat in the shop after hours, enjoying the companionship that comes from spending time with friends that understand your love for what you do.  In this world of new media, Twitter has become another powerful way for people with similar interests to gather, albeit virtually.  Now I can go into the kitchen and gather with my friends at the same time, even though many of them are living on the other side of the country, or half-way around the world.  I find myself constantly inspired by the creativity and passion that these people share.  One such person is Abby Dodge, an incredibly talented author and chef.  Last month she wrote a post about a Twitter conversation she had about how fun it would be if we could actually get together and bake together.  She decided to dream up a way for us to do this in a creative way—a kind of modern-day "Cooking Bee."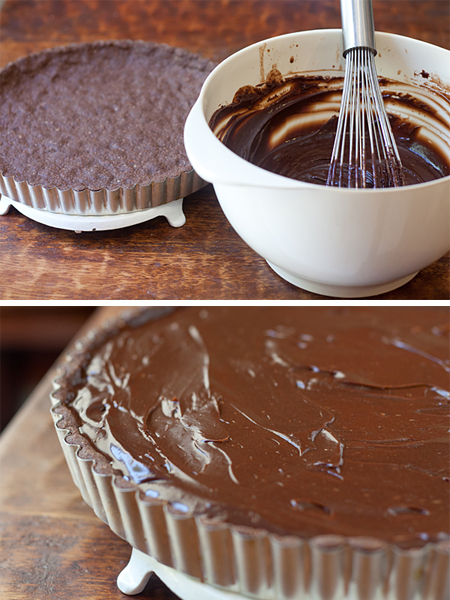 She provided a basic recipe and then challenged anyone who wanted to participate to "switch-it up" and make their own version.  In this way we could all "bake together" as we each threw our own twist on the project, then share our creations via Twitter and on our blogs.  For my tart, I used the chocolate truffle filling and mascarpone cream team from the basic recipe and made only minor changes.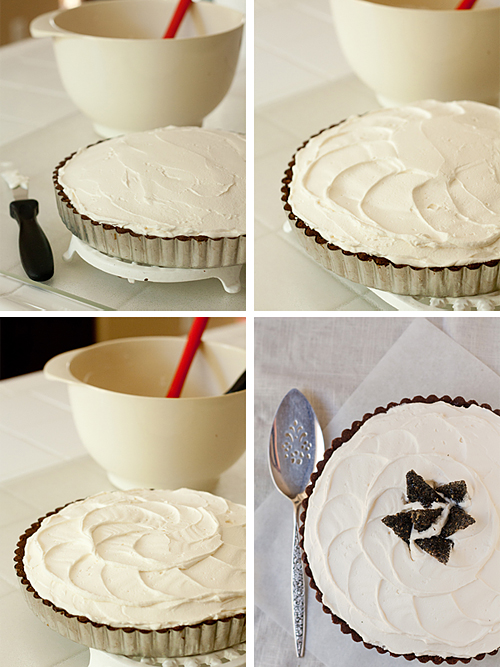 For my crust, I created a chocolate almond crust.  I wanted to throw in a bit of a Japanese twist, so I made a toasted black sesame brittle to finish things off.  The chocolate almond crust added a wonderful nutty vehicle for the rich chocolate truffle filling.  The mascarpone whipped cream topping is perfectly suite to the rich filling, because the mascarpone cheese helps balance out the sweetness of the other elements.  The brittle added a bit of extra crunch and sass.
Although the tart is made up of 4 different elements, none of the elements are difficult.  This tart is beyond easy to make—it just requires a bit of advanced planning!  The finished product is a rich and creamy chocolate tart that is more than a little deadly if you are as big a chocoholic as I am.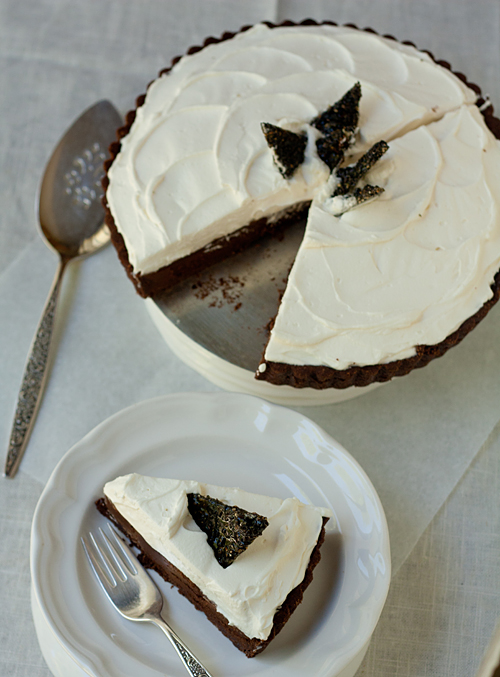 Print This Recipe
Chocolate Truffle Tart with Black Sesame Brittle
Partially adapted from Abby Dodge's Chocolate Truffle Tart Recipe
Makes 12 servings
For the crust:
2/3 cup all-purpose flour
1/2 cup granulated sugar
1/2 cup ground almonds
1/3 cup cocoa powder
6 tablespoons butter, softened
For the filling:
12 ounces semisweet chocolate, chopped
1 cup whipping cream
2 ounces (4 tablespoons) unsalted butter, cut into 4 pieces
1 teaspoon almond extract
1/2 teaspoon vanilla extract
Pinch table salt
For the topping:
8 ounces mascarpone cheese
3/4 cup whipping cream
1/4 cup granulated sugar
1/2 teaspoon vanilla extract
For the brittle:
3/4 cup granulated sugar
1/2 teaspoon vanilla extract
3/4 cup toasted black sesame seeds
Make the crust:
1. Preheat the oven to 350 degrees Fahrenheit. In a small mixing bowl, beat together the flour, sugar, almonds, cocoa, and butter until a soft dough forms. Press the dough into a 9-inch fluted tart pan with a removable bottom.
2. Bake the crust for 12 to 14 minutes, until puffed. Cool completely.
Make the filling:
1. In a heatproof medium bowl, melt the chocolate, whipping cream, and butter in a microwave or over simmering water. Remove from the h eat and add the almond extract, vanilla extract, and salt. Whisk the mixture until well blended and smooth. Set aside, whisking occasionally, until room temperature and slightly thickened, about 1 hour. (For faster cooling, refrigerate the filling until thickened to a pudding consistency, about 30 minutes, whisking and scraping the sides of the bowl with a rubber spatula every 5 mintes.)
2. With a rubber spatula, scrape the mixture into the cooled crust and spread evenly. Let cool completely, then cover and refrigerate until the filling is set (about 4 hours) and up to 1 day before proceeding with the recipe.
Make the topping:
1. In a medium bowl, combine the mascarpone, cream, sugar, and vanilla. Using an electric mixer with the whisk attachment, beat on low speed until smooth. Then increase the speed to medium high and beat until the cream is thick and holds firm peaks.
2. Using a small metal spatula, spread the whipped cream over the chocolate filling leaving lots of swirls and peaks. Cover loosely and refrigerate up to 8 hours.
Make the brittle:
1. Line a baking sheet with a silicone baking mat or lightly butter the sheet.
2. Heat the sugar and vanilla extract in a 2-quart saucepan over medium-high heat, stirring constantly, until the sugar melts.
3. Add the sesame seeds, stirring them in quickly. Pour immediately onto the prepared baking sheet, and use a rubber spatula to spread the brittle out as thinly as possible on the sheet. The use a knife to score the brittle into pieces while still warm.
4. When cool, break along the lines and use the brittle to garnish the top of the tart.