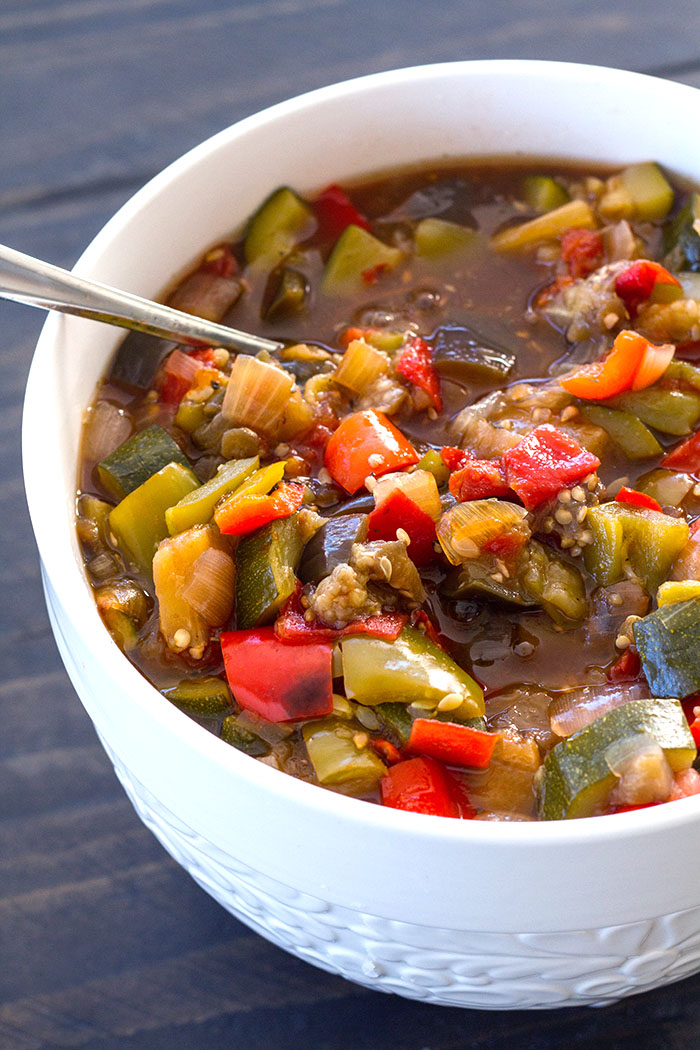 During the summer of 1998 I was in Rome when France beat Italy in the final game of the FIFA World Cup.  Europe is a super fun place to be during the World Cup, with large screens and chairs set up in town squares, and lots of excitement in general (even if you happen to be in a country when they lose a match).  I grew up going to my younger brothers' soccer games, and enjoyed playing with friends, but it was that summer that I really fell in love with soccer.  Two years later I ended up living in Paris, doing a study abroad as part of my undergraduate degree in France.  I already loved the language, but I instantly fell in love with the country.  Fast forward to the present and two of my loves converged . . . the FIFA World Cup and France!
This past Sunday France played Croatia in the final game of the World Cup and won!  Earlier on in the week I planned out a French-themed Sunday dinner, thinking it would be a fun thing to do, not only because of the World Cup game, but also because Saturday, July 14th, was la Fête Nationale in France, the anniversary of the storming of the storming of the Bastille (a medieval fortress in Paris used for most of its history as the main prison of Paris), which was a turning point of the French Revolution.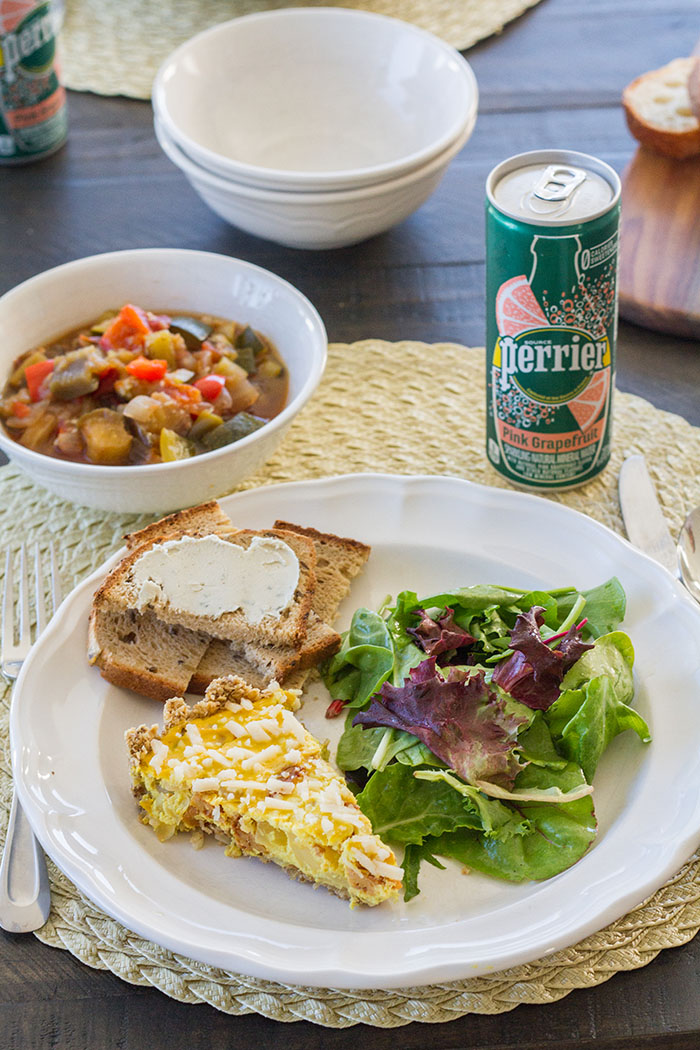 ———————————————————–
Baguette & Cheese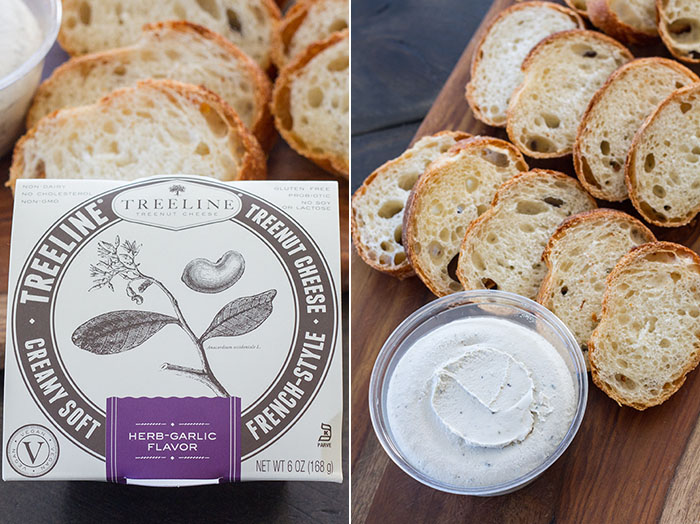 We started out the meal with slices of crusty baguette smeared with Treeline Herb-Garlic Flavor Creamy Soft French-Style Treenut Cheese.  Since I am gluten-free, I had my cheese on a slice of BFree Brown Seeded Sandwich Loaf bread. (I recently got a box of products from BFree to try out . . . can't wait to tell you more! I'm a long-time fan.)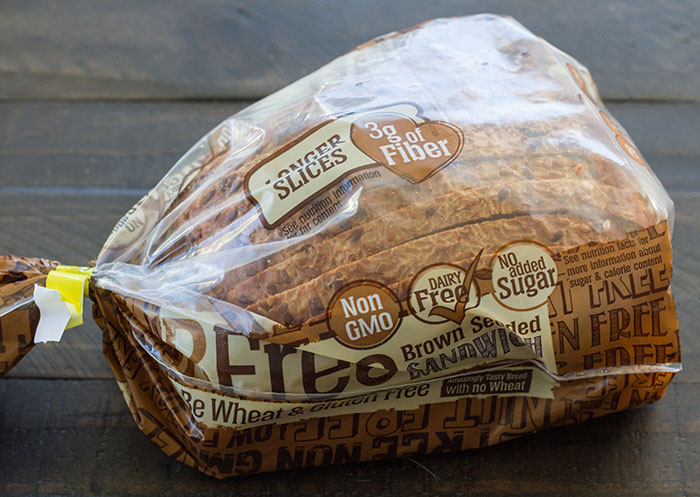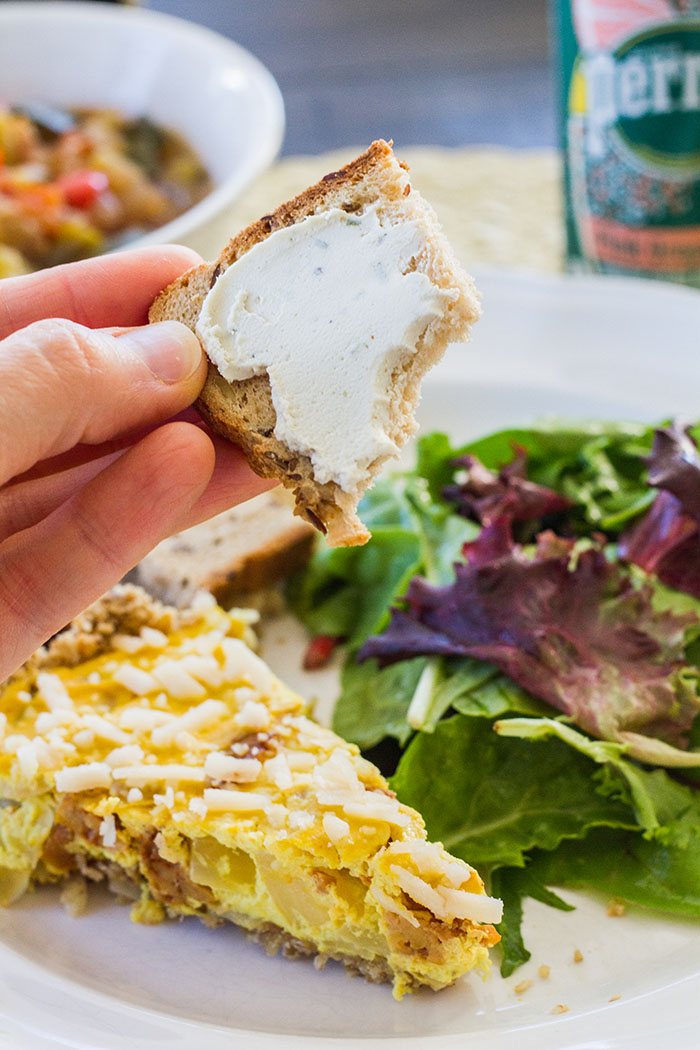 ———————————————————–
Salade Verte (Green Salad) & Vinaigrette Classique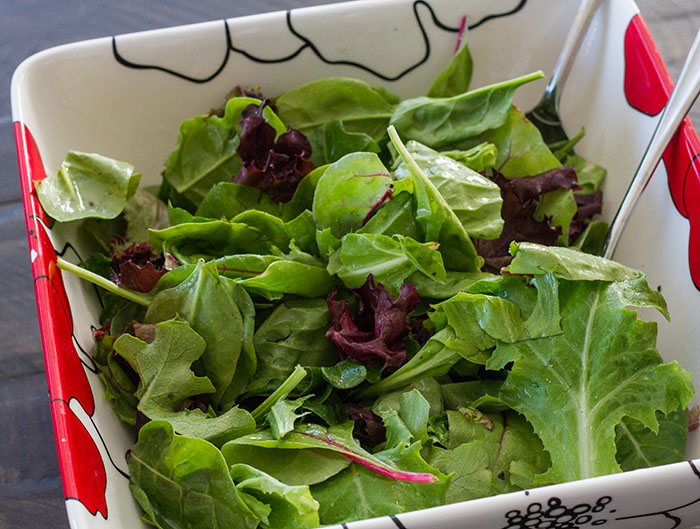 I made a simple salade verte (green salad) with a classic French vinaigrette.  I was having huge flashbacks as I was making dinner on Sunday.  When I studied in Paris the mom of the family I lived with was an incredible cook.  She always had a jar of vinaigrette made up and ready to use, next to the salt and pepper on the shelf.  She told me to mix one part vinegar with 2 parts oil for a tart vinegraitte, or one part vinegar with 3 parts oil for a smoother vinaigrette.  Sometimes she would add a spoon of Dijon mustard (always Maille), and then always a bit of freshly cracked black pepper and some fleur de sel.  Her salads where always simple.  Sometimes they were just a mix of lettuce and sometimes she added some corn.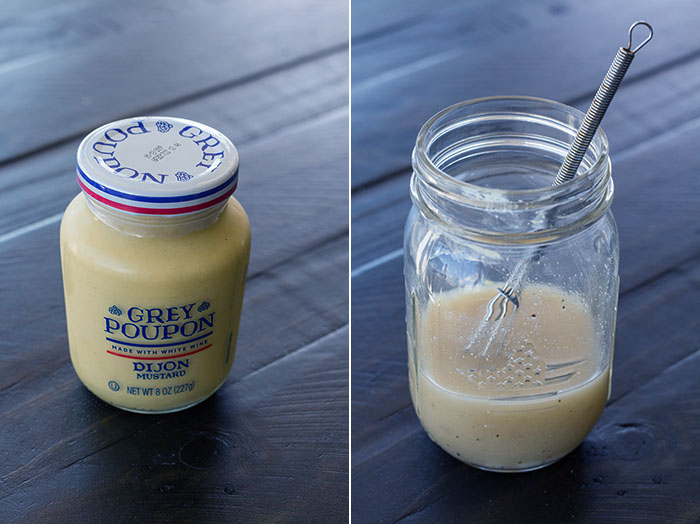 For ours I used a mix of baby greens and a vinaigrette, just like she taught me.  I whisked 3 tablespoons of white wine vinegar with 1 teaspoon of Dijon mustard (Grey Poupon…because I am out of Maille…oh, the shame!), then slowly poured 6 tablespoons of oil (my host mom always used safflower oil, but you can use whatever you darn well please) in as I whisked, until it was homogeneous.  If you want to take things up a notch you can add some minced shallot (trust me, just try it!) or some chopped herbs or spices.
———————————————————–
Quiche Lorraine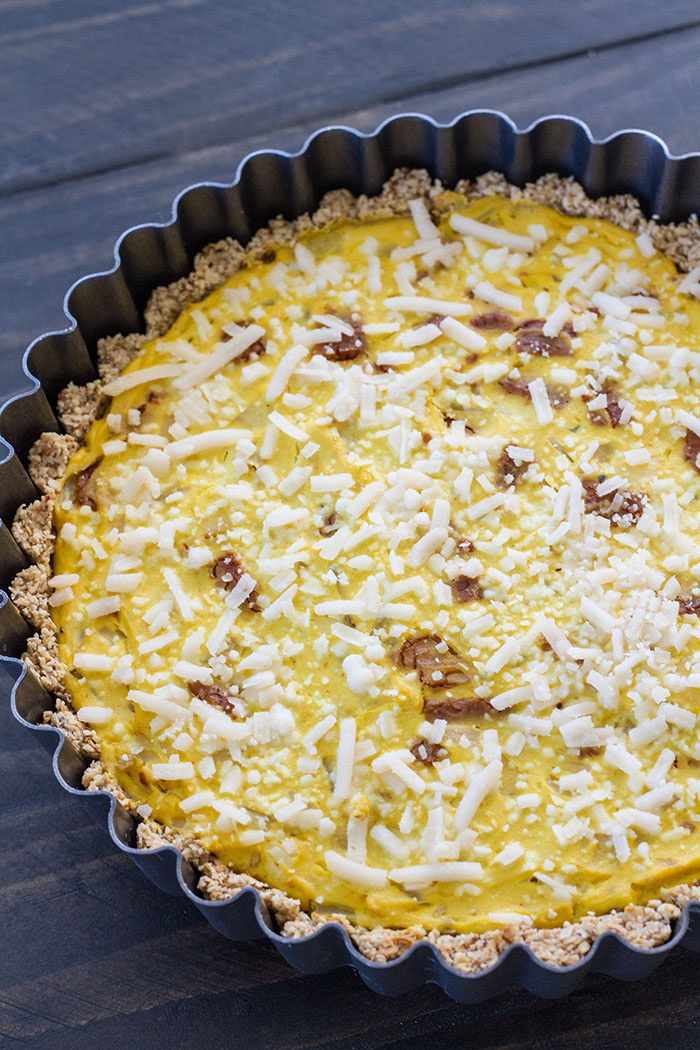 For our main dish I whipped up a vegan version of a quiche Lorraine, a quiche made with eggs, cream and lardons (small strips/cubes of fatty bacon . . . a classic French ingredient).  I made a walnut oat crust and made a tofu filling.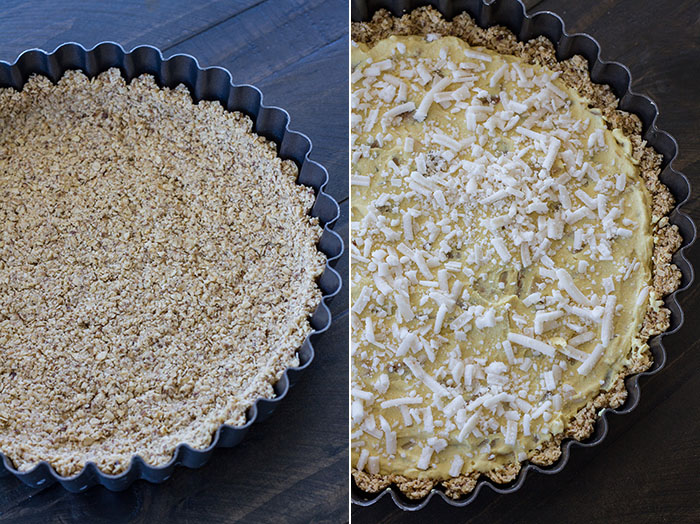 For the lardons I made tempeh lardons, marinating small pieces of tempeh and then pan-frying them until golden brown.  Once I had filled the crust, I topped it with a bit of Follow Your Heart Mozzarella Shreds.  The finished quiche was a bit of a fail…the crust was good, but the texture of the filling was off and the flavor wasn't quite where I wanted it to be.  The tempeh lardons however? They were a homerun!  I only used half of what I made for the filling and Monkey ended up eating most of what I didn't use.  It was addicting.  This is a recipe I'm going to have to work on!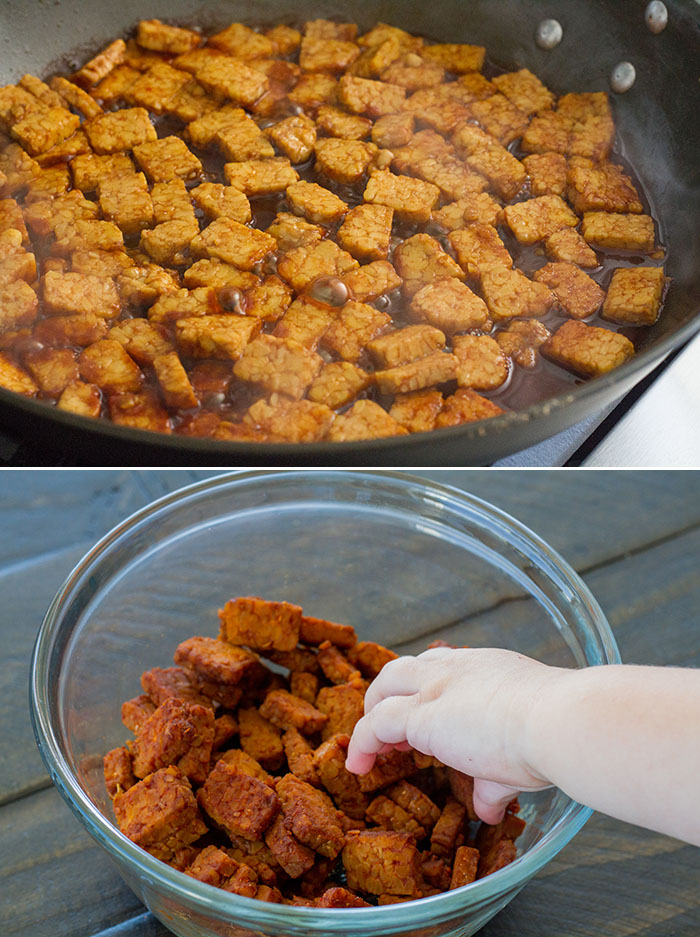 ———————————————————–
Instant Pot Ratatouille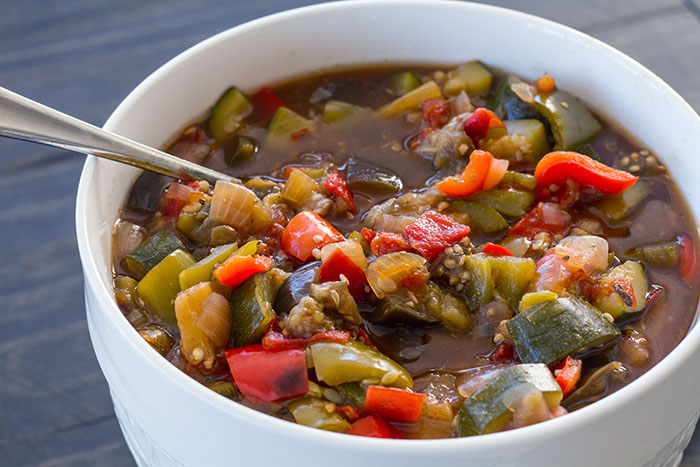 I made ratatouille (a stewed vegetable dish from the south of France) in my Instant Pot as a side dish.  If you want to make ratatouille using the truly authentic method, then you cook all the vegetables separately before mixing them altogether and cooking them until they are almost melting into eachother.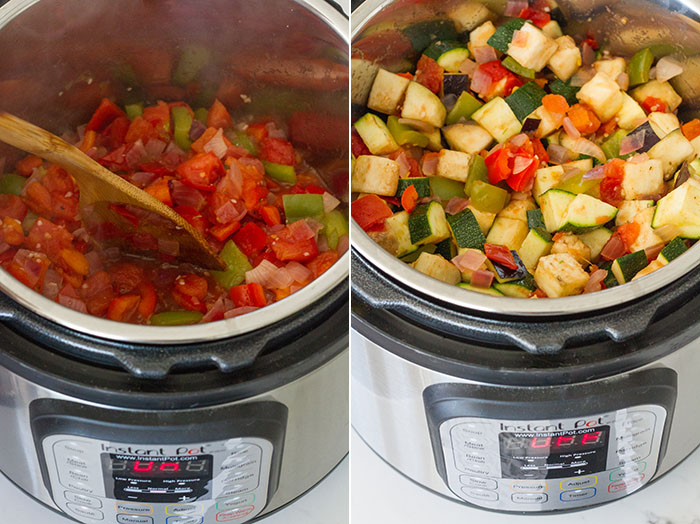 Buuuuut, I cheated and started by sautéing the veggies, adding them one at a time to the Instant Pot, instead of cooking them separately, and then pressure cooked them for a quick 3 minutes.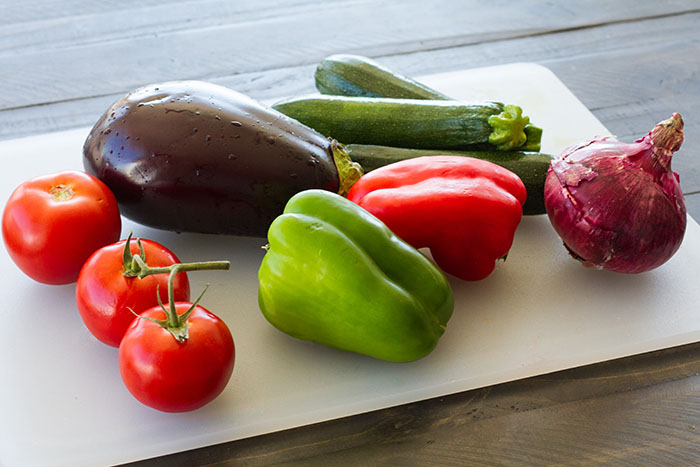 Ratatouille is a simple dish, made with a mix of onions, garlic, eggplant, bell peppers, zucchini, and herbs.  Typically you would use a bouquet garni, a bundle of fresh herbs tied together with a string and added to the pot while cooking, but removed before serving, but I just used some dried herbes de Provence.  You can add fresh herbs like basil and thyme as well, depending on what you have on hand or what sounds good.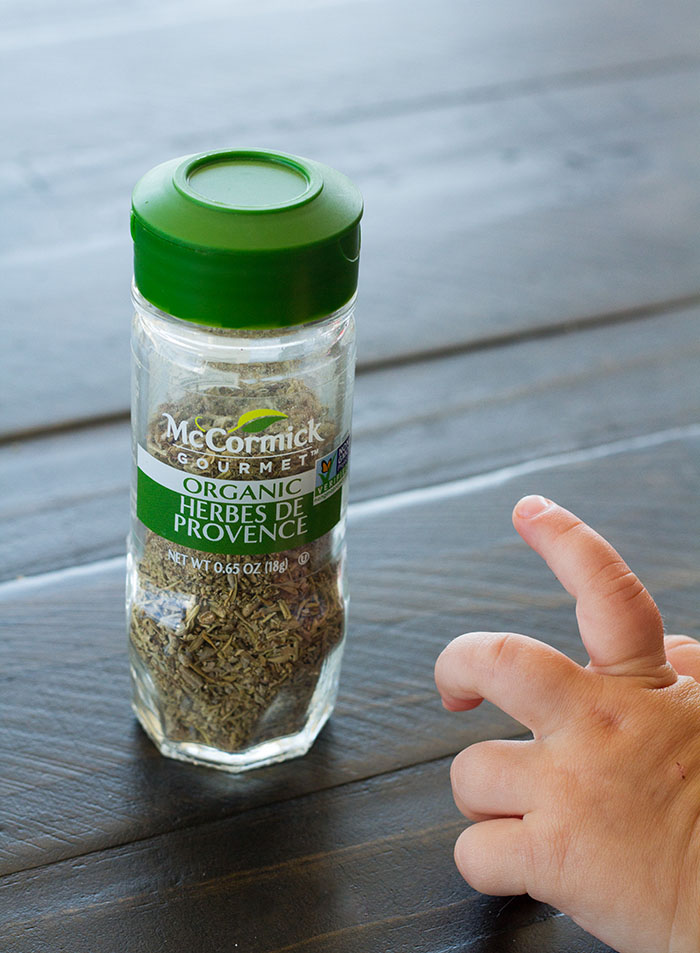 ———————————————————–
Pots de Crème au Chocolat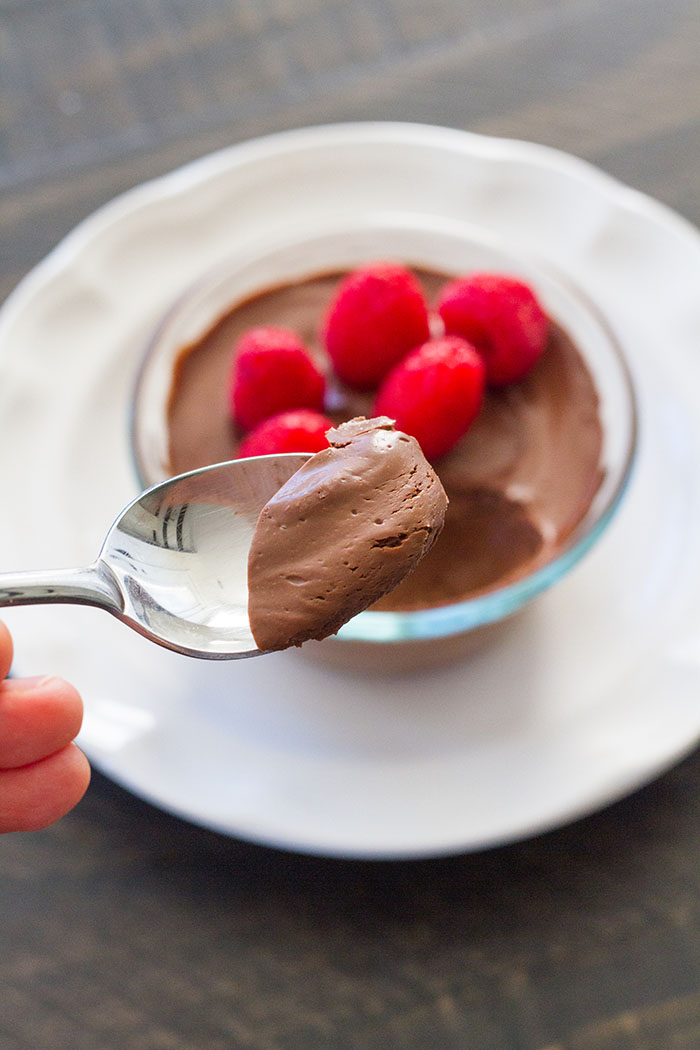 For dessert I made pots de crème au chocolat.  If you've never had a pot de crème, I am sorry, you have been missing out!  A pot de crème is a rich custard dessert served in little cups.  The version I made was chocolate, which I topped with fresh raspberries.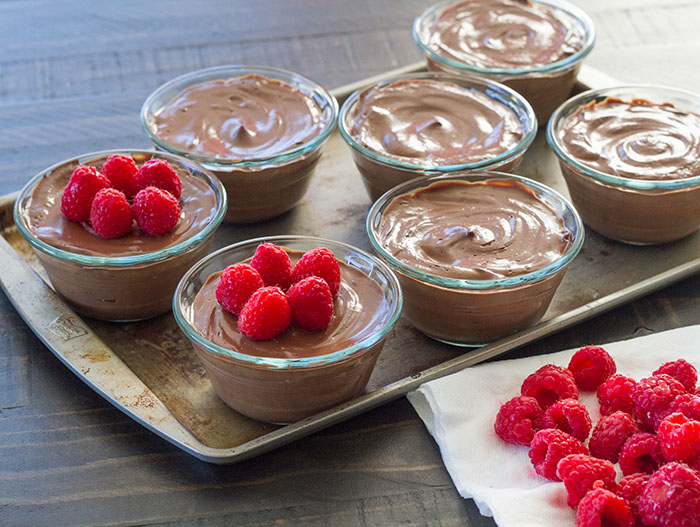 It was a super fun evening, made even more fun by the fact that France won the World Cup.  Vive la France!  And because I love you, I've included instructions on how to make ratatouille in the Instant Pot, because ratatouille is the perfect summer dish.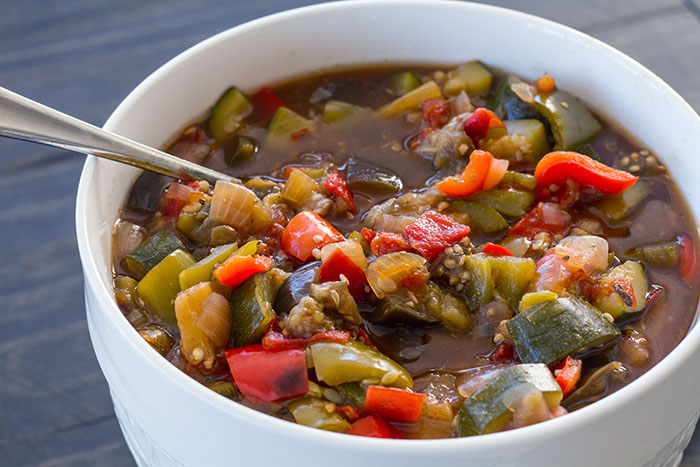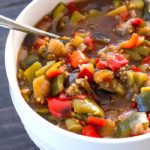 Instant Pot Ratatouille
A stewed vegetable dish from the south of France that features summer vegetables: zuchinni, tomatoes, eggplant, and bell peppers. It's super easy to make in the Instant Pot!
Ingredients
2

tablespoons

extra-virgin olive oil

1

yellow onion, chopped

Fine grain sea salt

Fresh ground black pepper

1

green bell pepper, seeds removed, chopped

1

red bell pepper, seeds removed, chopped

2

cloves

garlic, minced

2

teaspoons

dried Herbes de Provence

3

medium tomatoes, chopped

3

medium zucchini, chopped

1

medium eggplant, chopped
Instructions
Set the Instant Pot to "saute," then add the olive oil (or use water to water saute). When the olive oil is hot, add the onion and a pinch of salt and pepper. Cook the onion, stirring occasionally, until it is soft and beginning to brown, about 5 minutes.

Add the red and green bell peppers, and an additional pinch of salt and pepper, and continue to saute for 5 minutes.


Add the garlic and Herbes de Provence and cook, stirring occasionally, until it is fragrant, about 1 minute.

Add the tomatoes, and an additional pinch of salt and pepper, and cook, stirring occasionally, for 5 minutes.

Add the zucchini and eggplant and stir everything to combine.

Press the "cancel" button on the Instant Pot. Then lock the lid in place and make sure the valve is turned to "sealing." Set the Instant Pot to cook at high pressure for 3 minutes.

When the pressure cooking is complete, press the "keep warm/cancel" button, then carefully turn the valve to "venting" to quick release the steam. When the steam stops, carefully remove the lid. Taste the ratatouille and add additional salt and pepper as needed.
Recipe Notes
Dress your ratatouille up however you like.  My favorite additions are fresh basil and thyme.  Sometimes I'll add a bit of fresh lemon zest or a pinch of chili flakes.  Not traditional, but super delicious!