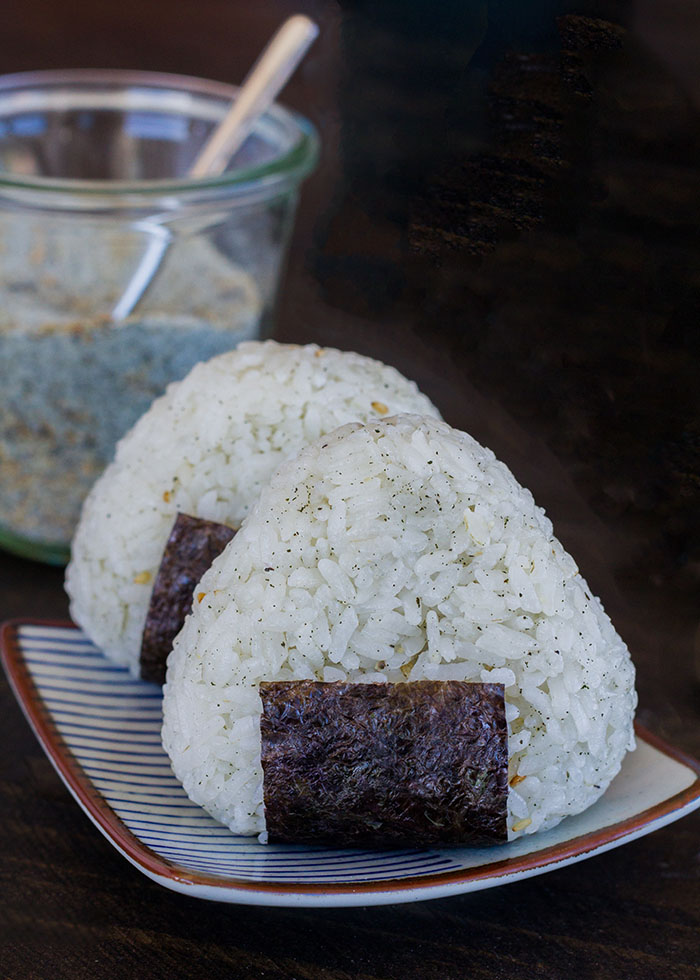 Onigiri (Japanese rice balls) are a constant on our weekly menus in the Fuji household.  Whether they are for lunch or a snack, we eat them at least once a week.  But if you've been reading La Fuji Mama for very long, you already know that!  I am going to start sharing a new onigiri (or onigirazu) recipe/idea at least once a month, because there are so many things that you can do with them, and they are so perfect for packing in bentos or for picnics.  This month I've already shared a recipe for a Red, White & Blue Onigirazu (rice sandwich), but I also have an onigiri recipe for you.  This onigiri is a simple one.  I made a twist on a traditional Japanese condiment, goma shio (sesame salt), by adding dried shiso, one of my favorite herbs on the planet.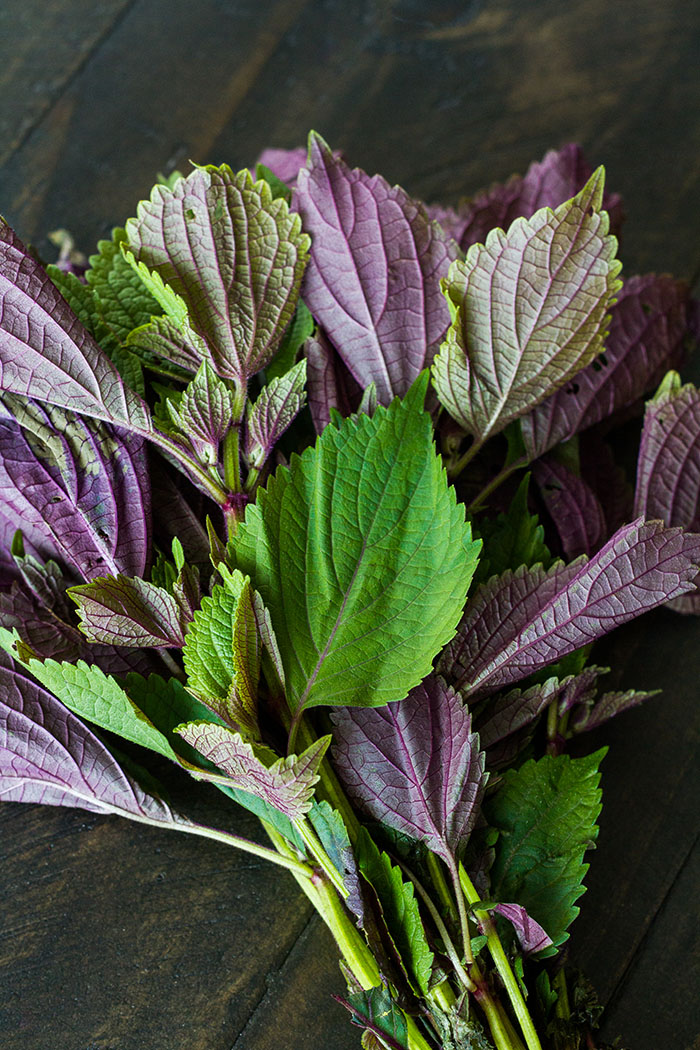 Shiso is in the mint family, but is like a cross between mint, basil, and more.  It has a really unique flavor that is bright and refreshing!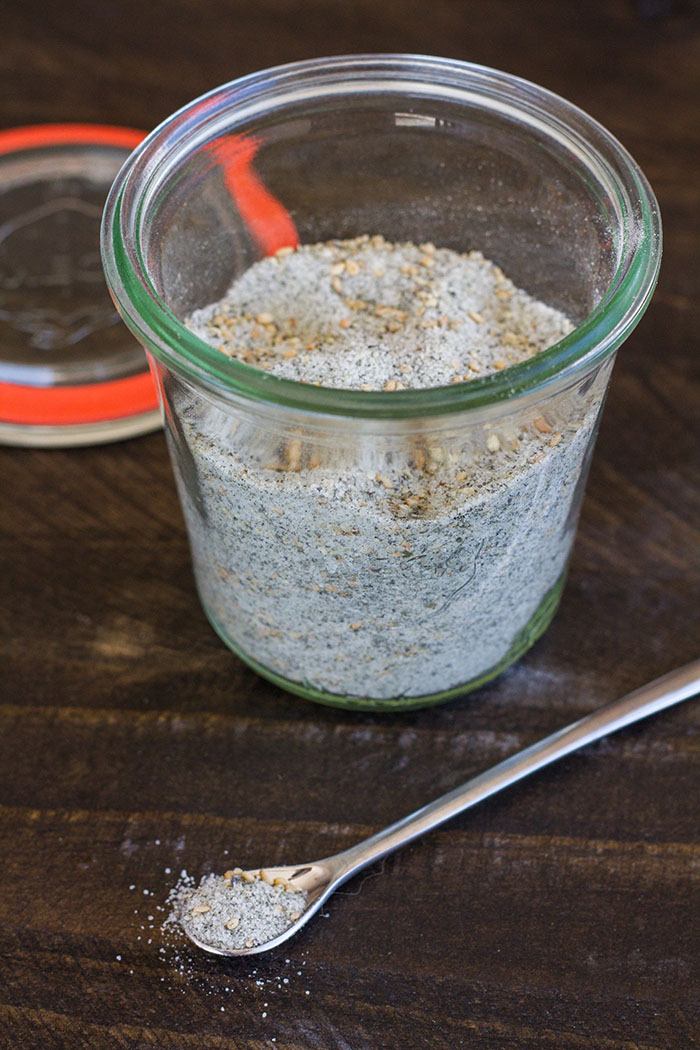 I then took that shiso goma shio (shiso sesame salt) and used it to season the rice, which I then formed into onigiri.  I added a strip of seaweed and then they were done!  The shiso goma shio can be made ahead of time.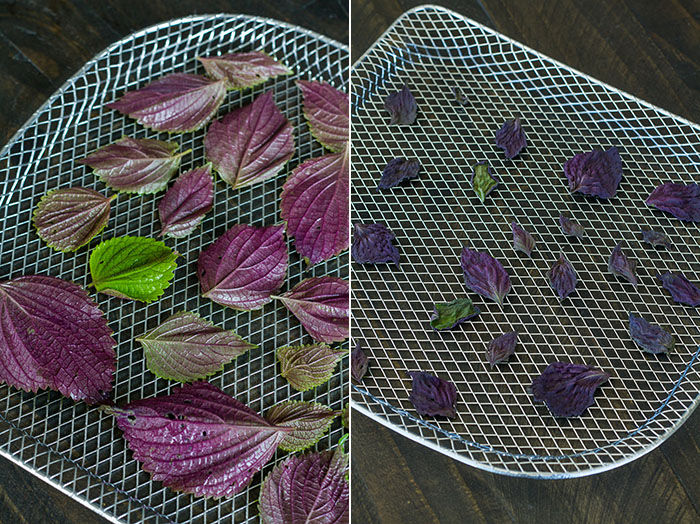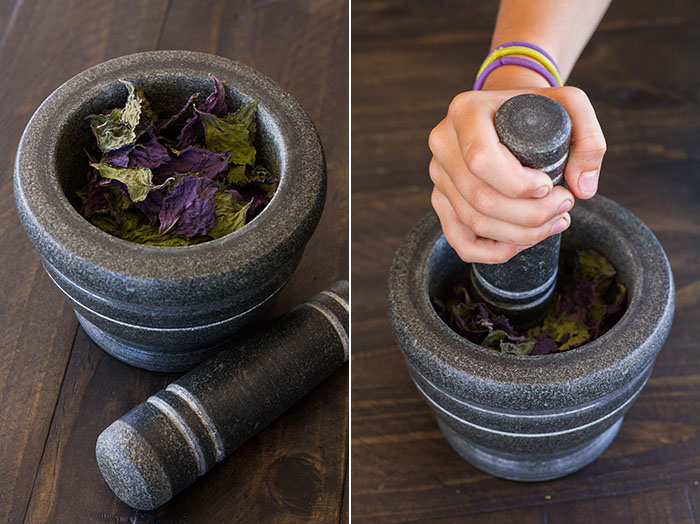 You start with fresh shiso leaves and dehydrate them in a dehydrator, then grind them up using a mortar and pestle or a food processor, then add the toasted sesame seeds and sea salt.  These onigiri may be simple, but they are delicious.  The shiso goma shio (shiso sesame salt) adds a more complex flavor.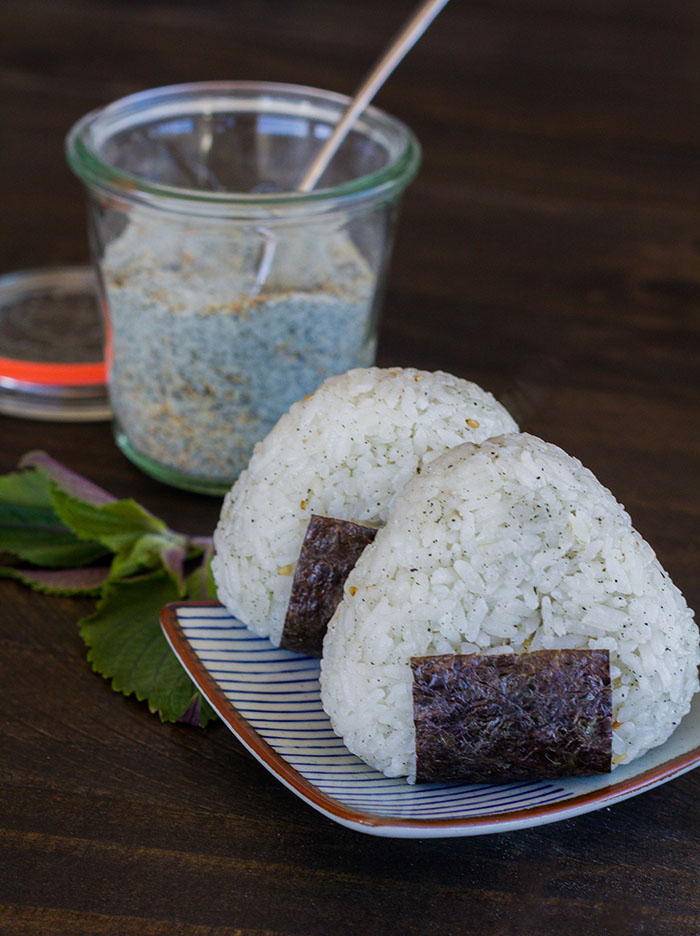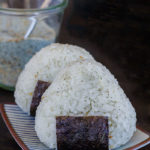 Shiso Goma Shio Onigiri (Shiso Sesame Salt Rice Balls)
Japanese rice balls seasoned with a fragrant shiso sesame salt that is made from scratch.
Ingredients
For the Shiso Goma Shio (Shiso Sesame Salt):
6-10

fresh shiso leaves (use less if the leaves are larger or more if the leaves are smaller)

1/2

cup

fine grain sea salt

2

tablespoons

toasted sesame seeds (you can use white or black)
For the Onigiri (Rice Balls):
3

cups

hot, steamed Japanese rice (often labeled Calrose rice or sushi rice)

1

sheet

toasted nori (the type of seaweed used for sushi making)
Instructions
To make the Shiso Goma Shio (Shio Sesame Salt):
Rinse off the shiso leaves in cool water, then gently shake off the excess water. Remove any long stems. Place the leaves on a dehydrator tray in a single layer.

Dehydrate the leaves at 95 degrees Fahrenehti until they are dry (they will crumble). (Dehydrating time can vary from 1 to 4 hours, depending on how large/thick the leaves are and how humid it is.)

Put the dried leaves in a mortar and use a pestle to grind them up (or use a food processor). Add 2 tablespoons of the ground dried shiso to a mortar or food processor and add the sea salt and toasted sesame seeds. Grind everything together using a pestle, or pulse everything together in a food processor until everything is evenly distributed.

Transfer the shiso goma shio to a glass jar and screw on a lid.
To make the Onigiri (Rice Balls):
Put the 3 cups of hot rice in a bowl and season the rice with the shiso goma shio, to taste. I usually start with a teaspoon, and taste, then add more as needed from there. Everyone will have a different taste preference!

Line a small bowl with plastic wrap. Divide the rice into 4 portions. Put 1 portion of the rice into the plastic wrap-lined bowl. Gather the ends of the plastic wrap around the rice and twist them tight.

Shape the rice into a round shape, using gentle pressure to mold the rice, or shape them into triangles. Set the onigiri aside.


Repeat with the remaining rice. Let the onigiri cool slightly.


Cut 4 strips that are about 2-inches wide and 4-inches long out of the sheet of nori. Unwrap the onigiri, one at a time, and wrap the nori around one of the edges, then rewrap in the plastic wrap and repeat with the remaining onigiri.

The onigiri can be unwrapped and served immediately. They can also be kept wrapped and packed in a bento box. The onigiri will keep fresh at room temperature for 6 hours.