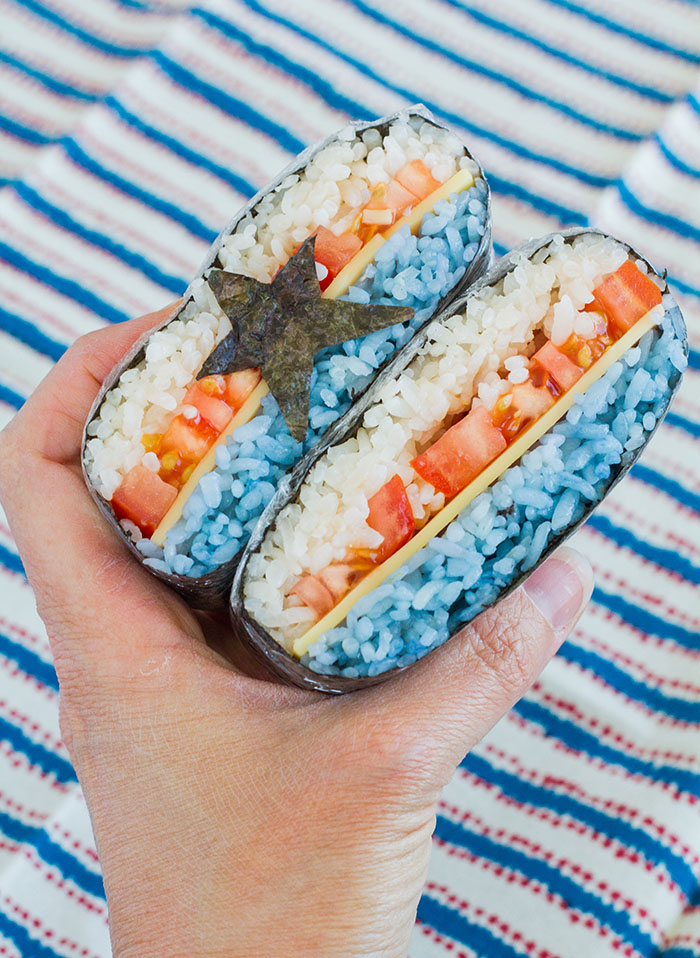 ¡Hola from Cancún!  We (the Fuji Five!) are in Cancún, México this week for a family vacation.  If you are in the US, I hope you have fun things planned for the 4th of July tomorrow!  I know there will be celebrations at our resort here, so we are all looking forward to that, though hanging out at the beach and pool all day sounds pretty darn good too!  To celebrate the 4th of July I designed a special Red, White, & Blue Onigirazu.
It's a simple onigirazu (Japanese rice sandwich), filled with Follow Your Heart Smoked Gouda (a new favorite of ours!) and sliced tomatoes.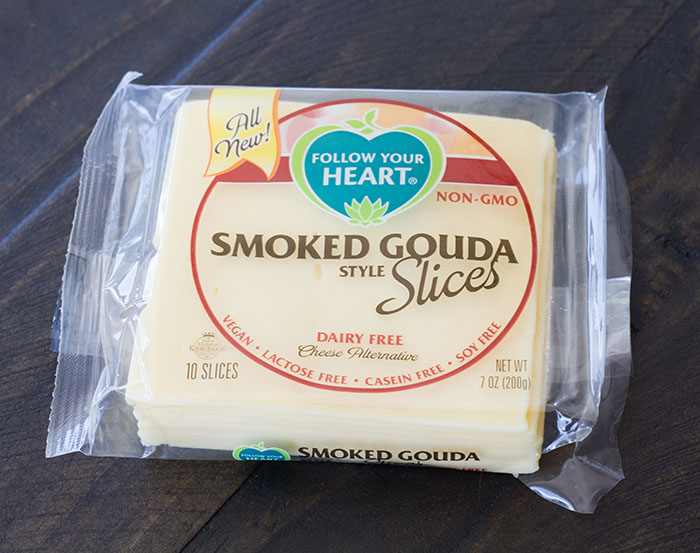 I divided the rice in half and used some b'lure Butterfly Pea Flower Extract from Wild Hibiscus Co to dye half of the rice blue.  Wild Hibiscus Co sent me some fun products to try a while back and I've since purchased more of their products because I love them.  This extract is a great way to add natural color to things.  It has a hint of sweetness, so it works well in drinks and desserts as well.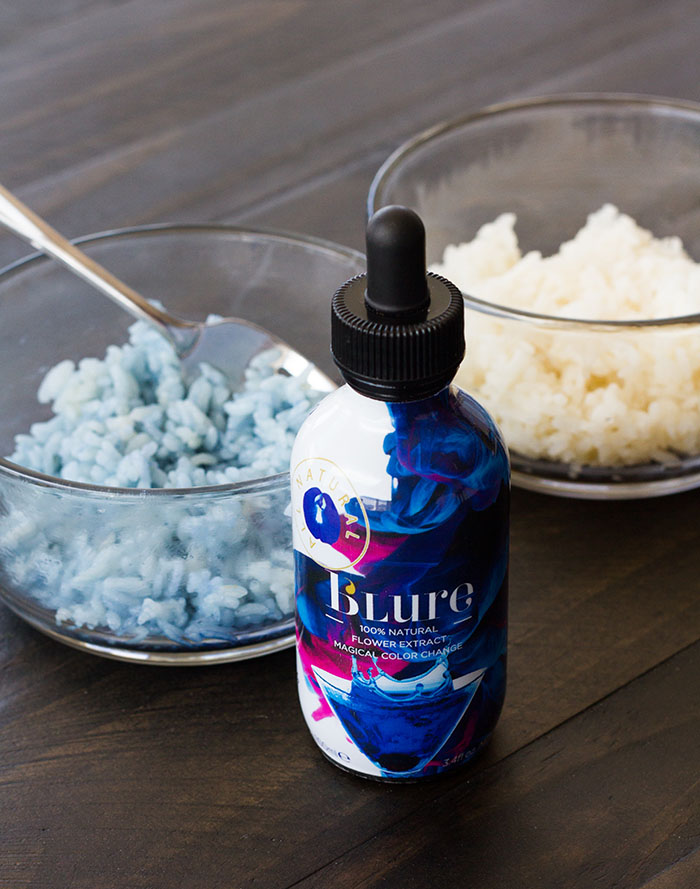 I assembled the onigirazu like I normally do (click here to see step by step photos of how to assemble an onigirazu), then cut out a star for a bit of extra decor.  Simple and delicious! Happy Birthday America!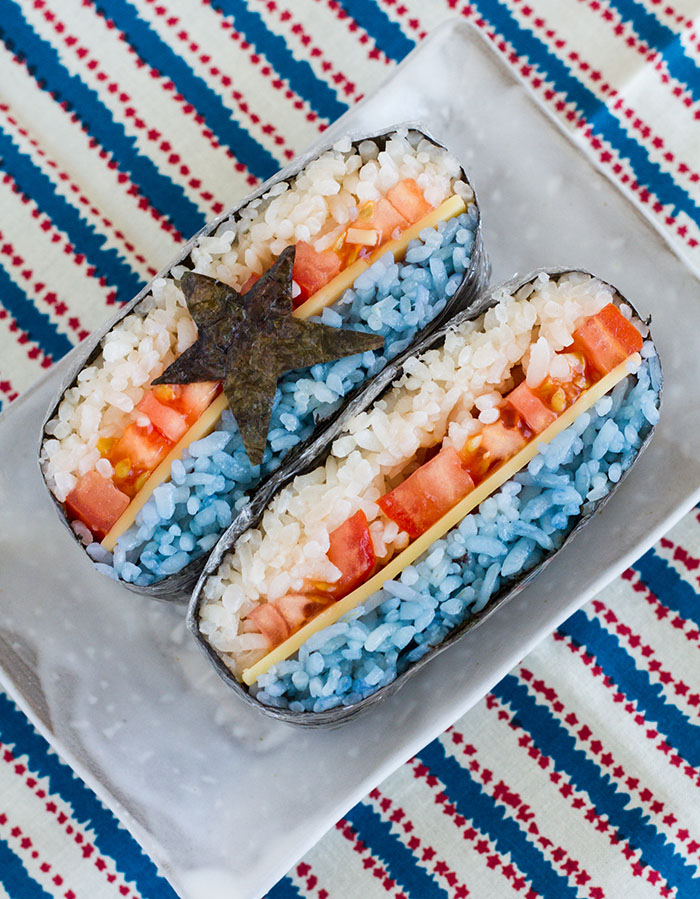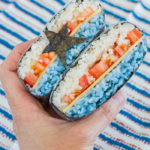 Red, White & Blue Onigirazu
A festive twist on Japanese onigirazu (rice sandwich) filled with vegan cheese and sliced tomatoes.
Ingredients
2/3

cup

steamed Japanese rice (often labeled Calrose rice or sushi rice), tossed with several pinches of fine grain sea salt

b'Lure Butterly Pea Flower Extract

1

small tomato, cut into slices

1 - 2

slices

Follow Your Heart Smoked Gouda (or your cheese of choice)

1

sheet

nori (seaweed), plus more if you want to add any cutouts
Instructions
Divide the rice in half. Use the b'Lure Butterfly Pea Flower Extract to die half of the rice blue. Add as much or as little as you want to achieve the color of blue that you want.

Lay out a square of plastic wrap that is larger than the sheets of nori on a clean work surface. Put one sheet of the nori, rough side facing up, with one of the corners pointing towards you, on top of the plastic wrap.

Put the white steamed rice in the middle of the plastic wrap and spread it out into a square that measures approximately 4 inches by 4 inches and lightly pat it down. (Shape the square so that the corners are pointing towards the sides of the nori, not the corners of the nori.)

Put a layer of tomato slices on top of the layer of rice, then 1 to 2 slices of Follow Your Heart Smoked Gouda. Then add the blue steaed rice to the top of the stack, pressing gently so that it stays in place.

Starting with the left corner of the nori, bring it up and over the rice stack and hold it with your finger. Take the right corner of the nori and fold it so that it overlaps slightly with the first corner. Continue folding with the bottom and top corners until the rice stack is completely wrapped in the nori. Set it aside for 5 minutes.

After letting the onigirazu sit for 5 minutes, carefully unwrap the plastic wrap and cut it in half with a sharp knife, then wrap each half separately in plastic wrap. Before wrapping the halves you can also add star nori cutouts if you want to add more decoration!