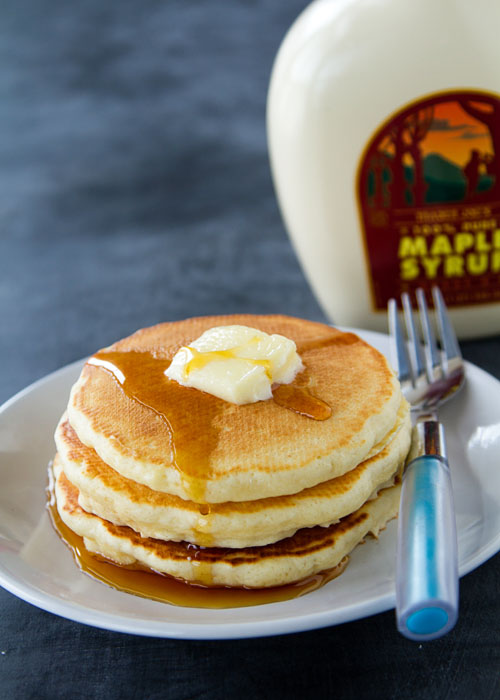 I adore Japanese hotcakes (Japanese style pancakes).  They are sweeter and fluffier than the regular American style pancakes I grew up on.  In Japan there is an uber popular hotcake mix made by Morinaga that makes perfect fluffy hotcakes every time, and seems to be the way most people in Japan make hotcakes at home.  There are even lots of books that use hotcake mix as an ingredient.  When we moved back to the US, after living in Japan, I searched for a recipe for hotcakes so that I could make them from scratch, trying many over the years, but always being disappointed.  Then a couple of years ago my friend Noriko sent me her recipe for hotcakes, thereby ending my hunt for the perfect hotcake recipe.  The recipe is perfect.  I've fiddled with techniques since she sent me the recipe and have finally settled on my favorite.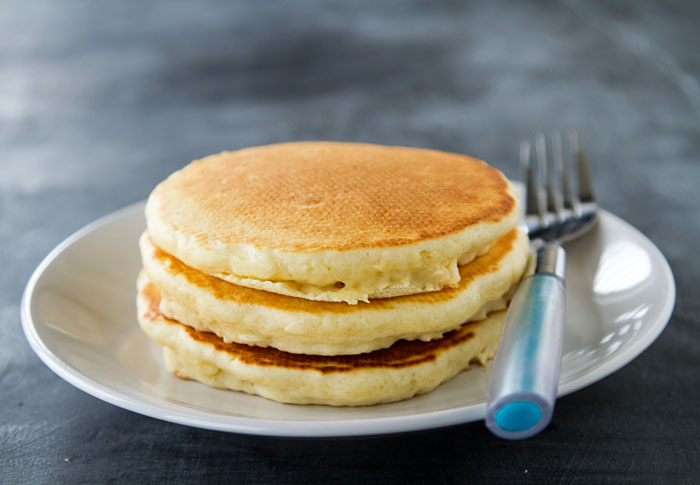 Then my friends at Zojirushi sent me their new Gourmet Sizzler Electric Griddle to try out, and I decided it was a sign that it was time to share the hotcake recipe with you.  This griddle, is amazing, by the way.  I've tried out other griddles, but have always found them a bit cumbersome and a complete pain in the backside to clean.  The cooking plate on Zojirushi griddle is ceramic, and lifts out so that it can be completely submerged in water for cleaning, making it a breeze to clean up.  The griddle also comes with a lid, so that you have the option of covering cooking items to help speed up cooking time.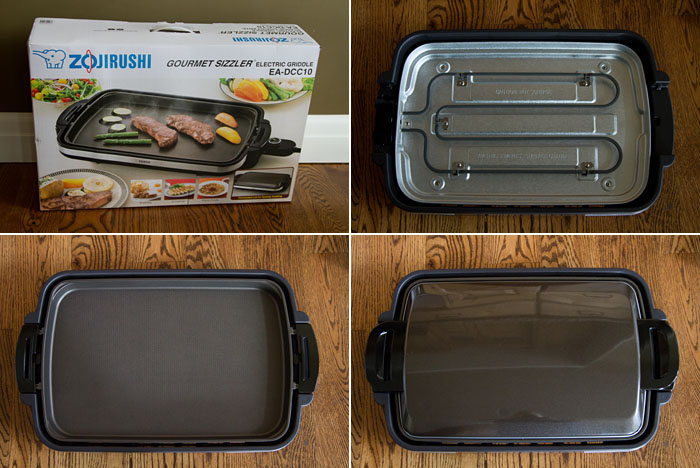 The griddle is on the large size, making it a bit cumbersome, but in this situation it's an advantage, because the cooking surface is nice and large, making it possible to cook up lots of things at once.  I was comfortably cooking 5 large hotcakes at a time.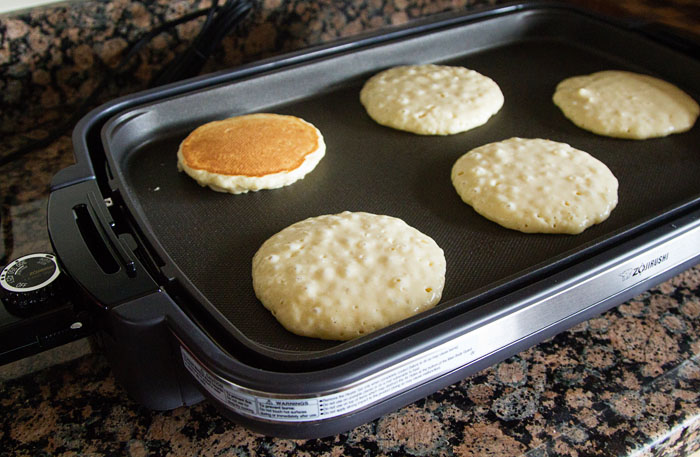 The advantage of using an electric griddle when making hotcakes, is that you can set the temperature on the griddle, then cook the hotcakes at a constant temperature.  This helps deliver perfect hotcakes!  I am a huge fan!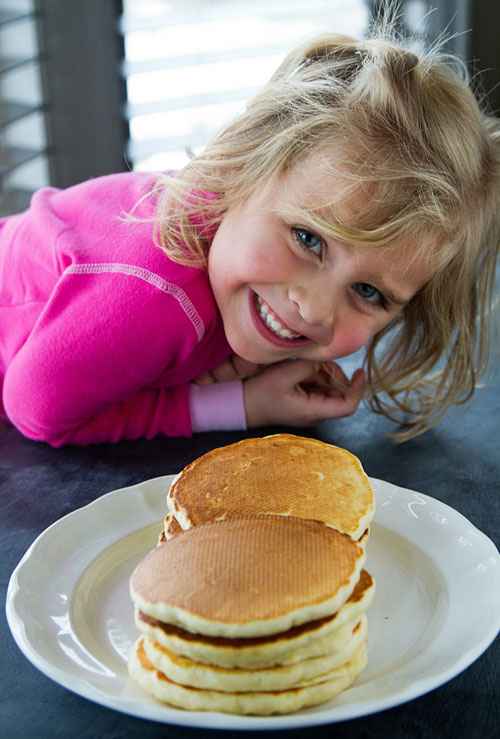 These are fabulous served with a bit of butter and maple syrup.  Noriko also reminded me of the way they serve hotcakes at the Fujiya restaurants in Japan—with a bit of custard, fresh fruit, and a dollop of whipped cream.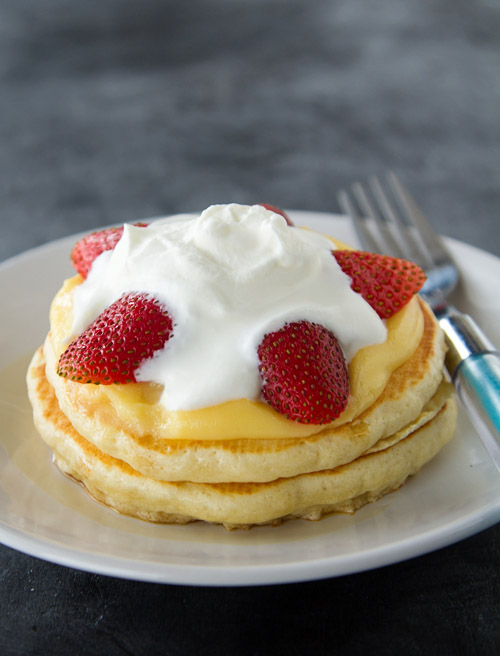 If you're looking for a special holiday breakfast, this is beyond divine.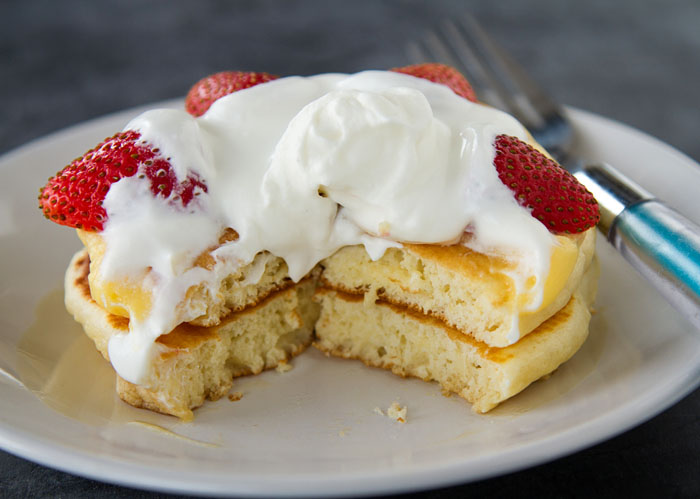 Print This Recipe
Japanese Hotcakes (ホットケーキ)
Adapted from my friend Noriko's recipe
*Recipe Notes: The best way to make the batter for these hotcakes is by using a kitchen scale.  I've experimented with using cup measurements, and I've had very mixed results, since the weight of a cup of flour, for example, can be drastically different depending on how you measure it.  If you stick the measuring cup into your flour bin and scoop out your flour, your going to end up with a lot more flour in that cup than if you were to spoon your flour into the cup.  The weight measurement helps reduce the margin of error.
Makes 8 large hotcakes
2 large eggs
200 milliliters milk (7 ounces or .85 cup)
1 teaspoon vanilla extract
200 grams all-purpose flour (7 ounces or scant 1 2/3 cups)
8 grams baking powder (.28 ounces or 1 3/4 teaspoon)
40 grams granulated sugar (1.4 ounces or 3 tablespoons + 1 teaspoon)
1. Beat the eggs, milk, and vanilla extract together until foamy, about 3 minutes at high speed using a hand or stand mixer.
2. Whisk the dry ingredients together. Gently and quickly mix the dry ingredients mix into the egg mixture. Then let the batter rest for at least 15 minutes. (The batter will thicken slightly.)
3. Set an electric griddle to 375 degrees Fahrenheit, or heat a heavy frying pan over medium heat. Lightly grease the griddle or frying pan. The griddle/pan is ready to use if a drop of water will skitter across the surface, evaporating immediately.
4. Ladle 1/4 cupfuls of the batter onto the griddle. Cook on one side until bubbles begin to form and break, about 2 minutes. Then turn the pancakes and cook the other side until brown, about 1 1/2 to 2 minutes. Turn over only once. Serve immediately. Delicious drizzled with maple syrup, or topped with custard, fresh berries, and a dollop of whipped cream.
===============================================
*Disclosure: Zojirushi sent me a Gourmet Sizzle Electric griddle to try out at no cost to me.  I was not compensated for writing this post, nor was I required to do so.  All thoughts and opinions are my own! [/donotprint]