fun to shuck
, once you get the hang of it.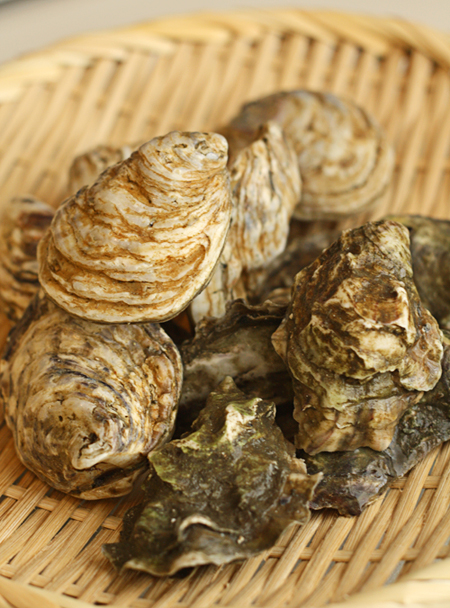 Oysters are also a highly sustainable seafood choice, and the next stop on our Sustainable Seafood Tour!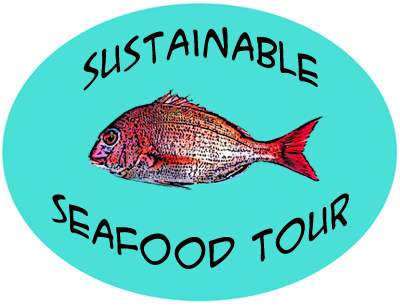 Martin Reed explains that oysters "are one of the best types of seafood in terms of sustainability.  As filter feeders, not  only do they not require feed added to the water, they actually clean their surrounding habitat by converting nutrients and organic matter into consumable biomass.  Doesn't get any better than that!  Oysters consume nitrates and ammonia, removing them from the water, which they then expel as solid waste pellets, which decompose into the atmosphere as nitrogen. One oyster alone is able to filter between 30-50 gallons a day."  These little guys are powerhouse cleaners!  Not only are they good for the ocean, but they are good for your health as well.  Oysters are an excellent source of several minerals, including iron, zinc and selenium, as well as an excellent source of Vitamin B12.    Martin also explained that "[l]ike wine and cheese, oysters derive much of their flavor from their terroir, the specific environment in which they grow.  There are a million ways to prepare oysters, but sometimes just cracking them open and eating them raw is my favorite."  i love blue sea offers many varieties of oysters.  I got to try some of the Kusshi Oysters and some the Point Reyes Oysters.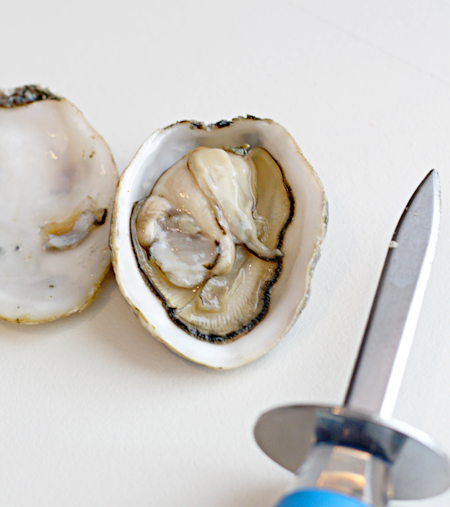 Kusshi means "ultimate" in Japanese.  The name fits, as these little beauties are absolutely delicious with a sweet clean taste.  They are grown off the East Coast of Vancouver Island and are becoming one of the more popular oysters.  Point Reyes Oysters are equally fabulous.  Martin writes, "The liquid in its shell contains a lot of salt but its body is sweet with a crunchy texture like a clam. It passes over the tongue, you get a taste of salt, then a taste of sweet, then a coppery finish.  These are a really pretty oyster and especially suited to enjoying on the half-shell.  I like to pair with a glass of cold, dry white wine."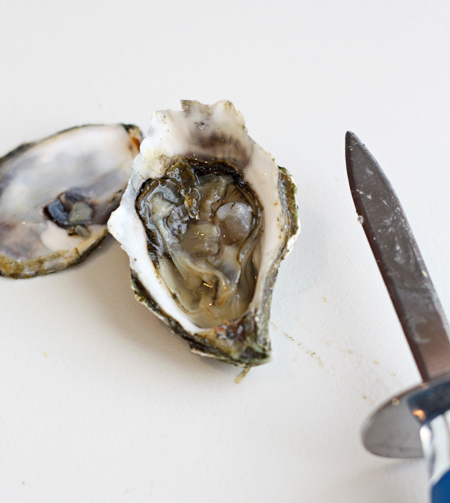 Although I love raw oysters, I decided to share a different method of preparing them with you, since there are already many recipes out there for raw oysters.  Kaki zosui is a Japanese oyster and rice soup.  I've written about zosui before.  This is a quicker zosui, and is thinner than the tori zosui (rice and chicken porridge) than I wrote about in January because you only simmer it for a couple of minutes.  Just enough time for the oysters to cook through and for the rice to soak up a bit of the flavor.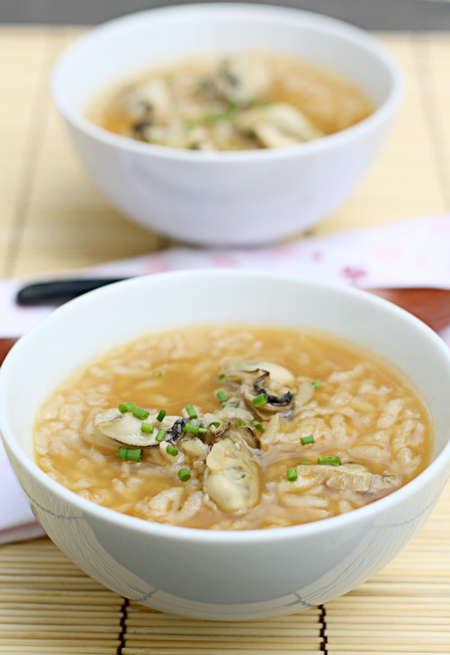 Kaki zosui is really delicious because it celebrates the flavor of the oysters.  It uses both the meat of the oyster and the liquor (the liquid inside of the shell that the oyster is living in ) and very few other ingredients so that the oysters can take center stage.  If you have kids that turn their noses up at oysters, you may be able to get them to eat them in kaki zosui as the oysters don't look as intimidating as little bits of meat in soup.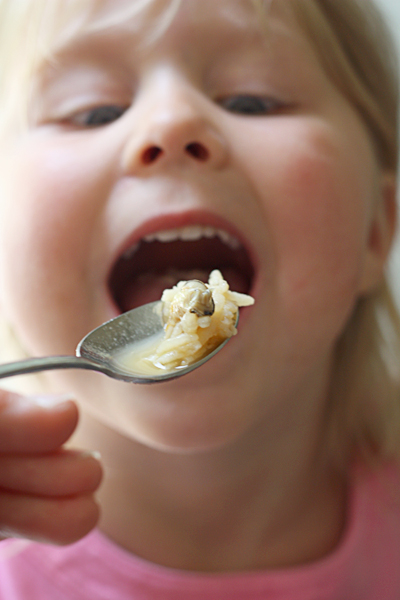 Shucking the oysters takes the most time.  Once they are shucked, the dish only takes a few minutes to prepare.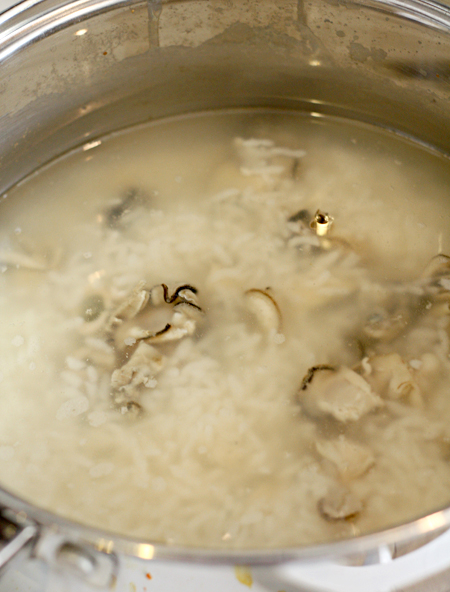 You briefly simmer the rice and oysters in a dashi broth with the oyster liquor added, and then add a bit of soy sauce and simmer for a couple of more minutes and then the soup is done!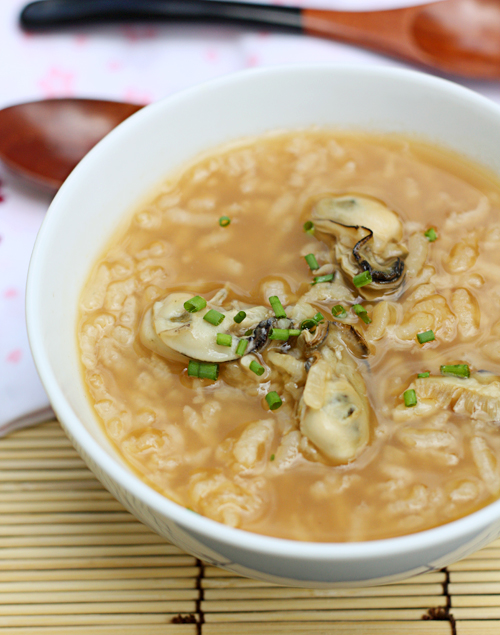 Print This Recipe
Kaki Zosui—Oyster and Rice Soup
Adapted from Kaki Zosui recipe in An American Taste of Japan, by Elizabeth Andoh, p.63

Makes 4 servings

1 1/2 cups steamed Japanese rice
1 dozen freshly shucked oysters, reserve their liquor
1/2 teaspoon salt
3 cups dashi
2 tablespoons soy sauce
1 tablespoon chopped fresh chives

1. Place the cooked rice in a strainer and rinse under cold water to separate the grains and remove any excess starch.  Drain the rice thoroughly until no water drips from the strainer.

2. Pour off and reserve any liquor from the oysters (the liquid inside of the shell).  Sprinkle 1/2 teaspoon of salt on the oysters and toss gently, making sure they are thoroughly coated.  Rinse the oysters under cold running water to remove any grit.  Pat dry on paper towels.  If the oysters are larger than 1 1/2 inches, cut them in half so that they cook quickly.

3. Pour the dashi and reserved oyster liquor into a wide-mouthed pot and bring to a boil rapidly over high heat.  Reduce the heat to maintain a steady simmer and skim off any foam that may have accumulated on the surface of the dashi.  Add the rice and gently stir to separate any lumps.

4. Add the oysters and cook for 1 minute.  Add the soy sauce, stir to distribute well, and cook for 2 more minutes.  Sprinkle with chives and serve immediately.

I'm a huge fan of oysters.  Not only are they delicious, but I think they are a whole lot of