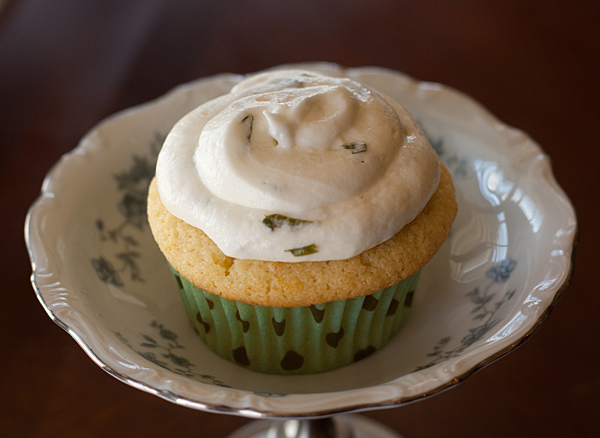 I have had a crazy couple of weeks!  Between traveling, deadlines, dealing with normal life "stuff", and then contracting a nasty stomach bug and pinkeye, I think I'm ready to sleep for the next 10 years.  So, to make a long story short, I'm finally getting around to telling you about my day at the Orange County Fair and sharing the recipe for the lemon mochi cupcakes with lemon basil buttercream frosting that I demoed!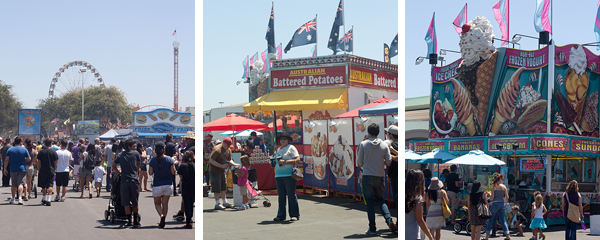 The fair was fabulous, with plenty to see and do.  The Fuji family came out to enjoy the day and give me some moral support.  In fact, at one point during my demo, Bug called out from the audience, "Hi Mommy!"  It made my day.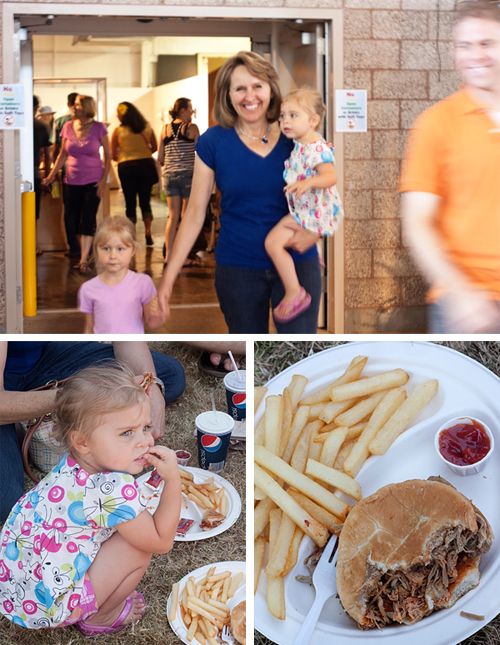 I spent the day in the Exhibit Promenade where the Eat, Live, Grow exhibits were housed.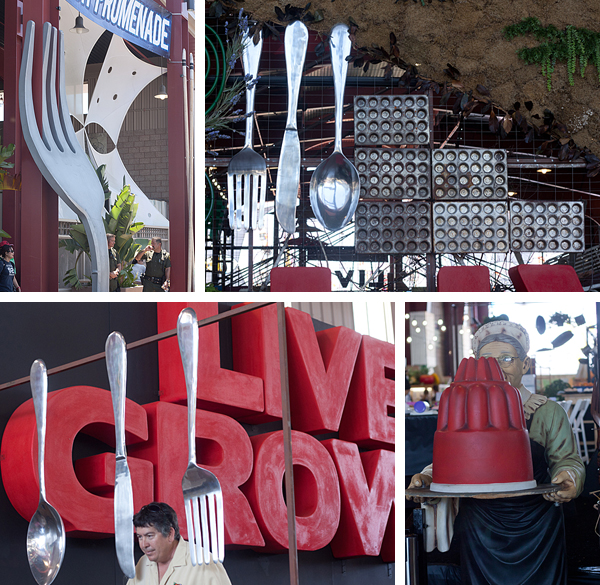 I did a demo of my lemon mochi cupcake recipe that I developed specially for the fair.  I think it went well—all the chairs were filled (no small feat at 11 o'clock in the morning!), no one left, and no one fell asleep!  The only mistake I made was forgetting to add the vanilla extract to my cupcake batter during the demo.  Not bad considering I was going on memory, and no biggie, since the cupcakes the audience sampled were baked ahead of time and had the vanilla extract in them!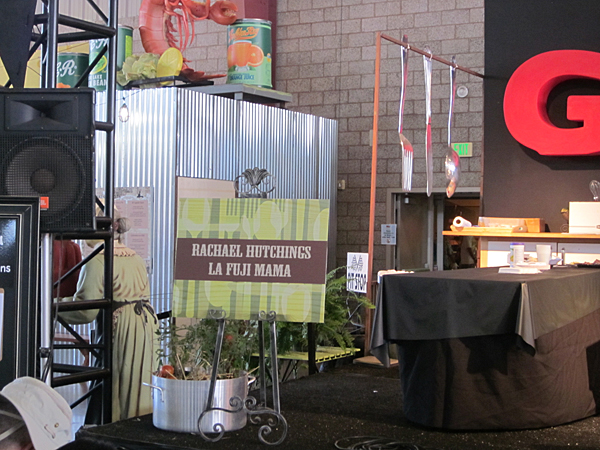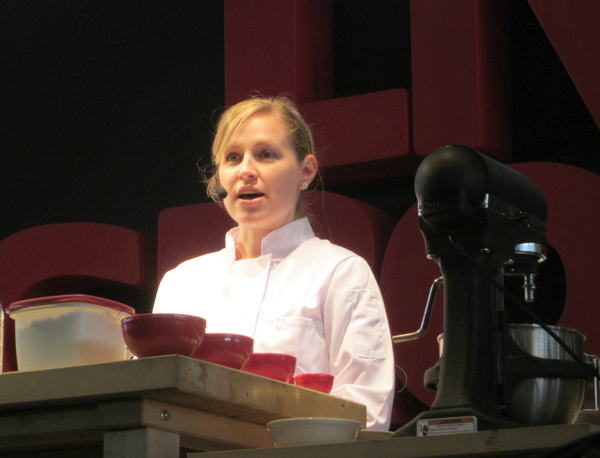 In the afternoon I was one of five judges for the Cupcake Classic—one of the OC Fair's most popular events.  There were over 100 entries.  Multiply that by the required 4 cupcakes that each entrant must bring, and we had over 400 cupcakes sitting on our judging tables!  There were five categories that the cupcakes were divided into: Professional, Amateur-Chocolate, Amateur-Fruit, Amateur-Other, and Kids. Each of the judges took a category to judge.  Here we all are after judging: Babette Pepaj (BakeSpace), Amy Jurist (Amy's Culinary Adventures), (The Cupcake Activist), me!, and Rachel Klemek (BLACKMARKET BAKERY)
I was put in charge of judging both youth divisions: 9 — 13 year olds and 14 — 18 year olds.  I have to say that the entries blew me away.  In the youth divisions every entry gets a ribbon, either blue, red, or white.  All of the entries were of such high caliber that I couldn't bring myself to give out any white ribbons.  Those kids worked hard and it showed.  The overall winner of the 9 — 13 year old category was a boy who watched the judging anxiously at the edge of the stage.  He submitted a german chocolate cake cupcake—light chocolate cake with a toasted nut and coconut frosting.  It was killer.  It's too bad that the youth divisions don't get to go up against the adult divisions to compete for best in show, because I think his cupcake might have taken them all!  I talked to him and his mom afterwards and she said that although she helped him figure out how some of the baking stuff worked, etc., he did all the work.  The overall winner of the 14 — 18 year old category was also a boy, and he submitted a chocolate kalua "cub"cake.  It was decorated with the face of a bear and was very cute.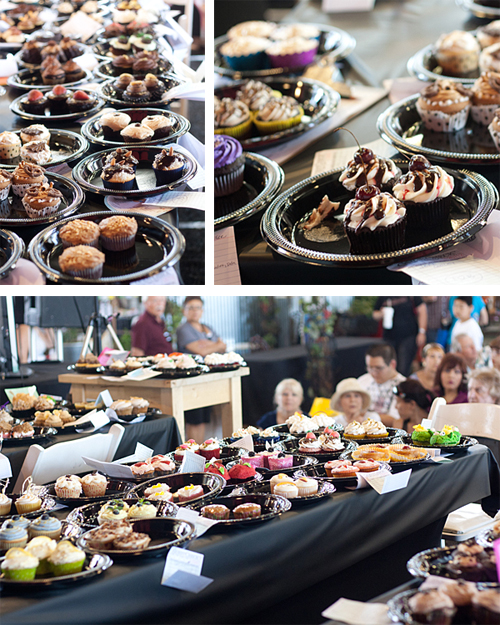 I enjoyed getting to taste such a wide variety of cupcakes and spend time with the other wonderful judges!  It was also wonderful to see Louise Mellor who is the in-house chef for the OC Fair and one of my favorite people.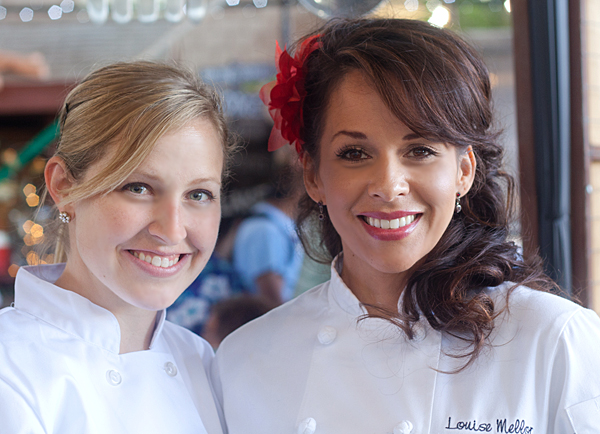 Okay, okay, I know why you're really reading this post!  So here it is, the recipe for my lemon mochi cupcakes with lemon basil buttercream frosting.  ENJOY!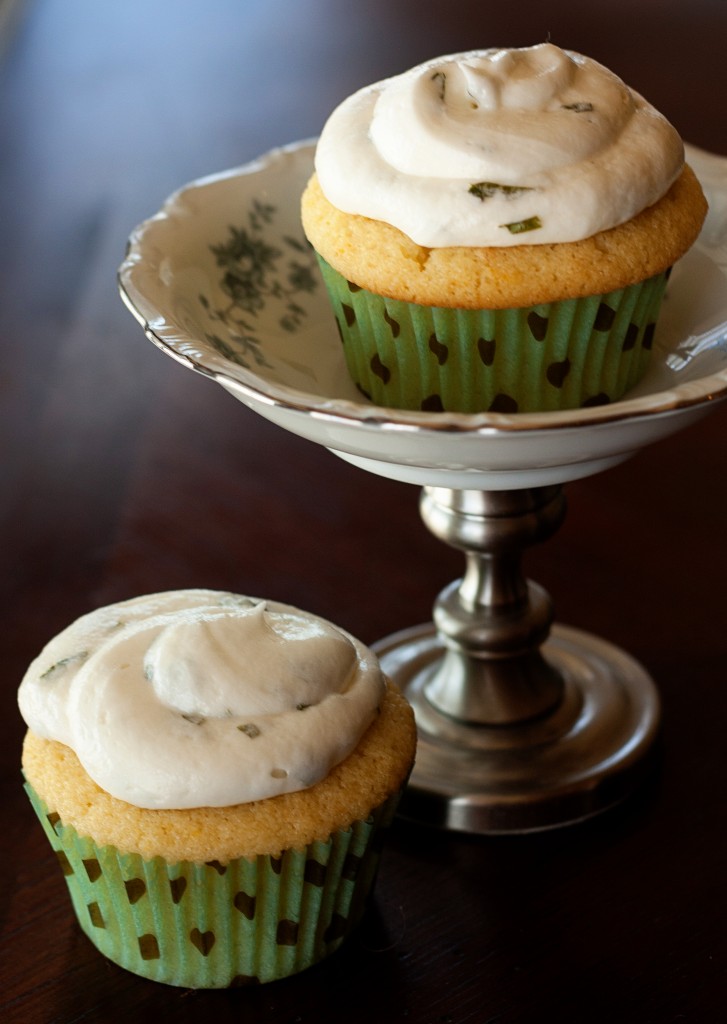 Print This Recipe
Lemon Mochi Cupcakes with Lemon Basil Buttercream Frosting
Makes 12 Cupcakes
3/4 cup all-purpose flour
3/4 cup mochiko (glutinous rice flour)
1 cup granulated sugar
1 1/2 teaspoons baking powder
1/4 teaspoon salt
1/2 cup butter, at room temperature
2 large eggs, at room temperature
2 large egg yolks, at room temperature
2/3 cup whole plain yogurt, at room temperature
2 tablespoons finely grated lemon zest
1 1/2 teaspoons pure vanilla extract
1/2 to 2/3 cup lemon curd
1 recipe lemon basil buttercream (recipe below)
1. Preheat the oven to 350 degrees Fahrenheit.  Lightly butter or line 12 muffin cups with paper liners.
2. In the bowl of an electric mixer, or with a hand mixer, whisk together the flour, mochiko, sugar, baking powder, and salt.  Add the butter, eggs, egg yolks, yogurt, lemon zest, and vanilla extract.  Beat everything together at medium speed until the batter is smooth and satiny, about 30 seconds.  Scrape down the sides of the bowl.
3. Evenly fill the muffin cups with the batter and bake for about 20 to 25 minutes or until pale gold and a toothpick inserted into a cupcake comes out clean.  Remove from the oven and place on a wire rack to cool.
4. Once the cupcakes have completely cooled, use a pairing knife to cut a small well in the center of each cupcake.  Pipe the lemon curd into the center of each cupcake, then frost with the buttercream frosting.  These cupcakes are best the day they are made, although they will keep for a few days at room temperature.
Lemon Basil Buttercream
Makes enough frosting for 12 cupcakes
1/2 cup (1 stick) butter, at room temperature
3 – 4 cups powdered sugar
1/4 cup fresh lemon juice
1 – 2 tablespoons finely chopped fresh basil
1. Place the butter in a large mixing bowl.  Add 2 cups of the powdered sugar and the lemon juice.  Using an electric mixer, beat until smooth and creamy on medium speed, about 3 to 5 minutes.
2. Gradually add the remaining sugar, 1 cup at a time, beating well after each addition (about 2 minutes), until the icing is thick enough to be of good spreading consistency.
3. Add the chopped basil and stir in until evenly incorporated.  Use and store the frosting at room temperature because the frosting will set if chilled.  The frosting can be stored in an airtight container for up to 3 days.