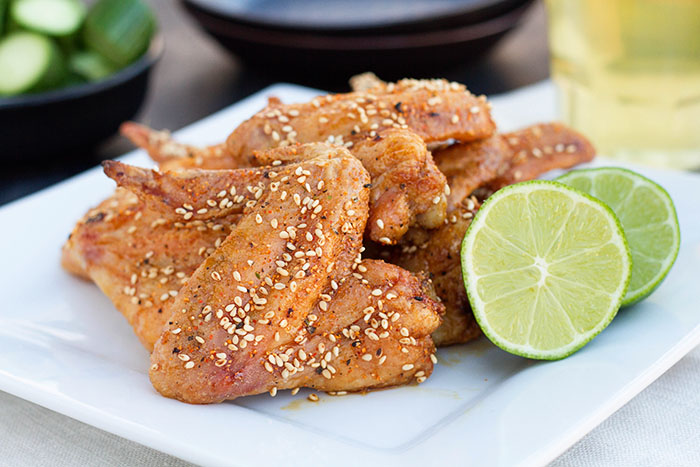 I spent last weekend laughing my guts out, learning, making new friends, meeting old friends for the first time, and being inspired.  Taste of Home magazine sponsored me to go to Build Your Blog Conference (BYBC) in Salt Lake City, UT.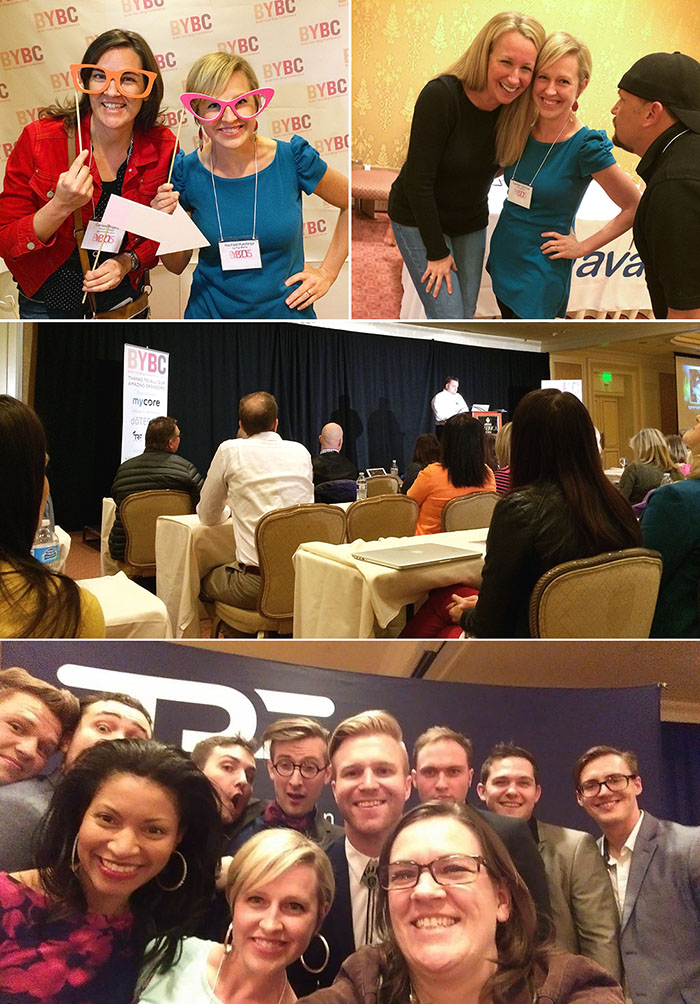 My roommates Carissa (Good N Crazy) and Lisa (The Domestic Life Stylist), and finally meeting Erin (5 Dollar Dinners) in person after years of stalking each other online, made the weekend extra fun.  The sessions were amazing.  I loved learning about food photography my friend Linsdsey (Cafe Johnsonia) and my friend April about podcasting (Power of Moms).  David Mead's message (from Start With Why) about having our decisions and actions be driven by our "why"—our central core values and beliefs resonated with me and the story of Tyler Robinson told by his brother Jesse moved me.  Chris Jones, the founder of Mitchell's Journey and MyCore, moved me to tears, turned me inside out and back again, and gave me a fresh look at life.  (If you haven't heard Mitchell's story, it's time to get caught up. But make sure you have a box of tissues handy.)  It was one of those weekends where you go home feeling buoyed up by good friends, inspired by deep messages, and ready to hit the ground running.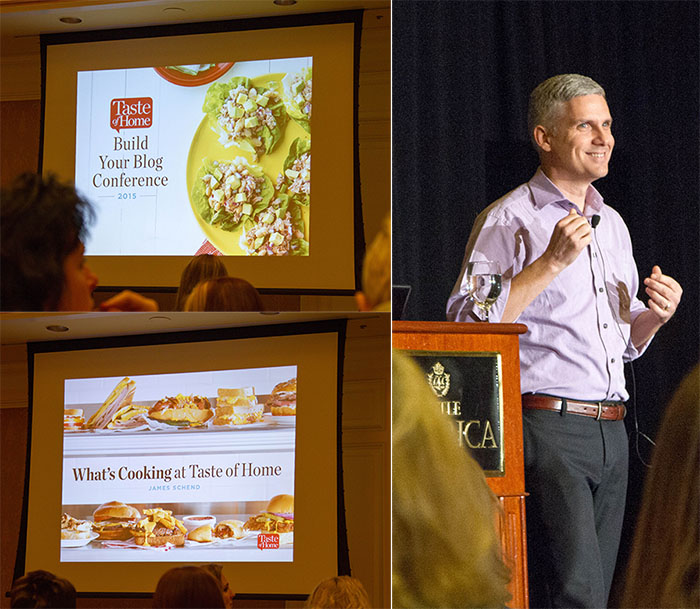 James Schend, the Food Editor at Taste of Home magazine also presented, talking about the behind the scenes action at Taste of Home and some of the trends they see in relation to their magazine.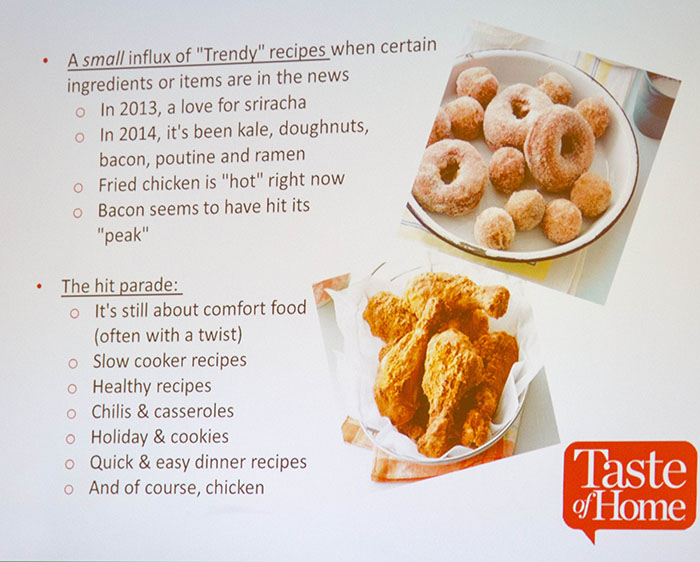 It was interesting to see what does well in their magazine.  There was a definite murmur of discussion when Schend said that the bacon trend is on its way out.  Tell that to the sign on my kitchen counter that reads, "Bacon makes everything better."  One of the reoccurring themes throughout his presentation was chicken.  Chicken recipes are always popular, and fried chicken is particularly popular right now.  All that talk of chicken got me craving chicken so that by the time I got home, I felt the need to make chicken.  I decided to make some tebasaki ("tay-baw-saw-key"), Japanese fried chicken wings that come from the Nagoya region.  But I decided to switch things up by baking them instead of frying them because I remembered some tricks I had learned a few years ago for getting crispy fried-like skin in the oven.
So I prepped my wings in the morning by dusting them with a mixture of baking powder, salt, pepper, and ground ginger.  Baking powder is one of the secrets.  Cook's Country explains, "Baking powder is composed of an acid and an alkali and acts like a salt: The salt helps draw moisture to the surface of the poultry skin, where it can evaporate. (Adding table salt to the baking powder enhances this effect.) The acid helps break down proteins within the skin, and the alkali accelerates the browning process, meaning that the skin can crisp more quickly." Then I put the wings on a rack on a foil-lined baking sheet and stuck them in the refrigerator until I was ready to make dinner that evening.  Why? This is the other bit of wisdom I had remembered in my knowledge bank from Serious Eats: "During its overnight rest on the chicken, it soaks up some of the protein-laden chicken juices from within. As it heats, it forms carbon dioxide gas in the same way that it would in a cookie dough or cake batter, inflating these juices into bubbles, which are then naturally hardened by the heat of the oven, and as we all know, extra bubbles means extra surface area, which means extra crunch!"  Oh baby!
An hour before dinner I threw them into the oven to get "fried."  When the wings were cooked through I brushed them with a sweet and tangy sauce made from a mixture of soy sauce, miring, brown sugar, garlic, ginger, and rice vinegar.  Then I sprinkled the wings with toasted sesame seeds, fresh cracked black pepper, and some Japanese seven spice.  Winner winner chicken dinner indeed!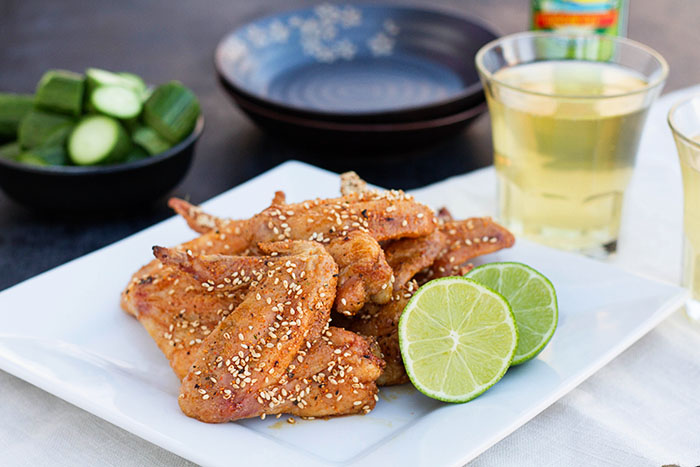 Print This Recipe
Oven Fried Japanese Chicken Wings (Tebasaki)
Wings recipe adapted from Cook's Country Oven-Fried Chicken Wings Recipe (October/November 2013 Issue) and Serious Eats Really Good Oven-Fried Buffalo Wings Recipe
Makes approximately 5 servings
For the chicken:
4 pounds chicken wings
2 tablespoons baking powder
1 teaspoon fine grain sea salt
1 teaspoon ground ginger
1/2 teaspoon freshly ground black pepper
For the wing sauce:
1/3 cup soy sauce
1/3 cup mirin*
2 tablespoons water
2 tablespoons packed dark brown sugar
2 teaspoons grated fresh garlic
2 teaspoons grated fresh ginger
1 1/2 teaspoons rice vinegar
Toasted Sesame Seeds
Freshly ground black pepper
Japanese seven spice or red chili pepper flakes
Directions:
1. Set a wire rack in an aluminum foil-lined rimmed baking sheet and spray the rack with non-stick spray. Pat the wings dry with paper towels, then transfer half of them into a 1-gallon zipper-lock bag and the other half into a second bag. Combine the baking powder, salt, ginger, and black pepper, then put half of the mixture in each bag, seal the bags, and toss to coat the chicken evenly. (I find that if I do all the wings in one bag that they don't get coated as evenly.)
2. Shake off any excess baking powder mixture, then arrange the wings, skin side up, in a single layer on the prepared wire rack.  Place the baking sheet with the wings in the refrigerator and allow to rest, uncovered, at least 8 hours, and up to 18 hours. (If you don't have time to let the wings dry, you can always go ahead and bake them at this point.  They will still be delicious, just not as crispy!)
3. When you are ready to bake the wings, adjust your oven rack to be in the upper-middle position and preheat the oven to 450 degrees Fahrenheit.
4. Add the wings and cook for 20 minutes, then flip them over and continue to cook until they are crisp and golden brown, about 15 to 20 minutes longer. Remove the sheet from the oven and let the wings stand for 5 minutes. Transfer the wings to a bowl with the wing sauce, then toss them to coat them in the sauce, using a pastry brush to brush the chicken with sauce as needed. Then sprinkle the wings with toasted sesame seeds, black pepper, and Japanese seven spice. Serve the wings with extra sauce and eat immediately!
5. To make the wing sauce: While the wings are baking, combine the soy sauce, mirin, water, sugar, garlic, and ginger in a small saucepan. Bring the mixture to a boil over medium heat, then reduce the heat to maintain a simmer and let the sauce continue to cook for 5 minutes. Stir in the vinegar, then remove the saucepan from the heat and set it aside to let the sauce cool.
*Recipe Notes: Mirin is a sweet rice cooking wine (the types sold most commonly in the US have very low alcohol condiment, less than 1%), always used for cooking (never for drinking!), and is a staple of Japanese cooking.  I can find it at all of the regular grocery store chains here in Utah.  Mitsukan mirin is probably the brand I see the most.  If you can't find it, you can mix 1/3 cup water with 2 tablespoons granulated sugar for an ok substitute.
*Disclosure: Taste of Home magazine sponsored my ticket to Build Your Blog Conference in return for my coverage of the event and writing this post. All thoughts, opinions, and experiences are my own!