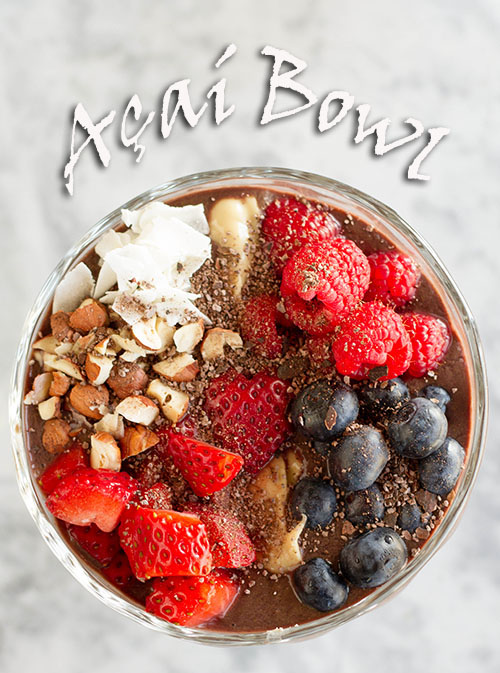 I've been trying to bring more variety to my breakfasts lately, as you might have seen by my chia breakfast pudding last week.  Another item that I've been feasting on in the mornings is an açaí bowl.  An açaí bowl is like cross between a smoothie and a bowl of ice cream, made with frozen açaí berries. The mixture is poured into a bowl, topped with whatever fruits, nuts, etc. that your heart desires, and then eaten with a spoon. Not only are they beautiful, delicious, and filling, but it's fun to bring a bit of the tropical rainforests into my kitchen during winter.  I find the açaí berry (pronounced "AH-sah-EE") fascinating.  It's a berry that grows on the top of açaí palms (the same palms cultivated for hearts of palm).  The trees are native to the rainforests of Brazil and the Amazon basin.  Açaí berries make up to 42% of the total food intake by weight of the cabloco people in the Amazon region of brazil, according to one study.
The berry has a rich, slightly tart flavor that sometimes has a chocolaty or earthy flavor to it.  (I've found the flavor varies a lot by brand.)  Although the berries have been around for thousands of years, it wasn't until several years ago that they became available in the US market.  Part of this is due to the fact that the berries are 30–50% fat and go rancid within a day of being picked, so there was no way to export them to other countries.  But now packets of frozen pulp are available!  There are lots of health claims surrounding açaí berries, but research is still limited.  The Mayo Clinic does say that they "may be a good source of antioxidants, fiber and heart-healthy fats."  What matters to me is that they make for a fabulous breakfast option!
With Valentine's Day right around the corner, I thought it would be fun to share my method (it's not really a recipe) with you for how I make açaí bowls.  My current favorite toppings are fresh berries, unsweetened dried flaked coconut, chopped hazelnuts, a squeeze of cashew butter, and a sprinkling of Crio Bru grounds to finish it off.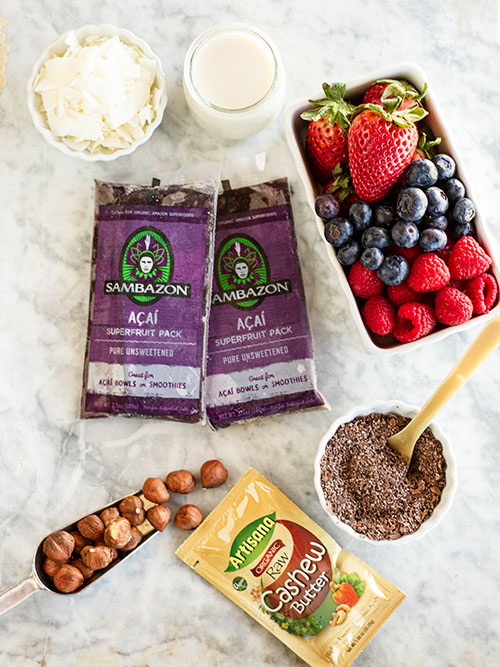 This makes a perfect healthy Valentine's Day breakfast and the perfect heart-healthy way to celebrate American Hearth Month!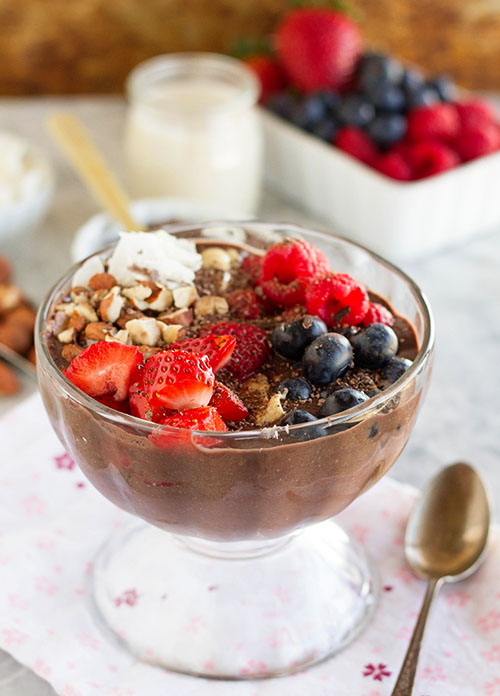 Print This Recipe
Acai Bowl
Makes 1 bowl
Ingredients:
2 (3.5 ounce) packs frozen unsweetened acai puree
1/2 cup coconut milk or nut milk of choice
Sweetener of choice (honey, maple syrup, etc.!)
Toppings: chopped nuts, granola, flaked dried coconut, nut butter, fresh fruit, hemp hearts, chia seeds, Crio Bru grounds, cacao nibs
Directions:
1. Before opening the açaí packs, run them under water for 5 seconds to help them thaw slightly so that they can be broken into pieces. Put the pieces into a high speed blender with a splash of milk. Blend on low until the larger chunks are broken down, then gradually increase the speed, adding a splash of milk occasionally and stopping to scrape down the sides of the blender if needed. When the mixture starts to blend by itself, stop adding milk and continue to blend until the mixture is smooth, but still thick.
2. Pour the açaí mixture into a bowl and arrange your toppings of choice on top. Eat immediately.
*Recipe Notes: You can add other things to the açaí mixture in step 1 to change the flavor such as frozen fruit, fresh fruit, and nut butter.  The sky is the limit!