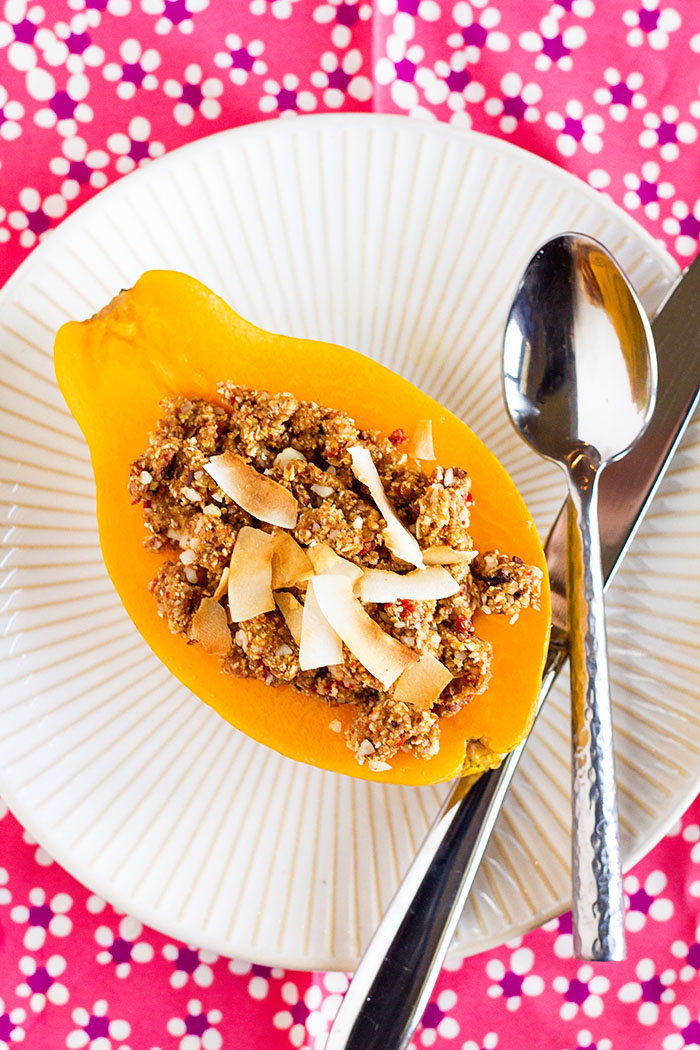 Hula Papaya Rawnola Bowls…you need these.  Let me explain.  At the beginning of this month we took a family vacation to Maui during the kids' Spring Break.  This was our first family vacation with Monkey and we were super excited.  Our trip did not disappoint.  Not only did we have an absolute blast playing in the ocean, going snorkeling, going to a luau, etc., it was also a much needed break from the stressful, break-neck speed of our current situation.  On our last day there we stopped at Choice Health Bar in Lahaina for lunch, on the recommendation of my friend Michelle.  I am so glad that we made it there because I loved it.  It's a fun, quirky place with a ton of personality and a fantastic menu that is always changing based on what's available and in season on Maui.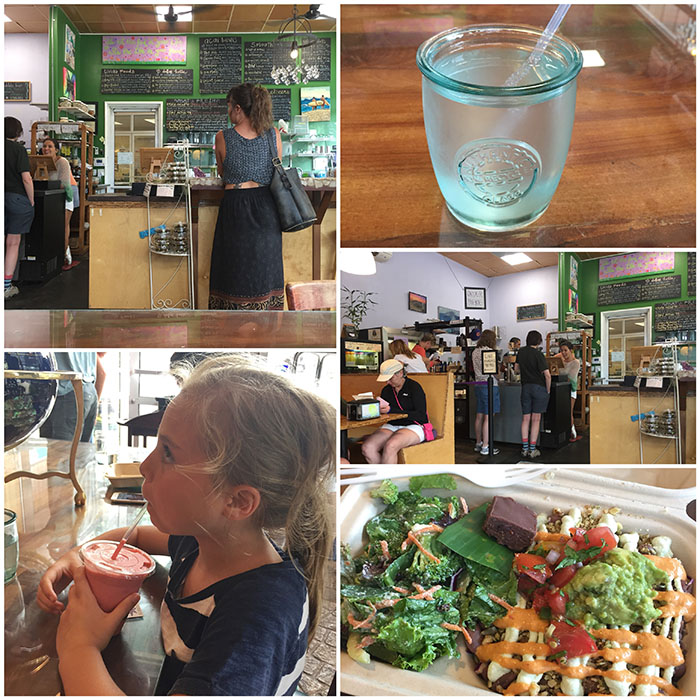 My girls each ordered one of their Keiki Shakes (a kid's shake) that was made with strawberry, banana, macadamia nut milk, vanilla, and honey.  Mr. Fuji and I both ordered their Epic Entree, which was a layered burrito bowl with a green salad and piece of fudge that day.  I also ordered a glass of sparkling coconut water (force carbonated fresh Maui coconut water), which was mind-blowing.  Everything we ordered was fabulous.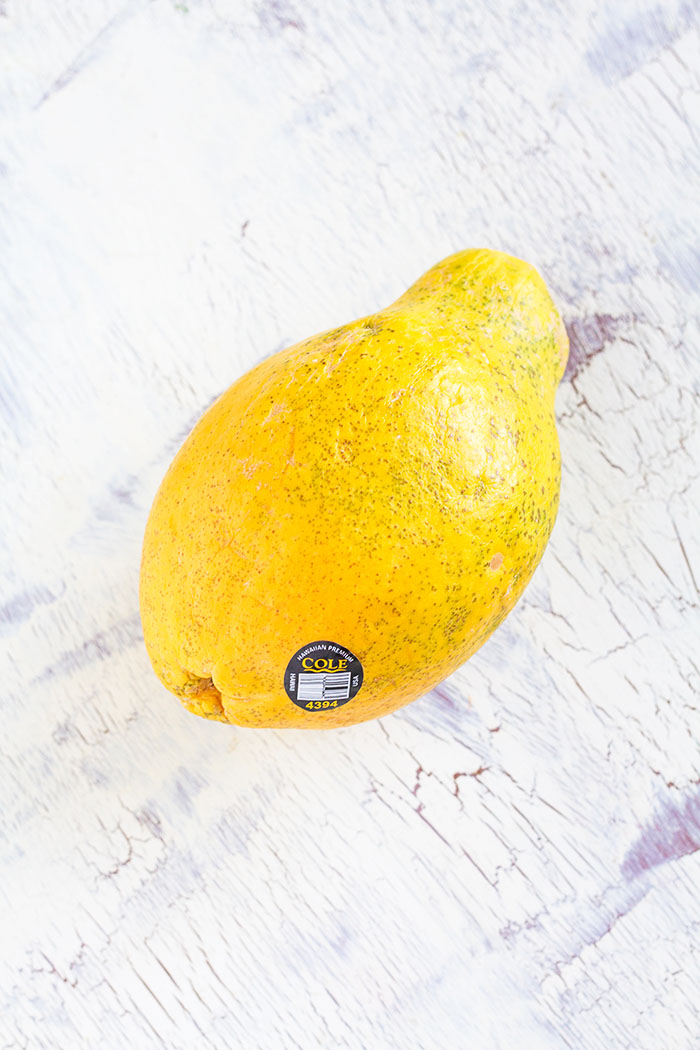 The other thing that happened on that trip is that I fell in love with papaya.  I have never been a huge papaya lover.  Mr. Fuji and I go to Mexico about once a year and I always eat papaya for breakfast, determined to make my taste buds love it.  I haven't been successful.  The aftertaste always reminded me a bit of stinky feet.  Well on this trip I tasted Hawaiian papaya for the first time (I may have had it as a teenager, but I don't remember, so it doesn't count, right?), and it was love at first bite.  I had a fresh papaya half dressed with a squeeze of fresh lime juice and about swooned.  This made me wish I had ordered one of the other items on Choice Health Bar's menu, which was a Papaya Bowl, which was described as a "½ a limey papaya stuffed with gojis, bee pollen, coconut, and granola."  Sounds amazing, right?  When I went to the grocery store, after returning home, I discovered that one of our stores carried Hawaiian papayas, instead of Mexican papayas!  I immediately thought of that papaya bowl and grabbed two of the papayas to bring home with me.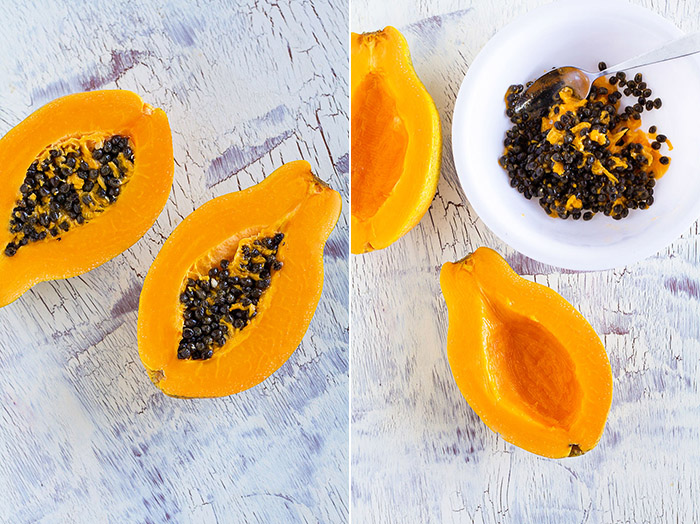 I had just seen a version of Loni Jane's Rawnola made on YouTube, so decided to make a papaya bowl inspired by Choice Health Bar's menu and Loni Jane's Rawnola.  I halved the papayas and scooped out the seeds.
Next I squeezed some fresh lime juice over the halves…and really, even if you don't make this rawnola, you should at least grab a papaya and eat it with lime juice.  Go do it and thank me later.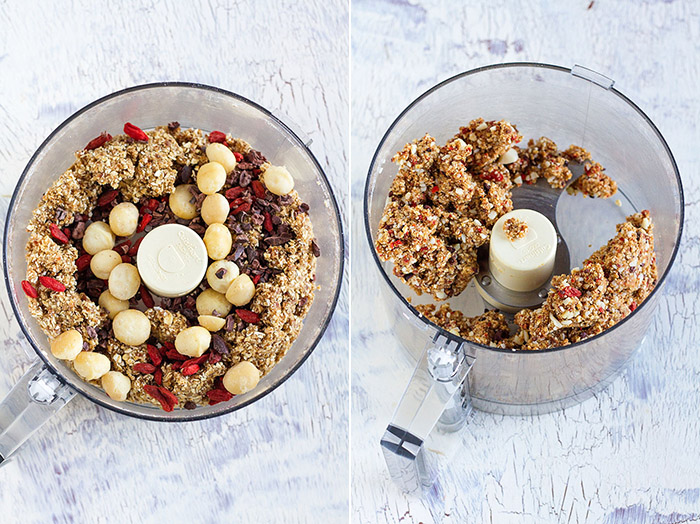 Then I whipped up a batch of rawnola, using oats, Medjool dates, unsweetened, goji berries, cacao nibs, and raw macadamia nuts.  I filled the papaya halves with the rawnola and topped them with toasted coconut flakes.  I'm not kidding when I say that I could eat this for breakfast every day for the rest of my life.  Or maybe every day for both breakfast and a snack in the afternoon.  It's that good.  The creamy papaya is so good with the rich, sweet, slightly crunchy (because of the macadamia nuts and cacao nibs) rawnola, and toasted coconut.  Just thinking about it has my taste buds doing the hula!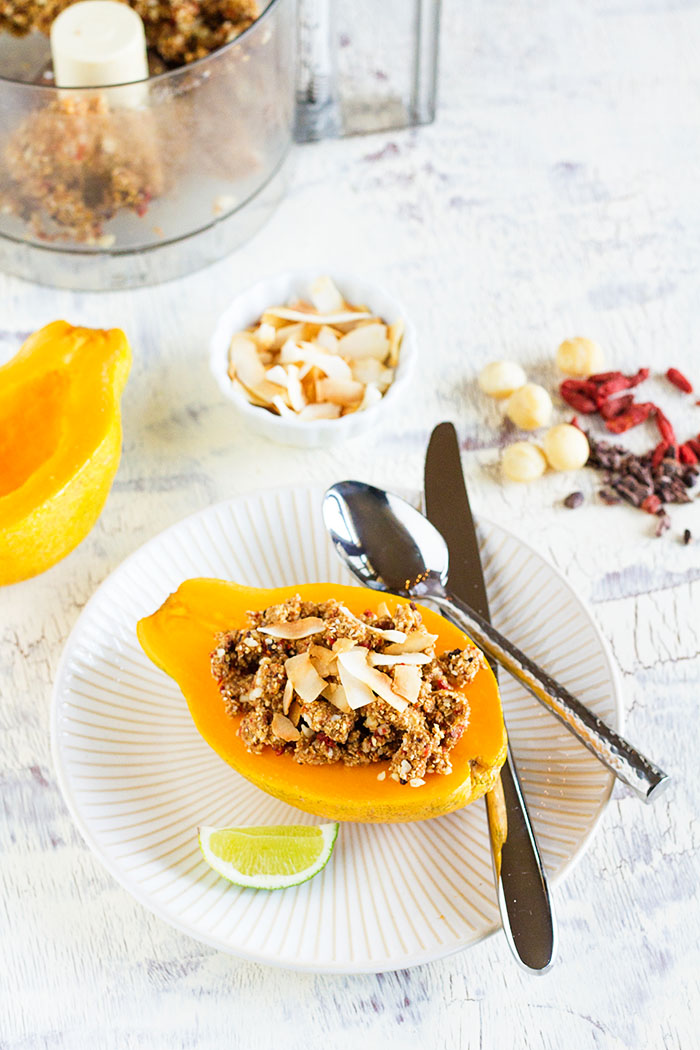 Hula Papaya Rawnola Bowls
Fresh Hawaiian papaya halves seasoned with fresh lime juice, filled with rawnola, and topped with toasted coconut flakes. It's so good that it will have your taste buds doing the hula!
Ingredients
2

ripe Hawaiian papayas, sliced in half and seeds removed

1

fresh lime, cut into 4 wedges

1

cup

raw rolled oats (or regular if you can't find raw)

8

Medjool dates, pits removed

2

tablespoons

goji berries

1

tablespoon

cacao nibs

20

whole raw macadamia nuts, coarsely chopped

2

tablespoons

water

2

tablespoons

large unsweetened coconut flakes, toasted
Instructions
Squeeze the lime juice over the papaya halves and set them aside.

Pulse the oats and dates together in a food processor until evenly mixed.

Add the goji berries, cacao nibs, and chopped macadamia nuts and pulse to combine.

Add the water and pulse until the rawnola starts clumping together.

Fill the papaya halves with rawnola, top with the toasted coconut flakes, and serve immediately.