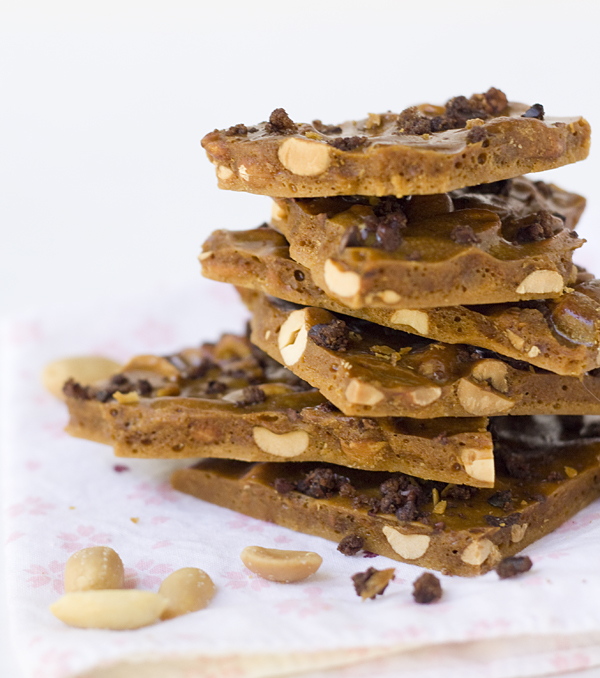 I am a toffee devotee.  My mom's recipe for toffee is one of the things I have worked to perfect my technique on over the years.  I've found that if I show up to an event where there are food bloggers present, without a batch of toffee in hand, at least one person will gently chastise me for being so heartless.  To some of you, that may sound rude, but it's really not.  My mom's recipe is just that good.  Mr. Fuji and I recently attended a Dove Chocolate Discoveries Tasting Party, and one of the things served was a peanut brittle with caramelized cacao nibs.  Ever since the party I've had brittle on the brain, and have felt a bit disloyal about it.  I mean, c'mon!  How can brittle compete with my beloved sugary buttery confection slathered in rich dark chocolate?  But alas, this particular brittle was special.  Three little words had managed to open the door and let the desire to make brittle creep into my toffee loving heart: caramelized cacao nibs.  I finally couldn't stand it and made up my own version of the brittle this past weekend.  I justified my toffee betrayal with the thought that cacao nibs make up for the lack of a rich chocolate layer and by tweaking my mom's recipe to make the brittle.  I know, I know, I'm a horrible person!  But in recompense for my shocking behavior, I'm sharing the recipe with you!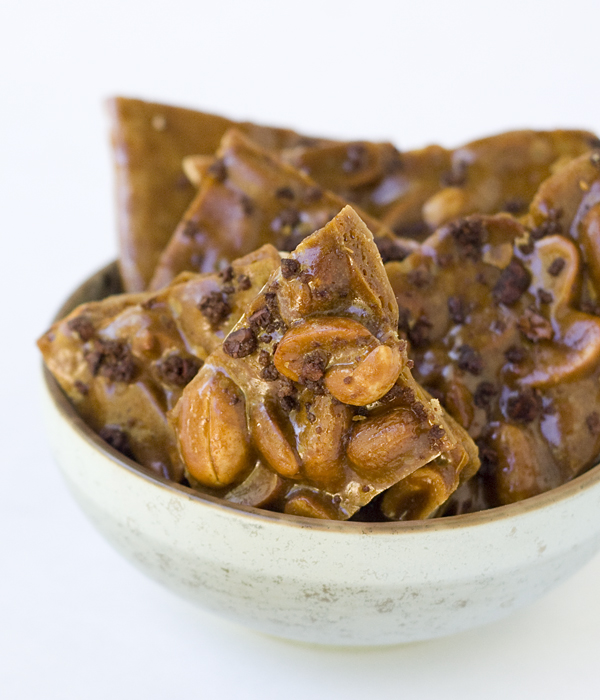 Making caramelized cacao nibs is easy, though finding the nibs can be a bit harder (look for them at gourmet food or baking stores).  Cacao nibs are the dry-roasted, chopped up bits of the cacao bean.  If you've ever caramelized nuts, you use the same process, except you add a tiny amount of butter at the very end.  You simply heat the nibs with some granulated sugar in a small saucepan until the sugar liquefies and sticks to the nibs.  Then you stir in the butter and spread the nibs out to cool.  Easy as that!  The end result are little dark crunchy sweet nuggets.  I like making extra to store and sprinkle on ice cream.
This isn't a true brittle.  Brittle recipes normally direct you to melt sugar, water, and corn syrup together to make the candy, only adding a bit of butter at the end.  But call me a renegade, a cheat, or just plain lazy, because I went with the recipe already in my head, but added a key brittle ingredient at the end: baking soda.  Baking soda helps produce a lighter texture and the finished candy snaps easily (thus the name "brittle").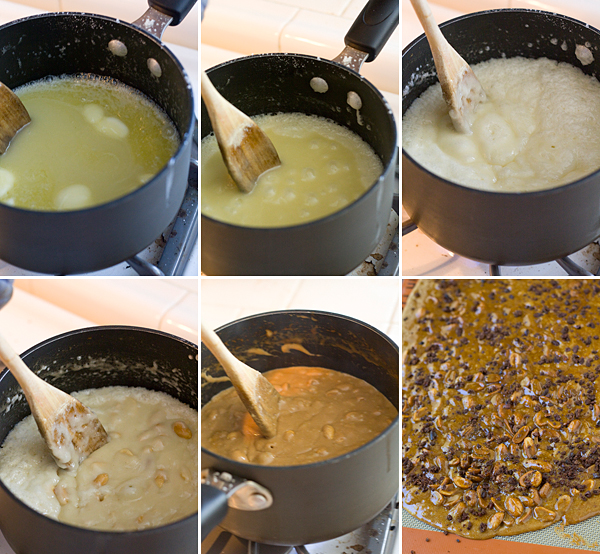 But brittle or not, this wannabe brittle makes me oh-so-happy, and sitting here writing about it makes me think I may have to go and nibble on one of the last little pieces I have hidden away . . . .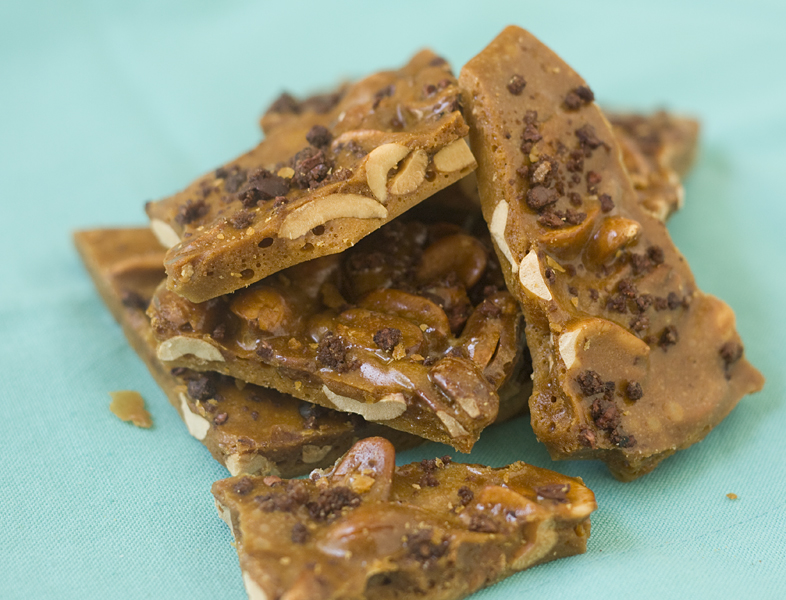 Print This Recipe
Peanut Brittle with Caramelized Cacao Nibs
Makes about 16 servings
8 ounces (1 cup) butter
1 cup granulated sugar
1/2 teaspoon almond extract
1/4 teaspoon kosher salt
1 cup roasted salted peanuts
1 1/2 teaspoons baking soda
2 tablespoons caramelized cacao nibs
1. Butter a large rimmed baking sheet and set aside.
2. Combine the butter, sugar, almond extract, and salt in a heavy 2-quart saucepan. Cook over high heat, stirring constantly with a clean, dry, wooden spoon until the butter is melted. Continue cooking and stirring until the candy mixture thickens and starts to foam up slightly. Add the peanuts and continue to stir until the candy is golden brown (the color of unblanched almonds). Remove from the heat and immediately stir in the baking soda (the mixture will bubble). Stir until just blended. Pour the candy, without scraping the saucepan, onto the baking sheet in an even layer and spread with a lightly greased spatula.
3. Sprinkle the cacao nibs over the hot candy, then let it cool completely. Break into pieces. The brittle can be stored in an airtight container at room temperature for up to 3 weeks.
Caramelized Cacao Nibs
Makes about 1/2 cup
2.25 ounces raw cacao nibs (about 1/2 cup)
3 tablespoons granulated sugar
1/2 teaspoon butter, softened
1. Line a baking sheet with a nonstick mat or parchment paper and set aside. Pre-measure the butter and have it near the stove.
2. Heat the nibs and sugar in a small saucepan over medium heat, stirring constantly with a wooden spoon. It is normal for the mixture to give off a little smoke during the cooking process. The sugar will start to stick together in larger clumps. Continue to stir constantly, until the sugar liquefies and there are only a few specks of unincorporated sugar. Remove the saucepan from the heat and immediately stir in the butter until it is evenly distributed.
3. Pour the nibs out onto the prepared baking sheet to cool, separating them as much as possible. Let them cool at room temperature. When they are cool, break them apart by hand as needed. Store in an airtight container in a cool dark place, but do not refrigerate.