*LFM News:
I'm speaking next week at
The Family Food Summit
, an online conversation about feeding our families.  The Family Food Summit will give you specific ideas on how to achieve health in the kitchen–gain insight on nutrition, trends, and helpful cooking tips.  Some of the nation's leading food experts have gathered for some interesting perspectives on cooking.  I hope you'll join us for this special online event, April 11th through April 14th.  You can listen in via telephone or internet, without having to leave the house!  The best part?  It's FREE!  For more information and to register, visit
www.familyfoodsummit.com
.
==============================================================================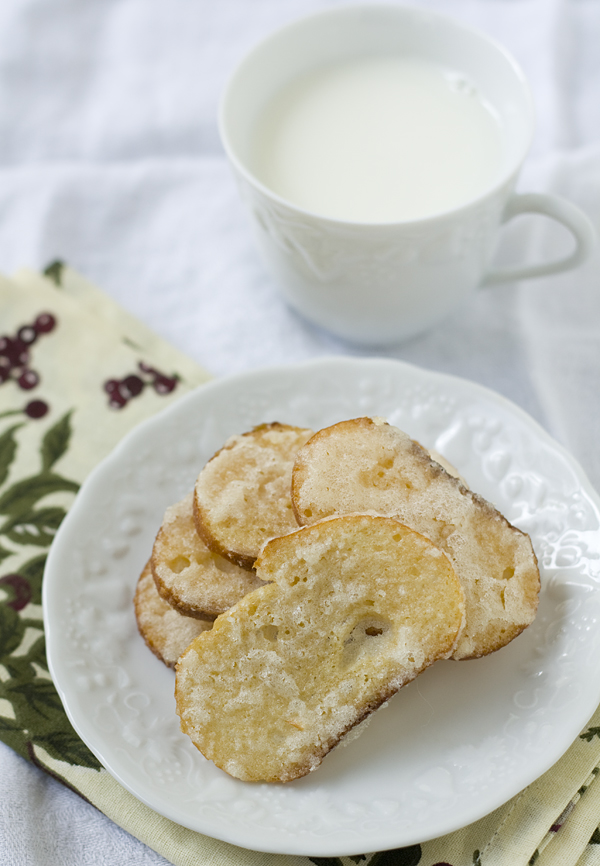 Last Saturday evening Mr. Fuji and my friend's husband were gone attending a meeting, so we decided to take advantage of the opportunity for some "girl" time and take the kids out for dinner.  I decided it was the perfect opportunity to head over to Panera Bread to use a gift card I had received as part of project I've been doing with Panera over the past couple of months.  Luckily we arrived before the big dinner rush and were able to grab a large booth to fit all of us.  We spent an hour enjoying good food and company, and laughing as we watched our kids and their crazy antics.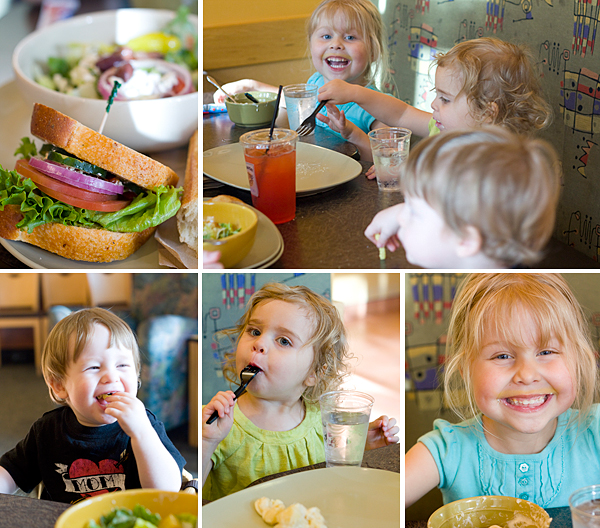 They were especially fond of an extra-large arm chair with an attached circular table that swiveled.  That chair entertained them for at least 10 minutes!

I made sure to grab one of Panera's baguettes to take home while we were there.  One of the reasons I love Panera is that their baguettes enable me to make one of my favorite Japanese treats.  Rusk (ラスク, "rasuku") are slices of crisp dry toast coated with butter and sugar, like a giant sugary crouton.  Sometimes slices of rusk are dipped in chocolate, or made with savory ingredients instead, but the end result is always the same—totally and completely addicting.  Certain confectionary companies in Japan make rusk that are very popular, like the rusk made by Gateau Festa Harada.  It is not uncommon to see a line of people waiting to purchase a box of rusk at one of these shops.  Not only are they a popular snack, but they also are a popular gift.  Rusk is very simple to make, requiring very few ingredients, which makes it especially important to use high quality ingredients, because the flavor of those ingredients will not be covered up if they are sub-par.  Because of this, I'm very picky about the baguettes that I use in making rusk, and my options are limited in the area I live.  Panera is the only place I've found in town that makes a baguette good enough to make delicious rusk.  Without Panera I'd have to make my own baguettes, but who wants to go to the trouble of making gorgeous baguettes for that purpose?  If I'm going to go to all that work, I want to just slice up that baguette, slather it with butter and have a feast!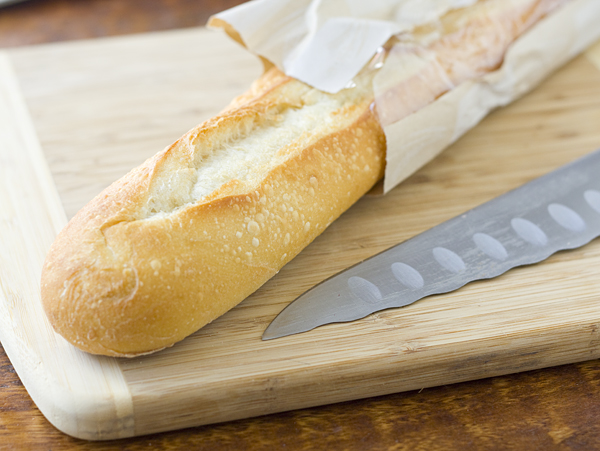 Okay, enough of my bread rant and back to making rusk!  Making rusk couldn't be simpler.  You start out by slicing a baguette into 1/4-inch slices.  Make sure your bread knife is sharp for this task, otherwise getting the slices thin enough will not be easy. It actually helps if the baguette is a day old, which makes the bread a bit drier and thus easier to cut.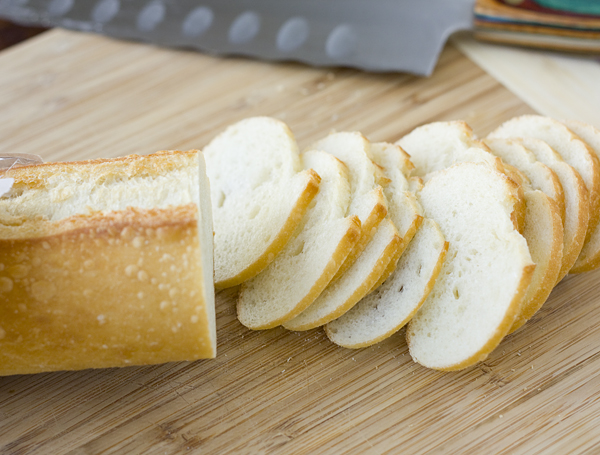 Then you spread each slice with a butter and sugar mixture, set the slices on a baking sheet,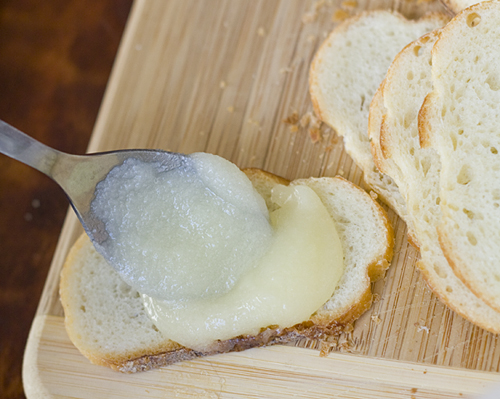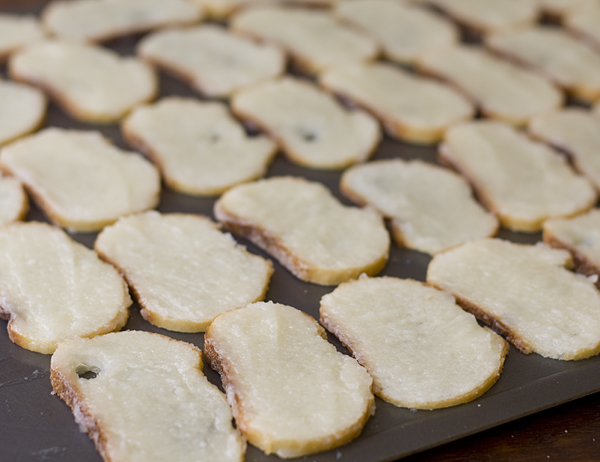 and pop them in the oven to bake at a low temperature until they are crispy and have turned a golden brown on bottom.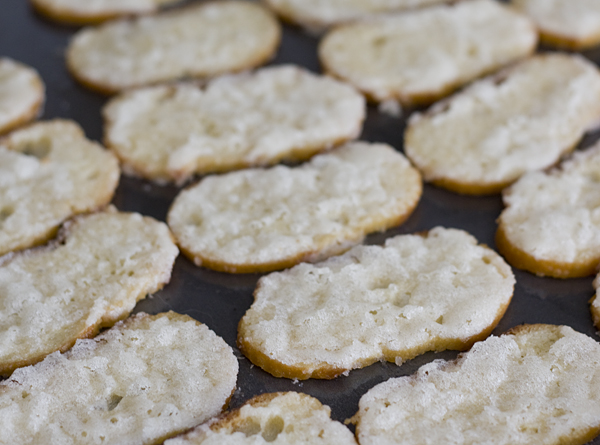 Rusk are delicious dipped in a glass of milk.  Just be forewarned that you may end up eating more than you intended due to their addictive qualities.  Thank you to Panera enabling two moms to get out of the house with their crazy kids, and for enabling me to take care of my craving for my favorite sugary, buttery, crunchy treat!


Print This Recipe
Sugar Rusk (Japanese Sweet Toast Snack)
Makes about 100 pieces
1 French baguette, cut into 1/4-inch slices
1 cup (8 ounces) butter, softened
1 1/4 cup granulated sugar
1 teaspoon almond extract
1. Preheat the oven to 250 degrees Fahrenheit.
2. Cream the butter, sugar, and almond extract together in a small bowl. Spread a thin layer of the butter mixture on one side of each bread slice. Place the slices, buttered side up, on ungreased baking sheets.
3. Bake the slices for 1 hour, or until the bread is light brown on the bottom side of the slices and crisp. Remove from the oven and move the slices to a cooling rack to cool completely. Store the cooled slices in an airtight container with wax paper separating the layers.
=======================================================================
* DISCLOSURE: I'm writing this post and creating this recipe as part of a project with Panera Bread.  They have compensated me for my time and expenses, but my opinions and tastes are my own.