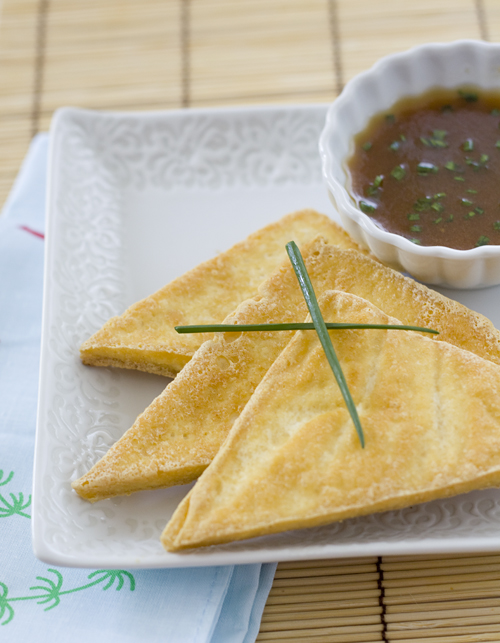 In the Introduction of the recently released cookbook, The Whole Family Cookbook, the author Michelle Stern writes, "Parenting is a hefty responsibility.  It's up to us to teach our children about good manners, how to stay safe, and how to grow up to be independent and confident adults.  It's also important that we inspire our kids to make nutritious choices and be good stewards for the earth . . . Is it really that difficult to believe that kids can enjoy good food?  I don't mean 'good' as in 'indulgent.'  I mean good as in fresh, just-picked, seasonal, and sustainable.  I have a  lot of firsthand experience that suggests that children who are involved in selecting their food and then help in the kitchen are more likely to eat what they've created."  This is what Michelle's cookbook is all about—educating children about food, cooking with children, spending time together, and enjoying good food.  Michelle owns What's Cooking With Kids, a certified green company that offers cooking classes for children in the San Francisco Bay Area.  She draws upon her experiences and shares a wealth of ideas, tricks, tips, and delicious recipes in her book.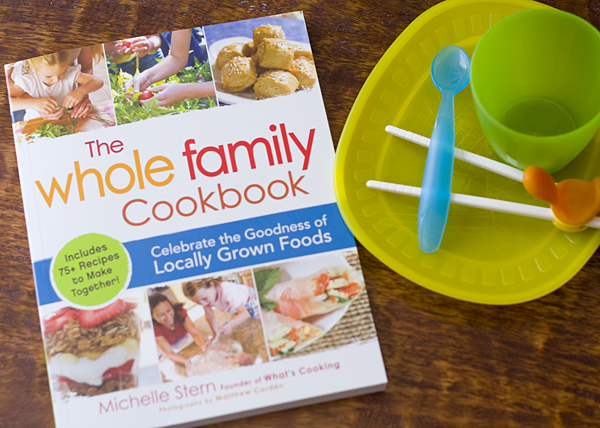 Tips are sprinkled throughout the book, as well as suggestions for ways you can use a particular recipe for teaching a particular concept to your kids.  Also included is a great list of suggested tools you might consider adding to your kitchen for your children to use, and a humorous, yet helpful "Recipe For Cooking With Toddlers."  We've already got a very long list of recipes we want to try, including Salty Pretzel Pillows and Summertime Kabobs with Udon Noodles.  The recipes we've tried already have been winners, so I am definitely looking forward to our adventures with this book.
I recently tried her recipe for Crispy Tofu Triangles with Asian Dipping Sauce.  I did most of the work with the tofu, since it involved a very large sharp knife and hot oil,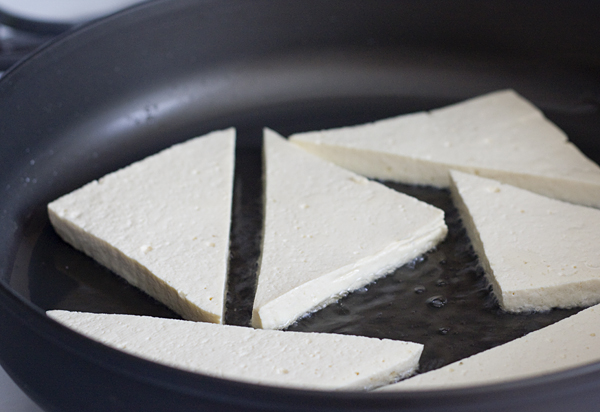 but Bug chipped in to mix the dipping sauce.  She first spent several minutes just sniffing the aroma coming out of the bottle, which was divine.  Thank goodness for canning jars—I use them all the time when making sauces because I can just throw ingredients in, put the lid on and let my girls shake away!
The tofu was a big hit with both my girls and my friend's little boy who was also happened to be at our house for lunch.  But I'm not surprised.  I think finger foods tend to have a head start when it comes to popularity with the kid crowd.  And these crispy tofu triangles are like a healthier version of chips.  The dipping sauce was my favorite part about this dish—the flavor was absolutely out of this world!

If you have children, I hope you'll consider purchasing your own copy of this fabulous book.  Not only is Michelle talented and wise beyond her years in what she does, but she's one of the sweetest people out there.  You can see a sneak peek of the book, the amazing Michelle, and her beautiful family in a beautiful video put together by Todd and Diane of White On Rice Couple.  For more food and family wisdom, you can follow Michelle on her website, What's Cooking With Kids, on Facebook, and on Twitter.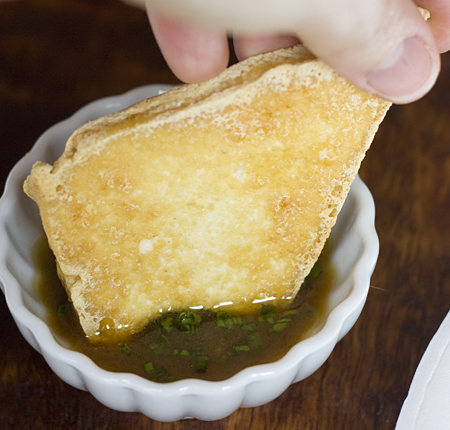 Print This Recipe
Crispy Tofu Triangles with Asian Dipping Sauce
Recipe from The Whole Family Cookbook, by Michelle Stern
Makes 4 to 6 servings
For the Crispy Tofu:
2 packages extra-firm tofu, preferably organic
3 tablespoons canola oil
For the Asian Dipping Sauce:
2 tablespoons soy sauce
1 tablespoon sesame oil
1/2 tablespoon honey, agave nectar, or brown sugar
1 tablespoon rice vinegar
1 clove garlic
Fresh chives, to taste
Chile oil, an optional addition to the sauce
1. Prepare the Crispy Tofu: Open and drain the pacakages of tofu and cut tofu into slices approximately 1/3-inch thick. Cut the slices diagonally into triangles.
2. Line a rimmed baking sheet with a clean dish towel. Place the tofu triangles onto the towel in a single layer. Place another towel over the top of the tofu slices and then top with another baking sheet. Put something heavy on the top baking sheet, so that it presses down evenly on the tofu slices inside (like a tofu sandwich in between baking-sheet pieces of "bread"!). Allow the tofu to rest for 30 minutes to 1 hour. This will press the extra liquid out of the tofu and allow it to get crispy in the pan when cooked.
3. Heat a heavy-bottomed skillet over medium-high heat and add 3 tablespoons of canola oil. When the oil starts to shimmer, carefully place the tofu triangles into the pan. Cook the tofu approximately 2 1/2 — 3 minutes on each side, or until golden brown and crisp. Remove from the skillet and drain on a plate lined with a clean dish towel, a brown paper bag, or paper towels. Pat the tops of the tofu slices to absorb the oil as well.
4. Prepare the Asian Dipping Sauce: Measure the soy sauce, sesame oil, honey (or agave nectar/brown sugar), and rice vinegar, and pour into a small bowl. Stir to mix all of the ingredients together. Peel the paper skin off the garlic, Use a garlic press to mash the garlic, and add it to the sauce. Use clean scissors to snip chives into the sauce, for color and a wonderful mild onion flavor.