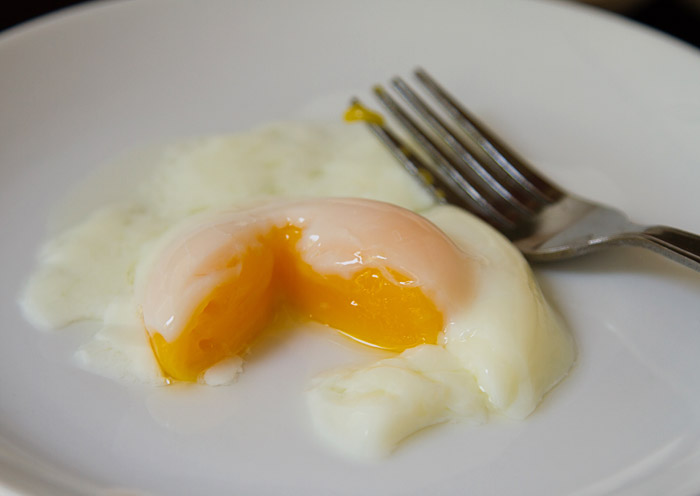 Sous vide means under vacuum in French and is a cooking method where food is vacuum sealed and then cooked slowly in a temperature-controlled water bath.  Until recently it was a method that I had read about, but had no real interest  trying out for myself.  But then I stumbled across an article that talked about the ins and outs of sous vide cookery, which got my wheels turning.  No overcooked meat?  Cooking meats that turn out tender and juicy without having to add a bunch of butter or oil?  No guesswork?  Easy cleanup?  Yep, I'm listening!  About a week later my dad and I were talking about the best way to cook some lion steaks, and I suggested sous vide, as it would allow this very lean cut of meat to cook until tender, without drying out.  (Yes, this conversation truly happened.  My dad is the coolest dad on the planet.  Now you know why I love food so much…and why I'm weird.  Weird is good.)  My dad and I decided that we needed to start exploring the world of sous vide, and so I reached out to Sous Vide Supreme and they agreed to partner up with me in my quest with my dad.  Sous Vide Supreme sent me a Sous Vide Supreme Demi, vacuum sealer, and assortment of cooking pouches to get started.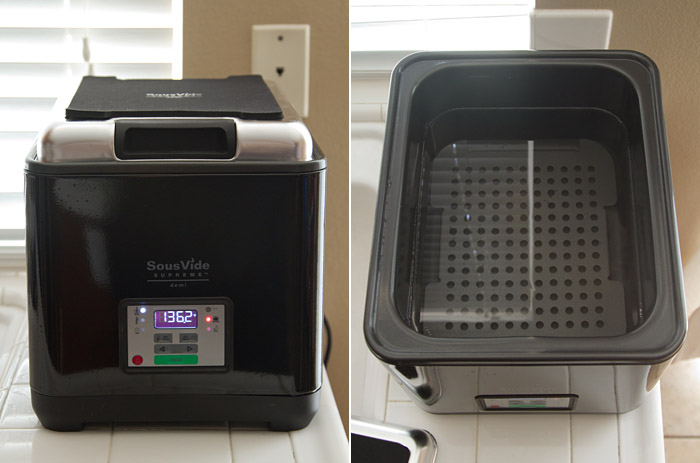 I've now spent the past month and a half exploring sous vide cookery and am ready to start sharing my journey.  So how does sous vide work?  First, vacuum sealing traps in all the juices and flavors from whatever you are cooking.  The temperature-controlled water bath ensures that the item you are cooking will never go above the temperature of the water.  Think about it—if the interior temperature of a perfectly cooked medium-rare steak is 130 to 135 degrees Fahrenheit (55 to 57 degrees Celsius), then all you have to do is set your water temperature to a number within that range and after your steak is done cooking, every single piece of it will be at a perfect medium-rare temperature.  No fooling with guesswork or meat thermometers.  If your steak is thicker on one end, no worries, it still be perfectly cooked all the way through.  Oh, and the cleanup?  It's dreamy.  All you have to deal with is hot water.  No grease to drain, no little burned bits to soak and scrub off.  Just pour out your water and wipe down the inside of the container and your done!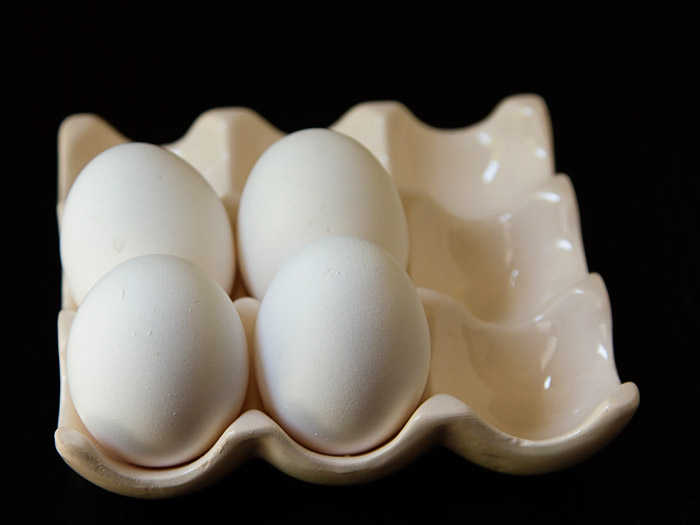 Okay, now that you have an idea of what sous vide cooking is like, let's start with one of my favorite topics: eggs.  Let's talk temperature.  Egg whites begin to coagulate between 140 and 149 degrees Fahrenheit (60 and 65 degrees Celsius), and egg yolks begin to coagulate between 149 and 158 degrees Fahrenheit (65 and 70 degrees Celsius).  Cooking eggs sous vide is about the easiest thing on the planet because eggs come already "packaged" with no vacuum sealing necessary.  All you have to do is slip them into the pre-heated water bath, walk away, and then come back in about an hour and they will be cooked to perfection.
After lots of experimentation with different temperature, I have come up with two numbers that I now use again and again.
(1) Sous vide "soft boiled" eggs: I adore anything with a runny yolk, so my egg "sweet spot" for a soft boiled egg sous vide style is 149 degrees Fahrenheit (65 degrees Celsius), cooked for 60 minutes, where both the egg white and egg yolk are beginning to cook and thicken.
(2) Sous vide "hard boiled" eggs: For a hard boiled egg cooked sous vide style, I love 160 degrees Fahrenheit (71 degrees Celsius), cooked for 60 minutes.  At this temperature, eggs are a bit softer and creamier than the traditional hard boiled egg, making them more moist, but still capable of being cut into slices.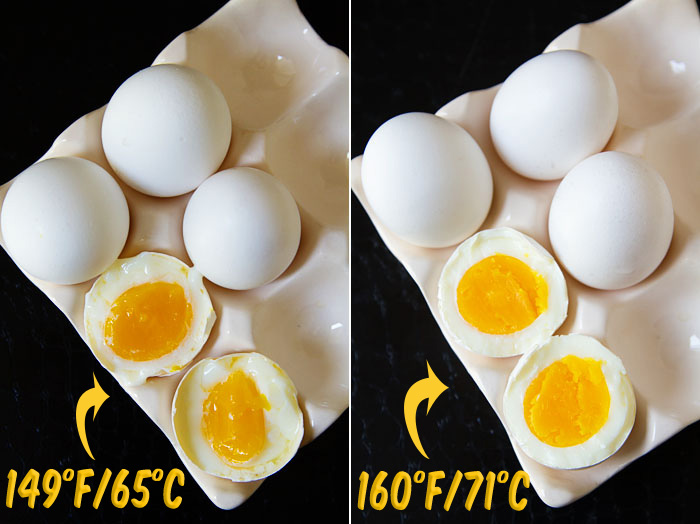 So what's the advantage of cooking eggs sous vide over cooking them in a saucepan of boiling water?  In my mind, there are two huge advantages: Consistency and texture.  By cooking eggs sous vide, you will never be surprised when you break open that shell.  Your eggs will always turn out the same way when cooked at the same temperature.  But even more important than consistent results is texture.  Sous vide cooked eggs have the most incredible creamy, velvety texture I have ever experienced.  Now I can cook a dozen eggs at a time and guarantee that they will all turn out perfectly.  Now if I wanted to, I could whip up egg and avocado toast for a dozen people and know that every single one of those eggs was going to be gorgeous.