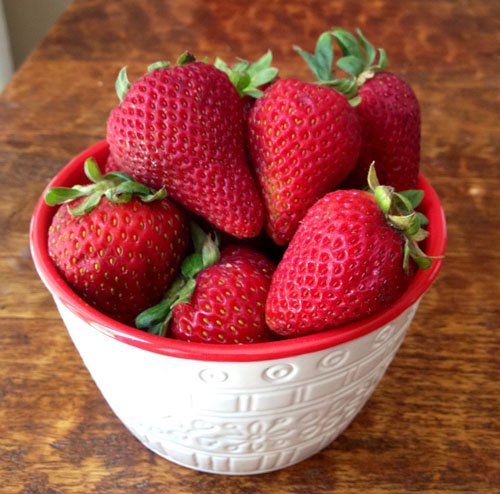 A few days ago I made some strawberry shortcake with mascarpone cream to celebrate National Strawberry Shortcake Day.  National Strawberry Shortcake Day is actually today (June 14th), but we just arrived in Japan yesterday, and so I thought we'd do our celebrating early while I still had access to my kitchen!  A few weeks ago Driscoll's sent me some coupons for their berries to help me celebrate, so I got to work creating something all of the Fuji family members would love.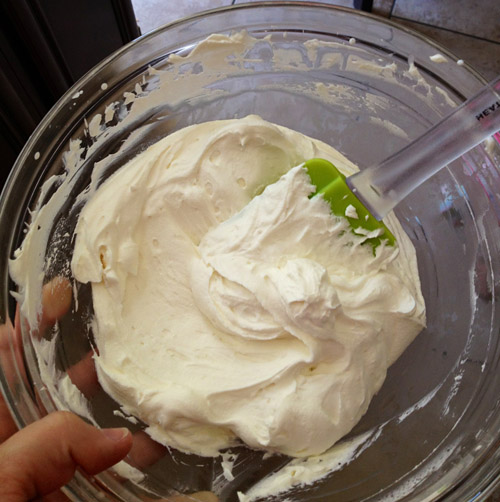 The result was a giant shortcake studded with white chocolate chips and topped with rich mascarpone cream and sliced strawberries.  I thought a cake-sized shortcake would give more of a celebration feel!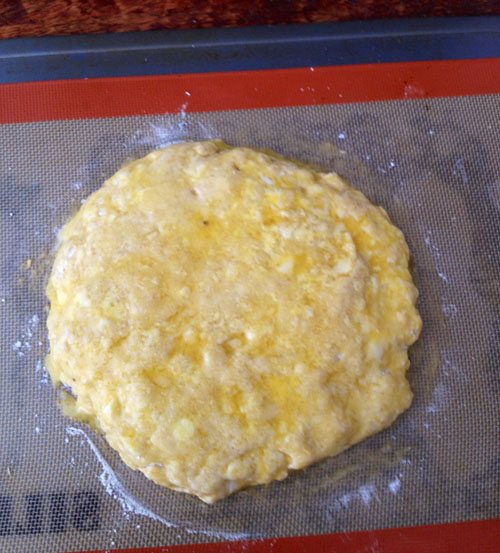 I think that I should maybe call this brain-fried strawberry shortcake or something, because after taking all of the pictures for this post, and then downloading them to my computer (or so I thought), I promptly erased them from my memory card.  When I went to edit them, they weren't on my computer.  I'm blaming this completely on the shortcake for being so good.  That's my theory, and I'm sticking to it.  No need to discuss BFMS (Brain-Fried Mommy Syndrome), right?  Thank goodness I had taken a few pictures with my iPhone so that I could share this recipe with you, because it's a winner!  Happy National Strawberry Shortcake Day!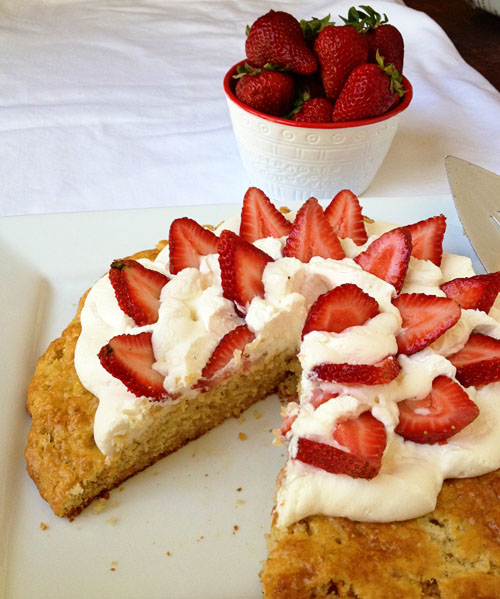 Print This Recipe
Strawberry Shortcake with Mascarpone Cream
Makes about 8 servings
For the shortcake:
1 1/2 cups all-purpose flour
1/4 cup granulated sugar
1 tablespoon baking powder
1/2 teaspoon fine sea salt
1/8 teaspoon ground nutmeg
1 stick cold butter (1/2 cup or 8 ounces), cut into 1/2-inch cubes
1/2 cup white chocolate chips
3/4 cup whole milk
1 egg, beaten with a pinch of fine sea salt, for egg wash
2 tablespoons granulated sugar, for sprinkling
For the mascarpone cream:
4 ounces mascarpone cream
1/4 cup granulated sugar
1 cup (8 ounces) heavy cream
Ripe strawberries, hulled and sliced
1. Make the shortcake: Preheat the oven to 375 degrees Fahrenheit. Line a baking sheet with a piece of parchment paper, or a silicone baking mat.
2. Whisk together the flour, sugar, baking powder salt, and cardamom in a large mixing bowl until completely incorporated. Add the butter, and toss to coat each piece in flour. Using a pastry blender, or two knives, cut in the butter until the largest pieces are the size of small peas. Add chocolate chips, and toss to distribute evenly.
3. Gradually pour in the milk and gently fold the ingredients until you have a soft dough and there are no bits of flour in the bottom of the bowl. You should still see lumps of butter in the dough (these will give the shortcake a light a flaky texture). You may not use all of the milk. However, if the dough seems dry, you may need to add a little more milk. The dough is ready when it is moist and slightly sticky.
4. Transfer the dough to the prepared baking sheet. Dust the top of the dough lightly with flour, then use your hands to gently pat it into a large round disk. Brush the top of the shortcake liberally with the egg wash, then sprinkle with the granulated sugar.
5. Bake for 20 to 25 minutes, rotating the baking pan halfway through to ensure even baking, until the shortcake is lightly golden and fully baked. Let cool until warm or room temperature.
6. Make the mascarpone cream: Mix the mascarpone cheese, sugar, and 1/4 cup of the heavy cream in a large mixing bowl until thick and well-combined. Gradually add the rest of the whipping cream in, briefly mixing after each addition, until the mixture is thick and creamy. Avoid overbeating the mixture, so that it doesn't become lumpy.
7. Assemble the shortcake (right before serving): Transfer the shortcake to a serving platter. Spoon the mascarpone cream on top of the shortcake (using as much or as little as desired). Decorate with sliced strawberries. Serve with additional strawberries and cream.