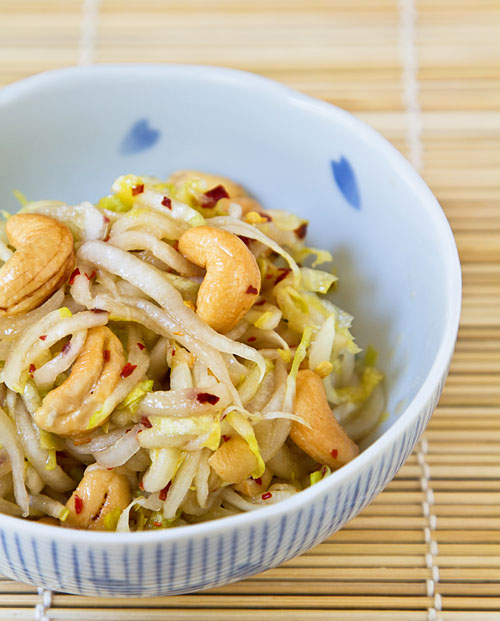 With the warmer months upon us, and the kids out of school for the summer, we've been craving meals cooked on the grill.  I love evenings when Mr. Fuji cooks up a feast on our grill, while the girls play happily in the backyard.  Grilled vegetables, in a rainbow of colors, with juicy grilled chicken or fish seem to taste even better during this time of year.  Maybe it's that I appreciate it more after a long hot California day, as if Mother Earth is extending a peace offering.  One of the things I love to make when we grill is slaw to serve as a side—it makes a perfect accompaniment to any kind of grilled protein, and is light and refreshing.  As my last OnDiva post I thought I'd share the recipe for my "cheater" slaw.
I say "cheater" because I use endive in place of cabbage—shredding (thinly slicing) endive is ten times easier than shredding cabbage, since heads of endive are compact little bundles that are easy to cut into thin slices.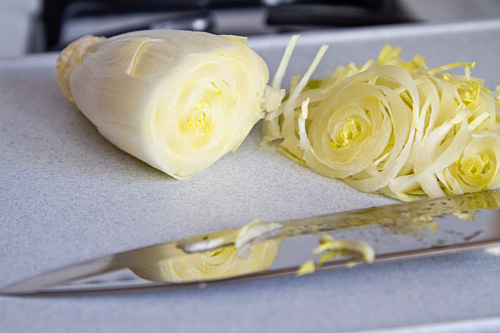 I toss shredded endive with a simple Asian-inspired vinaigrette, then add some red chili pepper flakes for a bit of heat and toasted and salted cashews for crunch and extra flavor.  Endive is perfect in a slaw, because it's juicy, with a bit of crunch.  A refreshing way to celebrate summer.  I want to help one of you celebrate summer, so I'm giving away a box of freshly packed, assorted California endive!  To enter, see the giveaway details after the recipe.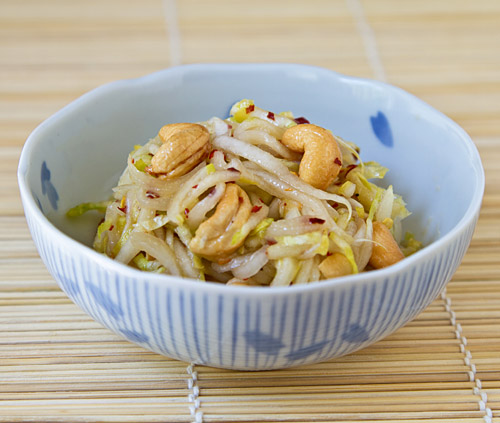 Print This Recipe
Endive Cashew Slaw
Makes 5 to 6 servings
For the dressing:
2 tablespoons vegetable oil
1 teaspoon toasted sesame oil
2 tablespoons rice wine vinegar (plain, not seasoned)
1 tablespoon soy sauce
4 teaspoons liquid honey
1 tablespoon fresh grated ginger
6 heads endive, shredded
1 – 3 teaspoons red chili flakes (depending on the level of heat desired)
1 cup roasted and salted cashews
1. Make the dressing: Combine the vegetable oil, sesame oil, vinegar, soy sauce, honey, and ginger in a small bowl, and whisk to combine.
2. Pour the dressing over the shredded endive in a large bowl and toss well.  Sprinkle with red chili flakes and cashews, and toss again.  Serve immediately.
———————————————————
California Endive Summer Celebration Giveaway
I'm giving away one box of freshly packed, assorted California endive, courtesy of Discover Endive.  Entries will be open until Friday, June 15th at 10pm EST.  One winner will be chosen via random.org on Saturday, June 16th and will be contacted via email.  Because this giveaway is for fresh produce, the winner must have a shipping address in the continental US, excluding Alaska.
To enter: Leave one comment below.
———————————————————
* Disclosure: I was compensated for recipe development and time as part of my work as an OnDiva for Discover Endive.  Giveaway sponsored by Discover Endive.  As always, all opinions and thoughts are my own!