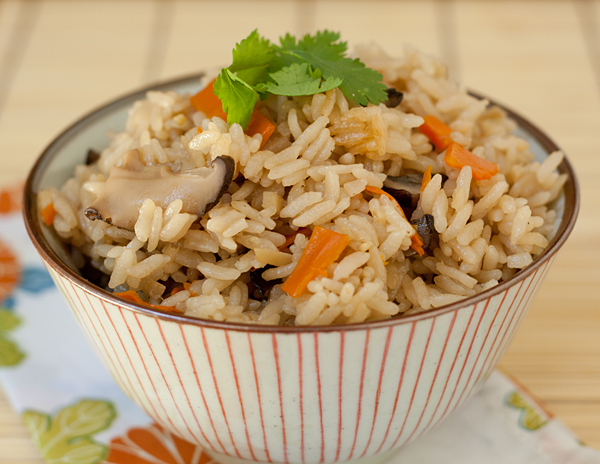 Last week I had some crimini mushrooms leftover from another recipe I was working on, and decided to use them to whip up some takikomi gohan.  Takikomi gohan is a Japanese rice dish where the rice is cooked in a seasoned stock along with a variety of ingredients. The dish is often made using seasonal ingredients to celebrate the changing season.  The ingredients add color and mellow flavor to the rice.  For me, takikomi gohan provides a fantastic way to use up the odds and ends in the refrigerator, like those crimini mushrooms I mentioned, and half of a carrot.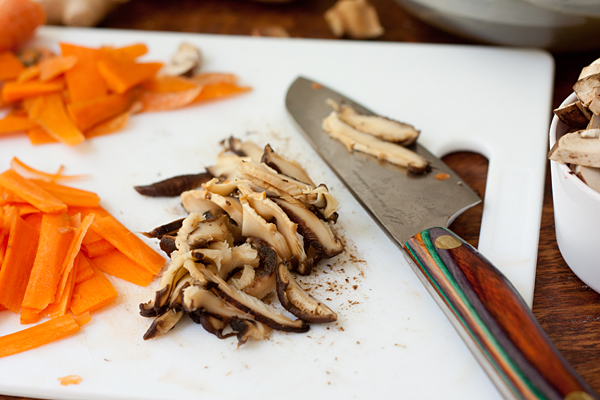 When I made takikomi gohan last week I decided to make it vegetarian.  So I started out by soaking some dried shiitake mushrooms and a large piece of kombu in some warm water.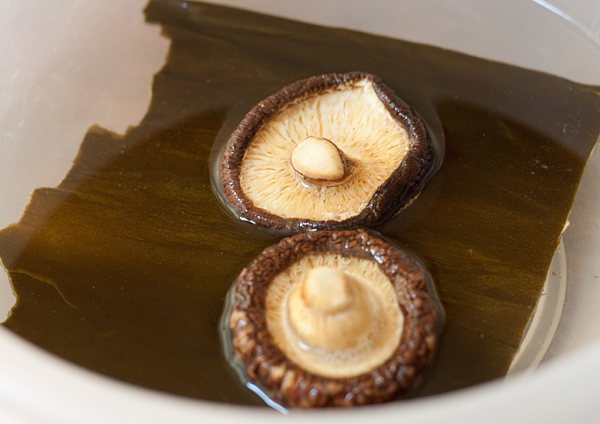 I used the soaking water, along with a bit of honey, mirin, and soy sauce, to simmer the mushrooms, some sliced carrot, and minced ginger in to give them a bit of extra flavor.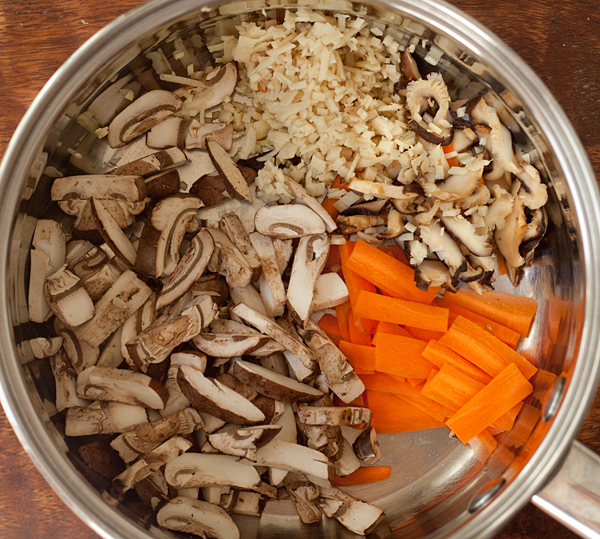 Then everything went into my rice cooker to cook.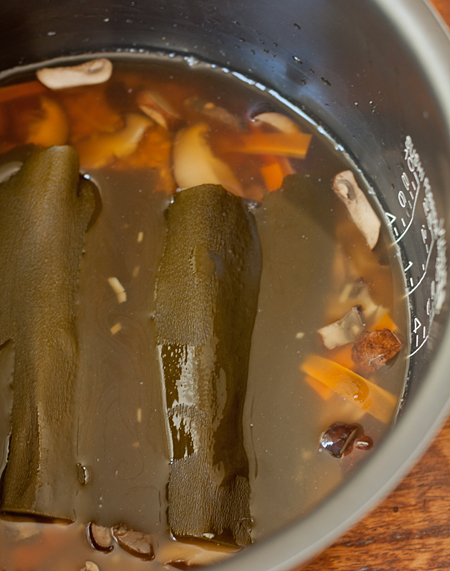 Takikomi gohan is a family favorite.  My girls attacked this particular batch with gusto—picking out and eating all of their mushrooms first.  I found it funny that I had to tell them that they needed to eat their rice before they could have more mushrooms.  If you want a healthy side dish, and a change from plain old steamed rice, you need to give takikomi gohan a try!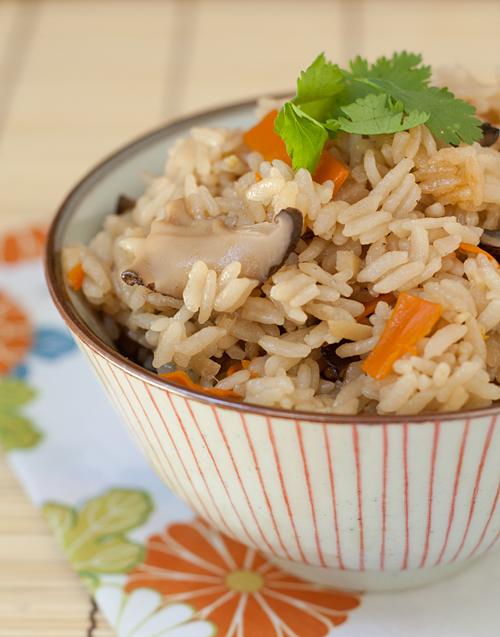 Print This Recipe
Takikomi Gohan
Makes about 5 servings
2 large dried shiitake mushrooms
1 6 square-inch piece kombu
2 cups warm water
4 ounces fresh cremini mushrooms, sliced
3-inch piece carrot, peeled and cut into thin rectangles
2-inch piece fresh ginger, peeled and finely chopped
1 tablespoon mirin
1 teaspoon honey
2 tablespoons soy sauce
1/2 teaspoon salt
2 cups Japanese rice, washed and drained
cilantro leaves, for garnish
1. Soak the dried shiitake mushrooms and kombu in the warm water for at least 30 minutes. Remove the kombu and mushrooms from the water, squeezing out the excess water, and set them aside. Reserve the soaking water. Cut off the stems of the mushrooms and cut the caps into thin slices.
2. Pour the reserved mushroom soaking water in a medium-size pot and add the sliced shiitake and cremini mushrooms, carrots, and ginger. Cook over medium heat. When it begins to simmer, add the mirin and honey and continue cooking for 1 minute. Then add the soy sauce and salt and simmer for another minute.
3. Drain the ingredients into a sieve over a bowl, keeping the solids and liquids separate. Put the washed rice in a rice cooker or pot and add the solid ingredients. Measure the strained liquid—add water or pour off some of the liquid so it measures 2 cups. (Use slightly more liquid if you are cooking in a pot rather than in a rice cooker.) Pour the liquid into the rice cooker, or pot, place the kombu on top, and cook as usual. When the rice has finished, discard the kombu and stir to distribute the ingredients. Garnish each serving with a few cilantro leaves.