Just because it's been months since I've written about a
Desperation Dinner
doesn't mean I haven't had the need for any!  I've had so much other stuff to post, that it seems that there hasn't been time to squeeze a Desperation Dinner post in.  Well thanks to some other things getting moved around, I find myself with some extra room on the LFM calendar this week, so I thought I'd share a super simple recipe for the next time you find yourself in a
Desperation Dinner situation
.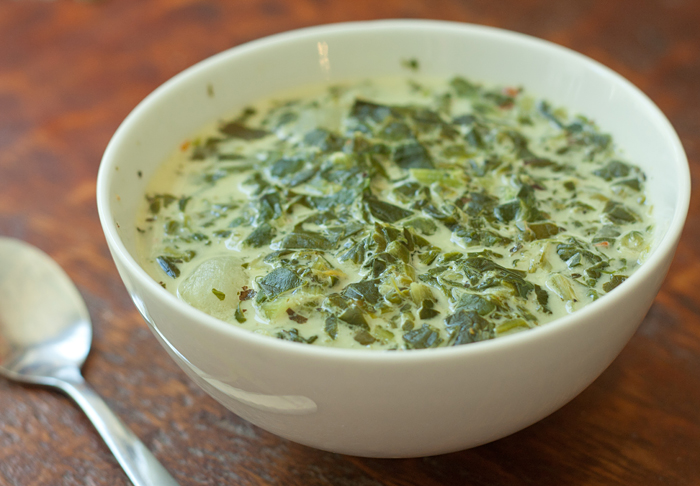 A couple of weeks ago I found myself looking at the clock at 5pm with nothing planned for dinner and two little girls starting to act whiny—a sure bet that they were getting hungry.  A quick perusal of my refrigerator and pantry saved the evening, producing a couple of bags of spinach, some pearl onions, a block of cream cheese, fresh garlic, chicken stock, and an assortment of dried herbs and spices.  While I brought the chicken stock to a simmer, I gave the spinach a quick chop (can I tell you how grateful I am for pre-washed and cut greens?), then dropped it into the stock, along with the pearl onions, garlic, and herbs.  After a quick cook, I added the cream cheese.  Eaten with some slices of hearty whole wheat pain de campagne, I had dinner on the table in 10 minutes.  Even better was the fact that my girls each inhaled multiple bowls of soup.  After finishing her first bowl Bug asked, "Mommy, can I have some more salad please?"  I was cracking up over that one long past when the last dish had been cleared from the dinner table!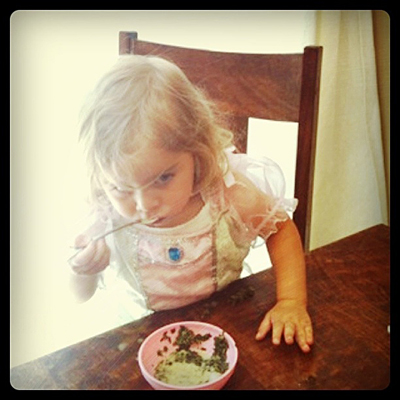 Print This Recipe
Salad Soup, aka Creamy Spinach Soup
Makes about 6 to 8 servings
6 cups chicken stock
1 1/2 pounds spinach, roughly chopped
8 ounces peeled pearl onions
5 cloves garlic, minced
2 tablespoons dried Italian herbs
1 tablespoon dried crushed basil
2 teaspoons dried crushed rosemary
2 teaspoons ground ginger
2 teaspoons ground cumin
2 teaspoons crushed chili flakes
2 teaspoons coarse sea salt
8 ounces cream cheese, cut into small pieces
1. Bring the chicken stock to a simmer in a large pot over medium-high heat. Add the chopped spinach, pearl onions, garlic, herbs, crushed chili flakes, and sea salt. Return to a simmer and cook for about 5 minutes.
2. Add the cream cheese, and stir until well combined. Return to a simmer and cook for another minute, then serve.