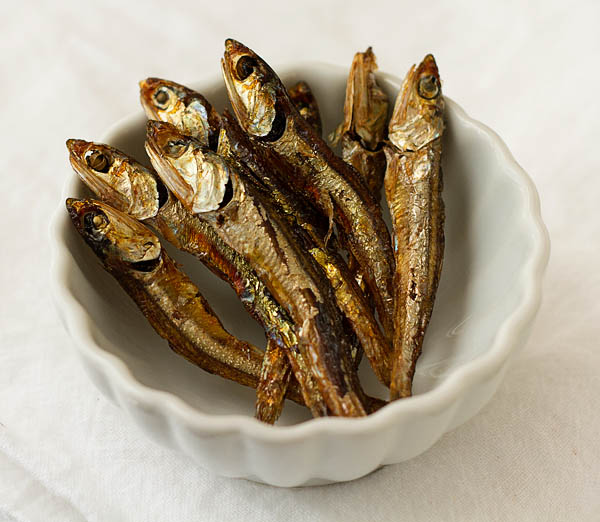 Tazukuri, a traditional Japanese New Year food, are small dried sardines that are simmered in a sugary soy sauce mixture.  The literal translation of the kanji in tazukuri (田作り) is "rice paddy maker" as the fish were used historically as fertilizer in the rice fields in Japan.  These fish symbolize an abundant harvest.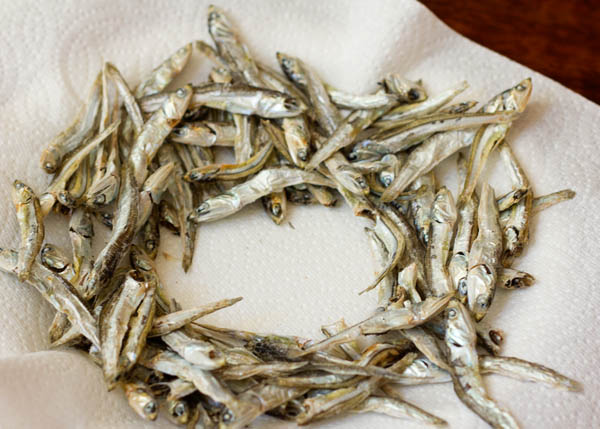 The fish are made by first lightly toasting the dried fish, and then cooking them in a soy sauce mixture to glaze them.  Just be sure not to burn your fish when toasting them, as they will turn bitter, and you'll be left with an abundance of bad taste in your mouth instead of a prayer for a good harvest.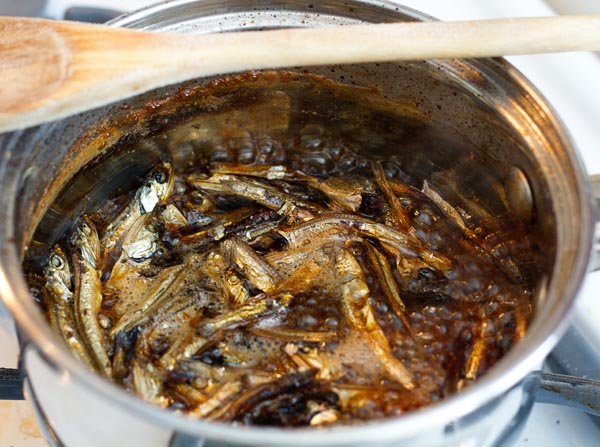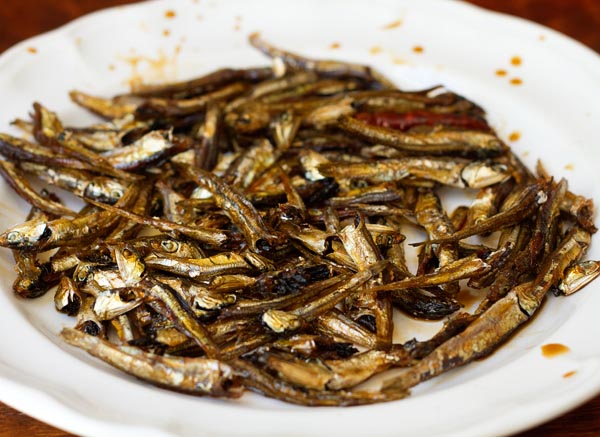 The little fish are sweet and salty, and make for a wonderful snack.  After I made these I kept having to ward off little hands that kept reaching up to steal them.  When I have tazukuri in the house, the most common phrase of the day is, "Mommy, can I have just one more fishy please?"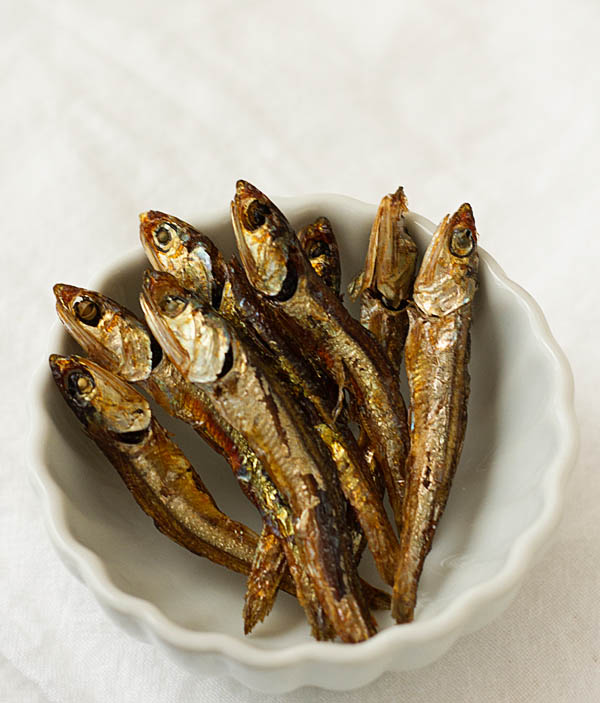 Print This Recipe
Tazukuri (Soy Sauce Sugar-Glazed Sardines)
Makes 4 servings
2 ounces gomame (dried baby sardines)
1/3 cup dashi (or water)
1/3 cup soy sauce
3 1/2 tablespoons granulated sugar
1 tablespoon mirin
1 takanotsume (Japanese "hawk claw" pepper) (or substitute 1 dried red chile pepper)
1. Pick out any broken fish. To pan toast: Cook the fish in a dry pan over medium-low heat until fragrant, lightly toasted, and crispy (about 3 minutes). To microwave toast: Spread the fish in a circle on a plate lined with a paper towel and microwave on high for 2.5 minutes, making sure the fish don't burn.
2. Mix the dashi, soy sauce, sugar, mirin, and takanotsume together in a small saucepan and bring to a boil. Then add the toasted fish and simmer for a couple of minutes until the mixture has reduced and is thick and syrupy.
3. Spread the fish out on a large plate to cool.