Have you ever played that game where you ask questions like, "If you could be any animal, what would you be and why?"  It's always interesting to hear the answers.  One of my favorite questions is "If you could have dinner with anyone (dead or alive), who would it be and why?"  I think you can learn a lot about a person by finding out who fascinates them, or who some of their heroes are.  Last week I got to spend a day actually living my answer to a variation of one of those questions.  If you could have Thanksgiving dinner with a group of food bloggers, who would they be and why?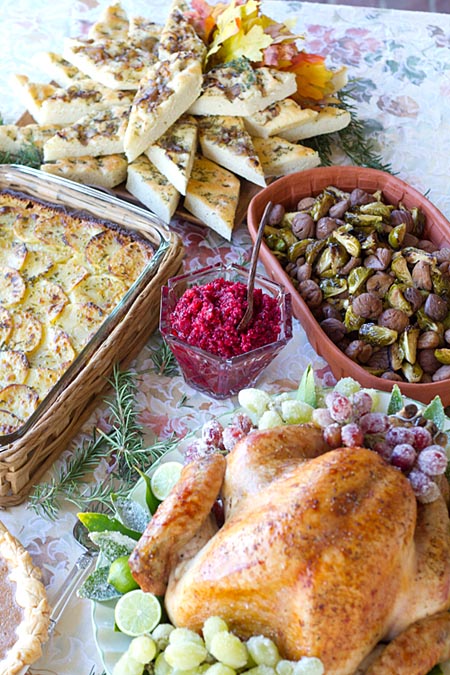 Yep, I got to spend a day having an early Thanksgiving feast with some of the neatest people from the food blogging world.  Patti Londre was the mastermind of the get together, assigning each guest a dish from the traditional Thanksgiving spread to bring to the table.  The result was an afternoon of taste bud tantalizing food and incredible company.  The idea was to help inspire each other in preparing for our own Thanksgiving feasts, while getting some new recipes to add to our repertoire in the process.  In addition, it gave us the opportunity to spend some time giving thanks with our "food family."
It really was a dream meal.  Who wouldn't want to have Denise Vivaldo styling their Thanksgiving table, and making sure that each dish was ready for its "beauty shot"? (Plus, Denise is incredibly entertaining because of her story telling abilities!)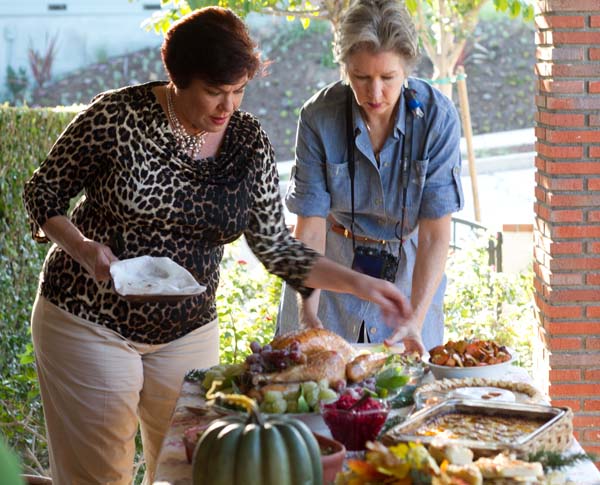 Who wouldn't want Greg Henry around to tickle their funny bone?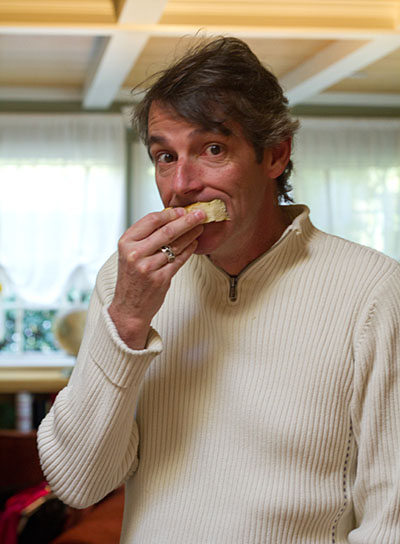 Plus, these people can cook!  The food was incredible.  I was assigned the salad course, and decided to revisit one of my favorite creations from the past year, my Crab, Avocado, Pomegranate Salad served in endive leaves.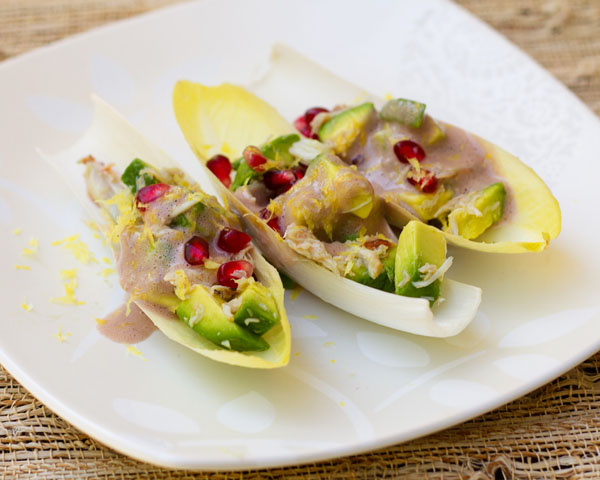 I tweaked the recipe to make it easier, replacing some of the harder to find ingredients, as well as adjusting some of the measurements to better suit the changes.  (See revised recipe below.)
But even more satisfying than the food that we enjoyed, was the company.  Each of these individuals is inspiring and passionate about what they do.  I love that I could spend an afternoon with such talent, yet never see a hint of ego.  They understand that no matter what we know, or think we know, this world is so big and constantly changing, that there is always more to learn and see.  Each of us is a unique individual.  We each have our own story to tell and our own distinct outlook on life.  When we can remember that, we're able to enrich each others lives.  Each of these individuals has touched my life during this past year, and I am so grateful to them for it!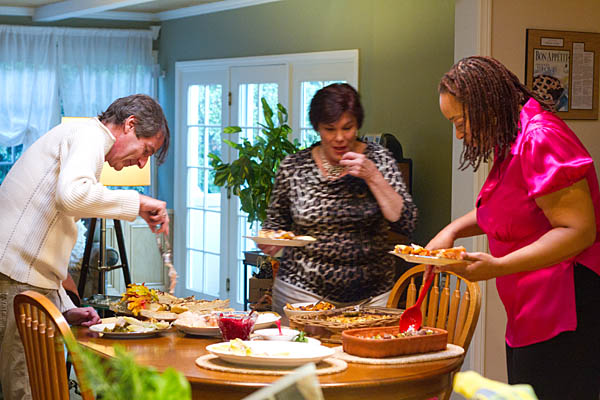 Plus, it's always nice to feel completely normal because you're not the only one taking pictures of your food.  In fact, at this type of gathering, it's not rude to have your camera on the table—it's expected!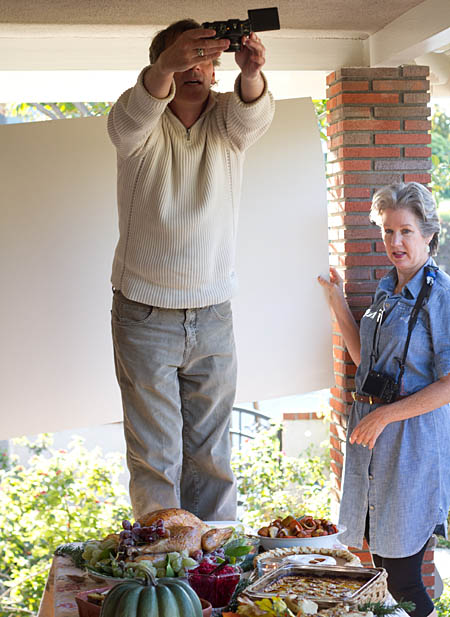 I suggest checking out each of the creations from our meal, and adding at least one of them to your Thanksgiving meal this year—you won't regret it!


Print This Recipe
Crab, Avocado, Pomegranate Salad in Crisp Endive Leaves
Makes approximately 8 to 10 servings
For the Pomegranate Dressing:
2 large egg yolks
2 tablespoons vegetable stock
3 tablespoons 100% pomegranate juice
2 teaspoons rice vinegar
1 tablespoon granulated sugar
For the Salad:
6 ounces cooked Dungeness crab meat
2 medium, ripe avocados, cut into 1/4-inch cubes
1 cup pomegranate arils
2 large heads Belgian endive
Finely grated lemon zest, to garnish
1. Make the Pomegranate Sauce: Fill the bottom half of a double boiler with water, making certain the bottom of the top half does not touch the water. Bring the water to a simmer. Whisk together the pomegranate sauce ingredients in the top half of the double boiler and place over the simmering water. Stir constantly until the sauce thickens and becomes the consistency of thin mayonnaise. Force the sauce through a fine-mesh sieve to strain out any lumps and let it cool. Refrigerate the sauce until ready to use.
2. Assemble the Salad: Pick through the crab meat to remove any cartilage or shell that may remain. Combine the crab meat, avocado, and pomegranate arils in a bowl and mix gently. Wash and separate the endive leaves. Spoon a small amount of the salad into each endive leaf. Drizzle the pomegranate sauce over the salad, garnish with lemon zest, and serve.