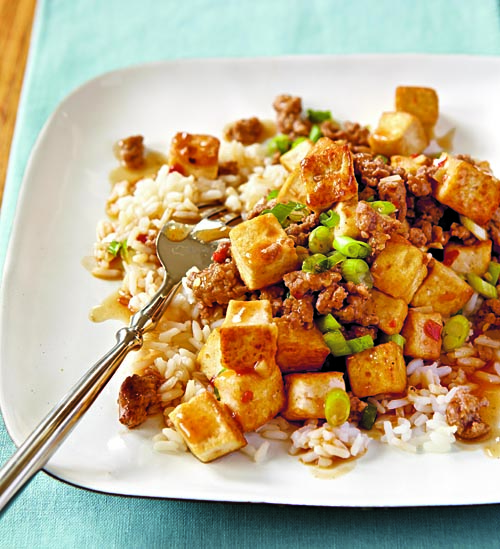 Mao Pao Tofu (or mapo tofu, pronounced "mabo dofu" in Japan) is one of the many dishes that Japan has adopted and made its own.  Mao pao tofu is a Chinese dish from the Sichuan province.  It consists of cubes of tofu and ground beef or pork, in a spicy chili bean sauce.  The Japanese version is very mild in comparison to the original, but still delicious.  Mao pao tofu is one of more than 200 recipes featured in Bruce Weinstein and Mark Scarbrough's newest book: COOKING LIGHT THE COMPLETE QUICK COOK: A Practical Guide to Smart, Fast Home Cooking, that was just published earlier this week.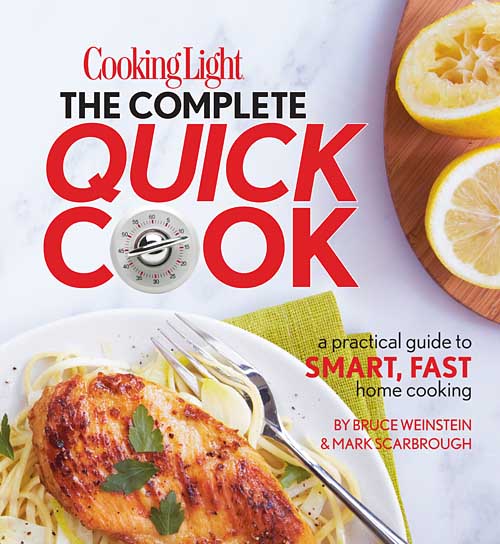 Bruce and Mark are two of my favorite cookbook authors (you might remember that they are the authors of one of my favorite cookbooks, GOAT: Meat, Milk, Cheese), and this book reaffirms why.  Take the recipe for mao pao tofu, for example.  I prepared it for dinner this past Sunday and had it on the table and ready to eat within 15 minutes.  Not only was it truly quick to prepare, but it was delicious.  The book is brimming with lots of recipes like that, plus way more, such as how to organize your kitchen so that you can speed up your cooking process, what types of ingredients you might consider stocking your pantry with that will help you to become a quicker cook, and practical tips for ways you can invest a minimal amount of time to save a huge amount of time later.  One of the things I love about the book is that it embraces my love for using dishes and flavors from around the world to feed my family.  The book contains recipes from a huge variety of world cuisines, from Chinese and Thai, to Greek and Italian—but all totally approachable and unintimidating.
With the holiday season already upon us, this book is an even bigger resource.  We're all short on time, and this book will provide you with strategies for feeding those you love despite the harried schedules that most of us have this time of year.  The book also provides many recipes for dishes that would be perfect additions to holiday meals.
I had the pleasure of chatting with Bruce and Mark earlier this week about the book, and hope you'll enjoy the interview.  Have a listen!
Just in case the interview hasn't convinced you that you need to buy your own copy of the book, I'm sharing the recipe for Mao Pao Tofu from the book.  And while you're at it, go visit Bruce and Mark on their website, Real Food Has Curves.


Print This Recipe
Quick Mao Pao Tofu
Makes 4 servings (serving size: 1 1/4 cups tofu mixture and 1/2 cup rice)
Recipe from The Complete Quick Cook (with permission from publisher)
1 (3 1/2-ounce) bag boil-in-bag rice (or 2 cups hot steamed rice)
2 tablespoons lower-sodium soy sauce, divided
2 tablespoons dry sherry or Shaoxing wine, divided (or orange juice if you don't cook with alcohol)
1/2 pound lean ground pork
1 tablespoon peanut oil
1 (14-ounce) package extra-firm tofu, drained and cubed
3 tablespoons chopped green onions
1 tablespoon minced peeled fresh ginger
1 tablespoon chile paste with garlic (such as sambal oelek)
2 teaspoons minced garlic
1/4 teaspoon salt
1 cup fat-free, lower-sodium chicken broth
2 teaspoons cornstarch
1 tablespoon water
1. Cook rice according to package directions.
2. Combine 1 tablespoon soy sauce, 1 tablespoon sherry, and pork; set aside.
3. Heat oil in a wok over high heat. Add tofu; stir-fry 3 minutes. Add pork mixture; stir-fry 3 minutes. Stir in onions and next 4 ingredients (through salt); stir-fry 30 seconds. Add remaining 1 tablespoon soy sauce, remaining 1 tablespoon sherry, and broth; cook 2 minutes. Combine cornstarch and water; stir with a whisk. Add to wok; cook 30 seconds or until slightly thick, stirring constantly. Serve over rice.
CALORIES 342; FAT 14.3g (sat 3.8g, mono 2.7g, poly 4.6g); PROTEIN 23.3g; CARB 27.8g; FIBER 0.3g; CHOL 43mg; IRON 2.3mg; SODIUM 562mg; CALC 78mg