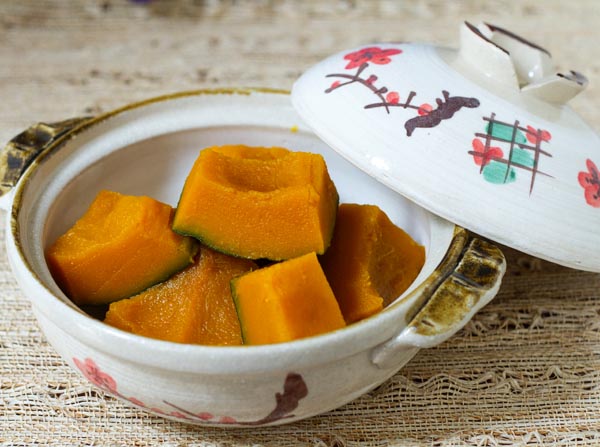 Simmered kabocha squash (known as "kabocha nimono" in Japan) is a perfect autumn side dish and super easy to make!  I recently had dinner at a Japanese restaurant with my friend Bee and our friend Brian and his family who were in town on vacation.  One of the dishes I picked for us to eat was kabocha nimono.  Bee had never had it before, and so I was delighted when she loved it.  (Isn't it the worst when you think someone will like something and then they don't? Ack!)  Now I'm going to pass on the love to you, because you don't have to go to a Japanese restaurant to enjoy simmered kabocha.  It is so easy and inexpensive to make at home.  Plus, it makes fabulous leftovers—I put some in Squirrel's lunch the next day.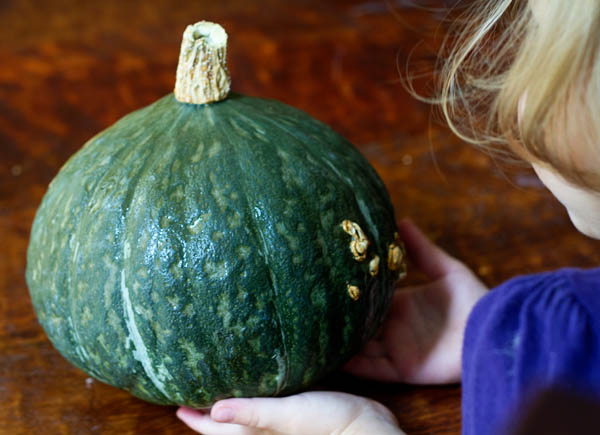 Kabocha squash (pronounced "kah-bow-cha") is a Japanese winter squash, and one of my all-time favorite foods.  When simmered, as in this dish, the skin becomes tender enough to eat, so removing it is unecessary.  How awesome is that? One less step for you to worry about. You're welcome.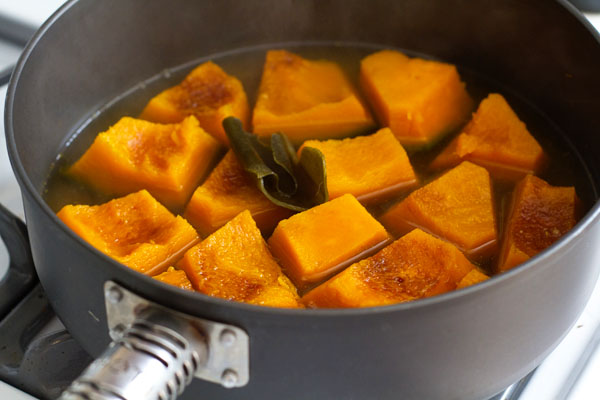 Nimono (simmered food) is a major category of Japanese cooking.  Almost every meal in Japan will include some sort of nimono.  Kabocha nimono is a classic favorite, partially because it's so easy, but also because it's delicious.  The sweet creamy flesh of the kabocha is enhanced by the liquid its cooked in.  This dish would make a fun new addition to a Thanksgiving meal!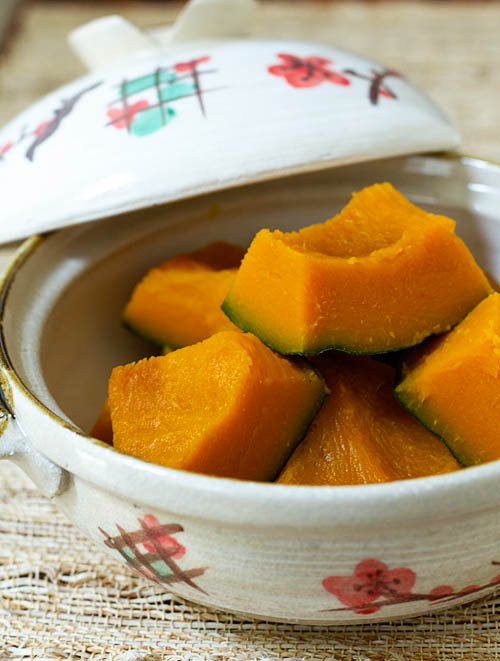 Print This Recipe
Simmered Kabocha Squash (Kabocha Nimono)
Makes 4 servings
Recipe from lafujimama.com
1/2 kabocha squash (about 1 pound)
2 cups dashi
2 tablespoons mirin
1 small piece kombu (about 2-inches square)
2 teaspoons light colored soy sauce (usukuchi soy sauce) (or regular soy sauce if usukuchi isn't available)
1. Wash the kabocha well, then scoop out the seeds. Cut the squash into 2-inch chunks (try to keep all of the pieces roughly the same size so that they will cook at the same speed). Put the kabocha in a large saucepan (10-inches in diameter should work perfectly), skin side down. Add the dashi, mirin, and kombu.
2. Bring the liquid to a boil over medium heat. When the liquid boils, cover the saucepan tightly and reduce the heat to low so the kabocha can gently simmer. Cook until the kabocha is tender. A bamboo skewer should pierce it easily. But do not overcook the kabocha, or it will become mushy.
3. When tender, turn off the heat and drizzle in the soy sauce. Cover the pot and let the kabocha steep in the cooking liquid for at least 30 minutes so that the flavors meld and enhance each other. Serve at room temperature, or chilled, with a bit of the cooking liquid spooned over the squash.