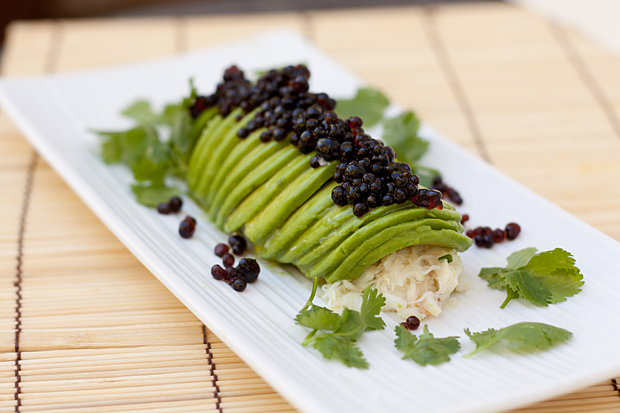 Earlier this month I told you about the kick-off event for California Avocado Week that I attended at Downtown Disney.  Now that I'm back from my trip to Tokyo, I finally get to share the amazing dish that Executive Chef Nick Weber (Catal Restaurant & Uva Bar) taught everyone to make.  My friend Martin of i love blue sea enabled this post by sending me some of my all-time favorite Dungeness crab.  It's been a while since we've made a stop on the Sustainable Seafood Tour, but here we are!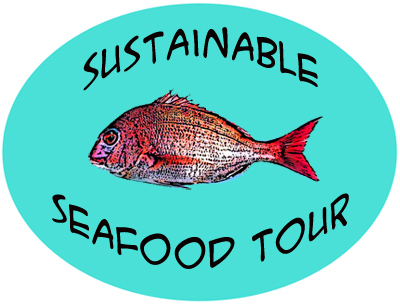 Dungeness crab is rated as a Best Choice by the Monteray Bay Aquarium Seafood Watch program.  A Best Choice rating means that the item is abundant, well-managed and caught or farmed in environmentally friendly ways. Dungeness crab is a best choice because it is caught in traps, which enables fisherman to release undersized crabs and other bycatch mostly unharmed.  Only mature male crabs of a certain size are allowed to be kept (ensuring that males reach sexual maturity and are able to mate for 1 to 2 years before being caught, and leaving the females to be free to maintain the reproduction system).  I'm a huge fan of Dungeness crab, especially the crab sold by i love blue sea, because of its sweet buttery flavor.
This avocado crab roll is impressive looking, but actually very easy to put together.  If you want to impress anyone, this is a perfect choice for an appetizer to prepare.  No one has to know how easy it really is to make!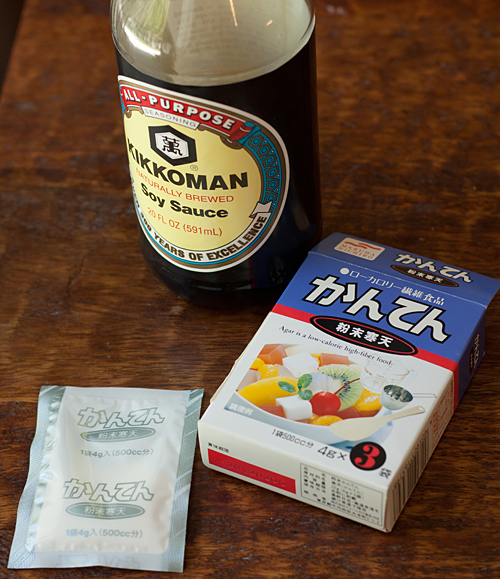 You start out by making the soy sauce "caviar" (Chef Weber calls it soy pearls, but I think caviar is a more apt description), by mixing soy sauce with agar agar (a gelatin substitute produced from a variety of marine red algae, known as "kanten" in Japanese), heating the mixture, cooling it, then drizzling it into a container of chilled vegetable oil where it solidifies into little balls.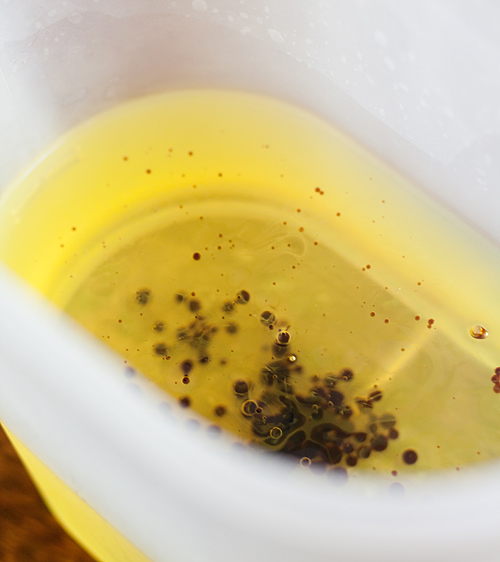 The balls are then strained out of the oil and gently rinsed.  The finished product looks like caviar and has the same briny pop when you bite down on them in your mouth.  The only difference is that they taste like soy sauce (oh, and much cheaper than purchasing caviar)!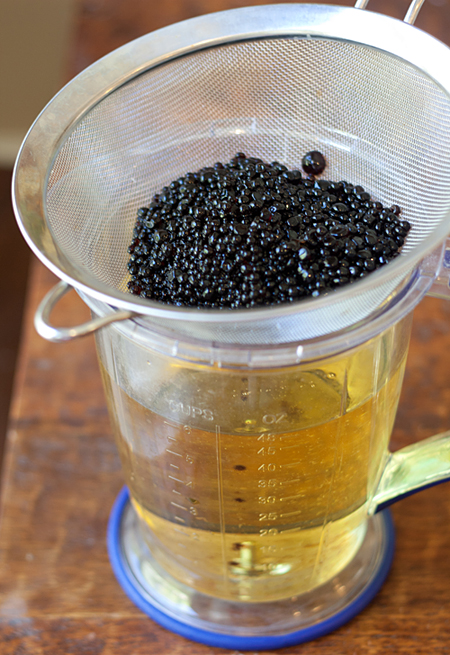 To assemble the rolls, the crab is mixed with some lemon flavored olive oil and chopped chives.
Then you slice a ripe avocado in half (I prefer California avocados because they're local and fabulous!), pit it, then slice it horizontally into thin slices.  Next you fan the slices into a long line on a small piece of parchment paper, and use the sides of the parchment paper to pull the avocado into a curve, creating a channel to put the crab into.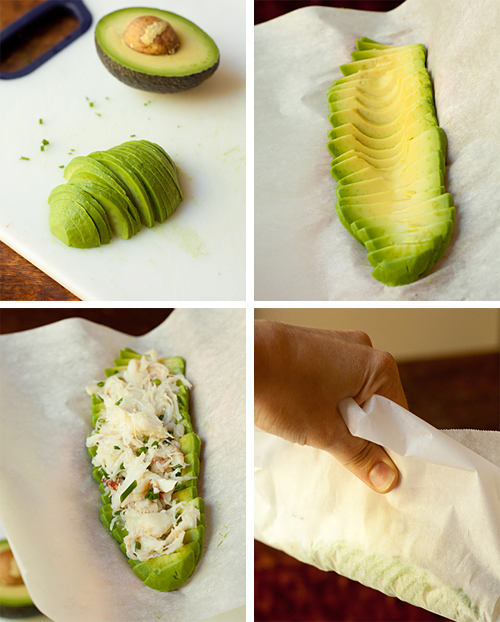 Then you put half of the crab mixture into the avocado, use the parchment paper to roll it tighter and plate it!  I sprinkled mine with some amazing coarse sea salt I've been reserving for special purposes that my talented friend Linda (Salty Seattle) makes from sea water she harvests.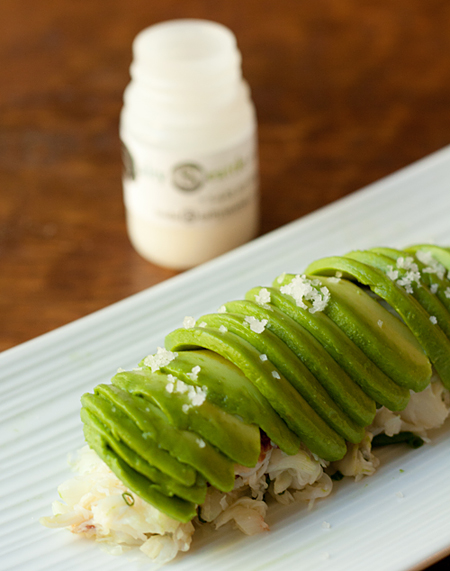 Then the roll got a drizzle of more lemon oil, a generous spoonful of soy caviar, and some fresh cilantro to garnish.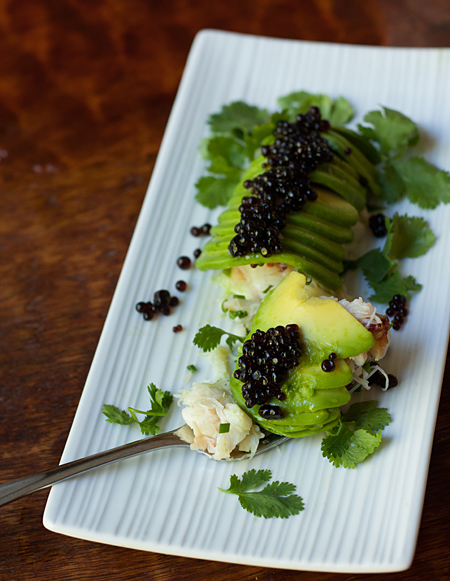 The only change I made to Chef Weber's recipe was to halve the amount of soy caviar made, because even half of the recipe makes more than enough for this recipe, which makes 2 rolls (one out of each half of the avocado)!  Other than that, this recipe is divine.  Although it requires a bit of prep, because you need to chill the oil in advance to make the caviar, actual prep time is minimal, and every second is worth it!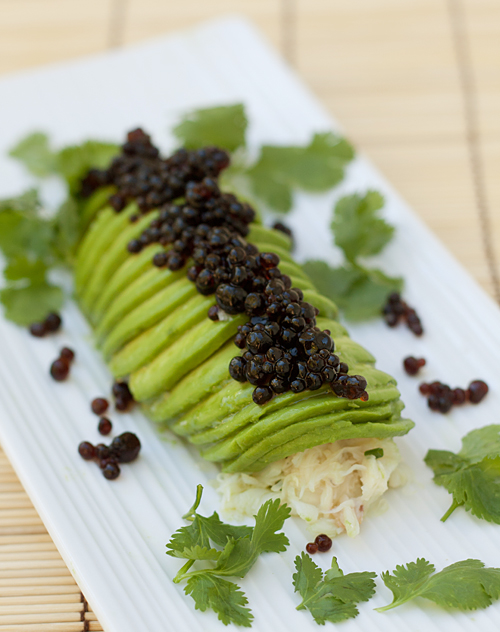 Print This Recipe
Avocado Crab Roll with Soy Sauce "Caviar"
Recipe from Executive Chef Nick Weber, Catal Restaurant & Uva Bar
Makes 4 servings (as an appetizer)
For the Soy Sauce "Caviar":
1 1/2 quarts vegetable oil
8 ounces soy sauce
1 teaspoon agar agar
For the Avocado Crab Roll:
4 ounces fresh Dungeness crab meat
1 large ripe avocado
1 tablespoon lemon oil, plus more for drizzling
1 tablespoon chives, finely chopped
Cilantro, to garnish
Coarse sea salt, to garnish
Soy sauce "caviar," to garnish (recipe below)
Make the "Caviar":
1. Pour the vegetable oil in a tall container and place in the refrigerator for 4 to 5 hours (or overnight) so it is below 40 degrees.
2. Whisk the agar agar into the soy sauce in a small saucepan and heat to a simmer over medium-low heat. Remove from the heat and let the soy sauce mixture cool at room temperature for 10 minutes, then pour into a squeeze bottle.
3. Remove the oil from the refrigerator and drizzle the soy mixture into the oil. When the soy hits the oil it will bead into "caviar" and the agar agar will solidify. Let the soy caviar sit in the oil for 10 minutes, and then gently strain it out.
4. Gently rinse the soy caviar in ice cold water, then set aside in the refrigerator.
Make the Avocado Crab Roll:
1. Toss the crab meat with the lemon oil and chives.
2. Slice the avocado in half, pit, and thinly slice horizontally. Place half of the avocado slices on a small piece of parchment paper (approximately 4 x 4 inches), fanning the pieces into a long strip. Pull the sides of the parchment paper up, causing the avocado slices to bend, creating a channel down the middle. Place half of the crab mixture in the channel. use the parchment paper to gently pull the avocado around the crab into a tighter cylinder. Repeat with the other half of avocado and crab.
3. Place the two avocado rolls on a plate, avocado side up, and drizzle with a bit of lemon oil. Season with the sea salt and garnish with a spoon of soy sauce caviar on each roll. Place sprigs of cilantro on the plate. Serve.