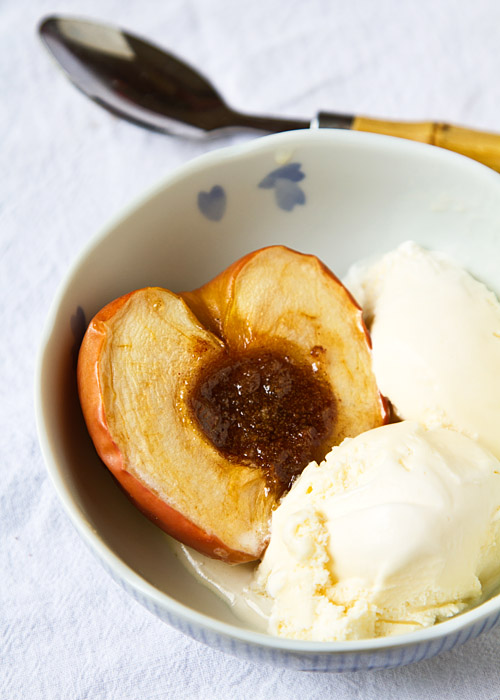 Autumn tends to turn up the intensity on the nostalgia meter for me.  Growing up in sunny southern California, I was always wistful for true autumn, which never seemed to hit with full force, and when it did appear at all, it was late in the season.  Maybe this is why my parents always planned an annual fall pilgrimage to Oak Glen, a small mountain village a 30-minute drive away from our house, that is known for its apples.  In Oak Glen there are orchards where you can pick your own apples, or roadside stands where you can buy them already picked, along with freshly pressed raw apple cider, apple butter, and all sorts of other handmade treats.  Oak Glen also always sported some fall foliage and the crisp mountain air helped to fill some of what was lacking back down in the valley.
I always looked forward to those trips because they came with the promise of a slice of apple pie à la mode at Law's Coffee Shop.  We always stopped at Law's, usually first thing in the morning before continuing on our way to visit the Oak Glen zoo and purchase apples and apple cider.  My mom was always very good at making sure we had a healthy well balanced diet, making meals from scratch, and only buying things like sugared cereal for birthdays and holidays, so those trips to Law's were extra special.  My parents must have understood that apple pie for breakfast as a special once a year treat was the type of thing that would help wrap up childhood memories with a rosy glow.  I haven't been back to Law's in years, but their pie has left an indelible imprint on my tastebuds—a flaky, buttery double crust filled to bursting with thick slices of juicy tart apples, lots of cinnamon, and not overly sweet, but just sweet enough.  I always ordered my pie à la mode, because I loved the way the creamy vanilla ice cream would start to puddle and pool on the plate as it melted against the hot pie, seeping into the crust and apple filling, creating a wonderful creamy cinnamon-y syrup that I would sop up with bits of extra crust.   I almost fear returning to Law's, lest I discover the pie isn't as good as it used to be.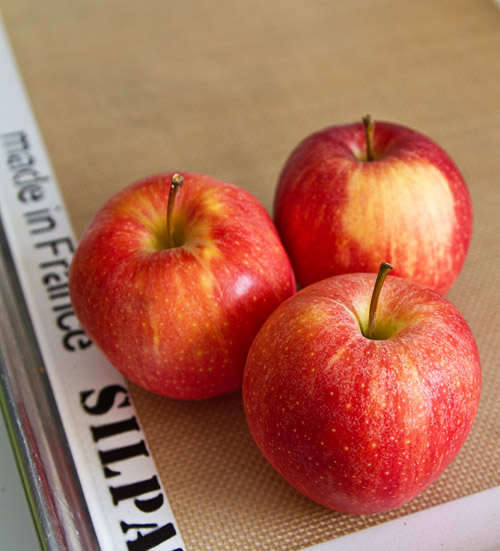 When the Tiki Machine team and I were planning Lucy's September food adventure, I was craving a time machine trip to my childhood so I could relive a trip to Law's.  Since I have yet to find a real working time machine, I thought I would turn to the next best thing, my imagination.  I decided I would give a nod to apple pie à la mode with a version that I could eat more than once a year for breakfast—baked apples filled with a sweet spiced gingery butter and served with a scoop of vanilla ice cream.  Lucy was happy to play along with my autumnal musings, and even donned a chef's toque for the occasion!
I cut some apples in half and scooped out their cores, which I filled with a butter, brown sugar, cinnamon, and candied ginger mixture, then popped them into the oven to bake.
When they were soft, and the skins had started to wrinkle and dry a bit on the edges, I pulled them out and served each half with a scoop of vanilla ice cream.
This isn't the type of dessert that you serve to a large party of people, because it's a dessert meant to be eaten right away, unless you mean to serve ice cream soup along with your baked apples!  You could always bake the apples ahead of time, then reheat them, but really, who wants to wait?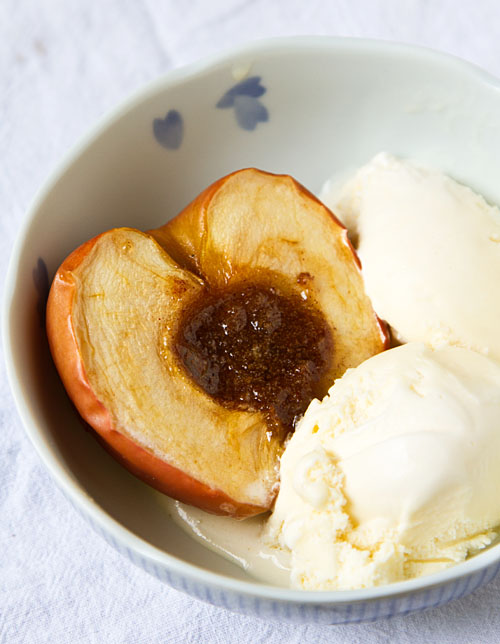 Print This Recipe
Baked Apples à la Mode
Makes 6 servings
For the filling:
1 1/2 tablespoons butter
1 1/2 tablespoons light brown sugar, packed
1 piece candied ginger, finely minced (about 1 1/2 teaspoons minced)
1/4 teaspoon ground cinnamon
3 crisp, tart apples
6 scoops vanilla bean ice cream
1. Preheat the oven to 350 degrees Fahrenheit.
2. Make the filling: Put the filling ingredients into a small bowl, and mash together with a fork to make a paste.
3. Assemble the apples: Cut the apples in half and scoop out the cores. (I use a melon baller.) Fill each scooped out apple cavity with 1/6 of the filling and set on a lined baking sheet.
4. Put the apples in the preheated oven to bake for 30 minutes. Serve each apple half in a bowl with a scoop of vanilla bean ice cream.