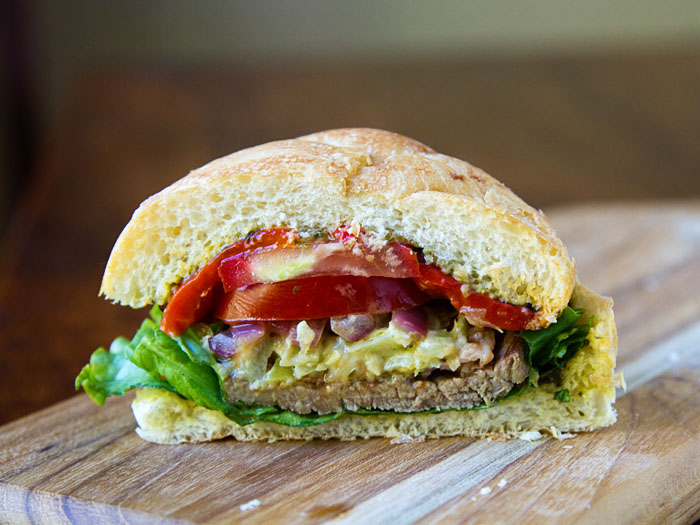 When my dad was a little boy, he used to fantasize about what life would be like when he was a grownup.  He says that he used to dream about the fact that he would be able to put whatever he wanted in his refrigerator (little did he realize that his future wife might have something to say about that).  His dream refrigerator was filled with every sandwich topping imaginable, because his favorite thing to eat was a sandwich stuffed to the gills with toppings, a Dagwood sandwich.  So when I whipped up a sandwich recently for Mezzetta's annual "Make That Sandwich" contest, I couldn't help but think of my dad, because if there ever was a sandwich made for my dad, it's this one.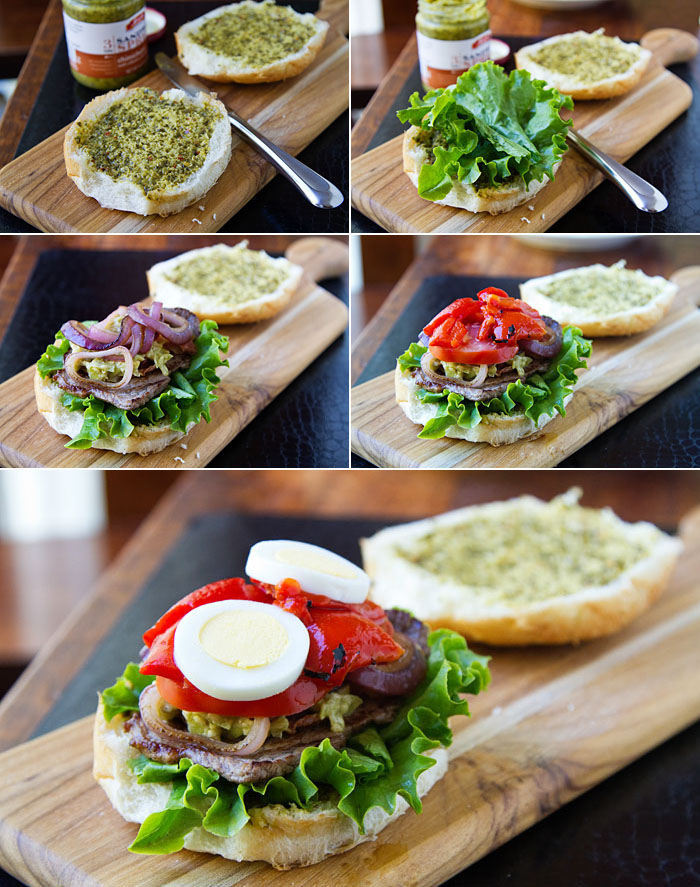 It's filled to bursting with ingredients, but not just any ingredients!  My dad has an affinity for flavors from around the world (see, I come by it honestly!),  and so I drew my inspiration from the Chivito, a Uruguayan sandwich made with filet mignon, mozzarella, tomatoes, mayonnaise, olives, and commonly also bacon, fried or hard-boiled eggs and ham.   My version features some of the ingredients of the traditional Uruguayan sandwich, but also some from the Mediterranean.  The finished sandwich is a riot of flavors which all come together to create a sandwich which is not only bright and colorful, but gosh darn delicious.  Dad, this one's for you!  (By the way Dad, did you know that August is National Sandwich Month?  It's your month!)  What goes on your favorite sandwich?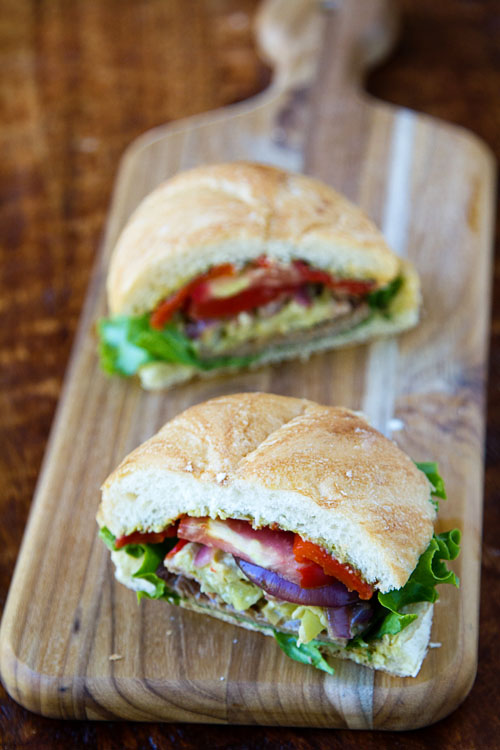 Print This Recipe
Bob's Dagwood Steak Sandwich
Makes 4 sandwiches
12 ounces boneless thin-cut beef sirloin tip steak, cut into 4 steaks
Salt and pepper
3 ounces sliced pancetta
1 medium red onion, sliced in thin rings
1/4 cup Mezzetta Peperoncini & Feta Sandwich Spread
4 small kaiser rolls
lettuce leaves
4 tomato slices
4 pieces Mezzetta Roasted Red Bell Peppers
2 hard-boiled eggs, sliced
1/4 cup Mezzetta Chimichurri Sandwich Spread
1. Lightly pound the steaks to a 1/4-inch thickeness. Season the pieces of steak with salt and pepper and set them aside.
2. Slice the rolls in half and spread chimichurri on both halves and set them aside.
3. Cook the pancetta in a wide saute pan over medium-high heat until crisp. Set the pancetta aside. Add the red onion. Cook, stirring occasionally, until the onions are slightly charred and softened, about 5 minutes. Sprinkle with salt and set them aside.
3. Sear the steaks in the same saute pan on one side until nicely colored, about 2 minutes. Flip the steaks over and cook for about 1 minute more for rare, 2 minutes for medium rare. Remove the steaks from the heat.
4. Assemble the sandwiches: Place a lettuce leaf on the bottom half of each of the rolls, then top with a steak, 1/4 of the cooked pancetta, 1 tablespoon of the Mezzetta Peperoncini & Feta Sandwich Spread, and some of the cooked red onions. Then add a tomato slice, roasted red bell pepper, and egg. Replace the top of the roll and press down lightly Cut the sandwiches in half if desired. Serve immediately.
==============================================
*Disclosure: Mezzetta sent me an assortment of ingredients to use in creating my sandwich, but did not pay me to write this post.  I've been eating and cooking with Mezzetta products since I was a little girl.  All opinions are my own.