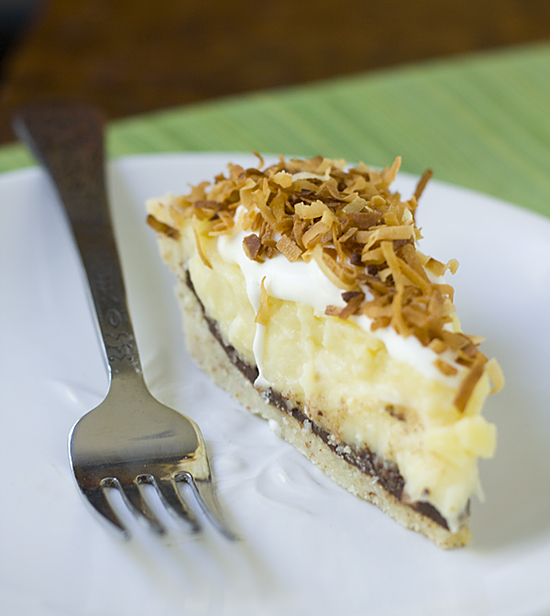 I seem to have a thing for reinventing some of my favorite junk food (last year I shared my recipe for Ho Ho Cake—my more sophisticated take on Ho Hos).  I'm thinking it's because I never buy these items anymore, preferring to indulge on homemade treats, but still loving the flavor combinations from these snacks I would occasionally eat as a youth.   Today's recipe for Fudge and Coconut Custard Pie reminds me of an Almond Joy bar its combination of chocolate, almonds, and coconut.  But honestly, I'd take a slice of this pie any day over an Almond Joy Bar, so I guess I'm growing up!  This pie has an almond nut crust, a fudge layer topped with a coconut almond custard, and topped with whipped cream and toasted coconut.

It's basically a coconut cream pie, but better (in my opinion).  I mean, c'mon, doesn't the addition of chocolate make almost anything better?  This pie would be a perfect addition to your Memorial Day celebrations because it requires very little baking time and it can be made ahead, freeing up time for family and fun!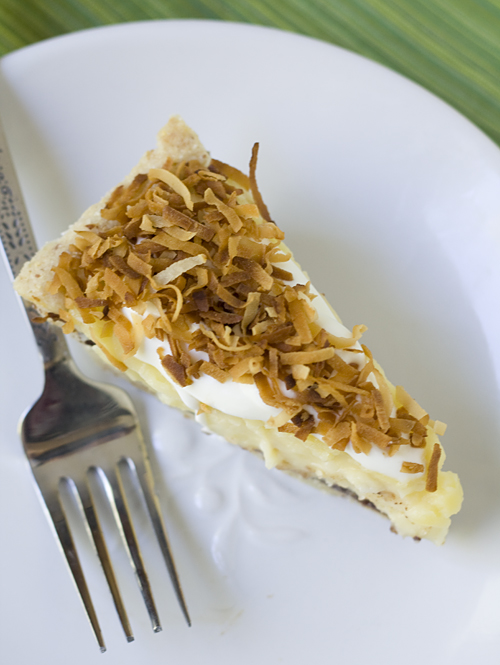 Print This Recipe
Fudge and Coconut Custard Pie
Recipe adapted from my Fudge & Banana Custard Pie recipe
Makes one 9-inch pie, about 8 — 10 servings
For the almond crust:
2/3 cup all-purpose flour
½ cup granulated sugar
½ cup ground almonds
6 tablespoons butter, softened
1/3 cup powdered milk
For the sweetened condensed milk custard:
1 2/3 cups water
3 tablespoons cornstarch
1 can (14-ounces) sweetened condensed milk
3 large egg yolks, beaten
2 tablespoons butter
1 teaspoon almond extract
1 cup sweetened flaked coconut
For the chocolate layer:
2/3 (4.5 ounces) cup semi-sweet chocolate chips
2 tablespoons butter
For the topping:
2/3 cup sweetened flaked coconut
1 1/4 cups chilled whipping cream
2 tablespoons granulated sugar
1. Make the almond crust: Preheat oven to 350 degrees Fahrenheit. In a small mixer bowl, beat flour, sugar, almonds, butter and powdered milk until a soft crumbly dough forms. Press the dough into 9" pie pan.  Bake 12-14 minutes until puffed. Cool completely.
2. Make the sweetened condensed milk custard: Put the water into a heavy saucepan.  Add the cornstarch and stir until it has completely dissolved.  Whisk in the sweetened condensed milk and egg yolks.  Cook over medium heat until the mixture thickens and is bubbly.  Remove from the heat and add the butter and almond extract.  Stir until everything is mixed together, then stir in the coconut. Set aside to cool slightly.
3. Make the chocolate layer: In a small saucepan, heat the chocolate chips and butter together over low heat until melted, stirring constantly until the chocolate is shiny and smooth (it will be thick.)
4. Assemble the pie: Spread the hot chocolate layer over the bottom of the cooled almond crust.  Pour the custard over the chocolate.  Cover the pie and chill in the refrigerator for 4 hours or until set.
5. Make the topping: Toast the coconut in a small skillet over medium heat, stirring occasionally so that it doesn't burn, until it is lightly browned (about 3 minutes).  Set aside to cool completely. Beat the cream and sugar together in a medium bowl until soft peaks form.
6. Spread the whipped cream over the chilled pie, then sprinkle with toasted coconut, and serve.  The pie can be covered and refrigerated for up to 4 hours.