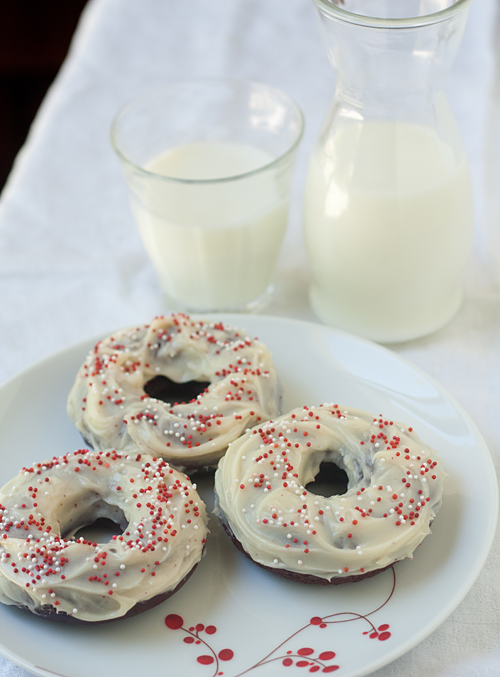 Did you know that tomorrow is National Donut Day?  National Donut Day, the first Friday of June each year, was started by the Salvation Army in 1938 as a fundraiser and a way to honor the women who served donuts to soldiers, along with other items, from huts established in abandoned buildings near the the front lines during World War I.  I hope you go out for donuts, or make your own—I know I'm not going to miss an excuse to eat donuts!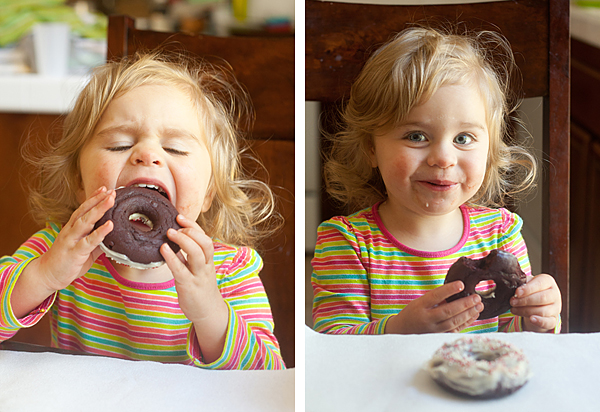 I've been playing with several donut recipes to get into the spirit of things, including a variation on my recipe for Baked Lemon Honey Creme Mochi Mochi Donuts that I shared a couple of weeks ago.  I tweaked the recipe to become a red velvet donut with a creamy cream cheese frosting.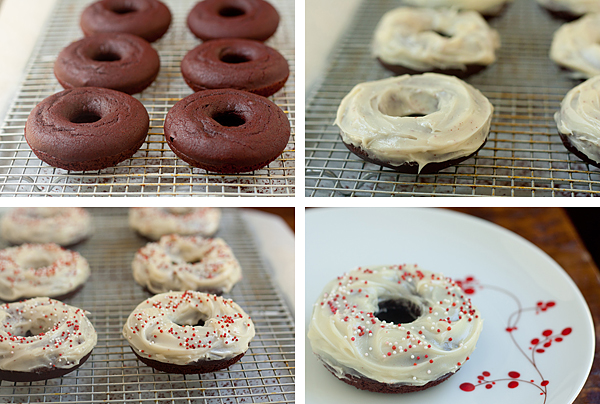 These donuts are soft and moist and slightly chewy with a hint of chocolate.  Topped with the cream cheese frosting, these donuts making a deliciously decadent way to celebrate.  With some blue sprinkles they would also make cute donuts for the Fourth of July!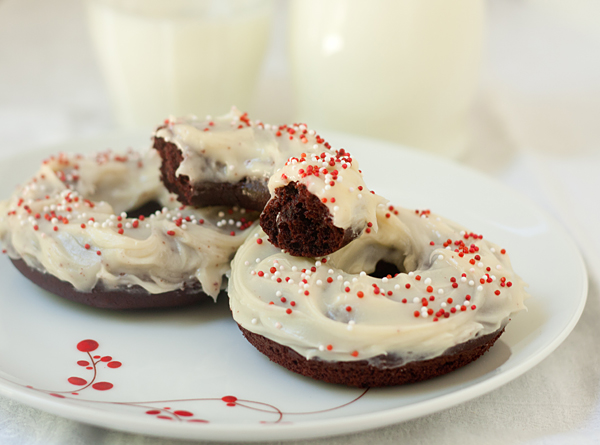 Print This Recipe
Baked Red Velvet Mochi Mochi Donuts
Makes 12 donuts
2 large eggs, beaten
1/4 cup honey
2/3 cup milk
2 teaspoons rice wine vinegar
1 1/3 cup mochiko (sweet rice flour)*
1/4 cup granulated sugar
1/4 cup cocoa powder
2 teaspoons baking powder
3 tablespoons butter, melted and cooled slightly
2 teaspoons red food coloring
Cream Cheese Frosting (Recipe Below)
Colored sprinkles (optional)
1. Preheat the oven to 350 degrees Fahrenheit. Lightly grease 12 wells of a donut baking pan.
2. Whisk together the beaten eggs, honey, milk, and vinegar until well mixed. In a separate bowl, whisk together the mochiko, granulated sugar, cocoa powder, and baking powder until combined, then whisk this mixture into the egg mixture. Finally, whisk in the butter and food coloring, then pour the batter into the donut baking pan (12 donuts).
3. Bake the donuts for 20 minutes. Remove from the oven and let cool slightly, then gently turn them out onto a cooling rack to finish cooling. Spread the cooled donuts with the cream cheese frosting and decorate them with colored sprinkles (optional).
Cream Cheese Frosting
4 ounces cream cheese, softened
1 cup confectioners' sugar, sifted
1/4 cup (2 ounces) butter, softened
1/2 teaspoon vanilla extract
1. Whip the cream cheese, sugar, butter, and vanilla on low speed with an electric mixer until creamy. Increase the speed to high and mix until the frosting is light and fluffy (about 5 minutes). Cover and refrigerate for 20 minutes before using.
* Note: Mochiko, aka sweet rice flour or glutinous rice flour, is different than ordinary rice flour or brown rice flour.  It is made from a short-grain rice that is slightly sweeter (sometimes called "sticky" rice), whereas rice flour comes from grinding long-grain rice.  Despite its name, mochiko contains no gluten and isn't noticeably sweet.