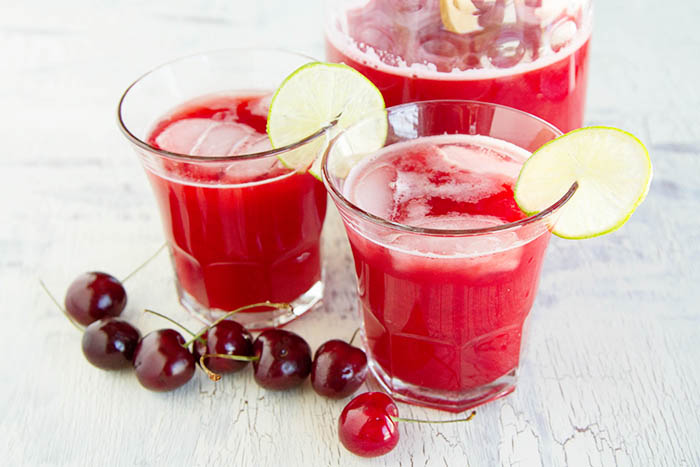 As a little girl, one of my favorite treats was a cherry limeade.  Sometimes when we visited my grandparents in Utah we would make a trip to Hires Big H, a great little Utah-based burger joint, that also happens to serve my all-time favorite cherry limeade.  Other people loved going to Hires for their homemade root beer, but it was always the cherry limeade for me.  I guess I haven't changed much, because when I went to the store on Tuesday and saw that cherry prices had dropped significantly, I grabbed a bunch and came home to make some cherry limeade.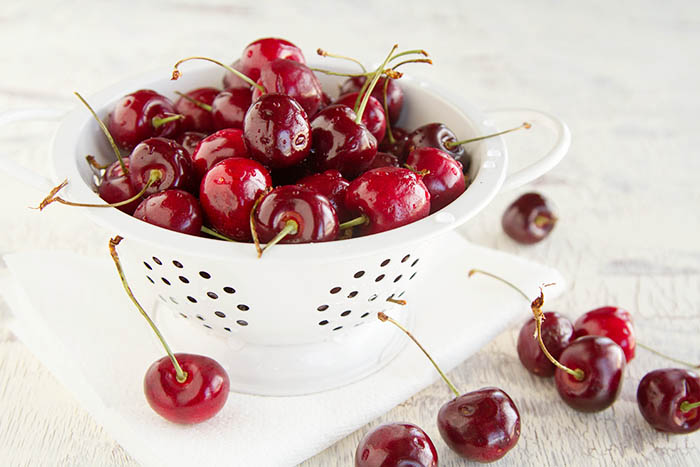 Mr. Fuji and I just got home Monday morning from spending a week in Mexico, so I decided to give my usual cherry limeade a Mexican twist inspired by all the fruity drinks we had been drinking, and made a cherry lime agua fresca instead.  Agua frescas are non-alcoholic drinks made with a combination of fruit, seeds, flowers, sugar, and water.  They are wonderfully refreshing!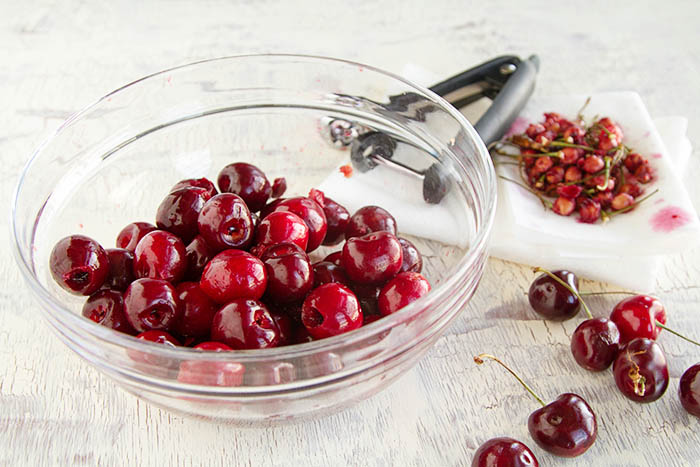 I used a pound of the cherries I had purchased, which I first pitted (thank goodness for my favorite OXO cherry pitter which makes pitting cherries fun instead of a headache), then stuck in a blender with some freshly squeezed lime juice, honey, and cold water, and blended until smooth.  After I strained the mixture,  scooped off the foam, then chilled the juice, we poured ourselves big glasses filled with ice and topped them off with fresh lime wedges.  The drink was the perfect mix of childhood memories and tastes from our recent trip to Mexico.  The cherries, which are currently at the peak of their season here in Utah, gave the juice wonderful cherry-full sweetness, which combined with the sour zip of the lime juice made for the perfect summer afternoon refresher.  Now to decide what to make next with my cherry surplus…maybe one of these recipes?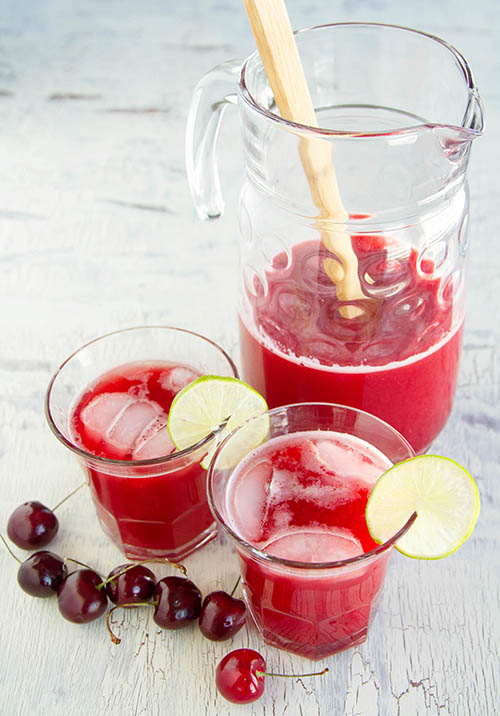 Print This Recipe
Cherry Lime Agua Fresca
Makes about 6 cups
1 pound cherries, pitted
1/3 cup fresh squeezed lime juice (about 2 juicy limes)
1/4 cup honey
4 cups cold water
ice
slices of lime, to garnish
1. Put the cherries, lime juice, honey, and water in a blender and blend until smooth. Pour the juice through a fine mesh strainer into a large pitcher, pressing the fruit pulp to get as much juice out of it as possible. Skim the foam off the top of the juice and discard.
2. Taste the juice and add more lime or honey to taste, if needed. Cover the pitcher and refrigerate the juice until it is chilled.
3. Stir the juice before serving, then serve over ice with a slice of lime for garnish.