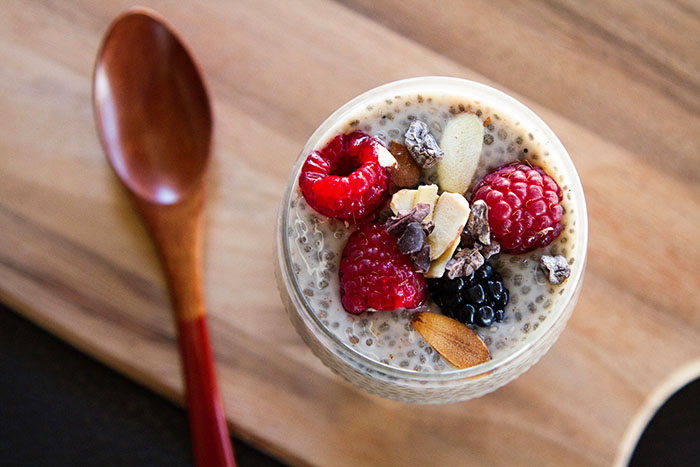 I have to admit that I shied away from the chia trend for a long time because I couldn't think or say the word chia without the old 80s jingle of childhood running through my head. "Ch-ch-ch-chia!!"  That combined with the disturbing visual of a clay head with green sprouts growing out of its scalp just didn't do much for my appetite.  But having a policy of trying everything at least once, I finally dipped my toes into chia waters and found that I loved chia seeds.  Of course.  Now that pesky jingle has found permanent residence in my head because chia pudding has found permanent residence in my personal weekly menu.  I eat it at least once a week for breakfast or as an afternoon snack.
Chia seeds come from a desert plant that has been grown in Mexico since the ancient Mayan and Aztec cultures.  "Chia" means strength, an appropriate name considering they contain antioxidants, calcium, fiber, omega-3 fatty acids, and protein.  My favorite way to use them is to make a breakfast pudding because I can whip it up the night before, stick it in the fridge, and it's ready and waiting for me to eat in the morning.  Making chia pudding is even easier than growing weird green chia hair on your Chia Head.  All you do is stir together chia seeds, your liquid of choice (I like coconut or nut milks), and what ever seasonings you want to add, then put it in the refrigerator.  The next morning you pull it out and top it with fresh fruit, toasted nuts, shredded coconut, or whatever you want!  A breakfast that can be made ahead and tastes like you're indulging in dessert for breakfast in a double winner in my breakfast playbook.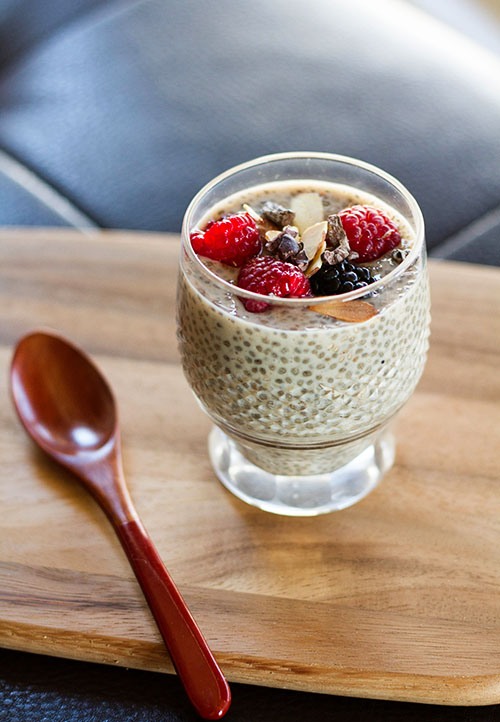 Print This Recipe
Chia Breakfast Pudding
Makes 1 serving
Ingredients:
1 cup unsweetened cashew nut milk (or whatever milk you want to use)
1/4 cup chia seeds
1 tablespoons pure maple syrup (or honey)
1/2 teaspoon ground cinnamon
1/2 teaspoon almond extract (optional)
Suggested Toppings: nuts, seeds, fresh berries, dried fruit, cacao nibs, unsweetened coconut
Directions:
1. Whisk together the chia seeds and cashew nut milk until you don't see any clumbs, then stir in the maple syrup, ground cinnamon, and almond extract (if using), then place the pudding in the refrigerator for at least 3 hours, or overnight.
2. When you are ready to eat your pudding, stir it up, then top it with whatever you'd like.
*Recipe Notes: I like my pudding to be a bit thinner.  If you want a thicker consistency, just reduce the amount of milk you use, or add some mashed banana!