Post brought to you in partnership with Nasoya.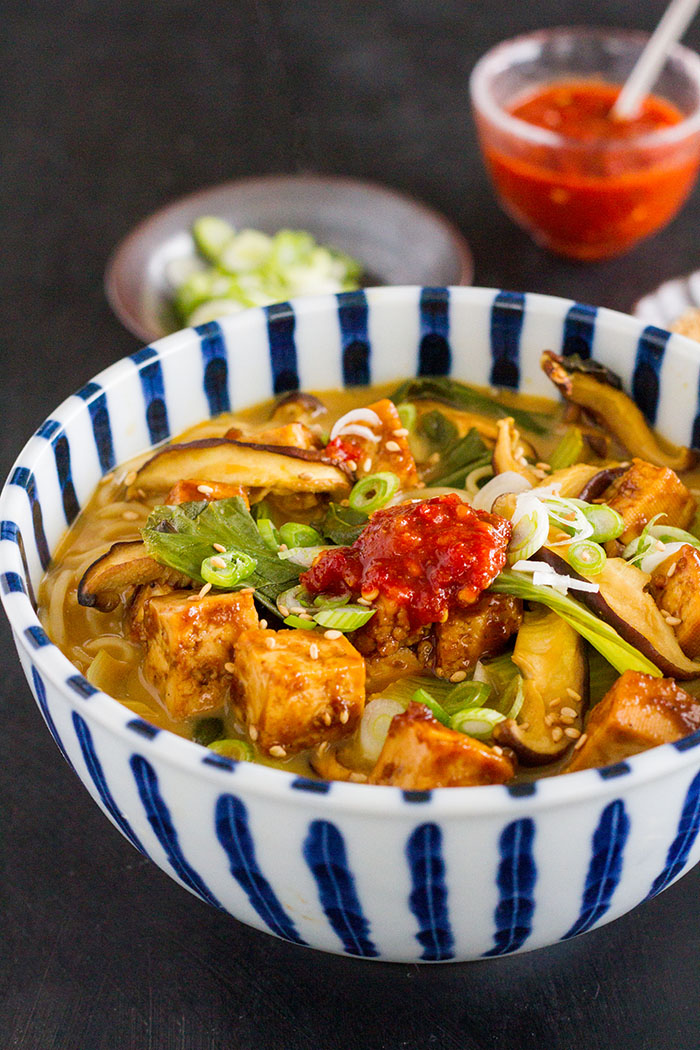 Chloe Coscarelli just had a new cookbook published called Chloe Flavor, and it's fabulous.  If you aren't familiar with who Chloe Coscarelli is, basically she's a 30-year-old bundle of energy, sunshine, and talent.  She became vegan in 2004 when she was 17, then went on to attend the Natural Gourmet Institute in New York City, becoming a vegan chef.  In 2010 she competed on Cupcake Wars and won, becoming the first vegan to ever win a culinary competition on television.  This is when I found out about her.  I happened to be watching Cupcake Wars and loving watching a contestant compete that not only was so young, but also so different from the other contestants.  Chloe is one of the those people with an infectious personality who also happens to be extremely talented and we reap the benefits by being able to cook from her cookbooks.  Chloe Flavor is her fourth book and my favorite thus far.  With ingredients like quinoa, almond milk, chia seeds, and tempeh so much easier to find, cooking a more creative vegan meal has never been easier and Chloe's book taps into that.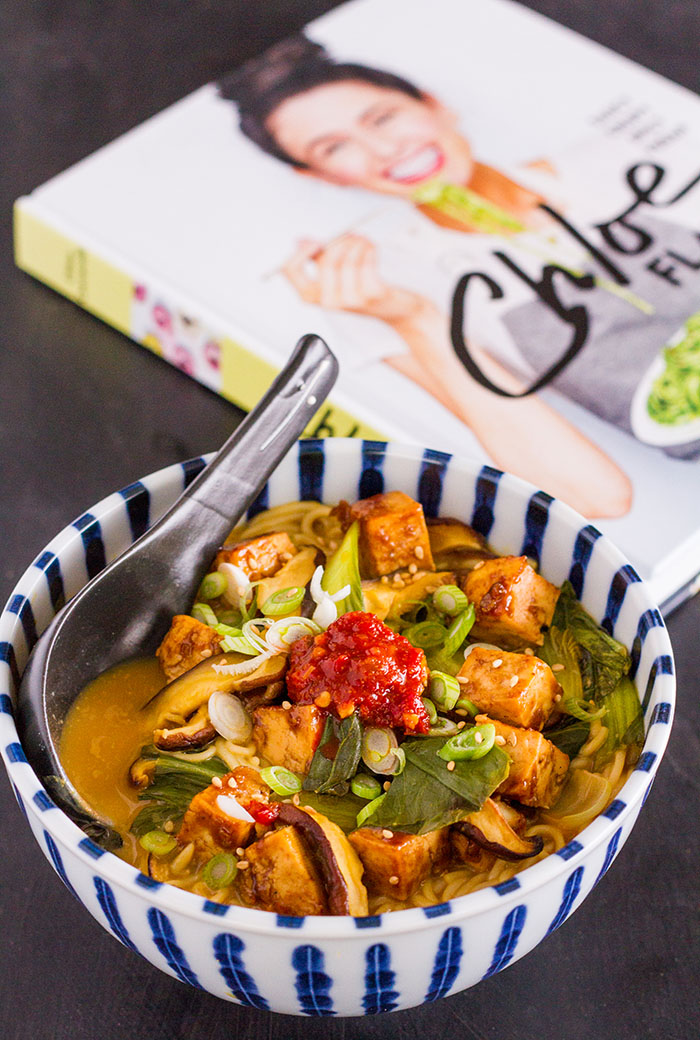 Chloe shares fun twists on old favorites like her recipe for Cinnamon Roll Pancakes, or ways to veganize childhood favorites like Goldfish Crackers (that's next on our "to cook" list).  The book shares comfort foods like a recipe for a Meatball Parm sandwich and Fiesta Mac & Cheese and also some of my favorite dishes from other parts of the globe, like Easy Pad Thai and General Tso's Tofu.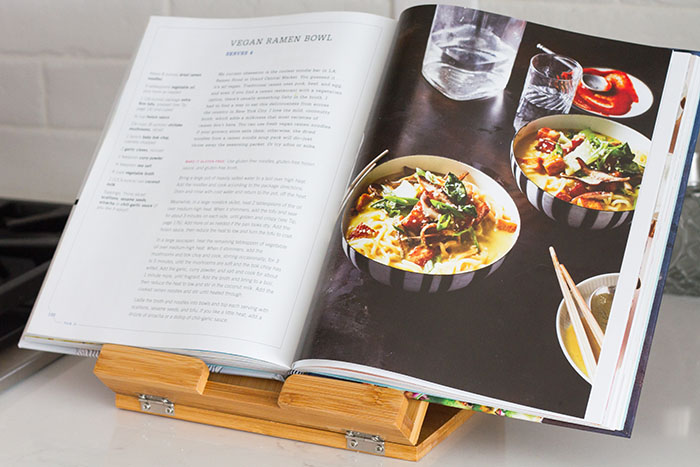 Chloe partnered up with Nasoya, becauses she uses Nasoya tofu throughout the new book, so Nasoya asked me to choose a recipe from Chloe Flavor that uses tofu to share with you.  I had about 5 different recipes flagged until I turned to the recipe for Chloe's Vegan Ramen Bowl.  This was a no-brainer choice for me.  La Fuji Mama and ramen go together like peanut butter and jelly.  How could I pick anything else?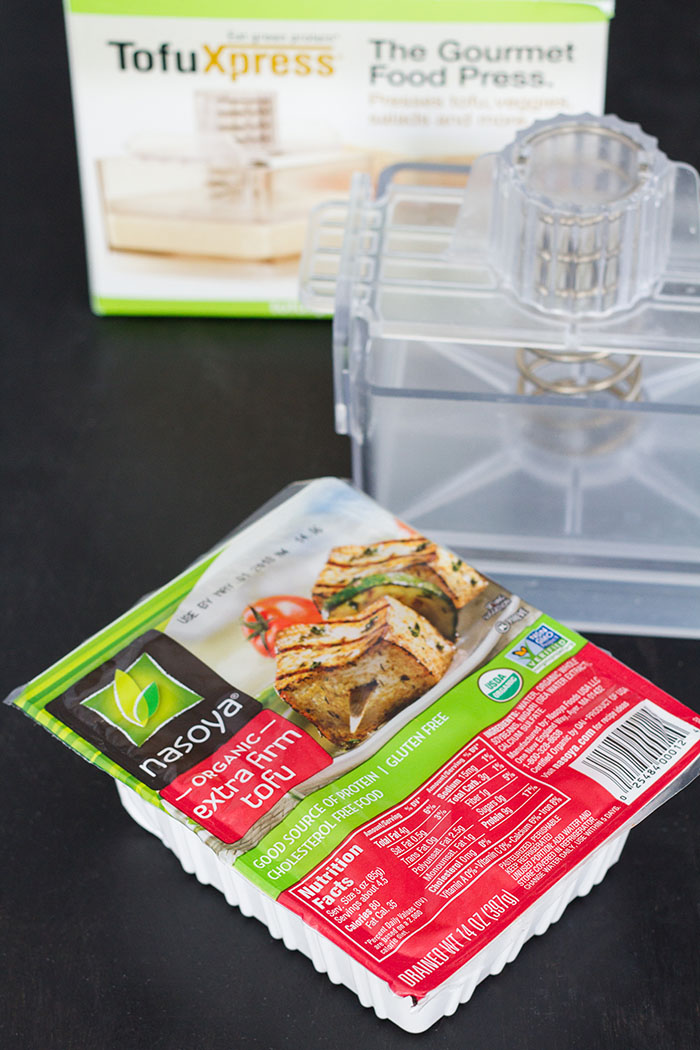 The recipe is straight forward and has a relatively short list of ingredients.  It calls for a package of extra-firm tofu which you then press.  Nasoya sent me a kit which included a TofuXpress, an awesome tofu press, which makes pressing tofu about 3 million times easier.  Believe me. I used to press tofu between two cutting boards, using cans as weights . . . basically it was a big fat pain in the neck.  I finally broke down about 3 years ago and bought a TofuXpress and after using it once immediately was kicking myself for not purchasing one earlier.  It presses tofu more efficiently, completely, and cleanly than any method I had used before.  So basically, pressing my block of extra-firm Nasoya tofu was easy-peasy!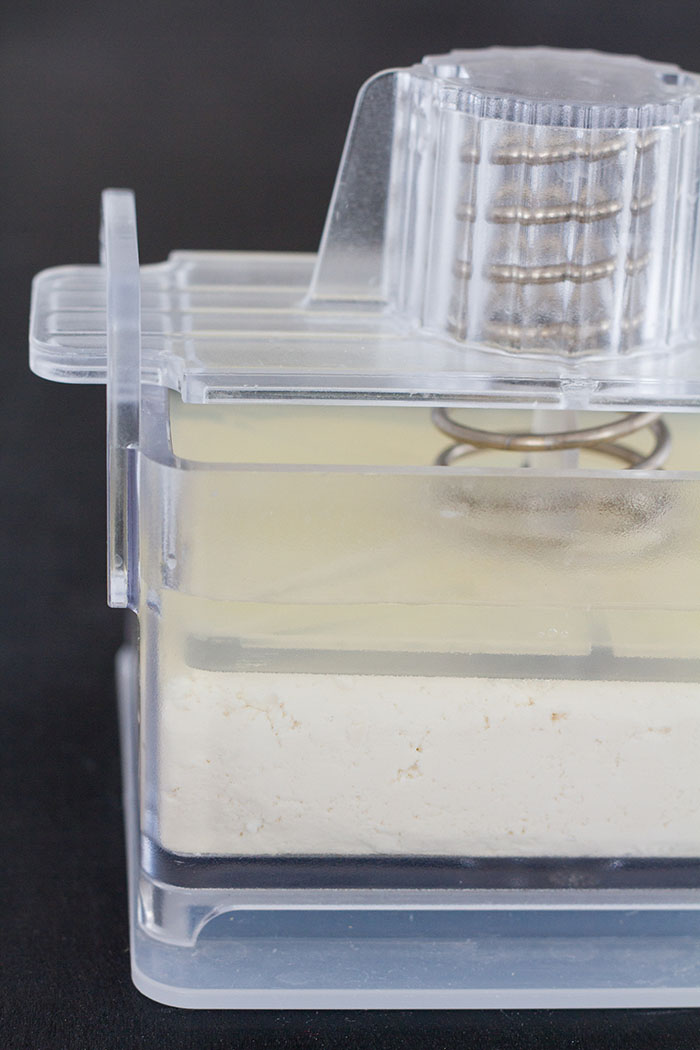 Once pressed, you cut the tofu into cubes and pan-sear the cubes until they are golden and slightly crispy.  Then you add some hoisin sauce to the pan and let that reduce down a bit so that the cubes get a nice glaze to them.  Super simple, delicious, and an element that you could easily add to all sorts of dishes, like an Asian salad, tacos, a sandwich . . . but back to ramen!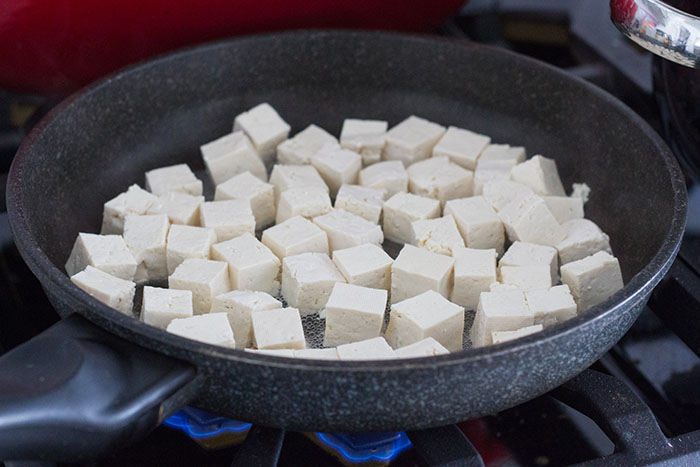 For noodles you can use fresh, if you are lucky enough to have a source (or the time and patience to make them), or dried.  I used gluten-free ramen noodles, since I am gluten-free.  You cook those up then set the aside.
Then you build the base of the ramen by stir-frying sliced shiitake mushrooms and baby bok choy, then continue to add to the flavors with garlic, curry powder, salt, vegetable broth, and finally a can of coconut milk.  This isn't a traditional Japanese ramen, more of a fun fusion of flavors from different Asian food cultures.  Once your soup is finished you divide the soup and noodles between 4 bowls and top them with the hoisin-glazed tofu and any other garnishes you like, such as sliced scallions, sesame seeds, or sriracha.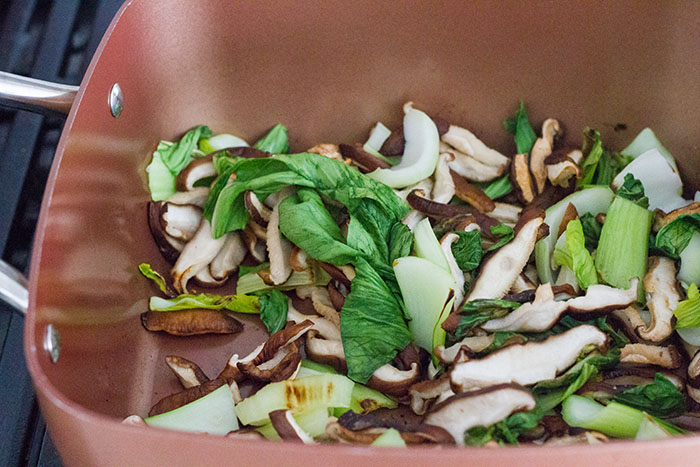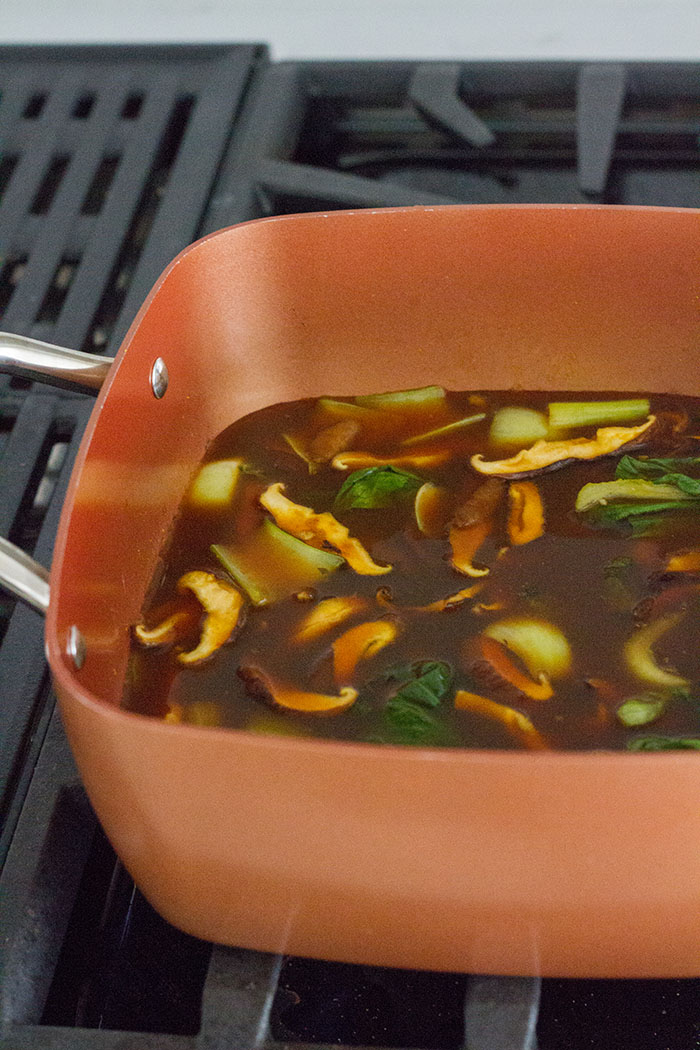 What I love about this recipe is that it's hearty and comes together quickly, making it a doable weeknight dish for family dinner.  I also love it because it is easily customizable.  You can use the recipe as a framework and fill it out however you like.  You could add extra vegetables, or substitute something else for the baby bok choy.  You could add some different seasonings or glaze your tofu in some Thai sweet chili sauce instead of hoisin sauce.  So many possibilities!  Make sure you grab a copy of the book and get your tofu on.  It will add all sorts of fun new ideas to your menu arsenal or help you climb out of a cooking rut.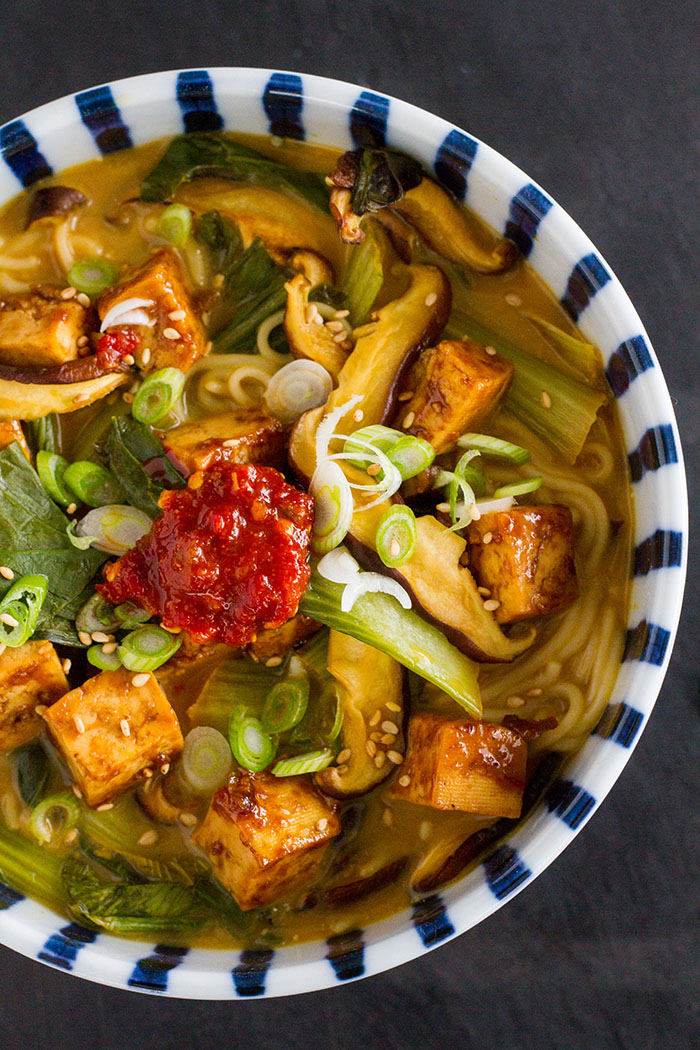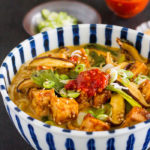 Vegan Ramen Bowl
This is a deliciously simple bowl of fusion ramen to whip together that is also endlessly customizable. Don't have bok choy? Choose another vegetable that you love! Love garlic as much as I do? Triple or quadruple the amount called for! This particular ramen recipe was inspired by the author's, Chloe Coscarelli, love for a vegan ramen noodle bar in LA called Ramen Hood.
Ingredients
8

ounces

dried ramen noodles

3

tablespoons

vegetable oil, divided, plus more as needed

1

(16-ounce) package

extra-firm tofu, pressed and cubed

1/4

cup

hoisin sauce

2 1/2

cups (8 ounces)

fresh shiitake mushrooms, sliced

4

small

baby bok choy, coarsely chopped

2

cloves

garlic, minced

1

teaspoon

curry powder

1/4

teaspoon

fine grain sea salt

4

cups

vegetable broth

1

(13.5-ounce) can

coconut milk

Toppings:

Thinly sliced scallions; sesame seeds; sriracha or chili-garlic sauce (if you like it spicy!)
Instructions
Bring a large pot of heavily salted water to a boil over high heat. Add the noodles and cook according to the package directions. Drain and rinse with cold water and return to the pot, off the heat.

Meanwhile, in a large nonstick skillet, heat 2 tablespoons of the oil over medium-high heat. When it shimmers, add the tofu and sear for about 3 minutes on each side, until golden and crispy. Add more oil as needed if the pan looks dry. Add the hoisin sauce, then reduce the heat to low and turn the tofu to coat.

In a large saucepan, heat the remaining tablespoon of vegetable oil over medium-high heat. When it shimmers, add the mushrooms and bok choy and cook, stirring occasionally, for 3 to 5 minutes, until the mushrooms are soft and the bok choy has wilted. Add the garlic, curry powder, and salt and cook for about 1 minute more, until fragrant. Add the broth and bring to a boil, then reduce the heat to low and stir in the coconut milk. Add the cooked ramen noodles and stir until heated through.

Ladle the broth and noodles into bowls and top each serving with scallions, sesame seeds, and tofu. If you like a little heat, add a drizzle of sriracha or a dollop of chili-garlic sauce.
Recipe Notes
Make it gluten-free: Use gluten-free noodles, gluten-free hoisin sauce, and gluten-free broth.
*Disclosure: Nasoya sent me a copy of the book, Chloe Flavor, as well as some items such as coupons to purchase Nasoya tofu for use in my post and a tofu press.  I received no other compensation for writing this post.  All experiences and opinions are my own.