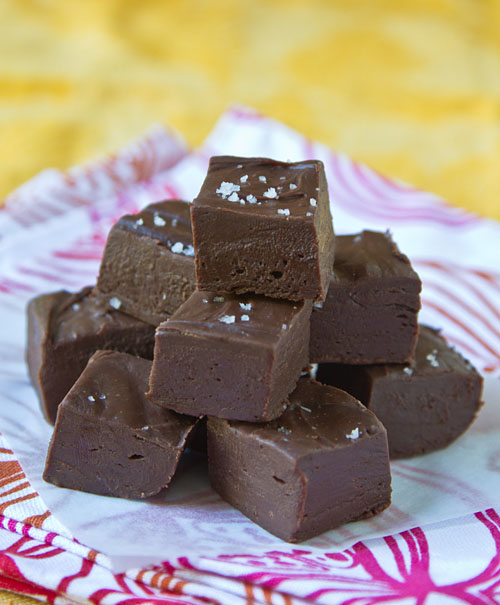 Chocolate avocado fudge might sound a bit strange, but it's actually a genius idea, but one I can't take the credit for.  Pureed avocado is used in place of butter when making the fudge.  The result is a rich and extremely creamy chocolate fudge—and no, you would never guess there was any avocado in it! I tasted chocolate avocado fudge for the first time a few months back when Mimi, my avocado sister, and I hosted an avocado adventure for a few fellow friends and bloggers.     The group included Diane (Created By Diane), Laura (Family Spice), Allison (Sushi Day) and her boyfriend Son,  and Kristen, my awesome sister-in-law who was visiting from Salt Lake City.   We kicked off the day  in Temecula with a tour of the Eco Farms avocado packing house.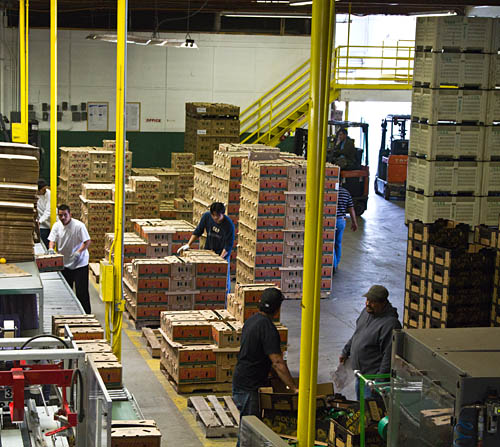 We then drove to Fallbrook (known as the "Avocado Capital of the World") to have lunch at The Wayside Cafe.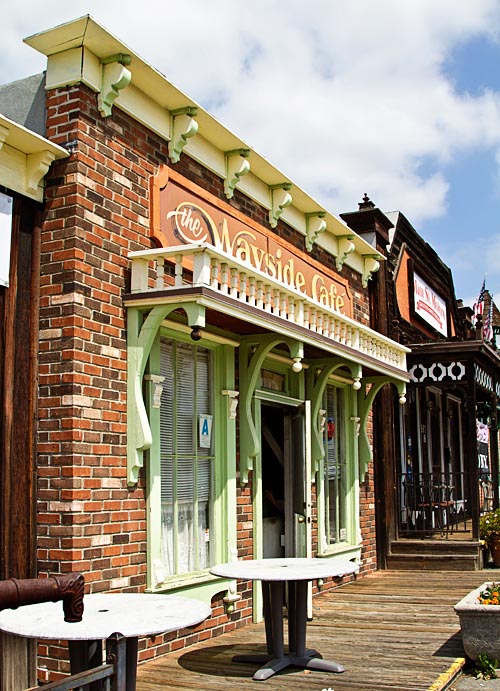 Mimi had specifically picked the cafe because they have a wonderful assortment of dishes that include avocado, as well as "avocado fries"—slices of avocado dipped in a batter and deep fried until the batter is golden, light and crispy.  HEAVENLY.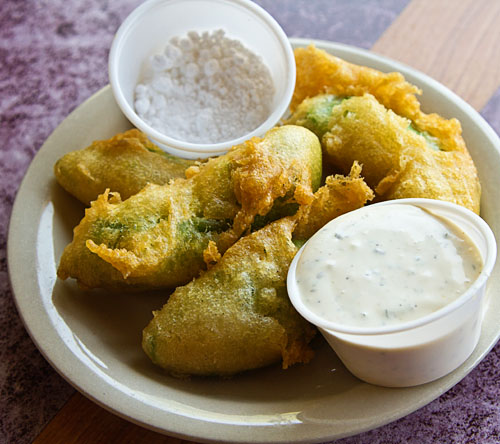 After lunch we did a bit of window shopping before driving to Mimi's ranch to walk through the avocado groves.
One of the things we saw in Fallbrook was Retro Candy and Toys, which was advertising avocado fudge.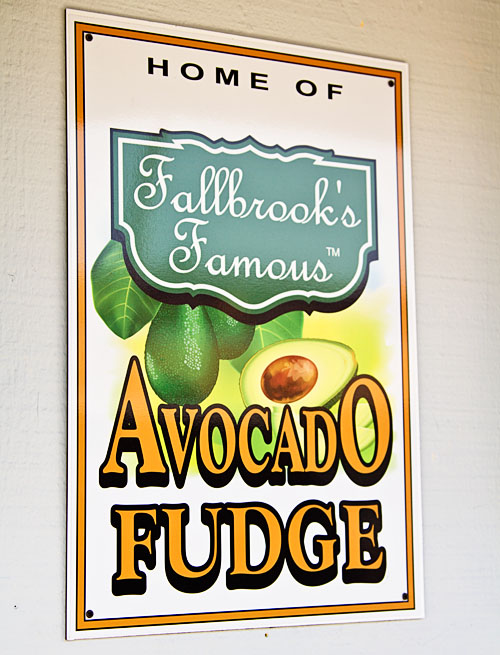 How could we resist?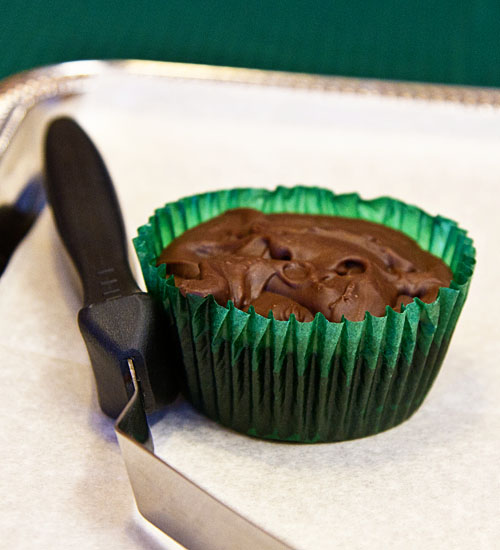 The day was perfect—lots of good food, avocados, beautiful scenery, and friends.  After I got home I couldn't stop thinking about that fudge, so I decided to come up with my own recipe.  A few days later I received a box of goodies from Scharffen Berger chocolate as a thank you for being a panelist in a twitter chat they hosted.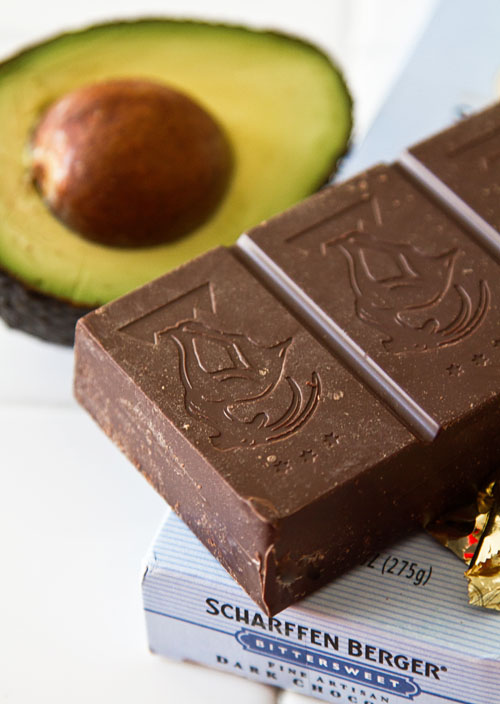 Complete serendipity!  I used some of the chocolate to dream up my own version of chocolate avocado fudge, and have to share the results!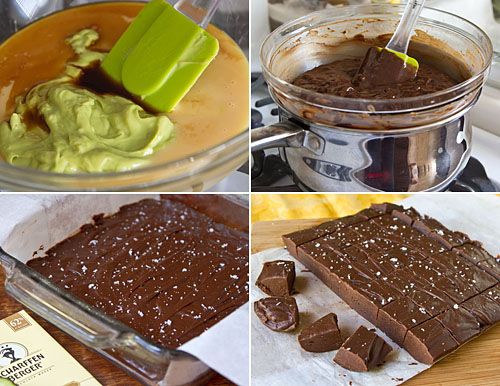 This fudge tastes fancy and decadent, but in reality it is super easy to make!  Just make sure that you use chocolate that you love, because the quality and taste of the chocolate you use is one of the keys to fudge that you will love.  Scharffen Berger offered to send one of you your own box of goodies to play with, so check out the giveaway details after the recipe!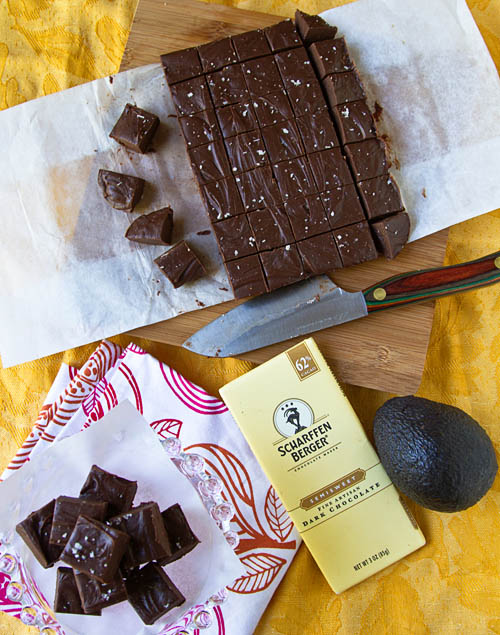 Print This Recipe
Chocolate Avocado Fudge
Makes about 60 pieces
1 pound bittersweet (or semisweet) chocolate, chopped
2 ounces ripe avocado, pureed
1 (14-ounce) can sweetened condensed milk
1 teaspoon vanilla extract
3/4 teaspoon salt
1. Grease an 8 by 8-inch baking pan. Line the pan with a sheet of parchment paper, with the excess hanging over the sides. Set aside.
2. Heat all of the ingredients in a medium glass bowl set over a pan of barely simmering water (making sure the bowl doesn't touch the water), stirring until the chocolate has completely melted and the mixture is smooth.
3. Scrape the mixture with a spatula into the prepared baking pan and smooth the top. Refrigerate until firm, at least 2 hours.
4. Run a warm knife around the edge of the pan to loosen the fudge, then use the parchment paper to lift it out of the pan and on to a cutting board. Peel off the parchment paper and cut the fudge into 1-inch pieces. Store refrigerated in an airtight container.
————————————————————————————
Scharffen Berger Chocolate Giveaway
One lucky winner will receive an assortment of Scharffen Berger goodies! To enter, leave a comment below before Sunday, July 22st, 2012 at 11 pm EST (8pm PST)!  This giveaway is open to anyone with a U.S. shipping address.  The winner will be chosen via random.org.