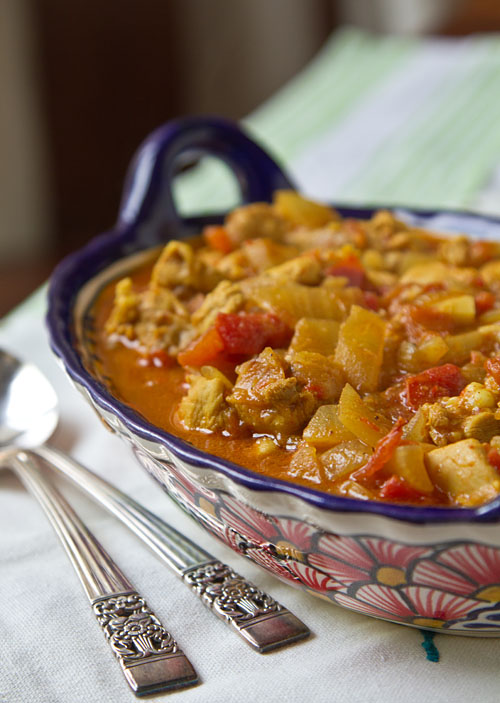 Cancun Chicken Curry, chicken cooked in a fragrant tomato based sauce filled with spices and a bit of heat, is an Indian dish inspired by a trip to Cancun, Mexico.  Yeah, I know that sounds a bit funny, but stick with me and it should all make sense by the time you get to the recipe!
————————————————-
Mr. Fuji and I took a quick five day trip to Cancun, Mexico last week to celebrate (belatedly) our 10 year wedding anniversary.  While in Cancun we met a really fun couple from New York City staying at the same resort—I'll call them Ms. M and Mr. A.  As we talked, we quickly discovered that we had a lot in common, and so the "getting to know you" conversations morphed into discussions about life in general.  At one point Ms. M asked, "Why do you think we like to travel so much?"  The first response that popped into my mind was, "because we love to see new places."  Ms. M quickly responded, "But why do we love to see new places?"  I paused as I had never truly thought past my initial response.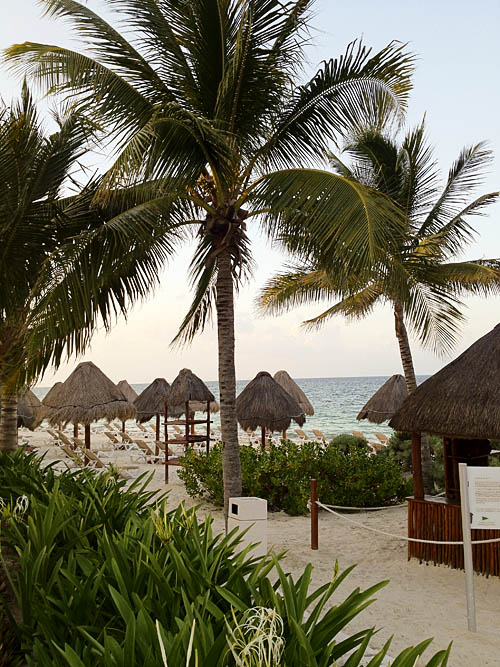 After thinking for several minutes, a realization began to form in my mind and I finally replied, "When we travel, we learn more about ourselves."  Throughout the traveling I've done in my lifetime, especially since I graduated from high school, I've come to know and discover a lot about myself, and looking back I realize how little we truly know about ourselves when we are young.
When we are young, we know ourselves within the context of who our parents, siblings, and other relatives are, by where we live and go to school, by what religion our families may practice, by the things we like or dislike.  While these are all important things, they don't always explain who we are at our core.  By traveling, I have made discoveries about myself that have changed my life.  Some of these discoveries have led me to choose paths I would not have chosen otherwise.
Through my travels I've learned a lot of fun, but rather trivial things about myself, like my love for spice (I have yet to meet a hot chili I don't adore), my ability to eat anything put in front of me (I have an iron stomach), and my love for different cultures and languages.  But if I dig a bit deeper, I realize that there's more to it than that.
Through my travels I've discovered that I'm not always fond of the impersonal hustle and bustle of life in a large city, yet life in Tokyo is okay because of the order and the way people treat each other with respect.  I've discovered through living in France and Japan that the habit of doing my grocery shopping in multiple small trips on a daily basis, as opposed to stocking up for the coming week, is something I love, not only because the food is fresher, but because it gives me a greater sense of community.  In turn, I've learned that this sense of community, of connection to place and people, is something that is important to me and makes me happy.  Through my traveling, and experiences living as a foreigner in other countries, I've come to rely more on my faith, and have found strength and comfort in the principles that my parents taught me as I was growing up.  I loved traveling through Germany with my grandmother, a German immigrant who spoke English with a thick accent until the day she died, because I got to see sides of her I never saw back in the States.  I realized how much I had in common with her, beyond my love for rye bread and Lindt chocolate, and became even more proud of my German heritage.  I've learned that I'm resilient, and often stronger than I give myself credit for—a trait I always admired in both my German grandmother and my paternal grandmother.  I've learned that I have an insatiable curiosity for the world around me—a trait I recognize in my father.  The world offers such adventure, even in the seemingly mundane, if you choose to look for it.  That curiosity continually sparks a desire to learn all I can about aspects of the world that interest me—a trait I recognize in my mother.
I am still young, and realize that I've just begun to understand who I really am.  But I also realize that I no longer know myself as I did when I lived under my parents' roof.  At least not in the same way.  Yes, I know myself within the context of what religion my family practices, but it's because it's a belief system that I have chosen for myself, a belief system that gives me peace and comfort and makes me feel more like me.  Yes, I know myself within the context of who my relatives are, but it's because I've learned to recognize traits that I have inherited from them.  As a teenager there were times that I wanted to hide the quirky "nerd" side of myself under a rug.  How I wish I could whisper in the ear of that young girl and tell her that the things she felt so self-conscious about would be some of the things she would love most about herself in the future.  I wish I could tell her just how amazing she was, to embrace her quirkiness, and to let her nerd flag fly!  Then again, I'm glad I can't.  If I hadn't struggled to find my own path, it would have changed the journey, and I wouldn't be who I am today.  Ms. M's question last week in Cancun made me re-evaluate my love for travel.  Really, life is a journey, one long exciting trip into the unknown.  Travelling is a way to expand that journey, adding richness and color, making us uncomfortable at times, and shedding light on who we really are.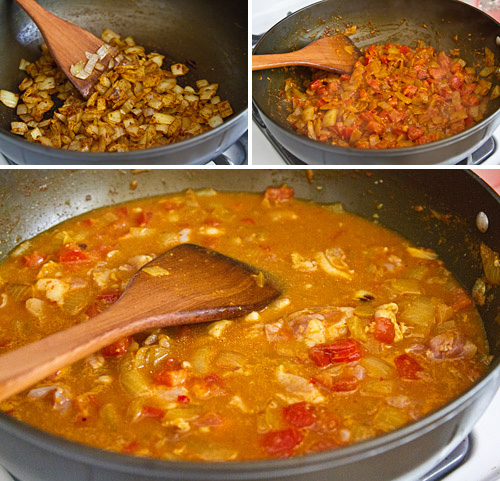 To celebrate that journey, I'm sharing a recipe for chicken curry.  I'm calling this Cancun Chicken Curry, as it came about because of our trip to Cancun.  During one of our conversations, Ms. M talked about her childhood in India, and her mother's cooking.  She talked about her own recent desire to recapture some of that history by learning to cook, and shared with me her basic method for building an Indian curry.  In honor of Ms. M and the richness and color she added to my life, I went into my kitchen yesterday and built a curry using her instructions that I had quickly scribbled on a sheet of notebook paper one evening last week in our hotel room.  This curry is all about building flavor, adding different spices and herbs to compliment each other and make a simple dinner meal that is comforting but full of life.  Who knew chicken curry could be so profound?

Print This Recipe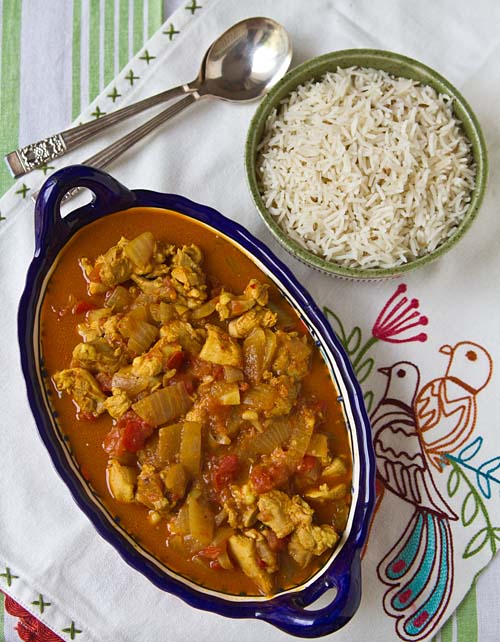 Cancun Chicken Curry
Makes approximately 4 servings
1/4 cup vegetable oil
1 tablespoon ground cumin
1 large yellow onion, chopped
2 teaspoons salt, plus more as needed
1 teaspoon ground coriander
1 teaspoon sweet paprika
1/2 teaspoon turmeric
1/2 teaspoon garam masala
1/4 teaspoon freshly ground black pepper, plus more as needed
2 tablespoons minced fresh garlic (or 2 tablespoons of Gourmet Garden Chunky Garlic)
2 tablespoons grated fresh ginger (or 2 tablespoons of Gourmet Garden Ginger)
3 large roma tomatoes, chopped
1 red jalapeno, minced (or 1 tablespoon of Gourmet Garden Chili Pepper)
1 1/4 pounds boneless, skinless chicken thighs, cut into pieces
1 1/4 cup chicken stock, plus more as needed
Basmati rice, to serve
1. Heat the oil over medium heat in a large saute pan or wok. Sprinkle the cumin over the hot oil, and stir-fry until it blooms and becomes aromatic. Add the onion and continue to stir-fry until the onion begins to soften, about 2 minutes, then raise the heat to medium-high and continue cooking until the onions have slightly browned.
2. Add the salt, coriander, paprika, turmeric, garam masala, and black pepper. Stir-fry for 1 to 2 minutes until the spices bloom and become aromatic. Then add garlic and ginger, and stir-fry for 30 seconds, then add the tomatoes and red jalapeno. Reduce the heat to medium-low and continue cooking until the mixture thickens and becomes pasty, about 2 minutes, stirring occasionally to prevent the mixture from burning.
3. Add the chicken and chicken stock, then raise the heat to medium to slowly bring the liquid to a boil, stirring occasionally. When it boils, reduce the heat to a simmer and cook until the chicken pieces are cooked through, about 20 minutes. Add more chicken stock as necessary. Taste and adjust the seasoning with additional salt and pepper as desired. Serve with basmati rice.
Recipe Notes: It is helpful to pre-cut and measure all of the ingredients for this curry, because a lot of the cooking in the beginning happens quickly, not leaving a lot of time to prep ingredients between steps.  I find that when I do this prep (aka, mise en place), things go smoothly and I'm less likely to burn any ingredients!  One of my favorite tricks for "cooking smart" is to use Gourmet Garden fresh herbs*—organic herbs that have been specially packaged (without any artificial flavors or colors) so that they can be kept in the fridge for up to three months and are ready to be grabbed and used in a recipe, cutting down on prep-time because your herbs are already chopped up for you!  In this recipe, I like to use their fresh ginger, chunky garlic, and chili pepper.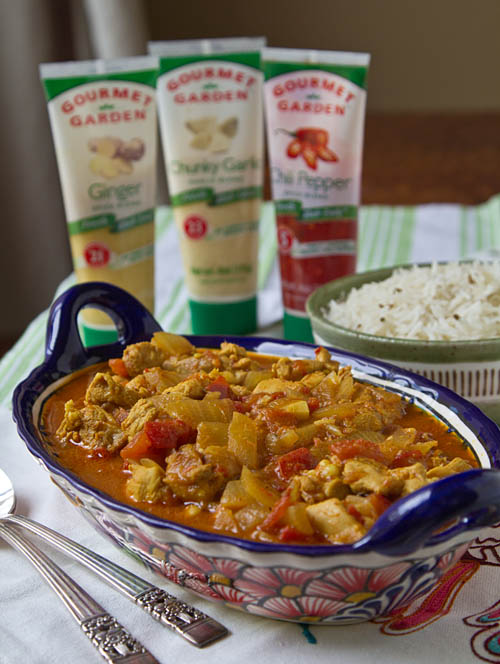 *Disclosure:  I discovered Gourmet Garden several years ago when I was hunting for fresh lemongrass to make tom kha gai, and saw a tube of Gourmet Garden's lemongrass.  Lemongrass is a pain to use fresh, and I must admit that after that first tube of lemongrass I haven't used whole lemongrass since when making tom kha gai.  I love prepping fresh ingredients, but sometimes the realities of being a mom of two little ones means that cutting down on prep time is a welcomed blessing!   Gourmet Garden was one of the sponsors at Camp Blogaway this year, and recently sent me some tubes of herbs to use in my cooking, further augmenting my already substantial collection of Gourmet Garden tubes in my refrigerator.