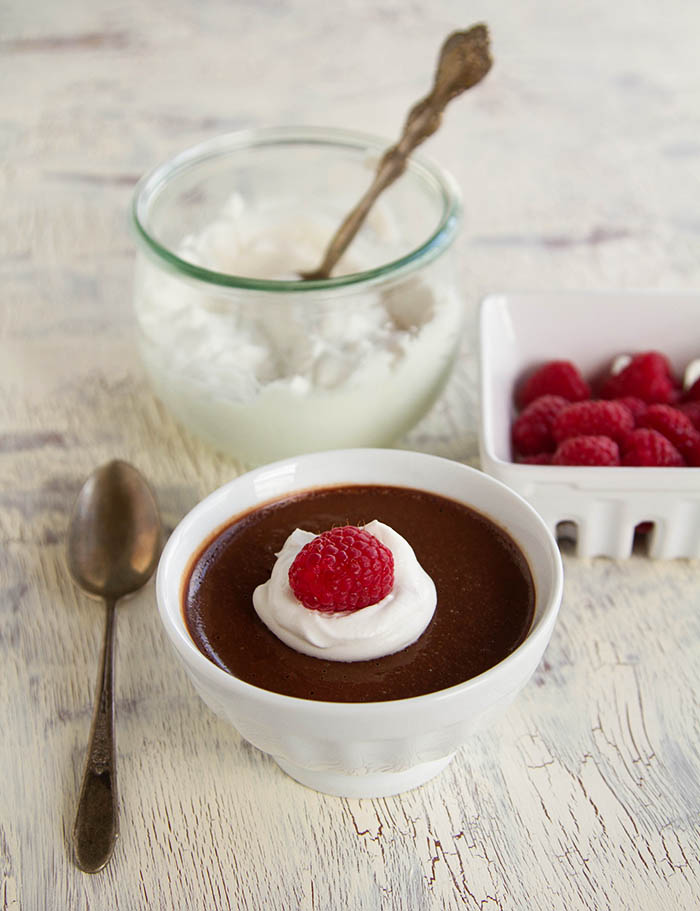 I keep thinking that spring has arrived here in Utah, and then the weather will turn and we'll get a new layer of snow on the ground.  Mother Nature is such a tease.  I've been watching the new issues of magazines show up on the newsstands, taunting me with spring flowers, and spring inspired dishes, like this Fava Bean Salad with Fennel & Radish from the April issue of Cooking Light magazine, and I am willing spring to arrive and stay for good.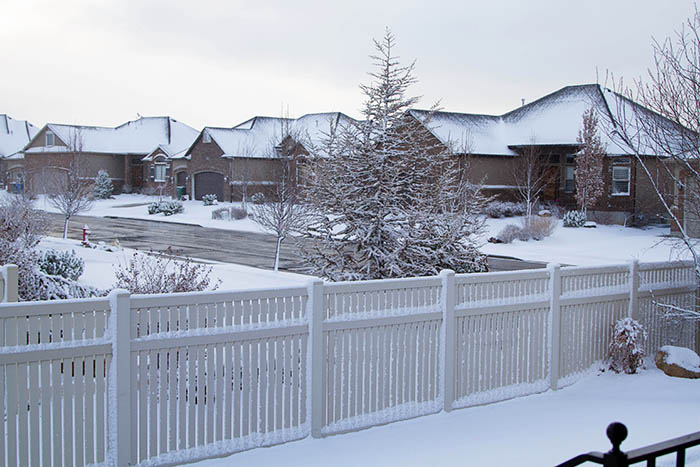 While I bunker down and wait for Winter to make her proper exit, I'm soothing my emotions with chocolate.  I've been working on a version of French chocolate pots de crème (a French dessert custard) for the past two months, and this week all my tweaking finally clicked.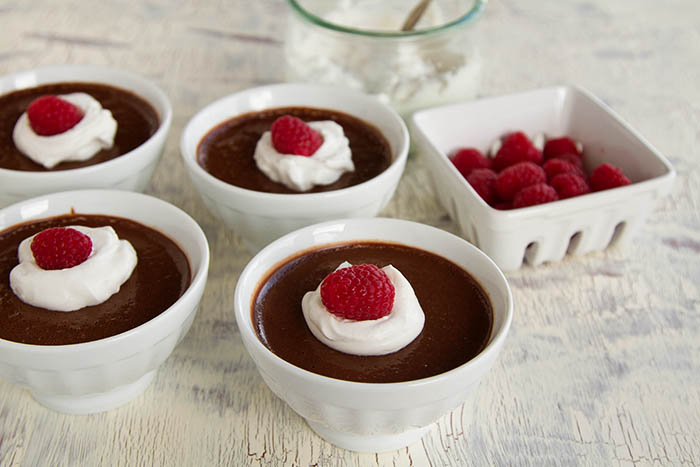 It took 6 rounds of recipe development, but it was worth it, because the end result is a silk smooth, creamy, rich chocolaty dessert that all of my testers have swooned over.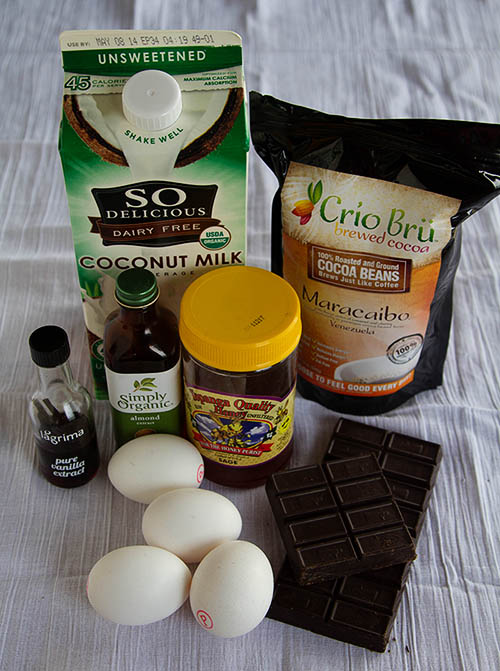 The added bonus is that this version is made with those in mind that are battling allergies and health problems which limit what they can eat, so this dessert is made without dairy, soy, gluten, or refined sugars—though you would never know it by tasting it.  In my mind that makes it all the better.  And hey, while you're at it, if you want to shake things up, turn it into a chocolate silk pie!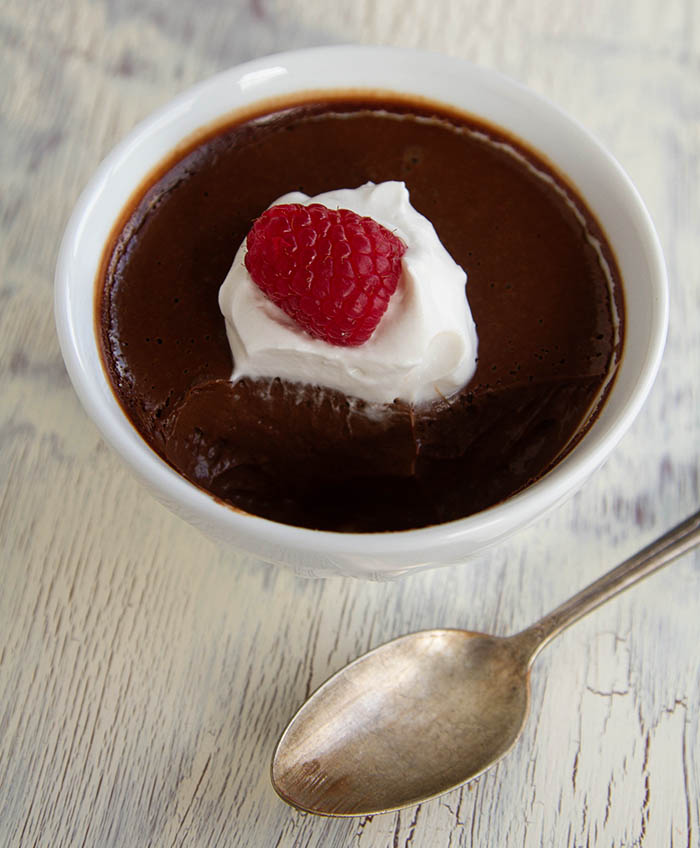 Print This Recipe
Chocolate Pots de Crème
Makes 6 servings
For the chocolate pots de crème:
3 large eggs
1 large egg yolk
1/2 cup honey
1 1/2 teaspoons vanilla extract
1 teaspoon almond extract
6 ounces unsweetened chocolate, chopped
1 1/2 teaspoons Crio Bru (optional)*
1 1/3 cups unsweetened coconut milk
For the coconut whipped cream:
1 (13-ounce) can coconut milk (I prefer the Thai Kitchen brand)
1 tablespoon honey
1 teaspoon vanilla extract
Fresh raspberries, to garnish
————————————————————————————-
1. Make the chocolate pots de crème: Place the eggs, honey, vanilla and almond extracts in a blender, followed by the chocolate and Crio Bru. Blend until smooth.
2. Heat the coconut milk in a small saucepan over medium-high heat, until it starts to simmer. (Take care not to let it boil.)
3. With the blender running on low speed, pour the hot coconut milk over the ingredients inside and blend until the mixture is smooth and completely incorporated.
4. Pour the chocolate mixture into six (6-ounce) ramekins (you can also use custard cups or any other similarly sized dishes) and refrigerate for at least 5 hours.
5. Make the coconut whipped cream: Place the can of coconut milk in the refrigerator at least 24 hours before you plan on making the whipped cream, so that the cream will separate and firm up. Chill a glass or metal bowl in the freezer 20 minutes before making the whipped cream.
6. Remove the lid from the can of coconut milk and gently scoop out the coconut cream, putting it in the chilled bowl. Using a mixer, whip the coconut cream until it is light and fluffy and peaks form, then mix in the honey and vanilla extract. The whipped coconut cream can be used right away, or stored in the refrigerator for up to 24 hours.
5. Top the pots de crème with coconut whipped cream and fresh raspberries and serve.
*Recipe Notes: Crio Bru is ground roasted cacao beans.  I find that it adds a bit more depth of flavor to chocolate desserts, but the chocolate pots de crème will still be delicious without it!  This dessert is super versatile—turn it into the filling for a chocolate silk pie!