*This post is brought to you by
Harmons Grocery Store
.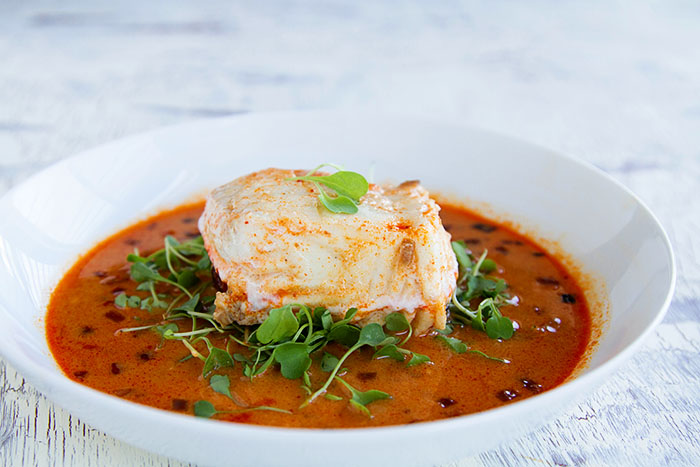 Last month I attended a blogger event, arranged by Rachael of Today's Mamma, at the Bangerter Crossing Harmons Store.  We started with a tour from Bob and Randy Harmon, and then finished up with a cooking class from Chef Kimberly Larsen at Harmon's Cooking School.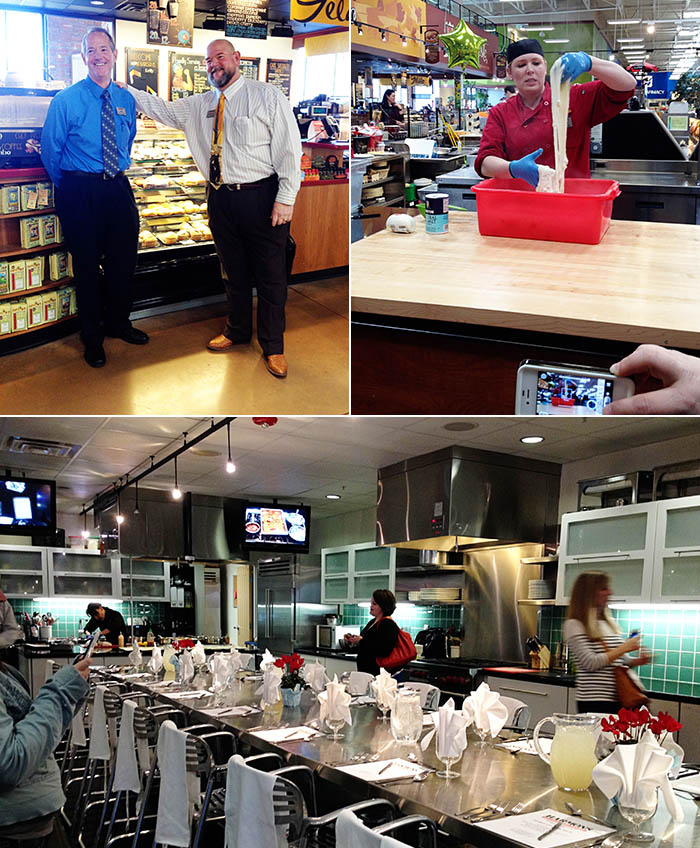 I fell in love with Harmons several years ago.  My MIL lives near this particular Harmons, and I would visit it occasionally when we would visit to pick up items that I loved, like Creminelli salami.  After spending the day learning more about the store, I was even more impressed.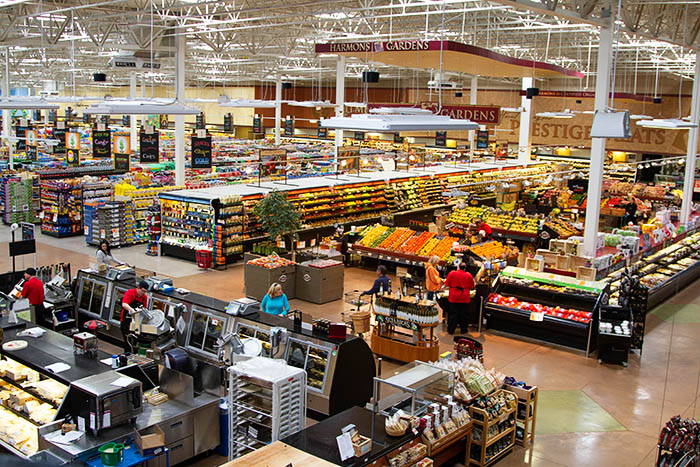 One of the things that impressed me was the fact that the breads and pastries in their in-store bakery are made every day from scratch, using whole, real ingredients, like real butter and flour, and no preservatives.  This is also the case for the items in the delicatessen—everything being sold in that case is made 100% from scratch, all natural, and organic.  Their cheese section will make any cheese lover drool.  It's huge and their cheese mongers know their stuff.  Not only do they have a wide variety to choose from, but they make fresh mozzarella in the store as well.  I love their focus on selling local products.  Throughout the store you will find tags marking products that come from Utah.  In the produce department, they source as much of their produce as possible from local growers and currently buy from 270 local growers.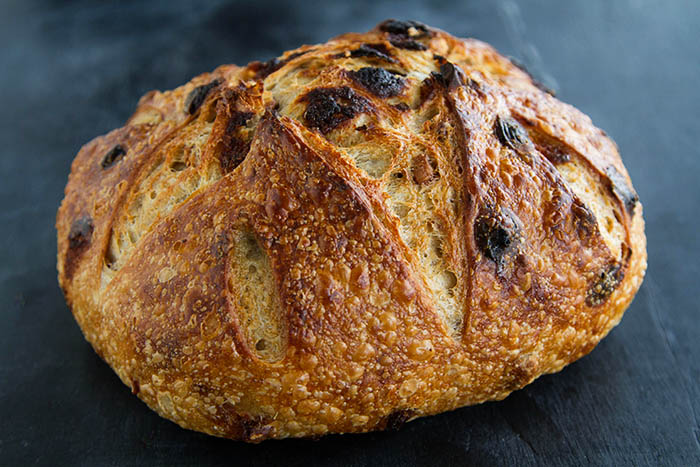 I could go on, and on!  But one thing that really caught my attention was the seafood section.  So after the blogger event I decided to head back to Harmons and talk to Warren, the Meat Department Manager, and Kathy, the Seafood Specialist for the store, to learn a bit more about what their jobs entail and what makes their seafood department so unique.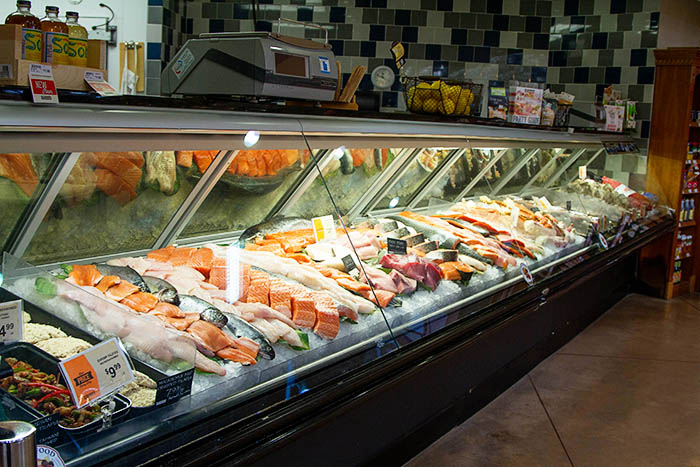 Being so far inland, I'm a bit more wary when it comes to fresh seafood.  The traditional grocery store will get seafood deliveries every three days, but Harmons gets deliveries every day of the week, except for Sundays.  But then came the kicker—Harmons will not carry anything that's not sustainable.  They use the Monterey Bay Aquarium Seafood Watch information when making decisions on what seafood to carry.  That was enough to put a permanent grin on my face for a month!  It's not easy staying on top of sustainability information, which is ever changing due to changing conditions and fishing practices.  I admire Harmons for going the extra mile and making this effort.  It sure makes the consumers job easier!  The country of origin has to be readily available as well as whether the product is wild or farm-raised.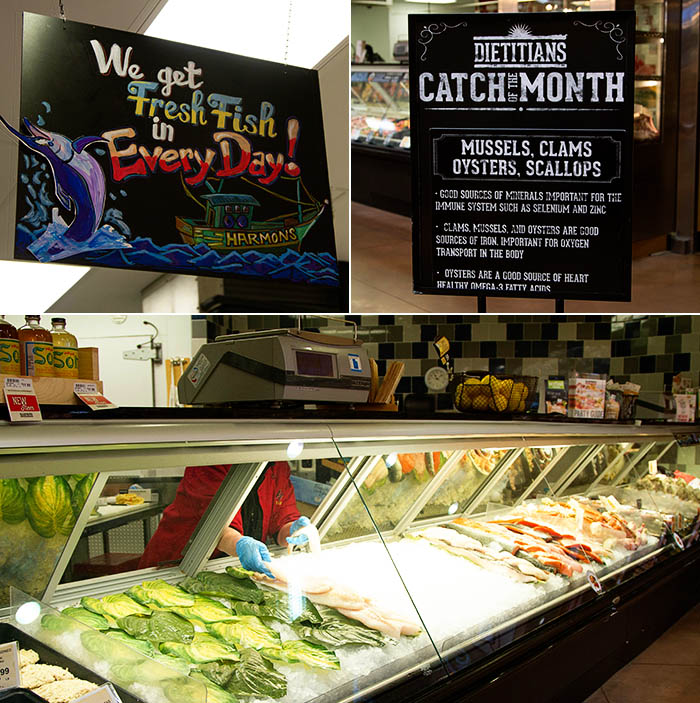 Kathy is an artist when it comes to what she does.  When she arrives she spends several hours filling the cases with ice and then arranging the fish.  She explained that she must set the fish out in a specific order—first the wild caught fish, then the farm raised fish, and finally the Hawaiian fish, which must be set out last in order to avoid contaminating the other fish, as they have histamines that some people can be allergic to.  All of the shellfish is still alive, and Kathy has to make sure that they are alive when they go across the counter to the customer.  Spending the morning with Warren and Kathy gave me a huge appreciation for the work that they do and I'm grateful for people like them, who are so passionate about what they do.  It makes me a happy customer!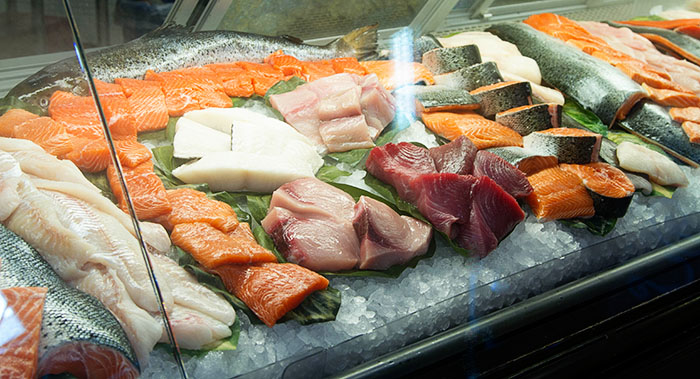 As I was leaving the store to head home, I grabbed some Alaskan Halibut to bring home and cook for lunch.  It is the first Alaskan halibut of the season, which I thought would be perfect for a spring celebration.  I also grabbed some micro arugula from the produce department, which also screams spring to me.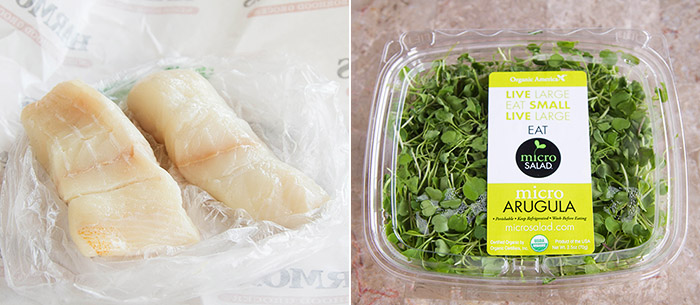 When I got home, I whipped up a red coconut curry broth, which I then poached the halibut in.  Then I spooned the broth into shallow bowls, added a bunch of micro arugula to each bowl, then topped it with a piece of halibut.  When cooked this way, halibut is buttery, soft, and moist.  The coconut broth adds just a hint of heat, and the micro arugula adds a nice peppery touch.  Spring in a bowl!  Many thanks to Warren and Kathy for enduring my never-ending questions and for making my lunch possible.  See the giveaway details after the recipe if you want to enter to win a $250 gift card to try out Harmons for yourself!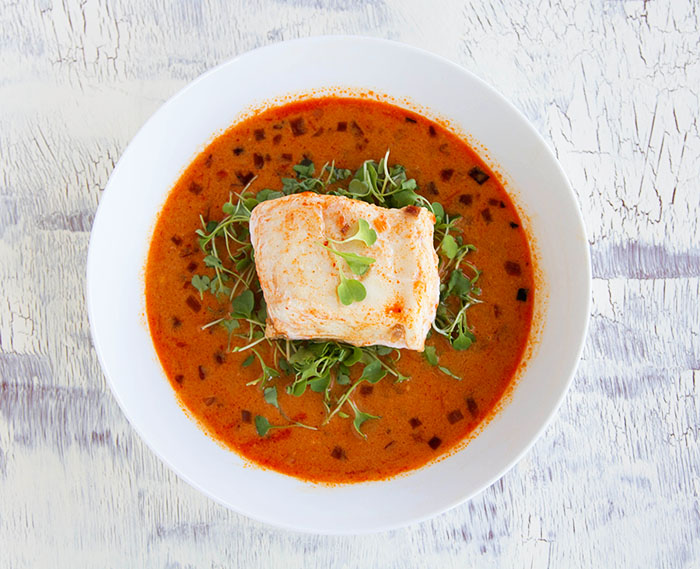 Print This Recipe
Coconut Curry Poached Halibut with Micro Arugula
Makes 4 servings
1 tablespoon coconut oil
1/2 small red onion, chopped
3 tablespoons Thai red curry paste
3 cups coconut milk
4 halibut fillets (about 6 ounces each)
1 1/2 tablespoons freshly squeezed lime juice
1 tablespoon fish sauce
2 ounces micro arugula (or other micro greens)
1. Heat a 12-inch straight-sided skillet over medium-high heat until very hot, then add the coconut oil and swirl the skillet to coat. Add the chopped red onion and stir-fry for 2 minutes, or until it is soft. Then add the curry paste and stir-fry for 1 to 2 minutes, or until the paste is fragrant. Stir in the coconut milk and bring it to a boil.
2. Once the coconut milk comes to a boil, season each fish fillet on both sides with a bit of fine grain sea salt, then carefully add the fillets to the skillet. Spoon some of the broth over the fish, then cover the skillet and turn off the heat. Let the skillet stand until the fish is opaque and firm to the touch (9 to 12 minutes). Using a slotted spatula, transfer the fish to a platter and tent loosely with foil to keep it warm.
3. Return the skillet to the stove and bring the coconut curry to a simmer over medium heat. Let the sauce continue to simmer for about 2 minutes, so that it reduces slightly, then stir in the lime juice and fish sauce and remove the skillet from the heat.
4. Divide the coconut curry among 4 wide bowls, add a small bunch of micro arugula to the middle of each bowl, and then gently place a piece of fish on top of each bunch of arugula. Serve immediately.
====================================
Harmons $250 Gift Card Giveaway
——————————————————–
*Disclosure: I was compensated for my time in recipe development and writing this post by Harmons Grocery Store.  All opinions and experiences are my own.