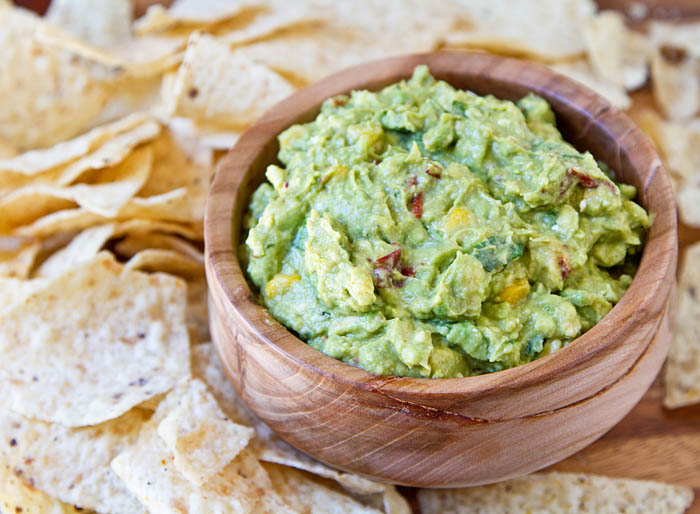 With Memorial Day right around the corner, I've been planning what will be on the menu.  This Cotija Chipotle Corn Guacamole, inspired by Mexican elote, is a must make!
One of my favorite treats is elote, a popular Mexican dish of freshly roasted corn that is spread with mayonnaise, rolled in crumbled cotija cheese, then dusted with chili powder and sprinkled with lime juice. (Here's a take on elote made with crema.)  I recently whipped up a batch of guacamole inspired by this treat, using the flavors of elote to season the mashed avocados.  This may be my new favorite guacamole recipe.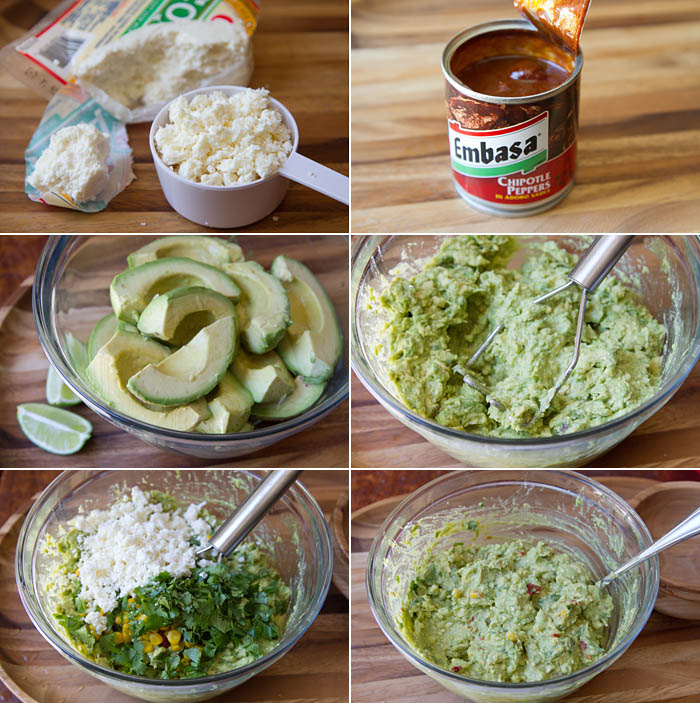 The slightly sour cotija cheese cuts through the rich avocado, while the chipotle chile peppers add a nice smokiness and a bit of heat, the cilantro adds a nice citrus herbiness, the corn kernels add a sweet juiciness, and the lime juice makes everything pop.
Be forewarned that cotija cheese, an aged Hispanic-style cow's milk cheese, has a stronger aroma, one that the Fujilings aren't particularly fond of ("Mom, that smells like throw up!).  But once the cheese is mixed into the guacamole the aroma disappears, and even my little sniffers gobble up the guacamole.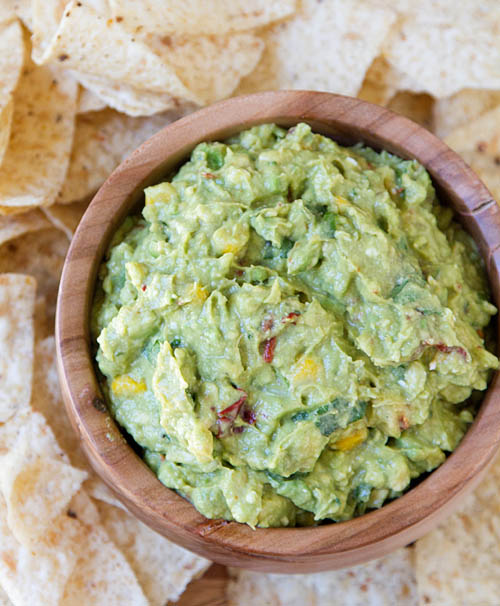 Print This Recipe
Cotija Chipotle Corn Guacamole
Makes approximately 5 servings
4 ripe, Fresh Hass avocados
Juice of 3 limes
1/2 cup chopped cilantro
1/2 cup crumbled cotija cheese
1/3 cup cooked corn kernels (steamed or grilled)
2 chipotle chile peppers in adobo sauce, minced
Fine sea salt, to taste
1. Halve one avocado, remove pit, and scoop the flesh into a large bowl. Sprinkle lime juice over the avocado. Halve and pit the remaining three avocados, sprinkling lime juice over each as it is added to the bowl. Mash the flesh lightly with the tines of a fork.
2. Add the cilantro, cotija cheese, corn, and chipotle chile peppers and stir until combined but still chunky. Adjust the seasoning with salt, if necessary, and serve.