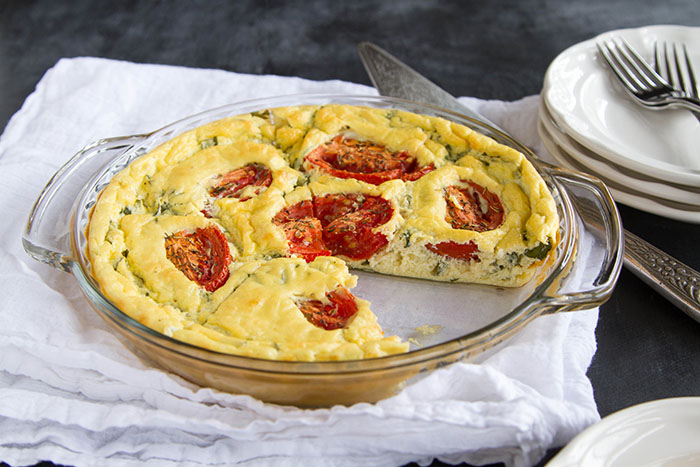 I am currently neck-deep in preparations for cooking at a church girls' camp the first week in June . . . let's just say I haven't been getting a whole lot of sleep.  But it is going to be FUN and the food is going to be great (knock on wood)!!!  Somehow I have to finish shopping for ingredients and supplies and finish the cooking that has to happen in advanced during the next 11 days before I head into the mountains for a week.  But why do that, when I can distract myself by talking to you about tofu?!?  I love tofu.  I love cooking with it, I love eating it, and I love making it.  But the tofu I've written most about here on the blog is momen-goshi, or regular Japanese tofu, which is made by adding a coagulant to soy milk which separates the curds and whey, then straining out the curds, putting them into a mold, and lightly pressing them until a block of tofu is formed.  Today I'd like to venture into the world of kinugoshi, or silken tofu, made using an entirely different process—the curds and whey do not separate and the tofu is never pressed.  A thicker soymilk is heated and poured into a mold which usually already contains the coagulant at the bottom of the mold,  The mixture is allowed to sit in the mold for 20 to 30 minutes until it solidifies.  The result is a tofu that is soft and white and almost melts on your tongue.  It's wonderful.
Morinaga reached out to me a while back to see if I would like some of their tofu to use in my cooking.  I quickly said yes, as I've been a long-time lover of Mori-Nu tofu and knew I could put it to good use.  Mori-Nu tofu are all silken tofu, ranging from soft to extra-firm.  All of their tofu is made without preservatives, gluten, or dairy and is made with non-GMO soybeans.  Plus, the tofu is packed so that it is shelf-stable, so it doesn't require any refrigeration until it is opened.  These are all reasons why I've been stocking my pantry with Mori-Nu ever since I fell in love with it when living in Japan.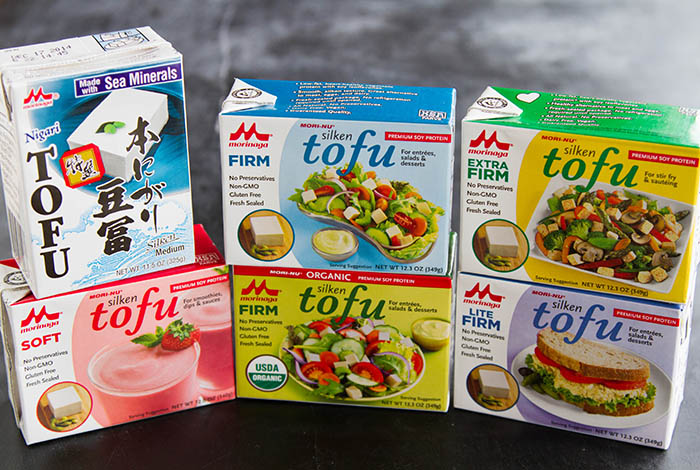 Silken tofu is super versatile.  Soft silken tofu is a fabulous alternative to eggs and dairy when used in dips, sauces, and smoothies.  Firm silken tofu a great alternative to eggs and dairy when used in entrées and desserts.  Extra firm tofu is a great alternative for meat, eggs, and dairy when used for grilling, sautéing, or stir frying.  I recently used a box of Mori-Nu Soft Silken Tofu to whip up a crustless quiche.  I opted for the soft silken tofu to give the quiche an extra light consistency.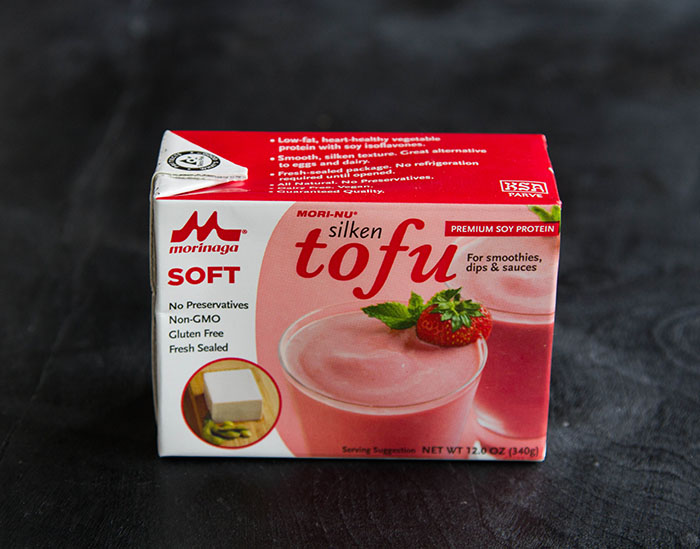 The quiche is super easy to make.  You start out by roasting some halved Roma tomatoes in the oven.  Then you purée the tofu together with some eggs and sea salt, stir some chopped basil leaves and grated Parmesan cheese in, then pour the filling into a greased pie plate.  Then you add the roasted tomatoes to the mix and put it in the oven to bake!  Almost zero effort.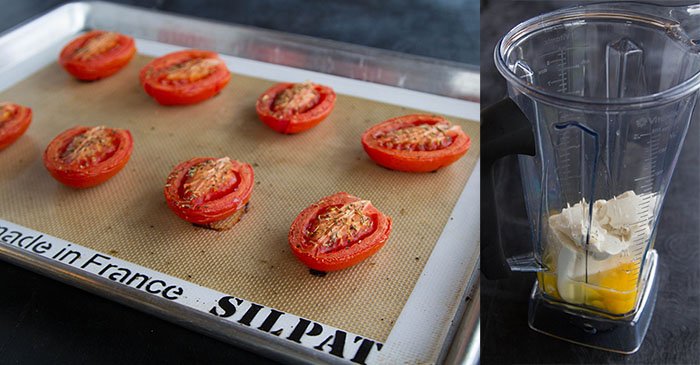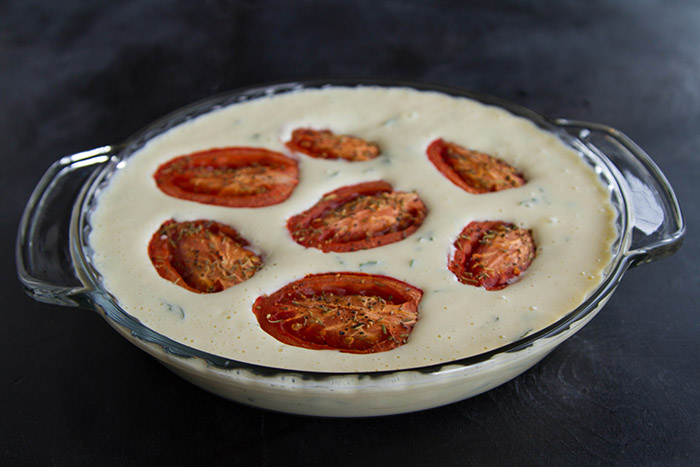 This is a great spring and summer dish—it's light and bursting with flavor and instead of spending hours in the kitchen you can whip this baby out and still have plenty of time to relax and enjoy the sunshine.  One of YOU will win a variety pack of Mori-Nu tofu (giveaway details after the recipe), but in the meantime, give yourself a break and whip up this quiche!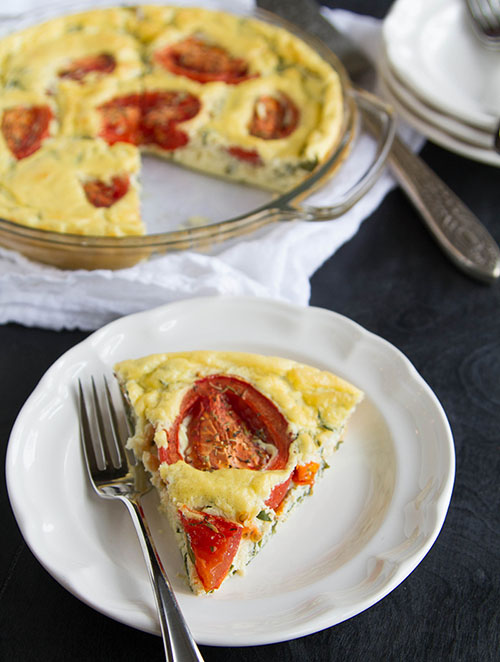 Print This Recipe
Crustless Roasted Tomato Tofu Quiche
Recipe loosely adapted from Donna Hay's Polenta Crust Tomato Tart recipe in Donna Hay Fresh and Light, p.110
Makes 1 9-inch quiche (about 6 servings)
For the roasted tomatoes:
4 roma tomatoes, halved lengthwise
1 teaspoon dried thyme
1/2 teaspoon fine grain sea salt
1/2 teaspoon freshly ground black pepper
For the quiche filling:
12 ounces soft silken tofu
3 large eggs
1 teaspoon fine grain sea salt
1/2 cup chopped basil leaves
1/3 cup finely grated Parmesan cheese
1. Make the roasted tomatoes: Preheat the oven to 400 degrees Fahrenheit. Place the tomatoes, cut-side up, on a baking sheet lined with a silicon baking mat or with parchment paper. Top each tomato half with a pinch of thyme and sprinkle with salt and pepper. Put into the preheated oven and roast for 30 minutes, or until the tomatoes are soft. Remove the tomatoes from the oven and set them aside. Reduce the oven temperature to 350 degrees Fahrenheit.
2. Make the quiche filling: Place the tofu, eggs, and salt in a blender and process until smooth. Stir the basil and Parmesan into the mixture, then pour the mixture into a greased 9-inch pie plate. Arrange the roasted tomato slices*, cut side up, on top of the tofu mixture in the pie plate. Bake the quiche for 40 to 45 minutes, or until the filling has set and the top is golden brown. Serve the quiche warm.
*Recipe Notes: Use as many tomato halves as fit nicely. This will depend on the size of the tomatoes.
==================================================
Mori-Nu Tofu Giveaway
Mori-Nu is going to give one (1) lucky reader a variety pack of their fabulous tofu. This giveaway is open to all US residents. Enter below . . . good luck!!!
————————————————————–
*Disclosure: Mori-Nu sent me a box of tofu at no cost to me and is sponsoring this giveaway.  I received no other compensation.  All opinions and experiences are my own!