McCormick
.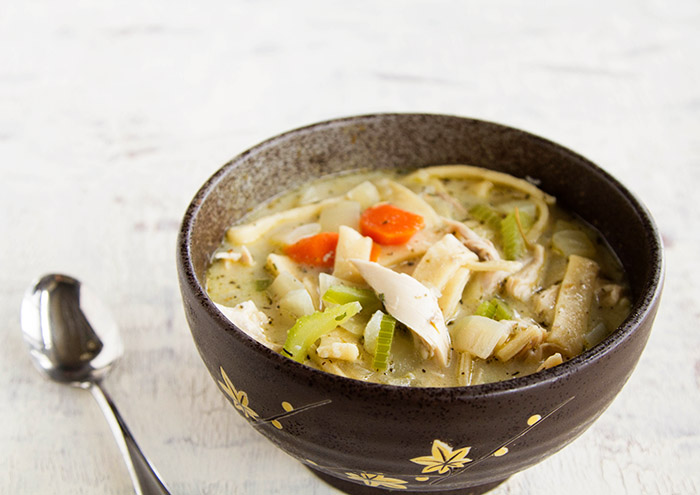 Chicken noodle soup is a dish entrenched in American culture, and although it seems that every family has a chicken noodle soup recipe, each of those recipes has subtle, and sometimes not-so-subtle, differences.  Some soups feature a light broth, whereas others sport a heavier cream base.  Some use strips of chicken, while others might use shredded or cubed chicken.  Then there's the noodles—wide egg noodles, thin egg noodles, Italian fettuccine, ramen noodles, and all sorts of homemade noodles.  One friend even told me once that her mom made a chicken soup which she called chicken noodle soup, but it didn't even contain noodles!  And don't get me started on seasonings, those variations are endless!
Well our family recipe is no different, and it has evolved over the years.  My family's recipe comes from a close friend of my mother, whereas Mr. Fuji's family recipe comes from his grandmother.  One is made with a simple broth and store bought wide egg noodles, whereas the other is made with a creamy milk broth and homemade noodles.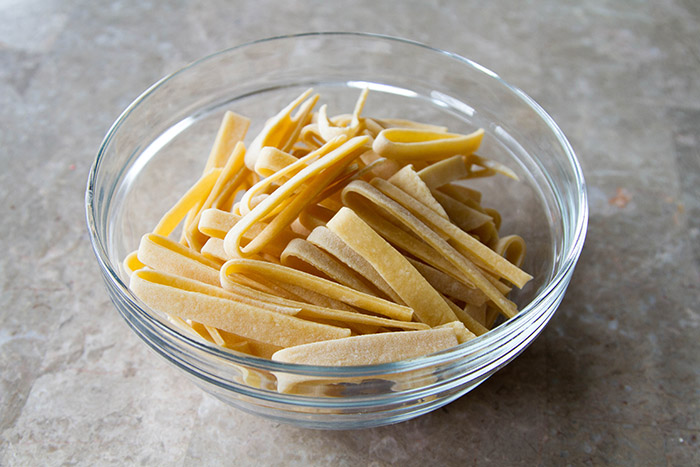 Over our 12 years of marriage the two different recipes have become one, and we've added our own unique touches, like lots of fresh ginger (a change made after living in Japan twice and becoming ginger addicts), and switching out bouillon cubes for extra McCormick dried herbs.  Now the recipe is uniquely our own.  Some things haven"t changed—it's still the soup I make when someone is feeling under the weather and it's still the go-to dish when someone needs a pick-me-up.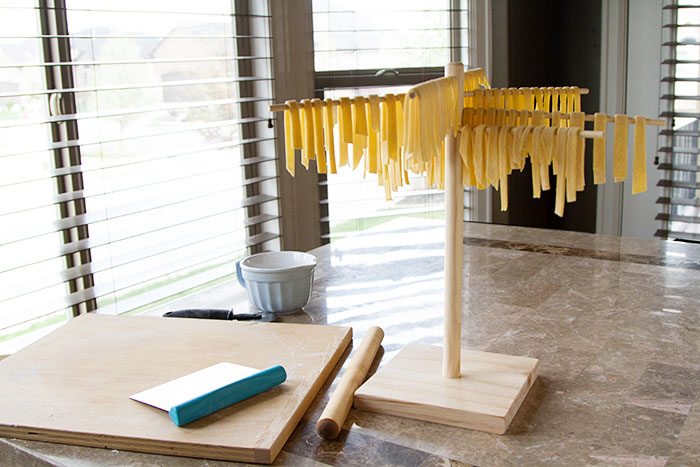 As the girls have grown older, it has also become the dish that brings everyone into the kitchen to help.  The girls love helping roll out the noodles and then hanging them on the pasta drying rack, and they hover as I pull the meat off the chicken bones, sneaking bits of it into their mouths.  This recipe has a long history that continues to grow and take forks in the road.  Here's a little video for your viewing pleasure about that history and to show you just how easy it is to make from start to finish!
For me, food is a way of collecting memories and experiences, whether it be of my travels, or my family, and I love adding to that memory bank by trying new things, which is why I created a FlavorPrint profile on McCormick.com.  FlavorPrint is a new tool to help you find recipes and recipe ideas that are individually matched to your tastes based on a series of questions that each user answers about their tastes and flavor preferences.  Plus, if you're in a dinner rut, it's a great tool to help you think of new things to whip up for dinner.  Go create your own FlavorPrint profile to find recipes based on the foods you love!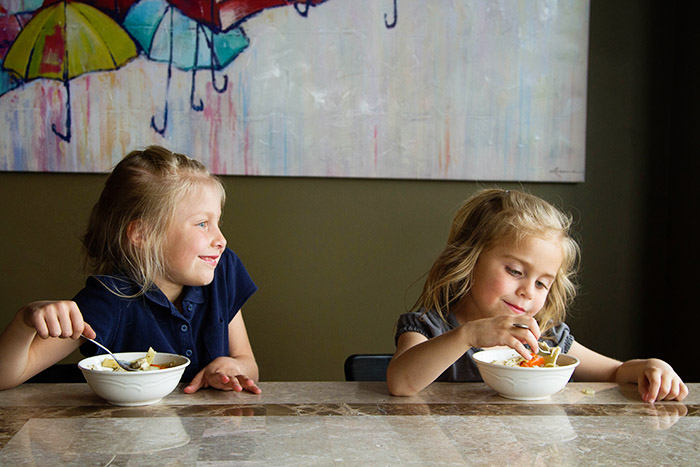 Next time you're feeling under the weather, or someone you know needs a pick-me-up, cook up a pot of this chicken noodle soup, it's just plain good for what ails you.  I'm curious, what is the dish in your family that has a story?  I'd love to hear about it, so leave me a comment below!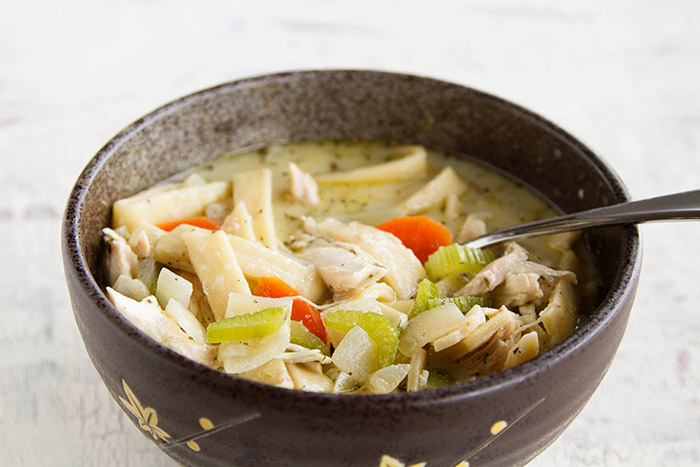 Print This Recipe
Fuji Chicken Noodle Soup
Makes approximately 10 servings

For the noodles:
3 large eggs
1 tablespoon melted butter
2 cups all-purpose flour

For the chicken and soup broth:
1 whole chicken (approximately 4 pounds), cut into parts (breast, thighs, wings, backs, and neck)
1 large yellow onion, peeled and cut into quarters
3 inches fresh ginger, peeled and cut into coins
2 McCormick bay leaves
8 cups water

For the soup:
1 teaspoon McCormick dried thyme
1 teaspoon McCormick dried rosemary
1 teaspoon McCormick dried sage
1 teaspoon McCormick onion powder
1 teaspoon McCormick dried parsley
1 teaspoon McCormick celery seed
1 teaspoon fine grain sea salt
6 to 8 medium carrots, peeled and sliced into coins
2 medium yellow onions, peeled and chopped
2 stalks celery, sliced
1 cup whole milk

———————————————————

1. Make the noodles: Lightly beat the eggs together, then beat in the tablespoon of melted butter. Gradually stir in the all-purpose flour, using as much of the flour as needed to make a very stiff dough.

2. Lightly dust a clean surface with flour, and roll the dough into paper thin sheets. Cut the sheets into thin strips and spread them out to dry, or hang them on a pasta drying rack. Let the noodles dry for 8 to 10 hours before using. If you have spread them out to dry, flip them several times during drying so that they dry evenly.

3. Cook the chicken and make the soup broth: Put the chicken, onion, ginger, and bay leaves into a large soup pot, then add the water. Bring the water to a boil over medium high heat. When the water begins to boil, reduce the heat to medium and continue cooking until the chicken is cooked through.

4. Remove the chicken parts from the pot and discard the the onion, ginger, and bay leaves. Shred the chicken and set it aside.

5. Make the soup: Add the seasonings (thyme, rosemary, sage, onion powder, parsley, celery seed, and sea salt) to the broth in the soup pot and bring to a simmer. Let the broth simmer for 2 minutes, then add the carrots, onions, and celery and continuing simmering until the vegetables are soft, but still firm.

6. Add the milk, stirring to combine, then add the homemade noodles and cook until they are tender. Cooking time will depend on how thick the noodles are, how long they dried, and how humid it is. Stir in the shredded chicken and serve.

*Recipe Notes: It's best to make the noodles in the morning to use for an evening dinner so they can dry all day.  If you want to make your soup extra rich, substitute cream for the milk. Leftover soup is delicious, but the noodles will soak up extra liquid. When you reheat, just add water. To make this soup gluten-free, substitute your favorite gluten-free noodles or omit the noodles completely for a hearty chicken and veggie soup.

==============================================

*Disclosure: I was compensated by McCormick for creating the video and writing this post.  However, all spices used were spices already in my cupboard and all opinions and experiences are my own.

This post is brought to you by