craving cream puffs
, and making them to go with my
gold kiwi cream
, I decided to go full steam ahead and do the challenge.  The May 2010 Daring Bakers' challenge was hosted by Cat of
Little Miss Cupcake
. Cat challenged everyone to make a piece montée, or croquembouche, based on recipes from
Peter Kump's Baking School in Manhattan
and
Nick Malgieri
.  A piece montée/croquembouche is a French cake that is made up of cream puffs assembled into a tall cone shape.  The cream puffs are filled with pastry cream, then dipped in caramel or chocolate.  Piece montée means "mounted piece" in French and croquembouche comes from the French words
croque en bouche
which means "crunch in the mouth," referring to the crackly crunch of the caramel that the cream puffs are dipped in.  When I lived in Paris I loved stopping to stare at the elaborate croquembouche that were sometimes displayed in the bakery windows.  They would be covered in spun sugar, chocololate, ribbon, etc.  Oftentimes I'd see them made out of macarons.  I had never made my own though, until this challenge.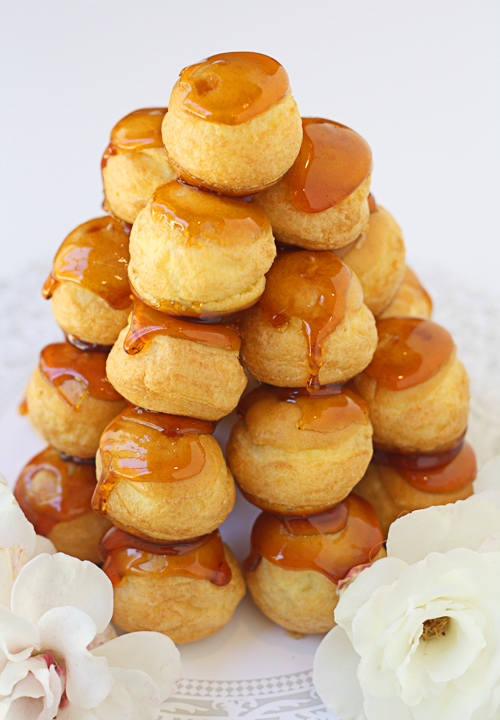 The only part of this challenge that takes a bit of time is making the pastry cream.  As I explained in my cream puff post, making the cream puffs is quick and easy.  Once your cream puffs and pastry cream are done, all you do is fill a pastry bag with the pastry cream, and a fit it with a tip with a narrow circular opening.  Then you use the tip to poke a hole in a cream puff and pipe the puff full of pastry cream!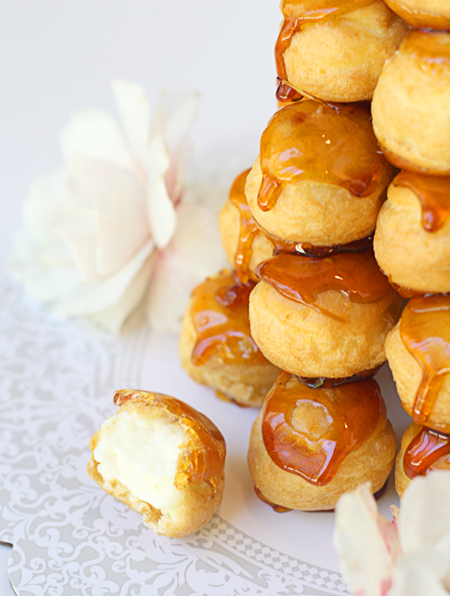 Making the caramel only takes a few minutes, and then you dip each filled cream puff in the caramel and set them on a parchment lined baking sheet  to harden, and then you assemble your cake by dipping the bottom of a cream puff in a bit of the caramel and place it where you want it to go.  I started out by making a ring of cream puffs on a cake board, and then just circling up and slowly narrowing the circle.  I like to make caramel a bit differently than the recipe given to us.  I used the Daring Baker's recipe, and after struggling to keep the caramel at temperature long enough to dip more than a few cream puffs, I remade my caramel using the method that I love.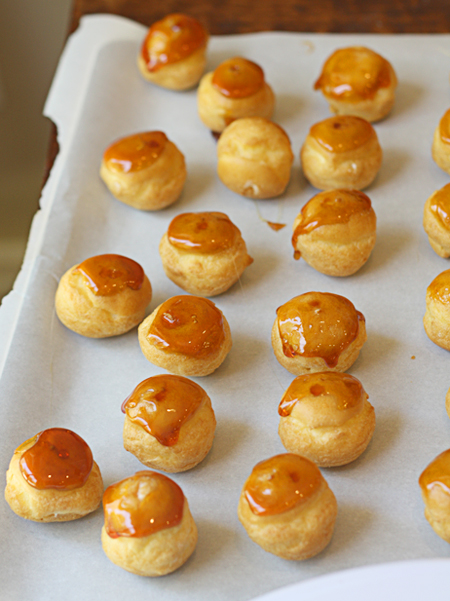 The girls were having a bit of a rough day when I assembled my croquembouche.  As you can see, little cream puffs filled with pastry cream put almost instant smiles on crabby faces!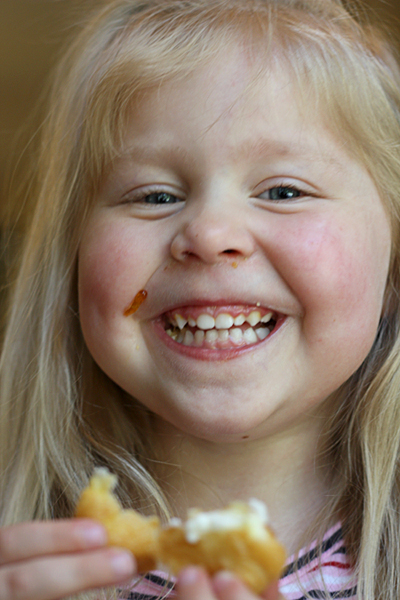 I made sure to save a few cream puffs without caramel so that Bug could enjoy them too.  She was fascinated to discover that the little puffs were filled with something.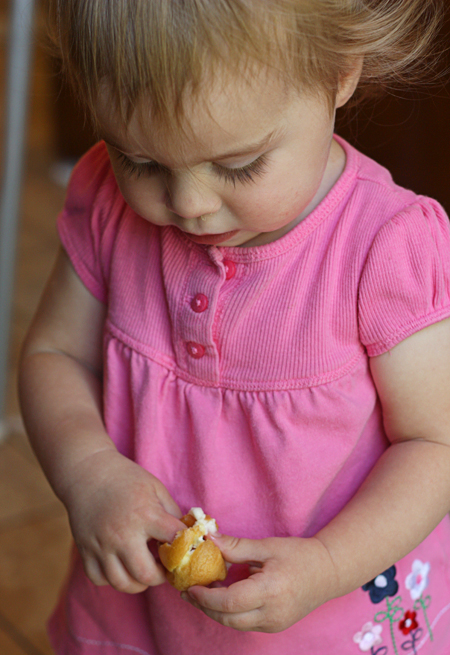 The moral of this challenge is that if I can whip up a croquembouche within a matter of a few hours, albeit imperfect, there is no excuse why you shouldn't be able to make one too!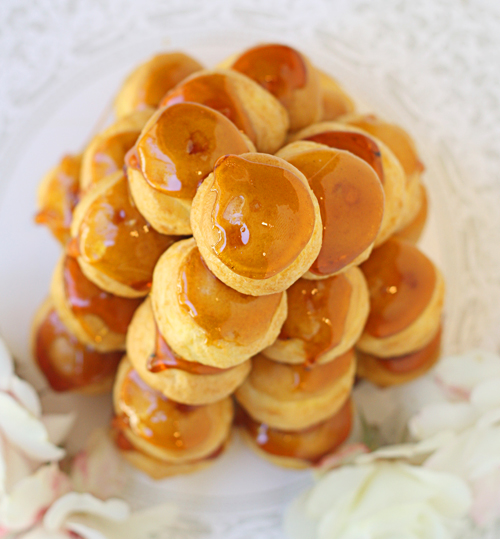 Print This Recipe
Croquembouche (Piece Montée)
If you'd like to see the recipes given to the Daring Bakers, see this Piece Montée Recipe

My favorite cream puff recipe: Fuji Cream Puffs — Cream puffs can be stored at room temperature for up to 1 day.
My favorite pastry cream recipe: Tartelette's "custard"— The pastry cream can be stored for up to 5 days in the refrigerator in an airtight container with a piece of plastic wrap pressed directly on the surface to prevent a skin from forming.
Caramel
1 cup granulated sugar
2 tablespoons water
1 teaspoon fresh lemon juice
1. Fill a large bowl or pot with ice water.
2. Mix the sugar, water, and lemon juice in a medium-size saucepan with a metal spoon and then set the saucepan over medium-heat for about 5 minutes until all of the sugar has melted–do not stir.  Do not worry if there are lots of bubbles.  This is normal.
3. Turn the heat up to high heat and swirl the pan so that the sugar caramelizes evenly, and cook until the caramel is a rich amber color.
4. Remove the saucepan from the heat and place it immediately in the ice water bath for about 2 seconds (it will hiss) and then remove it.  Use the caramel immediately.  If it starts to harden before you have finished using it, gently reheat in the saucepan until it is warm.
*Note: If your caramel hardens at the bottom of your saucepan, don't worry, you have not ruined your favorite saucepan!  To clean it, simply add some water to the pan and place it over low heat until the caramel dissolves.
Make the croquembouche:
1. Make the pastry cream.

2. Make the cream puffs.

3. When you are ready to assemble the croquembouche, fill your cream puffs: Transfer the pastry cream to a pastry bag fitted with a 1/4-inch round tip. Insert the tip of the pastry bag into the base of each puff and fill.  The cream puffs can be refrigerated briefly at this point while you make your caramel.

4. Make the caramel.

5. Assemble the croquembouche: Dip the top half of each filled cream puff into caramel (be careful not to burn your fingers), letting the excess drip back into the saucepan and then set them on a parchment-lined baking sheet. Let the cream puffs sit until the caramel is set. Carefully dip the bottom half of 1 cream puff into the caramel, letting the excess drip into the saucepan. Transfer the cream puff, hot caramel side down, to a cake board/serving platter. Repeat with more cream puffs, forming a connected ring as you work. Then repeat with more cream puffs, layering rings to form a cone. (If the caramel begins to harden, reheat briefly over low heat.) Serve the croquembouche immediately, or let it stand at room temperature for up to 2 hours.

It has been a bit of a crazy month and I seriously thought I was not going to get the Daring Baker's Challenge done.  But after