Walking through the Shibuya train station in Tokyo, Japan can be shear torture at times.  This is not because it is a busy station where it is easy to get turned around if you are not familiar with it, although this is true.  It is due to the fact that depending on where you are walking, the smell of freshly baked cream puffs and pastry cream come wafting through the air, tickling your nostrils and teasing your taste buds.   There is a
Beard Papa's stand
at one end of the station, a popular Japanese chain that sells cream puffs, or choux creme (シュークリーム), as they're called in Japan.  This is a very smart location, as the tantalizing smells all but compel you to go stand in the inevitable line so that you too can savor fresh choux creme.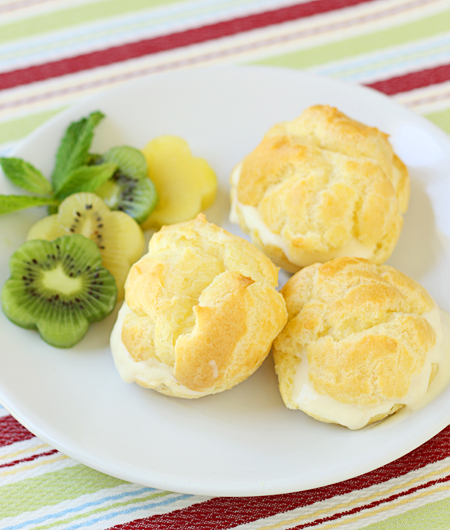 Profiteroles, cream puffs, choux à la crème, or choux creme—it doesn't matter what you call them, I love them.  Maybe it's because I've lived in both France and Japan, two countries where they are readily available, or because my mom used to make them for special occasions.  All I know is there is something about these balls of filled choux pastry that put a smile on my face.
After I made gold kiwi cream this past weekend, the thought occurred to me that cream puffs would be a perfect companion to the cream, so I whipped a batch, using the recipe that my mom has always used.  The recipe was passed down to her from her grandmother, and it's a fabulous one.  I served them filled with the gold kiwi cream and a few slices of green and gold kiwi.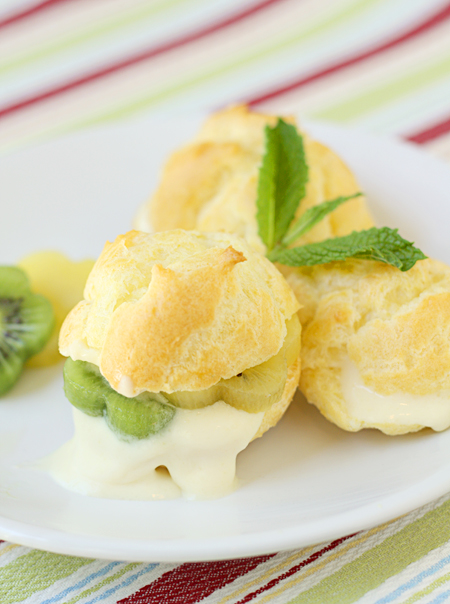 I also made a few filled with a kiwi salad (kiwi cut into chunks and tossed in the gold kiwi cream).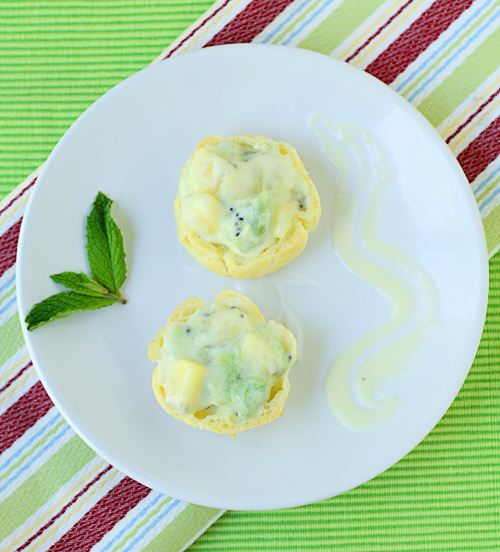 They were delicious both ways.  Just make sure that if you use green kiwi with the gold kiwi cream that you serve the cream puffs right away, as the enzymes in the green kiwi will start to react with the proteins in the cream if left to sit for too long.
How to Make Cream Puffs
Cream puffs are easy and quick to make.  It takes about 10 minutes to whip up the dough and get it shaped and into the oven, and then depending how big you make your cream puffs, they take about 30 minutes to cook, and then they are ready to eat!  You start out by melting some butter in boiling water,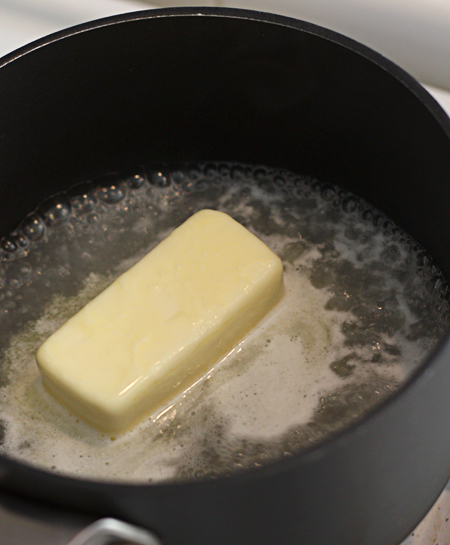 then dump in your flour and salt and stir like crazy,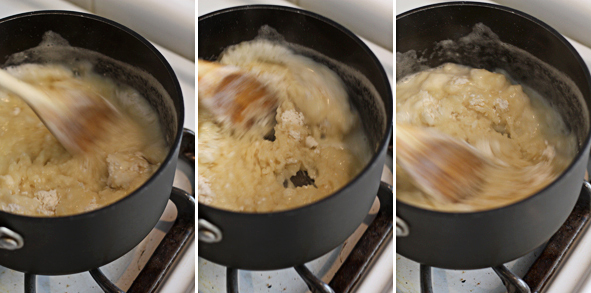 until the dough forms into a ball and pulls away from the sides of the pot.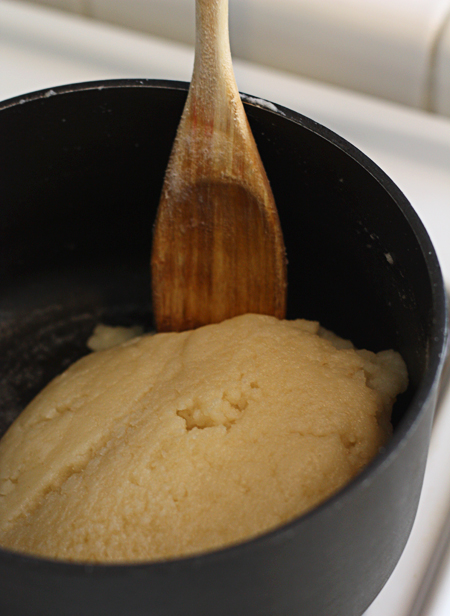 Then you beat in some eggs, one at a time, until the dough is smooth.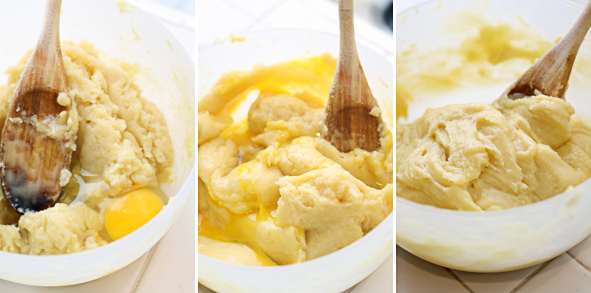 Finally you either pipe the dough onto greased baking sheets, or if you're feeling lazy like me you just use a spoon and drop spoonfuls of dough onto your baking sheets,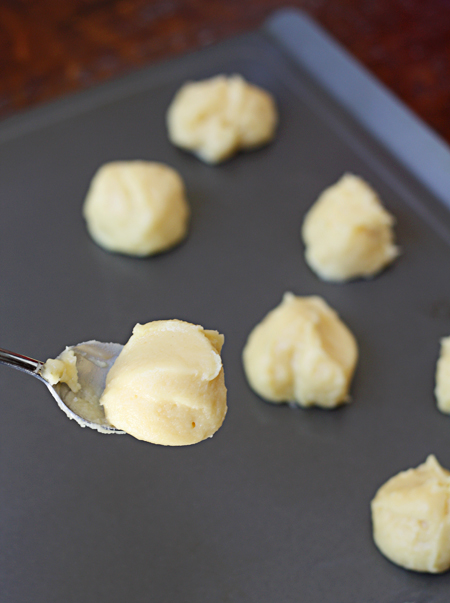 and bake the cream puffs until they are gold brown.  They are delicious filled with gold kiwi cream, sweetened whipped cream, pudding, or custard, and then dusted with powdered sugar or drizzled with chocolate.

Print This Recipe
Fuji Cream Puffs
Makes 10 large cream puffs (or 20 medium, or 4 dozen mini cream puffs)
1 cup water
1/2 cup butter (4 ounces)
1 cup all-purpose flour
1/4 teaspoon salt
4 large eggs
1. Preheat the oven to 400 degrees Fahrenheit.
2. In a small bowl, whisk together the flour and salt.
3. Bring the water to a boil in a medium-size saucepan over medium-high heat.  Add the butter.  When the butter has melted, add the flour mixture all at once and stir vigorously.  Cook and stir until the mixture forms a ball that doesn't separate.
4. Remove from the heat and cool slightly (about 1 minute).  Add the eggs, one at a time, beating after each one until the dough is smooth.
5. Drop heaping tablespoons of dough about 2-inches apart onto a greased baking sheet.  Or transfer the batter to a pastry bag with a round tip and pipe circles about 2-inches in diameter and about 1-inch apart onto greased baking sheets.  Bake the puffs for about 30 minutes until they are golden brown and puffy.  If the puffs are medium-size, bake for about 22 — 25 minutes, and if the puffs are mini-size, bake for about 17 — 20 minutes.  Remove the cream puffs from the oven and cool on a cooling rack.