One of the sponsors of
Camp Blogaway
was
ZESPRI
, the world's largest marketer of kiwifruit.  They spoiled us with a plentiful supply of kiwi (both
green
and
gold
) for the duration of our weekend
.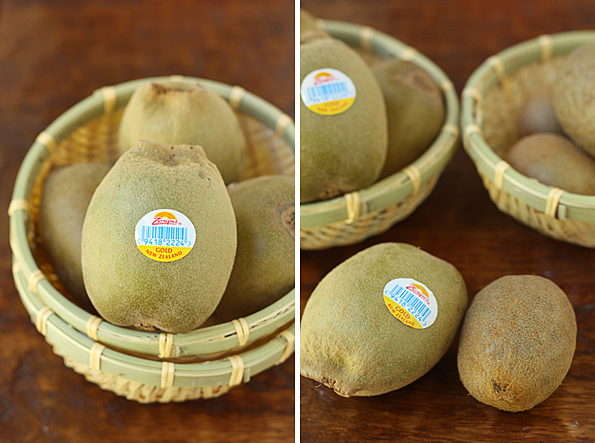 I hadn't seen a gold kiwi since we moved back from Japan, so seeing them not only excited me, but made me nostalgic and a bit "homesick."  Gold kiwi have yellow flesh that is sweeter and less acidic than green kiwi, and is one of my favorite kinds of fruit on the planet.  I probably single-handedly ate 50% of the gold kiwi at Camp Blogaway.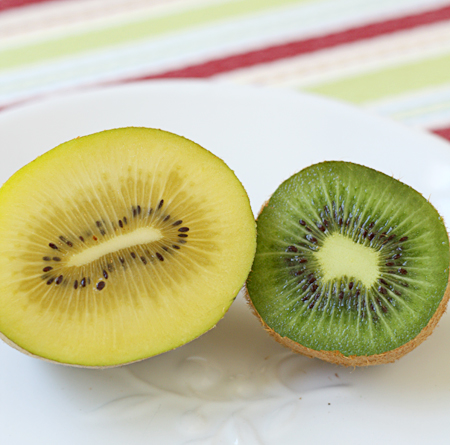 Cynthia Traina, the PR representative from ZESPRI supplied us with all kinds of fabulous kiwifruit information as well.  For example, did you know that a serving of kiwi (2 kiwi) has more potassium than one banana?  Or that one serving of kiwi contains 206% of your recommended daily requirement of vitamin C?  After getting to gorge myself on one of my favorite fruits for an entire weekend, I went into a bit of withdrawal after I got home.  I grabbed some green kiwi at my local supermarket, and then went on a hunt for gold kiwi.  As I suspected, these were harder to find (thus the reason I hadn't seen one since we moved back from Japan).  I spoke to the produce managers at several markets who told me that they occasionally carry them.  Then, on a tip from ZESPRI, I went to my nearest 99 Ranch Market where they had them in abundance.  I filled a bag with them and then returned home with my prize.  My kids were equally excited to see the kiwi—in fact Bug grabbed one out of the bag and took off with it, giving it kisses and then asked to eat it.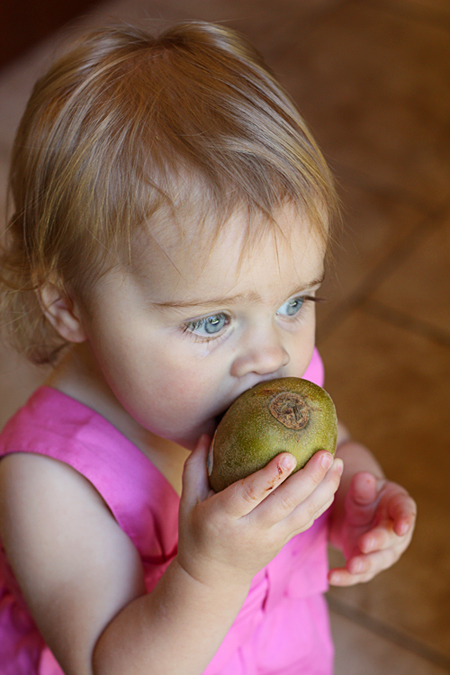 After eating several, for inspiration purposes of course, I whipped up a gold kiwi cream.  This cream has the consistency of a loose custard and is so addictively delicious that you'll be tempted to just sit down with the bowl and eat it all by yourself with a spoon.  It is sweet, creamy, and tangy and tastes like a cross between kiwi and lemon.  Unfortunately you can't make the cream with green kiwi because green kiwi contains actinidin, an enzyme that breaks down proteins in dairy products and the collagen proteins in gelatin.  Gold kiwi doesn't contain actinidin which is why it won't curdle the cream or prevent the gelatin from thickening the cream in this recipe!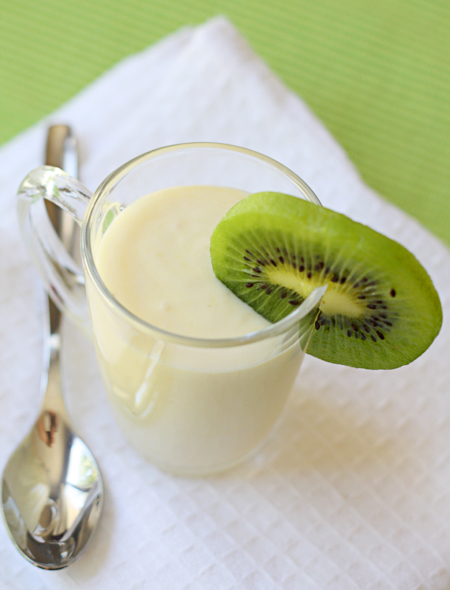 The cream is super easy to make, though it does require a bit of advanced planning, as it needs a minimum of 4 hours to chill and set up in the refrigerator (although preparing it only requires 10 minutes).  You start out by cutting the kiwi in half and scooping out the flesh with a spoon.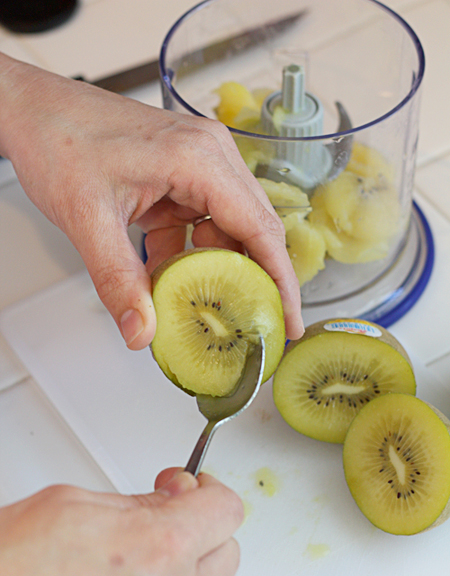 Then you puree the fruit and strain out the seeds using a fine-mesh sieve.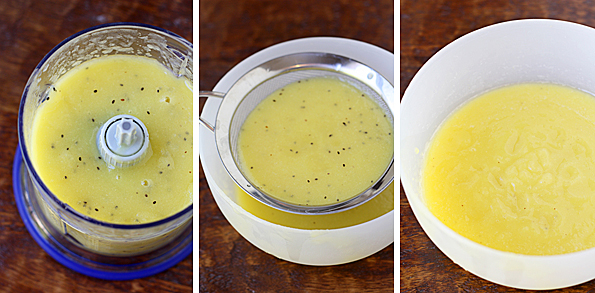 The rest of the process is the same process used to make panna cotta (in fact, I modified Bell'alimento's recipe for panna cotta to make this).  All you have to do is pour a hot mixture of cream, sugar, and vanilla extract over some softened powdered gelatin, mix in the pureed kiwi, and put it in the fridge to set!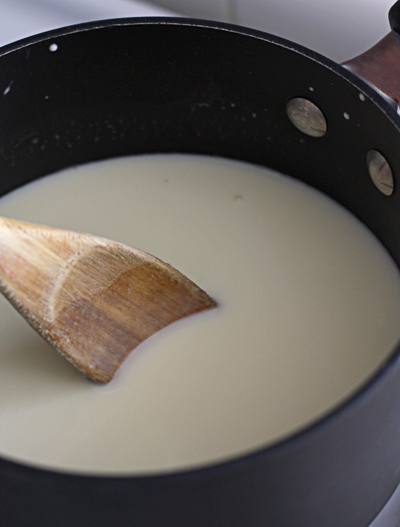 This cream can be used for so many things.  You could serve it as a cold dessert soup topped with berries and fresh whipped cream, drizzle it over waffles, use it in place of custard in a trifle, or serve it as a dip for fresh fruit.  Oh, and while you're enjoying some kiwi, go see how you can enter to win a trip to New Zealand at www.thegreatkiwiadventure.com/!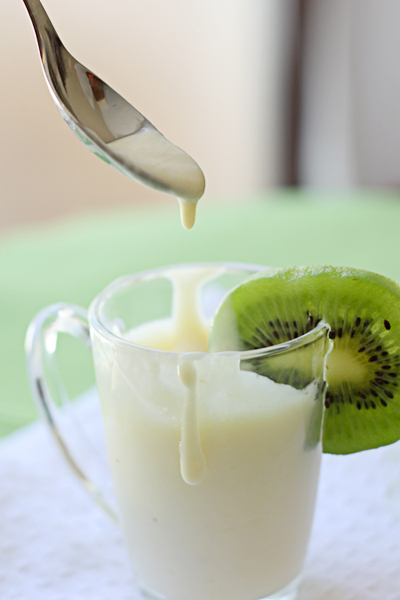 Print This Recipe
Gold Kiwi Cream
Adapted from Bell'alimento's Panna Cotta
Makes approximately 4 1/2 cups
4 gold kiwi (approximately 1 pound)
1 packet (.25 ounces) powdered gelatin
3 tablespoons cold water
2 cups heavy whipping cream
3/4 cup granulated sugar
1 teaspoon vanilla extract
1. Cut the kiwi in half and scoop out the flesh with a spoon.  Puree the flesh in a food processor or blender until it is smooth.  Strain the kiwi seeds out of the puree using a fine mesh strainer.  Set the puree aside.
2. Pour the cold water into a medium-size bowl that is wide and shallow.  Sprinkle the gelatin over the surface of the water, but do not stir.
3. Place the cream and sugar into a saucepan over medium heat.  Cook, stirring frequently with a wooden spoon.  When the cream and sugar are well combined and the mixture nears boiling, remove it from the heat and stir in the vanilla extract.  Slowly pour the cream mixture over the gelatin mixture, stirring the two together while pouring in the cream mixture.  Stir until the cream mixture and the gelatin mixture are well combined.  Then slowly whisk in the kiwi puree.  Cover the top of the bowl and place it in the refrigerator to set up for a minimum of 4 hours or overnight.  After refrigerating, serve as desired.