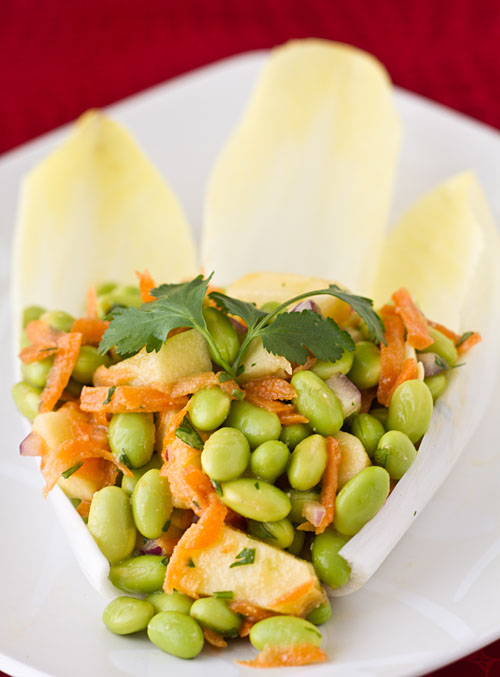 We have reached day 12, the final day of the 12 Days of Endive!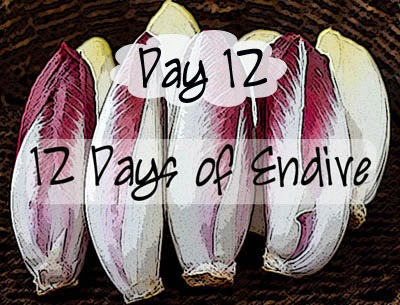 I hope you've learned a bit about this amazing versatile vegetable, but what I hope even more than that is that you start buying it and using it!  To celebrate day 12 I'm sharing an edamame salad I made a few days ago that I love serving on cold crisp endive leaves.  The salad is colorful and delicious, full of nutrients, and is super quick to whip up.  Serving it on endive leaves makes it more fun to eat, since you can use the leaves as scoops, and adds a bit more juicy crunch.
First you mix up a creamy, citrusy miso dressing,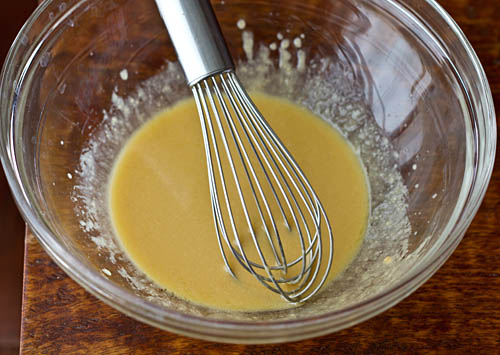 Then add the salad ingredients, stir everything up, and let it sit for a few minutes so that the flavors get a chance to meld and develop into something even better.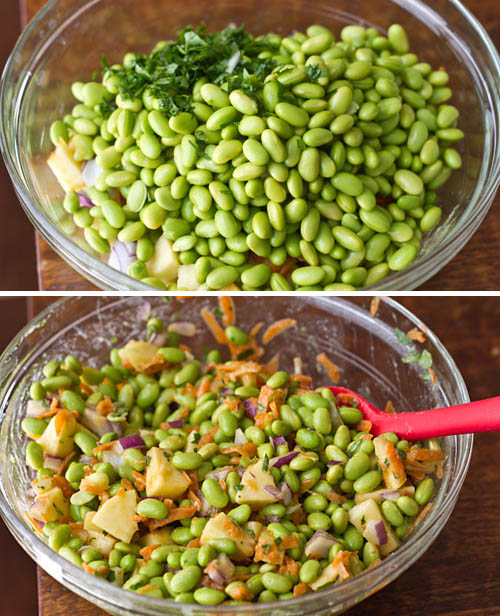 Then spoon it onto a bed of endive leaves and serve!  To help my kids have a well balanced diet I encourage them to "eat the rainbow" throughout the day.  This salad is an easy way to cover lots of colors.  White (and a touch of green) in the endive, green edamame, orange carrots, purple onion, and yellow miso dressing.  It also helps that my girls equate edamame with candy, so it's not hard to convince them to eat this type of salad!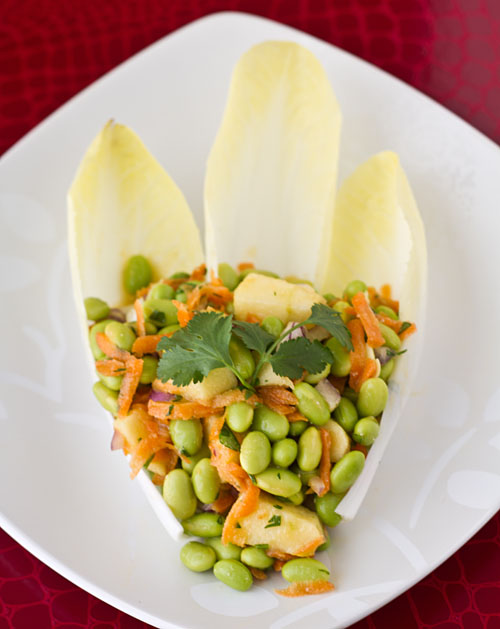 Print This Recipe
Edamame with Miso Dressing on Endive Leaves
Makes 5 to 6 servings
16 ounces frozen, shelled edamame
1 1/2 tablespoons white miso paste
1/2 teaspoon grated lemon zest
2 tablespoons freshly squeezed lemon juice
2 tablespoons freshly squeeze orange juice
1 tablespoon olive oil
1/2 teaspoon peeled, grated fresh ginger
2 small Fuji apples, peeled, cored and chopped
1 medium carrot, coarsely shredded
1/4 small red onion, finely chopped
2 tablespoon chopped fresh cilantro
2 heads endive
1. Bring a medium saucepan of water to a boil. Add the edamame and return to a boil, then cook for five minutes. Drain the edamame and rinse under cold water.
2. Whisk together the miso, lemon zest and juice, orange juice, oil, and ginger in a large bowl until smooth. Add the edamame, apples, carrot, onion, and cilantro and stir to combine. Let the salad stand at room temperature for 15 minutes before serving, to allow the flavors to develop, or cover and refrigerate up to 2 hours and serve chilled. Serve on a bed of endive leaves.
* Disclosure: I was compensated for recipe development and time as part of my work as an OnDiva for Discover Endive.  As always, all opinions and thoughts are my own!