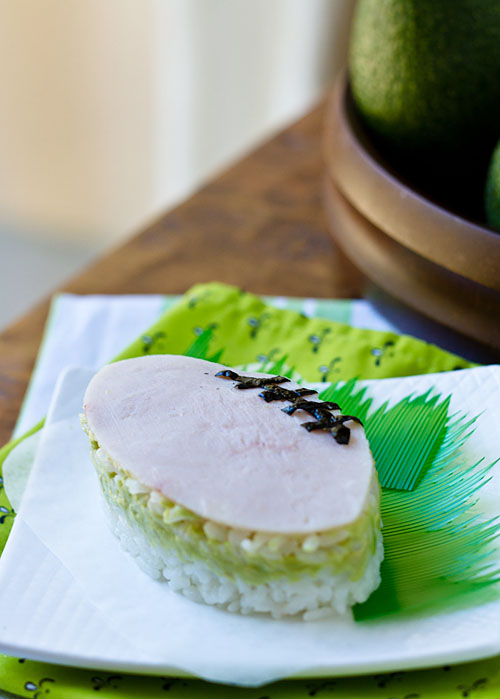 Turkey avocado onigiri (Japanese rice balls) made to look like little footballs. "Why" you may ask?  For the Super Bowl of course!  The newest episode of the Miso Hungry podcast, that will be up later today, is all about food eaten at Japanese sporting events and how this might translate to your Super Bowl party—specifically the food at your Super Bowl party.  While Allison and I were brainstorming what we wanted to include in this episode, an idea for football-shaped onigiri started bouncing around in my head and so I decided to make the idea a reality.  I mean, why wouldn't you want to have kitschy football-shaped rice balls hanging around begging to be eaten while you're watching the big game?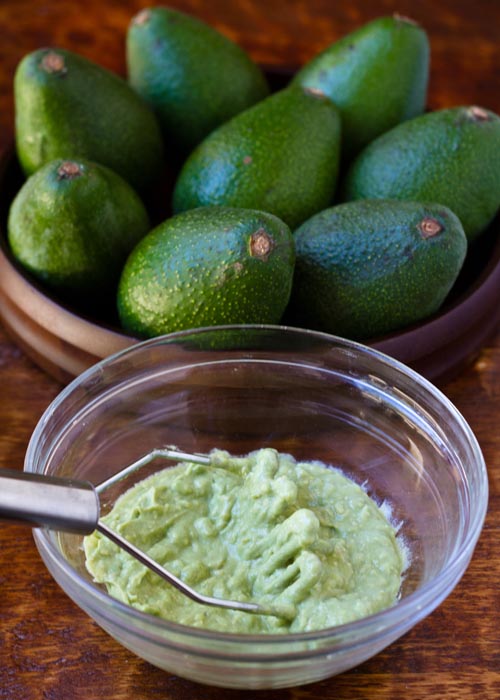 These little guys are easy to make too, which is always nice if you're making a bunch of food to feed hungry guests, or even just one hungry significant other.  They require very little prep (just steaming some rice and grabbing the ingredients), and then you mash up an avocado, and you're ready to assemble!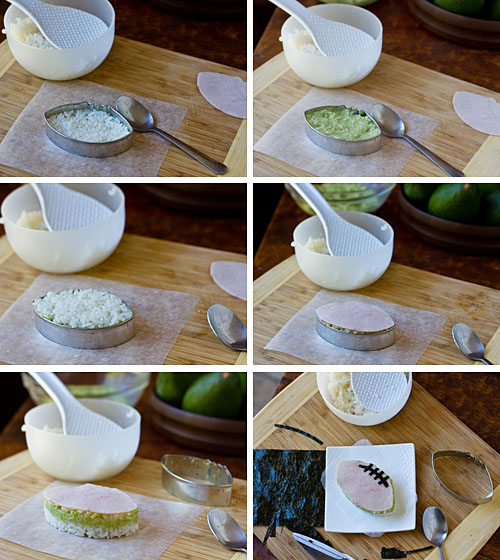 You'll need a football-shaped cookie cutter, which will act both as your rice mold and as a way to cut football shapes out of your turkey.  Simply set your cutter down on a flat surface, press a layer of rice into the bottom, add a layer of avocado, add a second layer of rice, top it all with a slice of turkey, and then add strips of nori (seaweed) to look like the football laces.  See? Easy peasy lemon squeezy!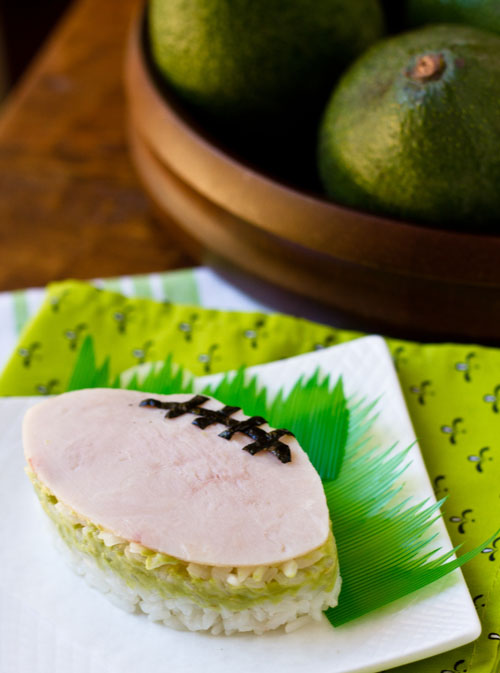 Print This Recipe
Turkey Avocado Onigiri Footballs
Makes approximately 6 onigiri
1 medium avocado, peeled and pitted
2 tablespoons fresh lime juice
1/2 teaspoon salt
3 thin slices turkey (lunch-meat style)
3 cups freshly steamed Japanese rice
1 sheet nori (seaweed)
Special equipment: football-shaped cookie cutter
1. Mash the avocado, lime juice, and salt together in a medium-size bowl until well-combined and relatively smooth, then aside.
2. Cut six football shapes out of the turkey, using a football-shaped cookie cutter and set aside.
3. Moisten the cookie cutter with water, then set on top of a square of parchment paper. Fill the cutter about half-way full with cooked rice, using fingers moistened with water, or the back of a damp spoon (to prevent rice from sticking), to press the rice into place. Spread a layer of the guacamole mixture over the top of the rice, and then fill the cutter the rest of the way with rice, pressing again.
4. Place a turkey football on top of the rice. Then, gently pressing on the turkey with one hand, carefully remove the cutter with the other hand, pulling up and away.
5. Using kitchen sheers, cut small strips of nori and put on top of the turkey (rough side touching the turkey) to make the football laces. Repeat with the remaining ingredients to make 5 more footballs.
* A special thank you to my Avocado Sister Mimi Avocado who found the football cookie cutter and shipped it to me after I searched all over and upside down for one!  Also, those beautiful Fuerte avocados? Yep, they're from Mimi's family farm.  I picked up some of them on a recent visit, and some are from their awesome "Farm to Table" avocado gift box business  (California Avocados Direct)!  Can I tell you how lucky I am to have an avocado farmer as a friend?  My girls think Mimi walks on water.  You're going to be hearing more about Mimi and her awesome avocados soon!
============================================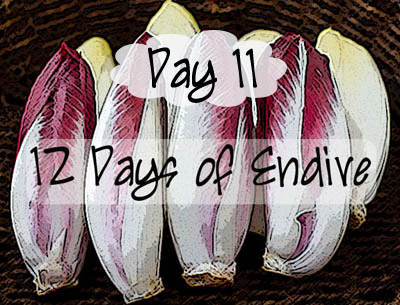 It's day 11 of the 12 Days of Endive, and speaking of the Super Bowl, have you thought about offering fresh crisp endive leaves as a healthy alternative to chips for those dips you might be serving?  Well if you do, you'll want those leaves to be nice and crisp for maximum juicy crunch. Plus, sad wilting leaves don't make for very good dip scoops.  To ensure you serve up the crunch, make sure that you purchase heads of endive that are smooth, plump, and firm, picking the heads with the palest color.  Once you get the endive home, wrap it in a damp paper towel, seal it in a plastic ziploc bag, and store it in the vegetable compartment of your refrigerator (it will keep like this for 10 to fourteen days!) until you're ready to use it.  This will ensure that those leaves will be perfect for game day!
* Disclosure: The 12 of Days of Endive is part of my ongoing work as an OnDiva for Discover Endive. As always, all opinions and thoughts are my own!