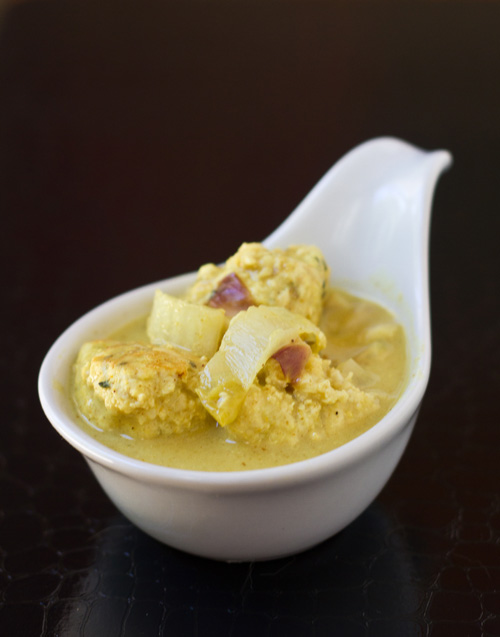 Hello day 10 of the 12 Days of Endive!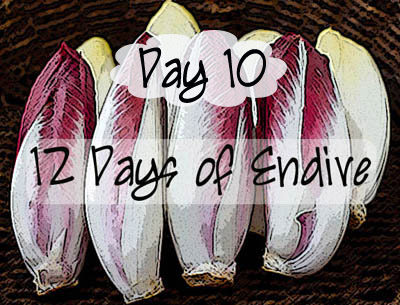 A big pot of turkey meatball and endive coconut curry recently made it's way to the dinner table at our house.  We love curries in the Fuji household, and it's unusual for us to have a week where some type of curry isn't eaten.  It doesn't matter if it's Indian, Thai, Japanese, or any other type of curry—we love them all!  This particular curry is Thai inspired.  It is made up of tender turkey meatballs and bright juicy endive in a creamy coconut curry sauce, with a hint lemon.  It's easy to make.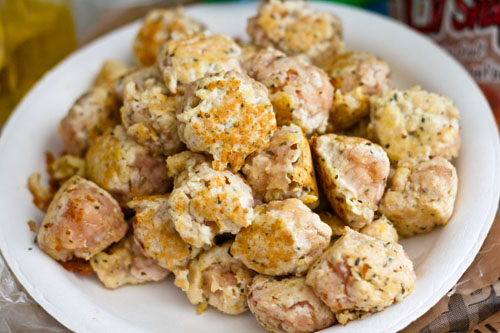 First you make and brown the meatballs,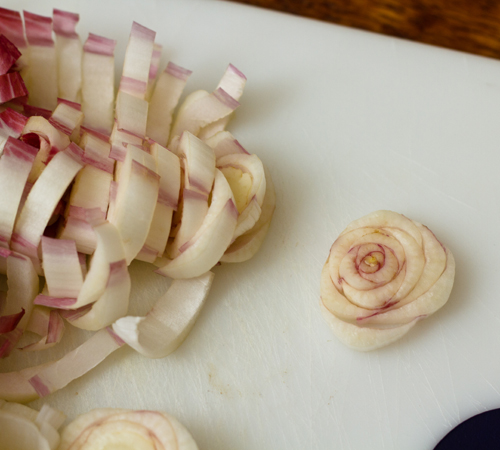 then slice the endive into slices (I love how slices from the base of the head of endive look like roses!),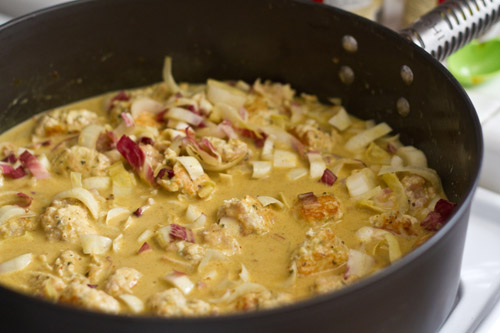 then cook the endive in the coconut curry sauce, and then add the meatballs and simmer everything together until the meatballs are cooked through and the flavors have developed into a creamy aromatic dish.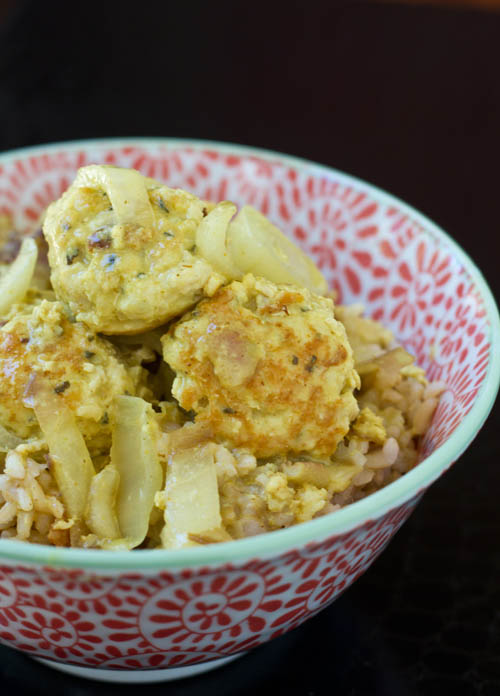 Print This Recipe
Turkey Meatball and Endive Coconut Curry
Makes 4 servings
For the Turkey Meatballs:
2 cans (14-ounces each) light coconut milk, divided
1 1/4 pounds lean ground turkey
1/2 cup panko
2 eggs
4 garlic cloves, finely minced
2 tablespoons grated fresh ginger
2 tablespoon cilantro, finely minced
1/4 teaspoon salt
2 tablespoons olive oil
For the Coconut Curry:
2 tablespoons curry powder
1 tablespoon butter
10 ounces endive, cut cross-wise into 1/2-inch wide slices
salt, to taste
1/4 cup freshly squeezed lemon juice
Steamed brown rice, to serve
1. Make the Turkey Meatballs: Mix together 3 tablespoons of the coconut milk with the ground turkey, panko, eggs, garlic, ginger, cilantro, and salt, until well combined. Heat the olive oil in a large saute pan over medium heat. Brown tablespoon-size meatballs in the oil in batches, removing the browned meatballs to a plate, until all of the meat has been used. Lower the heat if the saucepan is getting too hot and starting to smoke.
2. Make the Coconut Curry: Reduce the heat to low. Sprinkle the curry powder over the oil, then add the butter, and stir and cook for 20 to 30 seconds, until fragrant and starting to bubble. Whisk in the coconut milk until well incorporated, then gently add the endive and meatballs and stir to coat. Bring everything to a boil, then cover and let the mixture cook on a low simmer for 7 minutes. Turn off the heat, then finish the sauce by seasoning it to taste with salt and then stir in the lemon juice. Serve hot over steamed brown rice.
* Disclosure: I was compensated for recipe development and time as part of my work as an OnDiva for Discover Endive.  As always, all opinions and thoughts are my own!